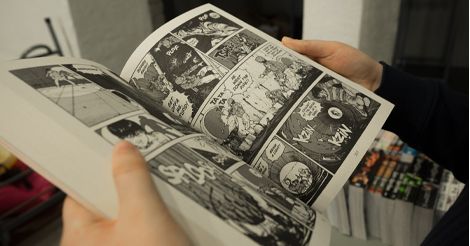 This Riot Recommendation about your favorite all-ages comics is sponsored by Nobrow and Flying Eye Books.
Meet Hilda: explorer, adventurer, avid sketchbook-keeper and friend to almost every creature in the valley! Join our beloved heroine as she encounters her very first troll, negotiates peace with some very persnickety elves, and reunites two lovelorn ancient giants. Fantastic creatures and daring adventures are all just part of another average day for Hilda, but what will she do if she is forced to move to Trolberg city, far away from her beloved valley home? Dive into the adventure with this illustrated chapter book, based on the first two episodes of the show.
---
You know Rioters love comics, including all-ages comics, because we read everything! It's also lovely when you can discuss something you've read and loved with anyone, regardless of their age. Plus, who doesn't want to get to read their kids a comic that they aren't having to suffer through? That's why we asked you to tell us your favorite all-ages comic. Here were your favorites–and I have to note ours too!
Yotsuba&! by Kiyohiko Azuma
The Unbeatable Squirrel Girl by Ryan North and Erica Henderson
Phoebe and Her Unicorn by Dana Simpson
Princess Princess Ever After by Katie O'Neill
Giants Beware! by Jorge Augusto Aguirre
Princeless: Save Yourself by by Jeremy Whitley, Mia Goodwin, Jung-Ha Kim
The Adventures Of Chef Rutabaga by Eric Colossal
Thor: The Mighty Avenger by Roger Langridge and Chris Samnee
Lucy the Octopus by Richy K. Chandler
Goldie Vance by Hope Larson and Brittney Williams
Peter & Ernesto: A Tale of Two Sloths by Graham Annable
Lumberjanes Vol. 1: Beware the Kitten Holy by Noelle Stevenson, Grace Ellis
The Tea Dragon Society by Katie O'Neill
Rainbow Brite #1 by Jeremy Whitley, Brittney Williams
Ms. Marvel by G Wilson Wilson
Bone by Jeff Smith
Moon Girl and Devil Dinosaur by Amy Reeder, Brandon Montclare