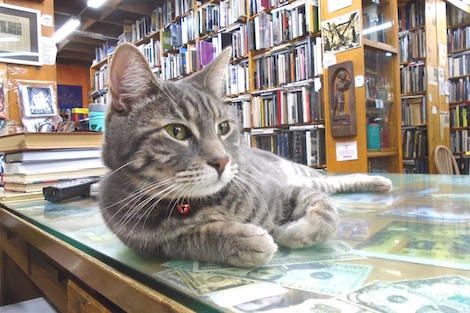 17 Bookstore Cats Worth Road Tripping For: Critical Linking, January 28, 2018
Sponsored by Sisters Like Us by Susan Mallery.
---
There are plenty of reasons to plan road trips, but there aren't any cuter itineraries than one full of America's bookstore cats. Independent bookshops across the nation employ kitties as greeters, lap-warmers, creative directors, and social media mavens, combining two of the world's favorite joys: books and cats! With the printed word becoming harder and harder to come by, small shops have noticed that kitties draw in loyal customers and increase business, so pack a bag and plan your trip around the U.S. to visit these quirky charmers who found more fame after being featured in the new book Bookstore Cats (Glitterati Incorporated) this autumn.
*Makes this summer's road trip itinerary*
____________________
Sriracha \ sə-ˈrä-chə,sē- (n): A pungent sauce of hot peppers pureed with garlic, sugar, salt, and vinegar, typically used as a condiment. The popular hot sauce is named after the town of its origin Si Racha in the Chonburi Province of Thailand. First use: 1984. Recent usage: Jan. 16, 2018 Esquire article titled "Sriracha is for Closers."
A look at some of the foreign words that entered Merriam-Webster this year. Interesting how many are food related!
____________________
The 2017 Bram Stoker Awards® Preliminary Ballot Announced
The Horror Writers Association (HWA) is pleased to announce the Preliminary Ballots for the 2017 Bram Stoker Awards®. The HWA (see www.horror.org ) is the premier writers organization in the horror and dark fiction genre, with over 1,300 members. We have presented the Bram Stoker Awards in various categories since 1987 (see http://www.horror.org/awards/stokers.htm )
Works on this ballot are not referred to as "nominees" or "finalists". Only works appearing on the Final Ballot may be referred to as "nominated works" and their authors as "finalists".
It might just be the ballot, but lists like this help craft wonderful to-read plans. In this case, scary reads!
____________________
Our culture is obsessed with quantification, and our success is nearly always measured in comparison to others. Reading levels are not much different than social media stats, in a way. They encourage us to focus on how others assess our performance, and not on our experience of performing itself. Even my word choice feels corrupted by this measurement – I just described the act of being social online as performing, the same way my son sees reading aloud as a form of performing. If only we could just be, without feeling self-conscious!
So what is to be done when you've got an introverted emerging reader struggling to feel confident in what feels like the high-stakes world of books? I've done a few things that have helped.
A parent on encouraging children to love reading for what it is, rather than love it for the outcome and assessment. A tough balance.