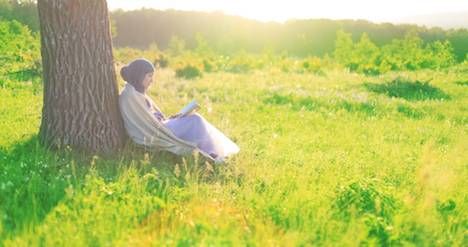 Lists
16 Summer Reading Lists from Around the Web
One of my favorite things about the month of June is putting together my summer reading list. Granted, I need very little excuse to put together a book list, but since summer seems to be the agreed upon time in which everyone else wants to talk about the books they're reading, the internet is awash in recommended reads from a wide and varied group. From fashion magazines to Bill Gates, and from an alternative newspaper to the New York Times, there is something for everyone here. I have rounded up some of my favorite lists for your perusing pleasure. Happy list making!
The Chicago Tribune's 30 books to read this summer Of all the many major news outlets' summer reading lists, I like this one the best. They offer a nice long list of 30 titles, separated into themes: "For Love of Money: Financially Engaged Fiction," "Stormy Weather: Thrillers," etc.
Pride-centric Reading list featuring LGBTQ authors from alternative newspaper The Wisconsin Gazette. With a wonderfully well-rounded mix of poetry, fiction, memoir, and nonfiction, this list offers 22 titles with a little something for everyone. I am particularly pleased to see poetry included on this list!
The Root's list of 11 books for young readers written by black authors. In honor of the 40th anniversary of Mildred Taylor's middle grade classic Roll of Thunder, Hear my Cry, The Root created this list of books for young readers written by black authors. "Her [Taylor's] work was pivotal in empowering black children to see themselves in young adult literature—inspiring a modern generation of black writers to believe that our stories could have a place in the world of children's literature." YES.
Nonfiction picks with a business angle from Melinda Emerson's blog on Huffpost – Business. Melinda Emerson is known as the "SmallBizLady" and is considered one of the leading experts on small business in America. In her blog on Huffpost Business, she recommends ten nonfiction books for small business owners and those who wish to be small business owners.
The American Library Association for Service to Young Children's (ALSC) official summer reading recommendations. ALSC produces a new list every year featuring books that come highly recommended from kids around the country. New this year is a list for the youngest readers: babies, toddlers and preschoolers. Extensive lists for kids in K-12 are also included.
Real Simple's Summer Recommendations from Authors. Real Simple pulled together one of my favorite kind of lists: recommended reads from authors. I love hearing what authors think of other authors–especially when it's praise. The majority of these books are older and available in paperback for easy packing.
Oodles of recommendations for kids at the New York Public Library. The New York Public Library offers a ton of different lists on their official summer reading website, including a few that focus on New York-themed stories (Be still my heart!). From their own lists to various other organizations' recommended reads for kids, you could spend all day browsing.
Wired's fine balance of fiction and nonfiction summer reading. After decrying the public's tendency to read "trash" during summer vacations (EXCUSE ME?), Wired goes on to offer a pretty decent selection of the big name summer books, some of which everyone is talking about and some of which have been flying under the radar.
The Interrobang : Comedic Reading Recommendations. Get ready to LOL. The Interrobang is a website focusing on comedy. Every summer they offer up a list of recommended books. While the list also includes non-comedic books, there is a definite emphasis on comedy writing.
Bill Gates summer reading list. I've run into a lot of buzz about Bill Gates' recommended reads and was delighted to find that not only is he recommending books, he also made a short animated video describing each one. Bill Gates book talk! My librarian heart rejoiced. He recommends four nonfiction titles and one massive science fiction novel by Neal Stephenson.
Essence Magazines Five Best Summer Books. Frustrated by the lack of diverse representation on summer reading lists? So are we. Check out this Essence list of the best summer books written by black authors.
Celebrity Summer Reading Lists. Travel and Leisure magazine scrolled around celebrity social media accounts in search of posts about books they were reading or looking forward to reading. The result is a fizzy slide show featuring glimpses into the gorgeous personal lives of various celebrities as they flash book covers at us.
Bustle's list of YA books coming out in June. Can't get enough YA? Check out this YA-exclusive list of up and coming books featuring both new and already beloved authors.
The New York Times : Summer reading lists from staffers. Staffers at The New York Times offer up the books they're reading this summer, both old and new.
A tally of the most frequently recommended books by major critics on Quartz . Quartz, an online news outlet, surveyed reading lists from major news organizations and tallied up the number of mentions by critics, per book. You will find a pretty standard list of all the biggest and buzziest books. Still, it's a fun kind of bookish number crunching.
What about you? What's the best or most interesting reading list you've come across so far?