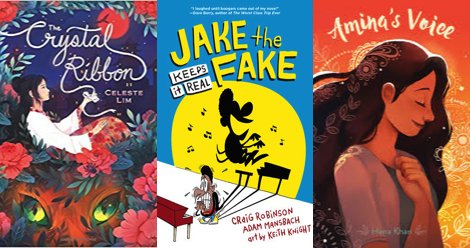 Children's
15 New And Upcoming Middle Grade Books Featuring Kids Of Color
This content contains affiliate links. When you buy through these links, we may earn an affiliate commission.
Enjoy this diverse list of middle grade books featuring kids of color, for readers age 8-12!
A Pakistani-American Muslim girl named Amina faces a challenging first year in middle school. Her BFF Soojin is hanging out with one of the cool girls and talking about changing her name to sound more "American." When her local mosque is vandalized, Amina's worries about fitting in come to a head. [March 2017]
Farah and her two friends from NYC find themselves trapped Jumanji-style inside a mechanical boardgame akin to a Rubik's cube in this Muslim, Arab steampunk novel. They will have to battle camel spiders, red scorpions, grease monkeys, and sand cats before taking on the evil master architect in charge of the game. [March 2017]
This scary mystery series features seventh grader Harper Raine, the new kid in town who must face down hunting ghosts with her younger brother Michael. There were rumors that the house they were moving into was haunted, but Raine isn't convinced they're true until Michael starts acting very strangely… [July 2017]
The Stars Beneath Our Feet by David Barclay Moore
12-year-old Lolly Rachpaul and his mom aren't celebrating Christmas in Harlem this year, still stunned from the death of his older brother in a gang-related shooting. But a surprise gift of two enormous bags of Lego sans instructions inspires Lolly on a path to create a path for himself without listening to what other people tell him to do. [September 2017]
12-year-old Li Jing lives in medieval China, dealing with the timeless stuff like teasing about her name (it's one character different from the name of the deity that rules their province) and historically specific situations like being sold as a bride to a three-year-old in order to pay the family's debts. She eventually escapes after being sold again, and embarks on a journey back to her home province, finding herself along the way. [January 2017]
Three POC middle schoolers—Jin, Alex, and Elvin—team up in Harlem to solve the mystery of the disappearance of Elvin's grandfather after a strange attack. Their investigation involves them with an enigmatic artist whose missing paintings are worth a fortune and a self-serving politician who wants to turn their neighborhood into a ridiculous theme park. [January 2017]
Arturo's plans for a relaxed summer in Miami playing basketball, dishwashing at his Abuela's restaurant part-time, and drinking mango smoothies is interrupted by cute girl Carmen moving into his building and impending gentrification, which he and Carmen are determined to fight through art. [May 2017]
My Life As An Ice-Cream Sandwich by Ibi Zoboi
Set with the backdrop of the 80s hip hop explosion in Harlem, My Life As An Ice-Cream Sandwich stars Ebony Grace who loves science fiction and is looking for a place where she can be herself. [Publication set for fall 2017]
This Is Just a Test by Madelyn Rosenberg and Wendy Wan-Long Shang
In this novel set in the 1980s, David Da-Wei Horowitz should really be preparing for his upcoming bar mitzvah but instead he's distracted by preparing for the worst of the Cold War—like digging a bomb shelter—and making peace between his Jewish and Chinese grandmothers. [June 2017]
Estefania "Stef" Soto has always been embarrassed of her family's taco truck, "Tia Perla." But when it looks like she might get what she's always wanted—no more taco truck—she's forced to become the truck's unlikely defender, realizing it represents her family's livelihood. [January 2017]
Jake the Fake is a side-splitting story written by comedian Craig Robinson about jokester character Jake, who fakes his way into a fancy Music and Art Academy for the gifted despite his total lack of musical or artistic talent. [March 2017]
Middle schooler Oliver "Spaghetti-O" Rodriguez's dad is about to be deported to Mexico and his brilliant idea is to recruit the help of his hero, lucha-libre wrestler turned action star Tito the Bonecrusher. With the help of his friends, Tito concocts a plan to break his dad out of a detention centre. What will happen if Oliver can't live up to his hero's image and save the day? [May 2017]
11-year-old Alex Petroski is a big fan of space and his dog (named Carl Sagan). Determined to launch his golden iPod into space with the recordings of earthlings at a rocket competition in the desert, Alex sets off on a journey that also begins to be one of discovery about long-lost family members. [February 2017]
A funny, heartfelt story about a Mexican-American girl who discovers that she comes from a long and distinguished line of brujas. When she messes up a spell, she has to rush to fix it before her mom and sisters find out she's been doing magic in secret. [Publication set for late 2017]
This book is a collection of fictional "memoirs" of nine-year-old Cilla about her Chinese and white ancestry, school, birthdays, her upcoming new sibling, and her theories about time travel. [March 2017]
Check out even more middle grade book suggestions here!