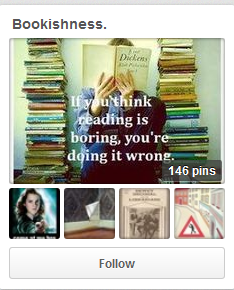 15 Fabulous Bookish Pinterest Boards
There's a lot of bookish goodness out there in the vast Pinterest wasteland of oddly flavored cupcakes and questionable beauty secrets, but it's not always easy to find.
When you really strike gold, comments and contributions from other book lovers make a board feel more like a community than a collection. Nothing's better than when I pin something obscure – the nerdier, the better – and then start getting comments and repins from strangers who love it as much as I do.
Here are a few of the best bookish boards I've found:
For the love of BOOKS / Ephemera by Carina Case. This board takes a documentary approach, recording everything about books that might someday be gone. It's beautiful, eclectic, and vast.
Book Humor by Random House. If you're anything like me, you'll want to read this entire board.
Lustworthy Libraries by Kobo Books, and Cathedrals for Books by Jellybooks Ltd. are two of the finest sources of library porn around. Interesting fact: they're both curated by e-book companies.
Book-inspired Crafts by Kansas City Public Library. If the idea of book pages being reborn as art objects offends you, don't click on this one. Otherwise: do.
We Love Book Lists by Random House. If you're a fan of Book Riot's The List List features, you'll love this board of bookish lists from Random House.
Readers by Conroy Design. This board is curated by a graphic designer, so it's no wonder the images are stunning.
Bookplates by Tattered Cover: How many ways can you say "Ex Libris"? I do love oddly specific, one-subject boards.
Libraries of the Occupy Movement by Book Patrol: Images from various People's Libraries of the Occupy Wall Street movement. It thrills me that people are willing to work so hard to share books in unusual circumstances.
Dumbledore's Army from April of Good Books Good Wine. A small but brilliantly curated Harry Potter Board. April, let's be friends.
Bookshelves & Reading Places by Thinking Plainly. "This board is for the beautiful, the odd, the strange, the unexpected, the unusual and the lesser spotted bookshelves and reading places…and the messy."
Literary Weddings by Random House. "I do….love books forever! Ideas for bookish brides." This fills me with enough glee that my boyfriend should be seriously concerned. (Bonus: there's a Book Rioter pictured on this board. Can you find her?)
Have your book and eat it too! by Carnegie-Stout Public Library. Book-related and book-inspired edibles. Yum.
Book Mess by Book Patrol. Abandoned libraries, jumbled bookstores, etc. Beautiful chaos. May be upsetting to librarians.
An Author's Habitat by BookMachine. Famous authors in their homes/writing spaces!
Bookness by Karen Yakovitch. There's a reason this general bookish board has more than 80,000 followers – it's excellent.
Not to toot our own horn, but Book Riot has some pretty sweet Pinterest boards too. Do you use Pinterest in your pursuit of bookishness? Do you know of any fabulous boards I'm missing out on? Let me know!
All pins pictured are from this board.
____________________________
Sign up for our newsletter to have the best of Book Riot delivered straight to your inbox every two weeks. No spam. We promise.

To keep up with Book Riot on a daily basis, follow us on Twitter, like us on Facebook, , and subscribe to the Book Riot podcast in iTunes or via RSS. So much bookish goodness–all day, every day.