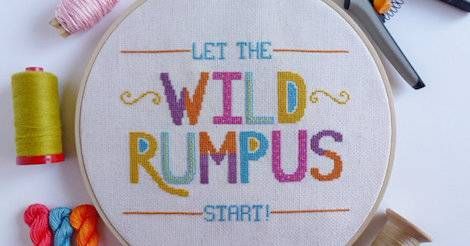 Crafting
15 Bookish Cross Stitch Patterns for All Stitchers
I recently started my cross stitch journey. I'm on my second project and I'm already trying to figure out what I'm going to do next. It's hard to fit the urge to STITCH ALL THE THINGS! I want to give them as gifts, to decorate my apartment, and to just give me something to do while I try to get into listening to audiobooks for the umpteenth time. While looking for patterns on Etsy, I've come across several bookish cross stitch patterns that readers will love! Whether you're new to stitching or have been doing it for years, these beautiful patterns are the perfect handmade accent to decorate your bookshelves, workspace, or wherever else you want to show off some bookish love.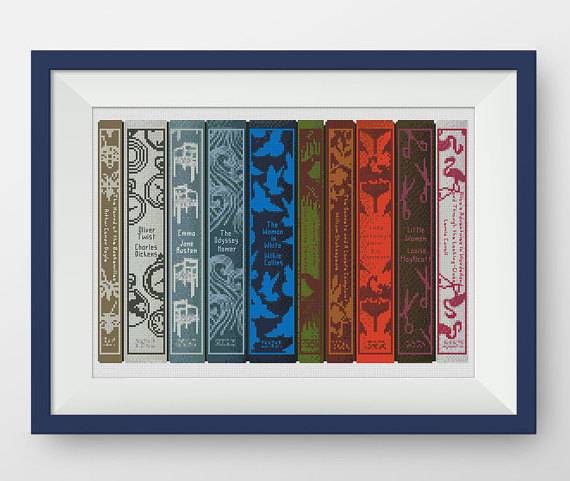 Classic Book Covers from NataliNeedlework
NataliNeedlework also has Harry Potter, Game of Thrones, and even Winnie the Pooh patterns in its Etsy shop!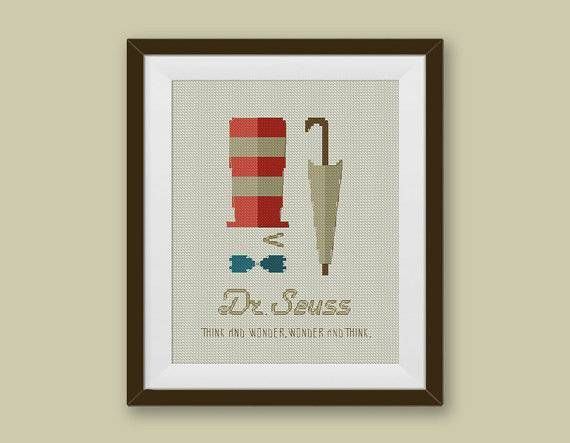 Dr. Seuss Quote & Pattern from StitchLine
This pattern is colorful and simple, plus it'd make a great addition to any nursery or children's library!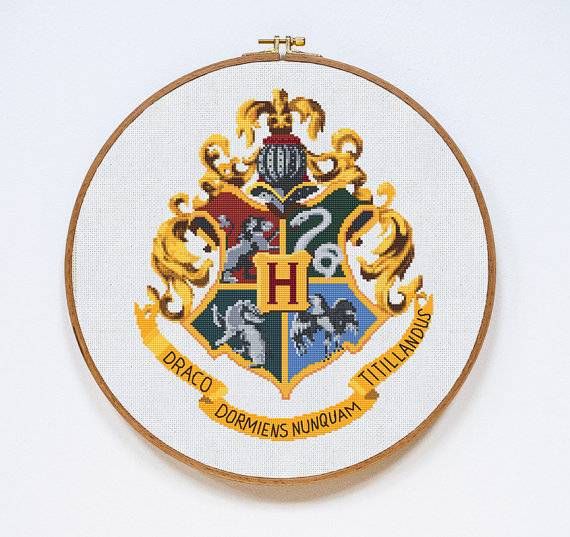 Hogwarts Crest from Stitchering
Probably one of the most beautiful Harry Potter themed patterns I've seen on Etsy! Stitching also conveniently sells complete cross stitch kits that come with all the supplies you need.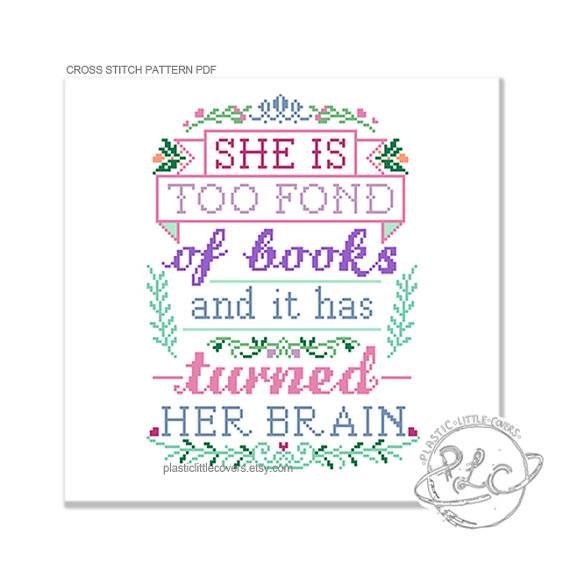 Too Fond of Books Quote from PlasticLittleCovers
This is honestly one of my favorite cross stitch shops because of the colors and floral accents. There are more bookish quotes on Etsy, plus some kickass feminist phrases.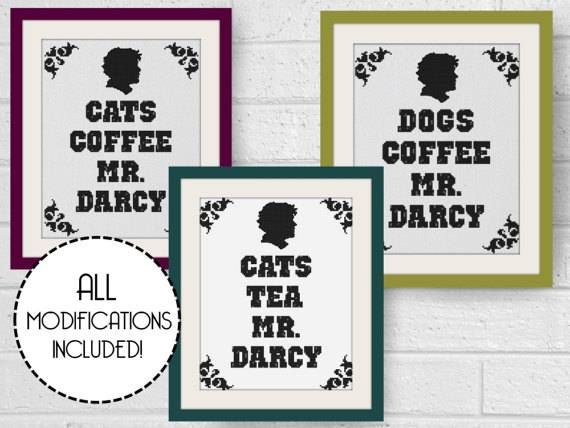 I love the customizable options of this pattern. The LindyStitches shop also has patterns paying homage to some of your favorite classic authors, like Jane Austen and William Shakespeare.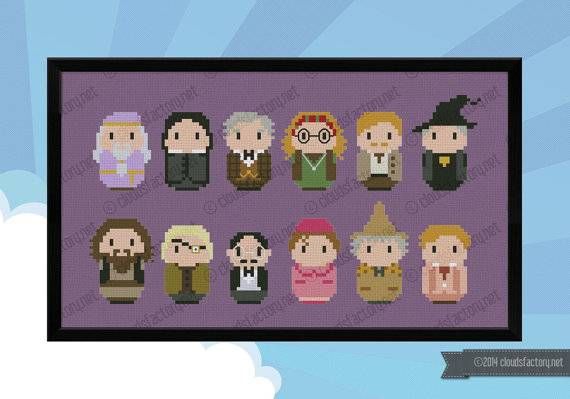 Hogwarts Professors from CloudsFactory
I'd say that these cast patterns from CloudsFactory are for intermediate stitchers. I did a Star Wars one as my first ever cross stitch project and it was tough at times. But if you're big into fandoms, CloudsFactory has a great selection!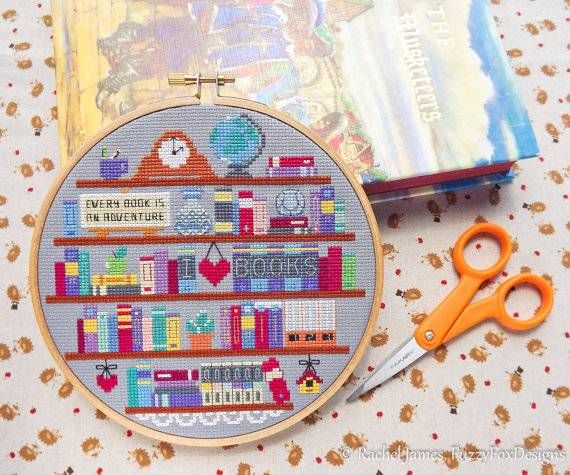 Book Lover's Bookshelf by FuzzyFoxDesigns
The colors of this pattern are so cute, along with all the different shelf decorations. Look at that adorable mug on the top!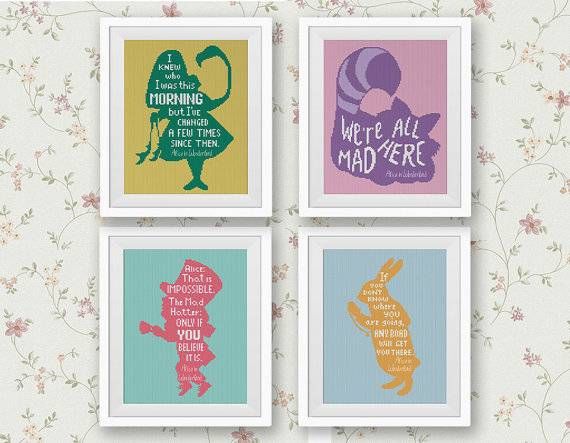 Set 4 Alice in Wonderland Quotes from StitchLine
StitchLine was mentioned earlier, but I just had to include another pattern. While you can purchase the set of four patterns, you can also grab the above patterns separately. I know, though, that it's hard to pick a favorite.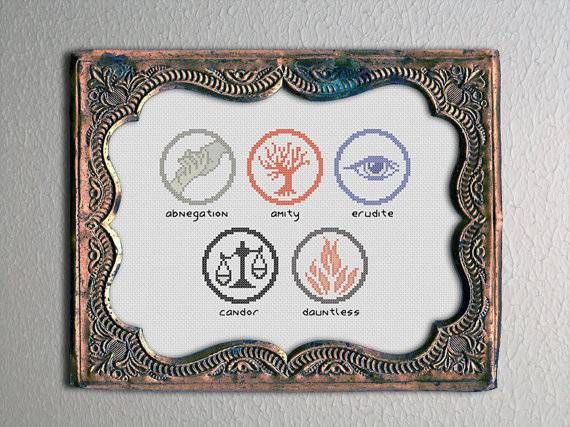 Divergent Factions from StunningCrossStitch
A great pattern for beginners in a muted color palette! The StunningCrossStitch stocks patterns for Harry Potter fans, Disney lovers, and Marvel aficionados.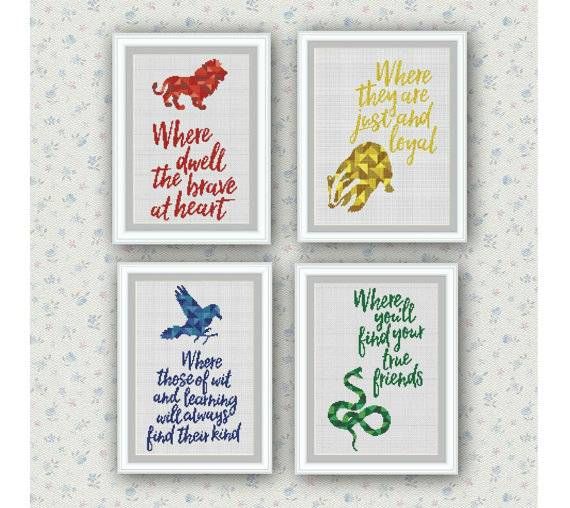 Hogwarts House Quotes from ElCrossStitch
These Hogwarts House quotes can be bought together, or you can buy single patterns. Display your Hufflepuff house pride or help a friend embrace their inner Slytherin!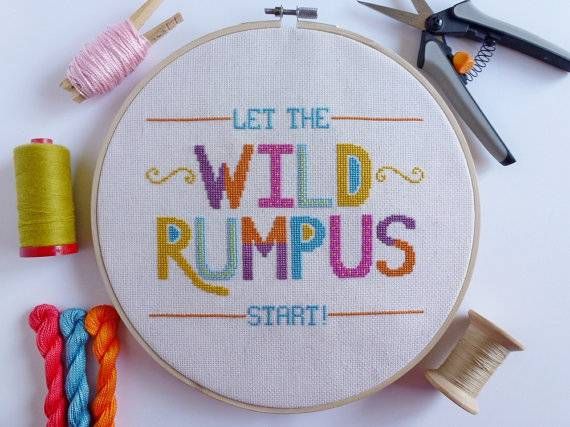 Wild Rumpus by ModernStitchTherapy
We're all kids at heart, right? The color blocking of the letters is so fun, and I like the small and subtle accents. A small project with a lot of personality!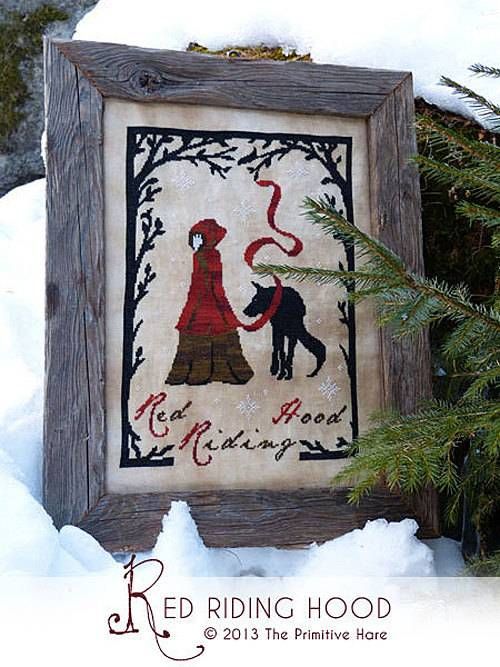 Red Riding Hood by CottageThreadsShoppe
If you like fairy tales with a gothic-looking twist, CottageThreadsShoppe has patterns for Snow White, Cinderella, and more!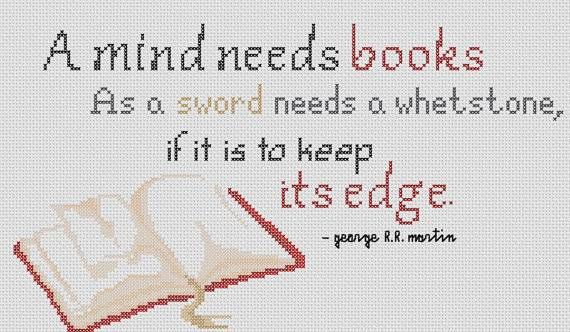 George R. R. Martin Quote by BricoleurCuriosities
A bookish quote with an open book! Two bookish things for the price of one. Who else loves the red, gold, and grey coloring?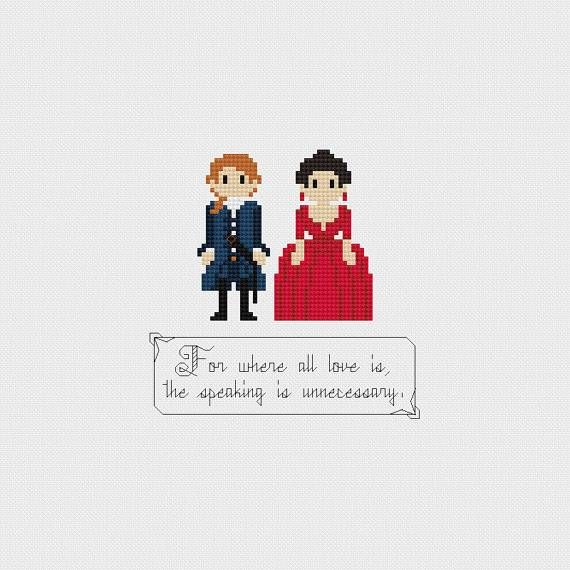 Outlander Pixel Quote by PixelsInStitches
If you love the pixel sprite character look, this shop has plenty of cute characters to choose from. Other patterns include Harry Potter, Hitchhiker's Guide to the Galaxy, and Broadway themes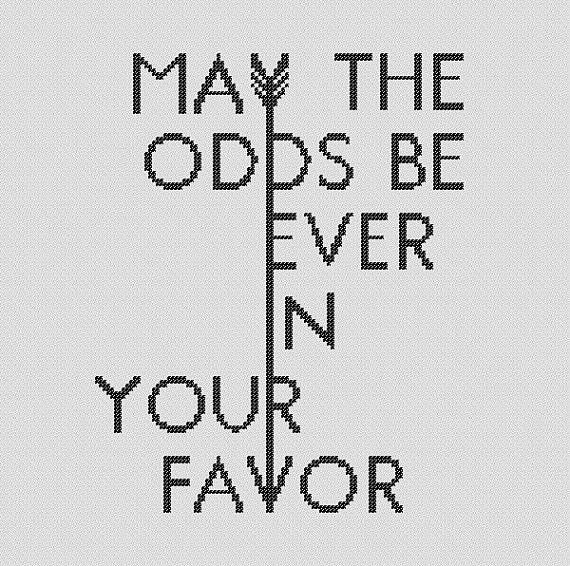 Hunger Games Quote by JezebelZombie
A minimalist quote cross stitch pattern! I love the design and I'm sure, easily customizable if you wanted to use a different color.
Worked through all these projects? Want more patterns? You can find more here and here! Plus, some extra projects that feature embroidery here and here!