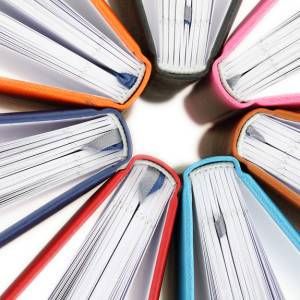 This content contains affiliate links. When you buy through these links, we may earn an affiliate commission.
It's that time again: here's a round-up of 145+ young adult fiction titles hitting shelves between April and the end of June. I've stuck to books that are stand alone titles or first in a series.
You can catch up with the books out in the first quarter of 2015 right here, and you can catch the round-up of 2015 YA series books right here. Big series titles not listed in this post will more than likely be there!
This isn't comprehensive, but it might be pretty close. Get ready for your to-be-read list to grow by leaps and bounds. There is something for every type of reader to be found here. Release dates can sometimes be changed, so some of these may be available a little sooner or a little later than listed here.
April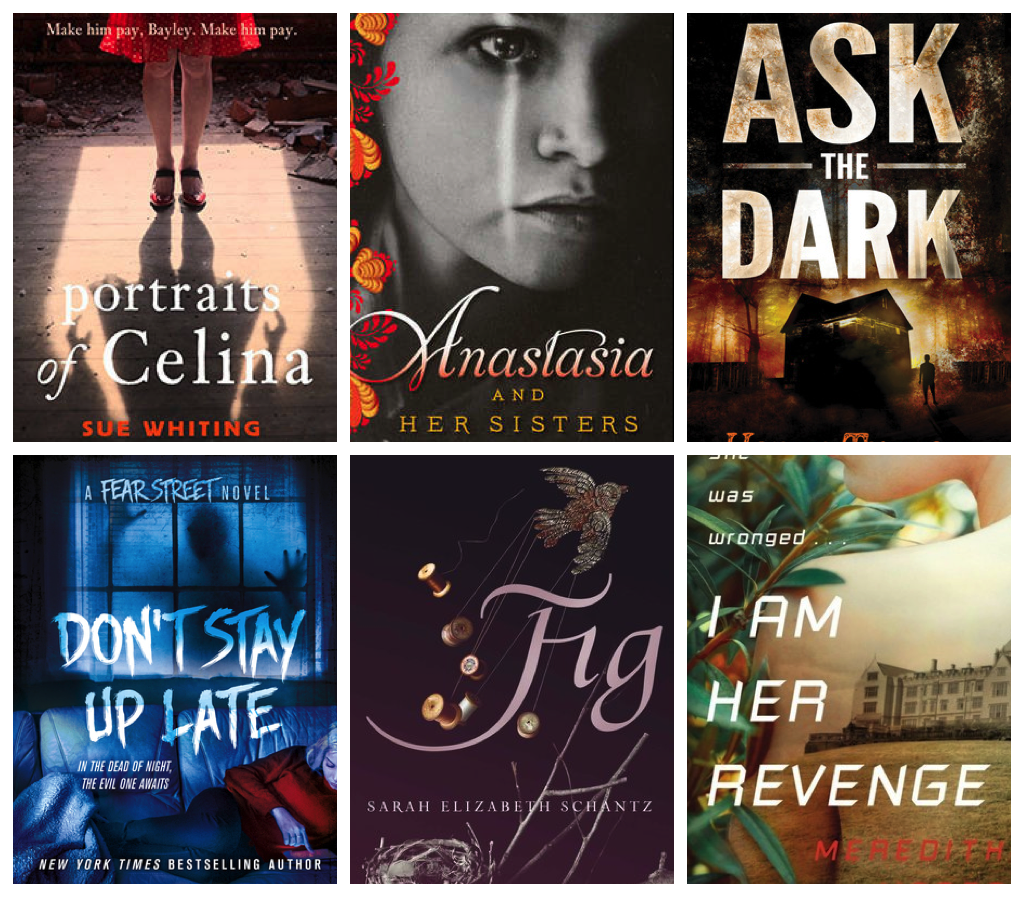 1. Portraits of Celina by Sue Whiting (Switch Press, April 1): Celina O'Malley was sixteen years old when she disappeared. Now, almost forty years later, Bayley is sleeping in Celina's room, wearing her clothes, hearing her voice. What does Celina want? And who will suffer because of it?
A ghost story. A love story. A story of revenge.
2. Anastasia and Her Sisters by Carolyn Meyer (Paula Wiseman Books, April 7): It's summer in 1914 and the Romanovs are aboard the Standart, the Russian royal yacht. Tsar Nicholas, Tsaritsa Alexandra, their four daughters, and the youngest child, Tsarevitch Alexei, are sailing to Romania to meet Crown Prince Carol and his parents. It seems like a fairy tale existence for the four grand duchesses, dressed in beautiful clothes, traveling from palace to palace. But it's not.
Life inside the palace is far from a fairy tale. The girls' younger brother suffers from an excruciatingly painful and deadly blood disease, and their parents have chosen to shield the Russian people from the severity of the future tsar's condition. The secrets and strain are hard on the family, and conditions are equally dire beyond the palace walls. Peasants chafe under the burden of extreme poverty and Tsar Nicholas's leadership power weakens. And when the unthinkable happens—Germany declares war on Russia—nothing in Anastasia's world will ever be the same.
3. Ask The Dark by Henry Turner (Clarion Books, April 7): Billy Zeets has a story to tell.
About being a vandal and petty thief.
About missing boys and an elusive killer.
And about what happens if a boy who breaks all the rules is the only person who can piece together the truth.
4. Don't Stay Up Late by R. L. Stine (St. Martin's Griffin, April 7): Ever since a car accident killed her father and put Lisa and her mother into the hospital, Lisa can't think straight. She's plagued by nightmares and hallucinations that force her to relive the accident over and over again in vivid detail. When Lisa finds out that a neighbor is looking for a babysitter for her young son, she takes the job immediately, eager to keep busy and shake these disturbing images from her head.
But what promised to be an easy gig turns terrifying when Lisa begins to question exactly who — or what — she is babysitting.
5. Fig by Sarah Elizabeth Schantz (Margaret K. McElderry, April 7): Fig's world lies somewhere between reality and fantasy.
But as she watches Mama slowly come undone, it becomes hard to tell what is real and what is not, what is fun and what is frightening. To save Mama, Fig begins a fierce battle to bring her back. She knows that her daily sacrifices, like not touching metal one day or avoiding water the next, are the only way to cure Mama.
The problem is that in the process of a daily sacrifice, Fig begins to lose herself as well, increasingly isolating herself from her classmates and engaging in self-destructive behavior that only further sets her apart.
Spanning the course of Fig's childhood from age six to nineteen, this deeply provocative novel is more than a portrait of a mother, a daughter, and the struggle that comes with all-consuming love. It is an acutely honest and often painful portrayal of life with mental illness and the lengths to which a young woman must go to handle the ordeals—real or imaginary—thrown her way.
6. I Am Her Revenge by Meredith Moore (Razorbill, April 7): She can be anyone you want her to be.
Vivian was raised with one purpose in life: to exact revenge on behalf of her mother. Manipulative and cruel, Mother has deprived Vivian not only of a childhood, but of an original identity. With an endless arsenal of enticing personalities at her disposal, Vivian is a veritable weapon of deception.
And she can destroy anyone.
When it's time to strike, she enrolls in a boarding school on the English moors, where she will zero in on her target: sweet and innocent Ben, the son of the man who broke Mother's heart twenty years ago.
Anyone… except for the woman who created her.
With every secret she uncovers, Vivian comes one step closer to learning who she really is. But the more she learns about herself, the more dangerous this cat and mouse game becomes. Because Mother will stop at nothing to make sure the truth dies with her.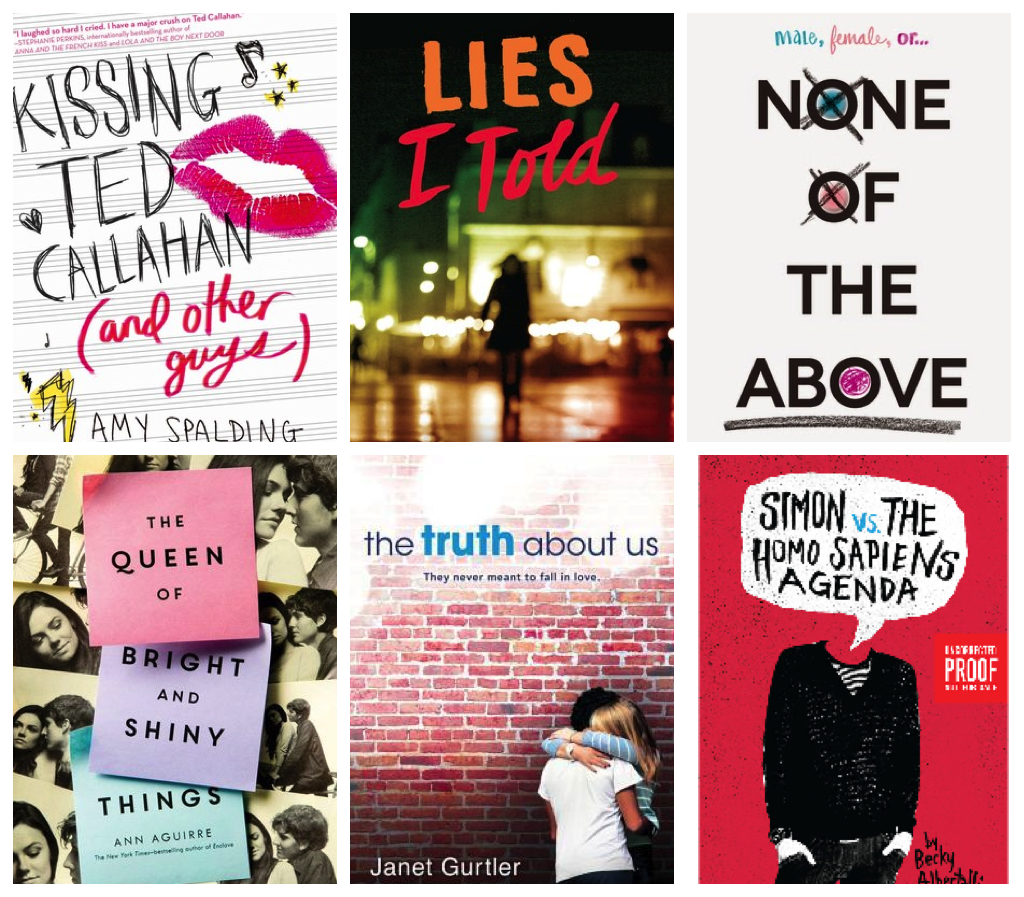 7. Kissing Ted Callahan (And Other Guys) by Amy Spalding (Poppy, April 7): After catching their bandmates in a compromising position, sixteen-year-old Los Angelenos Riley and Reid become painfully aware of the romance missing from their own lives. And so a pact is formed: they'll both try to make something happen with their respective crushes and document the experiences in a shared notebook.
While Reid struggles with the moral dilemma of adopting a dog to win over someone's heart, Riley tries to make progress with Ted Callahan, who she's been obsessed with forever-His floppy hair! His undeniable intelligence! But suddenly cute guys are popping up everywhere. How did she never notice them before?! With their love lives going from 0 to 60 in the blink of an eye, Riley and Reid realize the results of their pact may be more than they bargained for.
8. Lies I Told by Michelle Zink (HarperTeen, April 7): What if, after spending a lifetime deceiving everyone around you, you discovered the biggest lies were the ones you've told yourself?
Grace Fontaine has everything: beauty, money, confidence, and the perfect family.
But it's all a lie.
Grace has been adopted into a family of thieves who con affluent people out of money, jewelry, art, and anything else of value. Grace has never had any difficulty pulling off a job, but when things start to go wrong on the Fontaines' biggest heist yet, Grace finds herself breaking more and more of the rules designed to keep her from getting caught…including the most important one of all: never fall for your mark.
9. None of the Above by I. W. Gregorio (Balzer & Bray, April 7): What if everything you knew about yourself changed in an instant?
When Kristin Lattimer is voted homecoming queen, it seems like another piece of her ideal life has fallen into place. She's a champion hurdler with a full scholarship to college and she's madly in love with her boyfriend. In fact, she's decided that she's ready to take things to the next level with him.
But Kristin's first time isn't the perfect moment she's planned–something is very wrong. A visit to the doctor reveals the truth: Kristin is intersex, which means that though she outwardly looks like a girl, she has male chromosomes, not to mention boy "parts."
Dealing with her body is difficult enough, but when her diagnosis is leaked to the whole school, Kristin's entire identity is thrown into question. As her world unravels, can she come to terms with her new self?
10. The Queen of Bright and Shiny Things by Ann Aguirre (Feiwel & Friends, April 7): Sage Czinski is trying really hard to be perfect. If she manages it, people won't peer beyond the surface, or ask hard questions about her past. She's learned to substitute causes for relationships, and it's working just fine… until Shane Cavendish strolls into her math class. He's a little antisocial, a lot beautiful, and everything she never knew she always wanted.
Shane Cavendish just wants to be left alone to play guitar and work on his music. He's got heartbreak and loneliness in his rearview mirror, and this new school represents his last chance. He doesn't expect to be happy; he only wants to graduate and move on. He never counted on a girl like Sage.
But love doesn't mend all broken things, and sometimes life has to fall apart before it can be put back together again.
11. Simon vs. The Homo Sapiens Agenda (Balzer & Bray, April 7): Sixteen-year-old and not-so-openly gay Simon Spier prefers to save his drama for the school musical. But when an email falls into the wrong hands, his secret is at risk of being thrust into the spotlight. Now Simon is actually being blackmailed: if he doesn't play wingman for class clown Martin, his sexual identity will become everyone's business. Worse, the privacy of Blue, the pen name of the boy he's been emailing, will be compromised.
With some messy dynamics emerging in his once tight-knit group of friends, and his email correspondence with Blue growing more flirtatious every day, Simon's junior year has suddenly gotten all kinds of complicated. Now, change-averse Simon has to find a way to step out of his comfort zone before he's pushed out—without alienating his friends, compromising himself, or fumbling a shot at happiness with the most confusing, adorable guy he's never met.
12. The Truth About Us by Janet Gurtler (Sourcebooks Fire, April 7): The truth is that Jess knows she screwed up.
She's made mistakes, betrayed her best friend, and now she's paying for it. Her dad is making her spend the whole summer volunteering at the local soup kitchen.
The truth is she wishes she was the care-free party-girl everyone thinks she is.
She pretends it's all fine. That her "perfect" family is fine. But it's not. And no one notices the lie…until she meets Flynn. He's the only one who really sees her. The only one who listens.
The truth is that Jess is falling apart – and no one seems to care.
But Flynn is the definition of "the wrong side of the tracks." When Jess's parents look at him they only see the differences-not how much they need each other. They don't get that the person who shouldn't fit in your world… might just be the one to make you feel like you belong.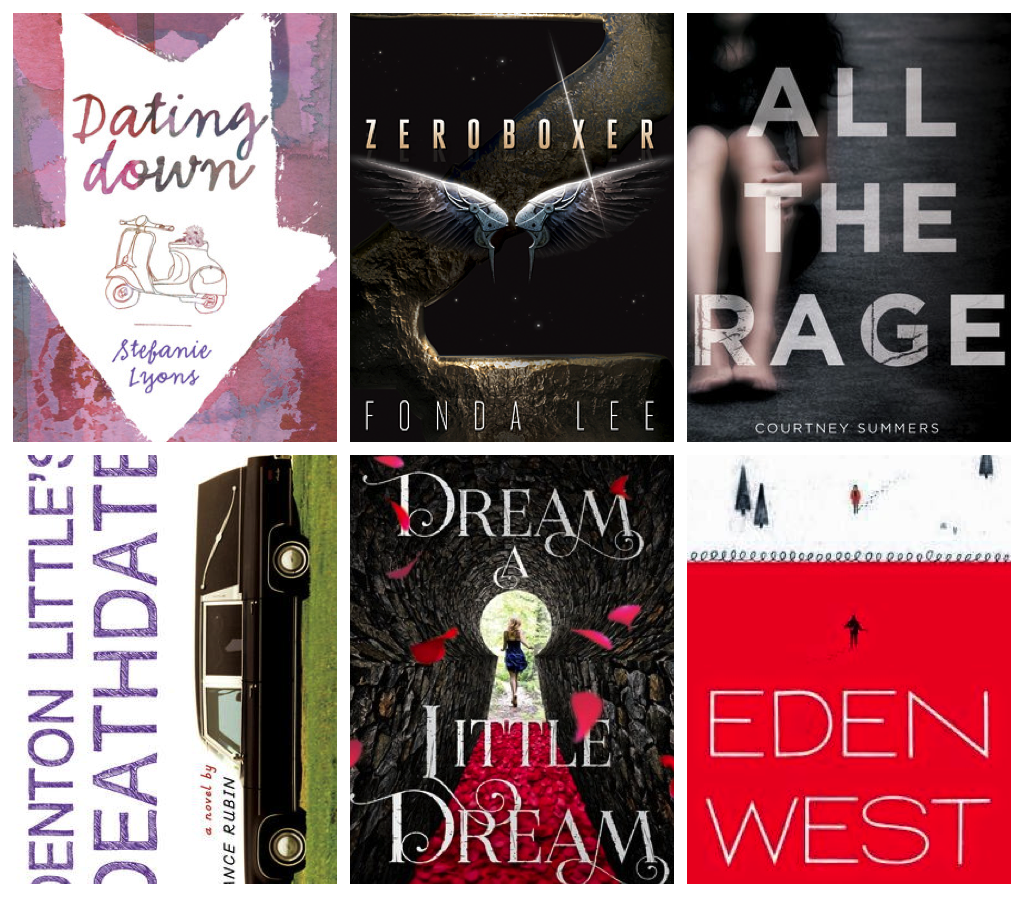 13. Dating Down by Stefanie Lyons (Flux, April 8): When a good girl falls for a bad boy
She thought she loved him. She thought she could change him. She thought if she just believed in him enough, his cheating and his drugs and his lying would stop, and she'd be his and he'd be hers and they'd love each other forever.
But for Samantha Henderson, X-the boy she will not name-is trouble. He's older, edgier, bohemian . . . and when he starts paying attention to Sam, she can't resist him. Samantha's family and friends try to warn her, but still she stays with him, risking her future and everything that really matters.
As moody and vivid as it is captivating, Dating Down is told in scenes and bursts of poetry that create a story filled with hurt, healing, and hope.
14. Zeroboxer by Fonda Lee (Flux, April 8): A rising star in the weightless combat sport of zeroboxing, Carr "the Raptor" Luka dreams of winning the championship title. Recognizing his talent, the Zero Gravity Fighting Association assigns Risha, an ambitious and beautiful Martian colonist, to be his brandhelm––a personal marketing strategist. It isn't long before she's made Carr into a popular celebrity and stolen his heart along the way.
As his fame grows, Carr becomes an inspirational hero on Earth, a once-great planet that's fallen into the shadow of its more prosperous colonies. But when Carr discovers a far-reaching criminal scheme, he becomes the keeper of a devastating secret. Not only will his choices place everything he cares about in jeopardy, but they may also spill the violence from the sports arena into the solar system.
15. All The Rage by Courtney Summers (St. Martin's Griffin, April 14): The sheriff's son, Kellan Turner, is not the golden boy everyone thinks he is, and Romy Grey knows that for a fact. Because no one wants to believe a girl from the wrong side of town, the truth about him has cost her everything—friends, family, and her community. Branded a liar and bullied relentlessly by a group of kids she used to hang out with, Romy's only refuge is the diner where she works outside of town. No one knows her name or her past there; she can finally be anonymous. But when a girl with ties to both Romy and Kellan goes missing after a party, and news of him assaulting another girl in a town close by gets out, Romy must decide whether she wants to fight or carry the burden of knowing more girls could get hurt if she doesn't speak up. Nobody believed her the first time—and they certainly won't now — but the cost of her silence might be more than she can bear.
16. Denton Little's Deathdate by Lance Rubin (Knopf, April 14): Denton Little's Deathdate takes place in a world exactly like our own except that everyone knows the day they will die. For 17-year-old Denton Little, that's tomorrow, the day of his senior prom.
Despite his early deathdate, Denton has always wanted to live a normal life, but his final days are filled with dramatic firsts. First hangover. First sex. First love triangle (as the first sex seems to have happened not with his adoring girlfriend, but with his best friend's hostile sister. Though he's not totally sure. See: first hangover.) His anxiety builds when he discovers a strange purple rash making its way up his body. Is this what will kill him? And then a strange man shows up at his funeral, claiming to have known Denton's long-deceased mother, and warning him to beware of suspicious government characters…. Suddenly Denton's life is filled with mysterious questions and precious little time to find the answers.
17. Dream a Little Dream by Kerstin Gier (Henry Holt, April 14): Mysterious doors with lizard-head knobs. Talking stone statues. A crazy girl with a hatchet. Yep, Liv's dreams have been pretty weird lately. Especially this one where she's in a graveyard at night, watching four boys perform dark magic rituals.
The really weird thing is that Liv recognizes the boys in her dream. They're classmates from her new school in London, the school where's she's starting over because her mom has moved them to a new country (again). But they seem to know things about her in real life that they couldn't possibly know, which is mystifying. Then again, Liv could never resist a good mystery.
18. Eden West by Peter Hautman (Candlewick, April 14): Twelve square miles of paradise, surrounded by an eight-foot-high chain-link fence: this is Nodd, the land of the Grace. It is all seventeen-year-old Jacob knows. Beyond the fence lies the World, a wicked, terrible place, doomed to destruction. When the Archangel Zerachiel descends from Heaven, only the Grace will be spared the horrors of the Apocalypse. But something is rotten in paradise. A wolf invades Nodd, slaughtering the Grace's sheep. A new boy arrives from outside, and his scorn and disdain threaten to tarnish Jacob's contentment. Then, while patrolling the borders of Nodd, Jacob meets Lynna, a girl from the adjoining ranch, who tempts him to sample the forbidden Worldly pleasures that lie beyond the fence. Jacob's faith, his devotion, and his grip on reality are tested as his feelings for Lynna blossom into something greater and the End Days grow ever closer.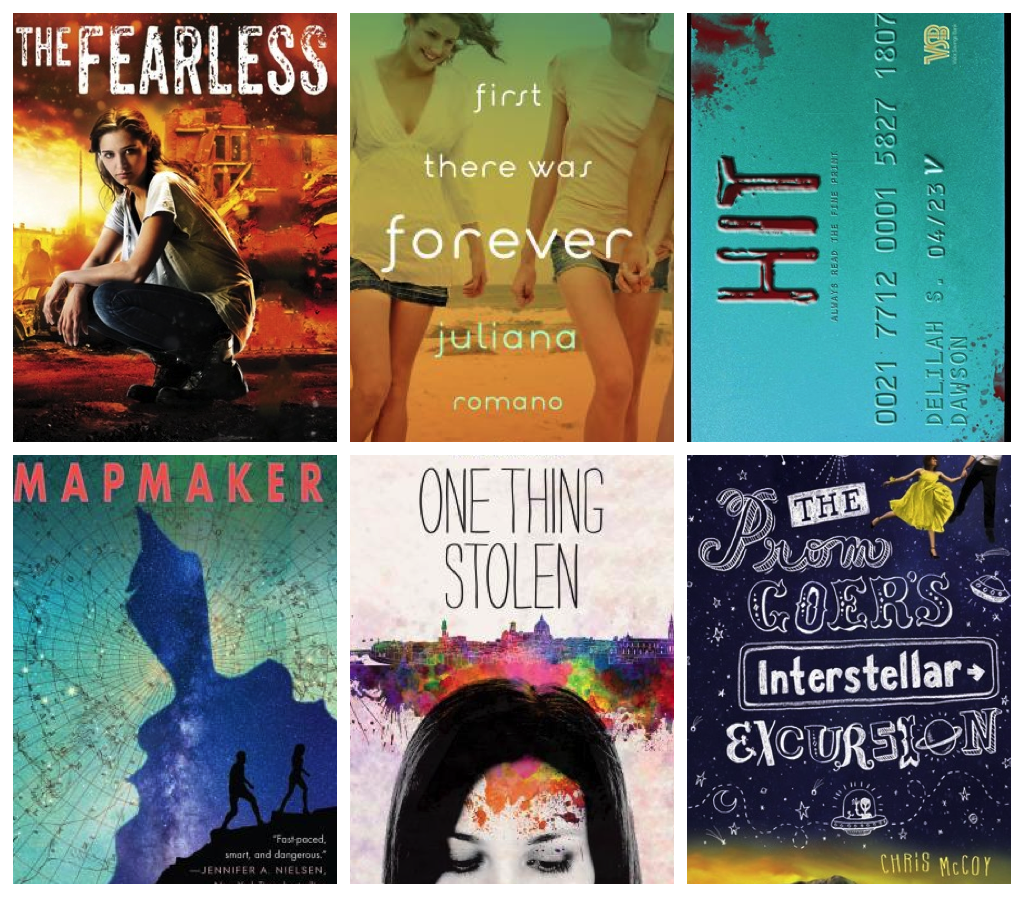 19. The Fearless by Emma Pass (Delacorte, April 14): When the Fearless invaded, they injected everyone in their path with the same serum that stripped them of humanity.
Life became a waking nightmare.
Cass has the invasion seared in her memory. Seven years later, she and her brother, Jori, are living on Hope Island in a community of survivors. No one can enter, and no one can leave.
It's the only way to stay safe.
But when Hope Island's security is breeched and Jori is taken by the Fearless, Cass will risk everything to get him back.
20. First There Was Forever by Juliana Romano (Dial, April 14): Lima and Hailey have always been best friends: Lima shy and sensitive, Hailey funny and free-spirited. But Hailey abandons Lima to party with the popular kids and pursue Nate, her disinterested crush. As their friendship falters, Lima and Nate begin spending more time together. And before Lima knows what she's feeling, she and Nate do something irreversible. Something that would hurt Hailey….if she knew it happened.
Lima thinks she's saving her friendship by lying, but she's only buying time. As the secrets stack up, Lima is forced to make a choice: between her best friend forever, and the boy who wasn't meant to be hers.
21. Hit by Delilah Dawson (Simon Pulse, April 14): The good news is that the USA is finally out of debt. The bad news is that we were bought out by Valor National Bank, and debtors are the new big game, thanks to a tricky little clause hidden deep in the fine print of a credit card application. Now, after a swift and silent takeover that leaves 9-1-1 calls going through to Valor voicemail, they're unleashing a wave of anarchy across the country.
Patsy didn't have much of a choice. When the suits showed up at her house threatening to kill her mother then and there for outstanding debt unless Patsy agreed to be an indentured assassin, what was she supposed to do? Let her own mother die?
Patsy is forced to take on a five-day mission to complete a hit list of ten names. Each name on Patsy's list has only three choices: pay the debt on the spot, agree to work as a bounty hunter, or die. And Patsy has to kill them personally, or else her mom takes a bullet of her own.
Since yarn bombing is the only rebellion in Patsy's past, she's horrified and overwhelmed, especially as she realizes that most of the ten people on her list aren't strangers. Things get even more complicated when a moment of mercy lands her with a sidekick: a hot rich kid named Wyatt whose brother is the last name on Patsy's list. The two share an intense chemistry even as every tick of the clock draws them closer to an impossible choice.
22. Mapmaker by Mark Bomback and Galaxy Craze (Soho Teen, April 14): When Tanya Barrett takes an internship at MapOut, she expects emotional landmines. Her father co-founded the digital mapping company, and he died for it—on a cartographic expedition he didn't even need to take.
Her father's business partner and his son, Connor, welcome her with open arms. Connor may be the only person who can make Tanya feel normal these days. Working late one night, Tanya and Connor stumble onto a deadly secret, and the next day Connor disappears.
It's soon clear that people at MapOut are willing to kill for what they discovered. Alone again—and on the run—Tanya must rely on her wits to find out what happened to him. In the world MapOut envisions, no one stays lost for long.
23. One Thing Stolen by Beth Kephart (Candlewick, April 14): Set in Florence, Italy, One Thing Stolen follows Nadia Cara as she mysteriously begins to change. She's become a thief, she has secrets she can't tell, and when she tries to speak, the words seem far away.
24. The Prom Goer's Interstellar Excursion by Chris McCoy (Knopf, April 14):It's Superbad meets Spaceballs in this hilarious extraterrestrial road trip!
Just a few days before prom, Bennett pulls off something he never imagined possible: his dream girl, Sophie, agrees to be his date. Moments afterward, however, he watches Sophie get abducted by aliens in the middle of the New Mexico desert.
Faced with a dateless prom (and likely kidnapping charges), Bennett does the only thing he can think of: he catches a ride into outer space with a band of extraterrestrial musicians to bring her back.
Can he navigate alien concert venues, an extraterrestrial reality show, and the band's outlandish egos to rescue his date in time for the big dance?
25. The Revelation of Louisa May by Michaela MacColl (Candlewick, April 14): Louisa May Alcott can't believe it—her mother is leaving for the summer to earn money for the family and Louisa is to be in charge of the household. How will she find the time to write her stories, much less have any adventures of her own? But before long, Louisa finds herself juggling her temperamental father, a mysterious murder, a fugitive seeking refuge along the Underground Railroad, and blossoming love. Intertwining fact, fiction, and quotes from Little Women, Michaela MacColl has crafted another spunky heroine whose story will keep readers turning pages until the very end.
26. Still Waters by Ash Parsons (Philomel, April 21): High school senior Jason knows how to take a punch. Living with an abusive father will teach a kid that. But he's also learned how to hit back, earning a reputation at school that ensures no one will mess with him. Even so, all Jason truly wants is to survive his father long enough to turn eighteen, take his younger sister, Janie, and run away.
Then one day, the leader of the in crowd at school, Michael, offers to pay Jason to hang out with him. Jason figures Michael simply wants to be seen with someone with a tough rep and that the money will add up fast, making Jason's escape plan a reality. Plus, there's Michael's girl, Cyndra, who looks at Jason as if she sees something behind his false smile. As Jason gets drawn deeper into Michael's game, the money keeps flowing, but the stakes grow ever more dangerous. Soon, even Jason's fists and his ability to think on his feet aren't enough to keep his head above water.
27. The Truth Commission by Susan Juby (Viking, April 14): Open secrets are the heart of gossip — the obvious things that no one is brave or tactless enough to ask. Except for Normandy Pale and her friends. They are juniors at a high school for artistsl, and have no fear. They are the Truth Commission. Then, one of their truth targets says to Normandy: "If you want to know about the truth, you might want to look a little closer to home." This dryly funny, knife-sharp novel, written as "narrative nonfiction" by Normandy herself, features footnotes, illustrations and a combination mystery/love story that will capture readers from the frst page.
28. Challenger Deep by Neal Shusterman (HarperCollins, April 21): Caden Bosch is on a ship that's headed for the deepest point on Earth: Challenger Deep, the southern part of the Marianas Trench.
Caden Bosch is a brilliant high school student whose friends are starting to notice his odd behavior.
Caden Bosch is designated the ship's artist in residence, to document the journey with images.
Caden Bosch pretends to join the school track team but spends his days walking for miles, absorbed by the thoughts in his head.
Caden Bosch is split between his allegiance to the captain and the allure of mutiny.
Caden Bosch is torn.
29. City Love by Susane Colasante (Katherine Tegen Books, April 21): Sadie, Darcy, and Rosanna are living together in New York City the summer before their freshman year of college begins. With no parents, no rules, and an entire city to explore, these three girls are on the verge of the best summer of their lives.
Sadie is a native New Yorker. She is hopeful, romantic, and an eternal optimist who is ready to find her soul mate. Then she meets her dream boy: cute, funny, and quirky in all the right ways. The chemistry between them is unreal. Could he be the one?
Darcy is a free spirit from SoCal with rebellious tendencies and unlimited financial resources. Moving to New York City is just another adventure for her. Darcy wants this summer to be all about boy adventures—nothing serious. But how much fun is too much?
Rosanna leaves Chicago for NYC so she can put her past behind her and reinvent herself. The only thing standing in her way is the grand total of seventy-three cents she has saved. Then she meets a guy who wants to show her the glamorous side of New York—a side that she would never get to experience on her own. If Rosanna doesn't resist, she may find herself in city love.
Told from alternating points of view, City Love captures the moments in each girl's life when everything is thrilling, amazing, and terrifying all at once . . . in a way it will never be again.
30. Becoming Jinn by Lori Goldstein (Feiwel & Friends, April 21): Azra has just turned sixteen, and overnight her body lengthens, her olive skin deepens, and her eyes glisten gold thanks to the brand-new silver bangle that locks around her wrist. As she always knew it would, her Jinn ancestry brings not just magical powers but the reality of a life of servitude, as her wish granting is controlled by a remote ruling class of Jinn known as the Afrit.
To the humans she lives among, she's just the girl working at the snack bar at the beach, navigating the fryer and her first crush. But behind closed doors, she's learning how to harness her powers and fulfill the obligations of her destiny.
Mentored by her mother and her Zar "sisters", Azra discovers she may not be quite like the rest of her circle of female Jinn . . . and that her powers could endanger them all. As Azra uncovers the darker world of becoming Jinn, she realizes when genies and wishes are involved, there's always a trick.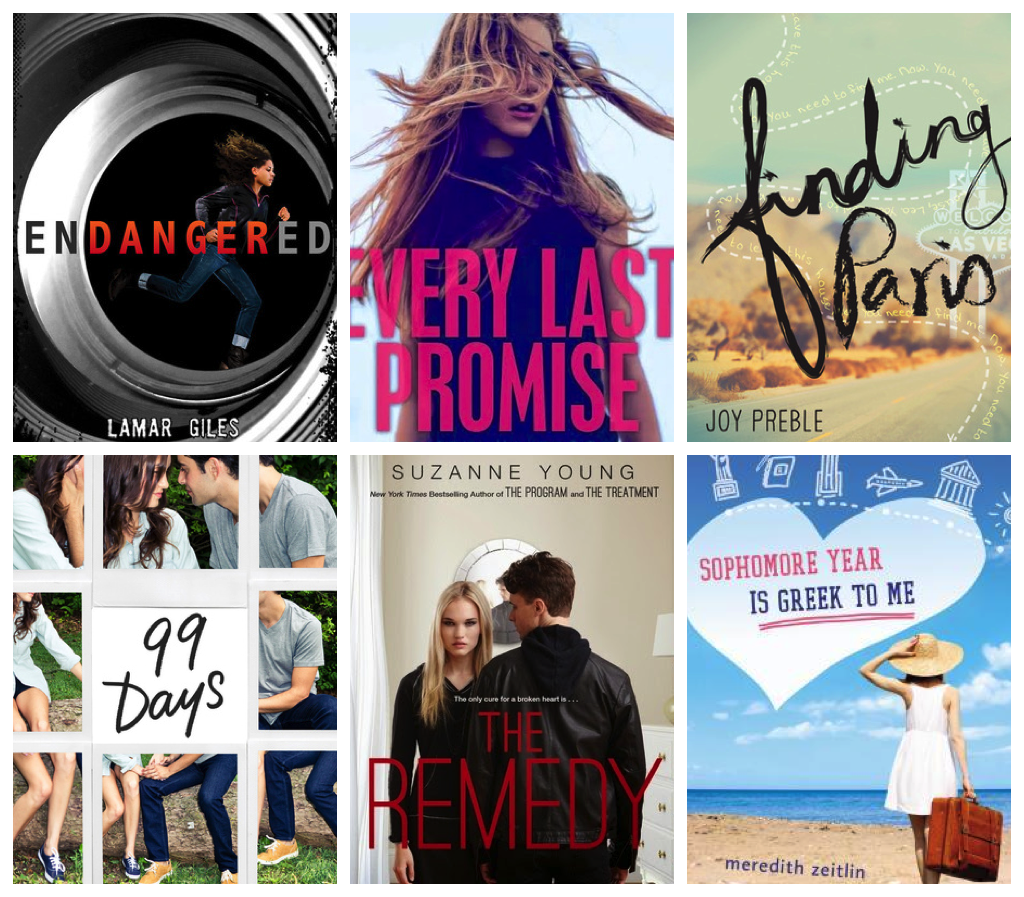 31. Endangered by Lamar Giles (HarperTeen, April 21): The one secret she cares about keeping—her identity—is about to be exposed. Unless Lauren "Panda" Daniels—an anonymous photoblogger who specializes in busting classmates and teachers in compromising positions—plays along with her blackmailer's little game of Dare or . . . Dare.
But when the game turns deadly, Panda doesn't know what to do. And she may need to step out of the shadows to save herself . . . and everyone else on the Admirer's hit list.
32. Every Last Promise by Kristin Halbrook (HarperTeen, April 21): Kayla saw something at the party that she wasn't supposed to. But she hasn't told anyone. No one knows the real story about what happened that night—about why Kayla was driving the car that ran into a ditch after the party, about what she saw in the hours leading up to the accident, and about the promise she made to her friend Bean before she left for the summer.
Now Kayla's coming home for her senior year. If Kayla keeps quiet, she might be able to get her old life back. If she tells the truth, she risks losing everything—and everyone—she ever cared about.
33. Finding Paris by Joy Preble (Balzer & Bray, April 21): Sisters Leo and Paris Hollings have only ever had each other to rely on. They can't trust their mother, who hops from city to city and from guy to guy, or their gambler stepfather, who's moved them all to Las Vegas. It's just the two of them: Paris, who's always been the dreamer, and Leo, who has a real future in mind–going to Stanford, becoming a doctor, falling in love. But Leo isn't going anywhere right now, except driving around Vegas all night with her sister.
Until Paris ditches Leo at the Heartbreak Hotel Diner, where moments before they had been talking with physics student Max Sullivan. Outside, Leo finds a cryptic note from Paris–a clue. Is it some kind of game? Where is Paris, and why has she disappeared? When Leo reluctantly accepts Max's offer of help, the two find themselves following a string of clues through Vegas and beyond. But the search for the truth is not a straight line. And neither is the path to secrets Leo and Max hold inside.
34. 99 Days by Kate Contugno (Balzer & Bray, April 21): Day 1: Julia Donnelly eggs my house my first night back in Star Lake, and that's how I know everyone still remembers everything—how I destroyed my relationship with Patrick the night everything happened with his brother, Gabe. How I wrecked their whole family. Now I'm serving out my summer like a jail sentence: Just ninety-nine days till I can leave for college, and be done.
Day 4: A nasty note on my windshield makes it clear Julia isn't finished. I'm expecting a fight when someone taps me on the shoulder, but it's just Gabe, home from college and actually happy to see me. "For what it's worth, Molly Barlow," he says, "I'm really glad you're back."
Day 12: Gabe got me to come to this party, and I'm actually having fun. I think he's about to kiss me—and that's when I see Patrick. My Patrick, who's supposed to be clear across the country. My Patrick, who's never going to forgive me.
35. The Remedy by Suzanne Young (Simon Pulse, April 21): Quinlan McKee is a closer. Since the age of seven, Quinn has held the responsibility of providing closure to grieving families with a special skill—she can "become" anyone.
Recommended by grief counselors, Quinn is hired by families to take on the short-term role of a deceased loved one between the ages of fifteen and twenty. She's not an exact copy, of course, but she wears their clothes and changes her hair, studies them through pictures and videos, and soon, Quinn can act like them, smell like them, and be them for all intents and purposes. But to do her job successfully, she can't get attached.
Now seventeen, Quinn is deft at recreating herself, sometimes confusing her own past with those of the people she's portrayed. When she's given her longest assignment, playing the role of Catalina Barnes, Quinn begins to bond with the deceased girl's boyfriend. But that's only the beginning of the complications, especially when Quinn finds out the truth about Catalina's death. And the epidemic it could start.
36. Sophomore Year is Greek to Me by Meredith Zeitlin (Putnam, April 21): High school sophomore Zona Lowell has lived in New York City her whole life, and plans to follow in the footsteps of her renowned-journalist father. But when he announces they're moving to Athens for six months so he can work on an important new story, she's devastated— he must have an ulterior motive. See, when Zona's mother married an American, her huge Greek family cut off contact. But Zona never knew her mom, and now she's supposed to uproot her entire life and meet possibly hostile relatives on their turf? Thanks… but no thanks.
37. Things We Know By Heart by Jessi Kirby (HarperTeen, April 21): When Quinn Sullivan meets the recipient of her boyfriend's donated heart, the two form an unexpected connection.
After Quinn loses her boyfriend, Trent, in an accident their junior year, she reaches out to the recipients of his donated organs in hopes of picking up the pieces of her now-unrecognizable life. She hears back from some of them, but the person who received Trent's heart has remained silent. The essence of a person, she has always believed, is in the heart. If she finds Trent's, then maybe she can have peace once and for all.
Risking everything in order to finally lay her memories to rest, Quinn goes outside the system to track down nineteen-year-old Colton Thomas—a guy whose life has been forever changed by this priceless gift. But what starts as an accidental run-in quickly develops into more, sparking an undeniable attraction. She doesn't want to give in to it—especially since he has no idea how they're connected—but their time together has made Quinn feel alive again. No matter how hard she's falling for Colton, each beat of his heart reminds her of all she's lost…and all that remains at stake.
38. Be Not Afraid by Cecelia Galante (Random House Books for Young Readers, April 28): Marin spends a lot of time avoiding things. She avoids thinking about her mother's suicide and what she could have done to prevent it. She avoids looking at people directly-because she can see their pain as bright, colorful shapes. And she avoids Cassie Jackson, who used her in a sinister ritual months ago, although Marin's not exactly sure why.
When Cassie stands up at school, screaming, raking her nails down her cheeks, and pointing a finger at Marin, whispering "YOU," Marin's days of avoidance come to an abrupt end. Cassie's older brother believes that Marin holds the secret to Cassie's illness. So they team up to solve the mystery of what Cassie has unleashed. But as they look deeper into the darkness and things begin to go bump in the night, can Marin trust what she sees?
39. An Ember in the Ashes by Sabaa Tahir (Razorbill, April 28): LAIA is a Scholar living under the iron-fisted rule of the Martial Empire. When her brother is arrested for treason, Laia goes undercover as a slave at the empire's greatest military academy in exchange for assistance from rebel Scholars who claim that they will help to save her brother from execution.
ELIAS is the academy's finest soldier—and secretly, its most unwilling. Elias is considering deserting the military, but before he can, he's ordered to participate in a ruthless contest to choose the next Martial emperor.
When Laia and Elias's paths cross at the academy, they find that their destinies are more intertwined than either could have imagined and that their choices will change the future of the empire itself.
40. The Game of Love and Death by Martha Brockenbrough (Arthur A Levine, April 28): For centuries Love and Death have chosen their players. They have set the rules, rolled the dice, and kept close, ready to influence, angling for supremacy. And Death has always won. Always.
Could there ever be one time, one place, one pair whose love would truly tip the balance?
Meet Flora Saudade, an African-American girl who dreams of becoming the next Amelia Earhart by day and sings in the smoky jazz clubs of Seattle by night. Meet Henry Bishop, born a few blocks and a million worlds away, a white boy with his future assured — a wealthy adoptive family in the midst of the Great Depression, a college scholarship, and all the opportunities in the world seemingly available to him.
The players have been chosen. The dice have been rolled. But when human beings make moves of their own, what happens next is anyone's guess.
41. The Girl at Midnight by Melissa Grey (Delacorte, April 28): Beneath the streets of New York City live the Avicen, an ancient race of people with feathers for hair and magic running through their veins. Age-old enchantments keep them hidden from humans. All but one. Echo is a runaway pickpocket who survives by selling stolen treasures on the black market, and the Avicen are the only family she's ever known.
Echo is clever and daring, and at times she can be brash, but above all else she's fiercely loyal. So when a centuries-old war crests on the borders of her home, she decides it's time to act.
Legend has it that there is a way to end the conflict once and for all: find the Firebird, a mythical entity believed to possess power the likes of which the world has never seen. It will be no easy task, but if life as a thief has taught Echo anything, it's how to hunt down what she wants . . . and how to take it.
But some jobs aren't as straightforward as they seem. And this one might just set the world on fire.
42. In A World Just Right by Jen Brooks (Simon & Schuster BFYR, April 28): High school senior Jonathan Aubrey creates worlds at will. In Kylie-Simms-is-my-girlfriend, he's given himself everything he doesn't have in real life-–the track team, passing grades, and his dream girl–-until one day he confuses his worlds and almost kisses the real Kylie Simms. Now his girlfriend Kylie and the real Kylie are changing, and Jonathan must solve the mystery of his own life to save his love from a gruesome fate.
43. Invincible by Amy Reed (Katherine Tegen Books, April 28): Evie is living on borrowed time. She was diagnosed with terminal cancer several months ago and told that by now she'd be dead. Evie is grateful for every extra day she gets, but she knows that soon this disease will kill her. Until, miraculously, she may have a second chance to live.
All Evie had wanted was her life back, but now that she has it, she feels like there's no place for her in it—at least, not for the girl she is now. Her friends and her parents still see her as Cancer Girl, and her boyfriend's constant, doting attention is suddenly nothing short of suffocating.
Then Evie meets Marcus. She knows that he's trouble, but she can't help falling for him. Being near him makes her feel truly, fully alive. It's better than a drug. His kiss makes her feel invincible—but she may be at the beginning of the biggest free fall of her life.
44. Lying Out Loud by Kody Keplinger (Scholastic, April 28): Sonny Ardmore is an excellent liar. She lies about her dad being in prison. She lies about her mom kicking her out. And she lies about sneaking into her best friend's house every night because she has nowhere else to go.
Amy Rush might be the only person Sonny shares everything with — secrets, clothes, even a nemesis named Ryder Cross.
Ryder's the new kid at Hamilton High and everything Sonny and Amy can't stand — a prep-school snob. But Ryder has a weakness: Amy. So when Ryder emails Amy asking her out, the friends see it as a prank opportunity not to be missed.
But without meaning to, Sonny ends up talking to Ryder all night online. And to her horror, she realizes that she might actually like him. Only there's one small catch: he thinks he's been talking to Amy. So Sonny comes up with an elaborate scheme to help Ryder realize that she's the girl he's really wanted all along. Can Sonny lie her way to the truth, or will all her lies end up costing her both Ryder and Amy?
45. Magonia by Maria Dahvana Headley (HarperCollins, April 28): Aza Ray is drowning in thin air.
Since she was a baby, Aza has suffered from a mysterious lung disease that makes it ever harder for her to breathe, to speak—to live.
So when Aza catches a glimpse of a ship in the sky, her family chalks it up to a cruel side effect of her medication. But Aza doesn't think this is a hallucination. She can hear someone on the ship calling her name.
Only her best friend, Jason, listens. Jason, who's always been there. Jason, for whom she might have more-than-friendly feelings. But before Aza can consider that thrilling idea, something goes terribly wrong. Aza is lost to our world—and found, by another. Magonia.
Above the clouds, in a land of trading ships, Aza is not the weak and dying thing she was. In Magonia, she can breathe for the first time. Better, she has immense power—and as she navigates her new life, she discovers that war is coming. Magonia and Earth are on the cusp of a reckoning. And in Aza's hands lies the fate of the whole of humanity—including the boy who loves her. Where do her loyalties lie?
46. Rook by Sharon Cameron (Scholastic Press, April 28): History has a way of repeating itself. In the Sunken City that was once Paris, all who oppose the new revolution are being put to the blade. Except for those who disappear from their prison cells, a red-tipped rook feather left in their place. Is the mysterious Red Rook a savior of the innocent or a criminal?
Meanwhile, across the sea in the Commonwealth, Sophia Bellamy's arranged marriage to the wealthy René Hasard is the last chance to save her family from ruin. But when the search for the Red Rook comes straight to her doorstep, Sophia discovers that her fiancé is not all he seems. Which is only fair, because neither is she.
As the Red Rook grows bolder and the stakes grow higher, Sophia and René find themselves locked in a tantalizing game of cat and mouse.
47. The Secrets of Attraction by Robin Constantine (Balzer & Bray, April 28): Madison Pryce thinks she's got everything figured out—she's working on a portfolio for a summer art program and hanging with her friends. Plus she has her hot boyfriend, Zach. But then a visit from a family friend turns Maddie's life upside down.
Jesse McMann is still reeling from a breakup that shattered his heart and his band. Then pride (and some goading from his bass player and fellow barista) forces him to find a new drummer—and the inspiration to write music again.
Kismet arrives in the unlikely form of Grayson Barrett, who tries out for Jesse's band, and whose girlfriend is BFFs with the cute girl who orders a chai latte after yoga every Thursday: Maddie. What Jesse and Maddie thought they knew about the secrets of attraction and the rules of romance changes once they start falling for each other.
48. The Secrets We Keep by Trisha Leaver (Farrar, Straus and Giroux, April 28): Ella and Maddy Lawton are identical twins. Ella has spent her high school years living in popular Maddy's shadows, but she has never been envious of Maddy. In fact, she's chosen the quiet, safe confines of her sketchbook over the constant battle for attention that has defined Maddy's world.
When—after a heated argument—Maddy and Ella get into a tragic accident that leaves her sister dead, Ella wakes up in the hospital surrounded by loved ones who believe she is Maddy. Feeling responsible for Maddy's death and everyone's grief, Ella makes a split-second decision to pretend to be Maddy. Soon, Ella realizes that Maddy's life was full of secrets. Caught in a web of lies, Ella is faced with two options—confess her deception or live her sister's life.
May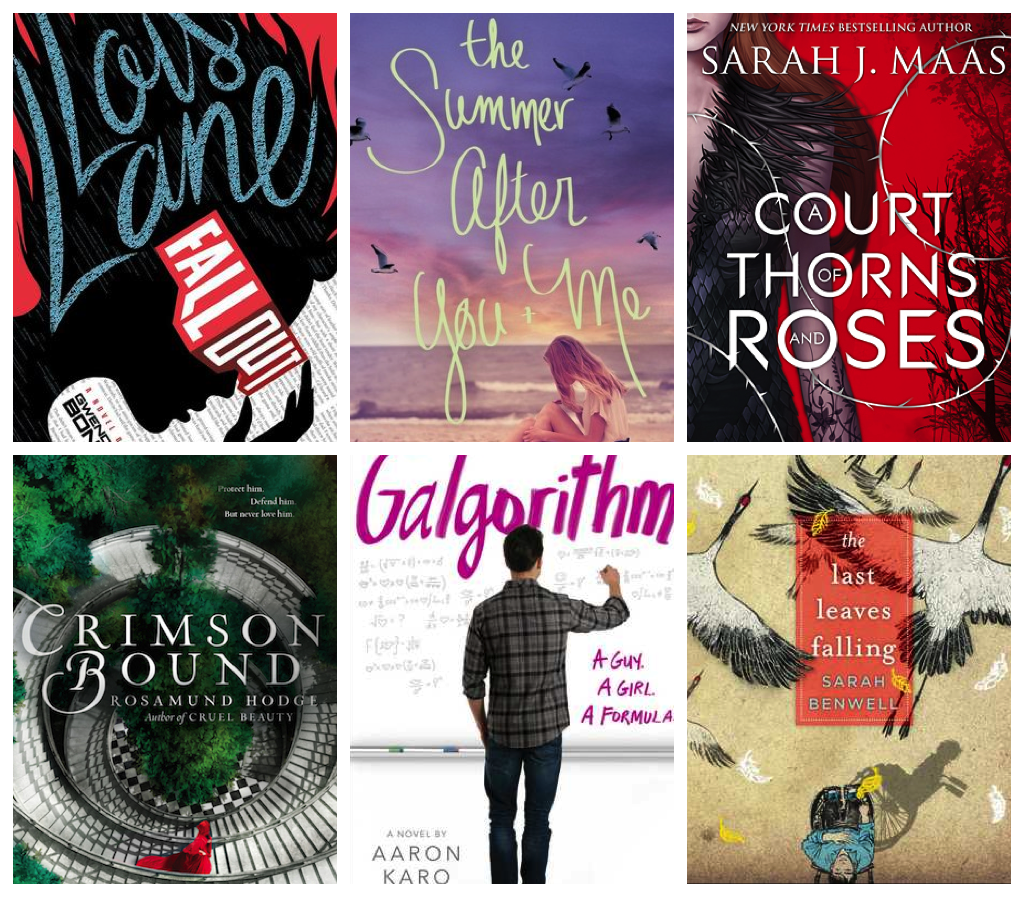 49. Lois Lane: Fallout by Gwenda Bond (Switch Press, May 1): Lois Lane is starting a new life in Metropolis. An Army brat, Lois has lived all over—and seen all kinds of things. (Some of them defy explanation, like the near-disaster she witnessed in Kansas in the middle of one night.) But now her family is putting down roots in the big city, and Lois is determined to fit in. Stay quiet. Fly straight. As soon as she steps into her new high school, though, she can see it won't be that easy. A group known as the Warheads is making life miserable for another girl at school. They're messing with her mind, somehow, via the high-tech immersive videogame they all play. Not cool. Armed with her wit and her new snazzy job as a reporter, Lois has her sights set on solving this mystery. But sometimes it's all a bit much. Thank goodness for her maybe-more-than-a friend, a guy she knows only by his screenname, SmallvilleGuy.
50. The Summer After You and Me by Jennifer Salvato Doktorski (Sourcebooks Fire, May 1): Sunbathing, surfing, eating funnel cake on the boardwalk—Lucy loves living on the Jersey Shore. For her, it's not just the perfect summer escape, it is home. And as a local girl, she knows not to get attached to the tourists. They breeze in over Memorial Day weekend, crowding the shore and stealing moonlit kisses, only to pack up their beach umbrellas and empty promises on Labor Day. Lucy wants more from love than a fleeting romance, even if that means keeping her distance from her summertime neighbor and crush, Connor.
Then Superstorm Sandy tears apart her barrier island, briefly bringing together a local girl like herself and a vacationer like Connor. Except nothing is the same in the wake of the storm. And day after day, week after week, Lucy is left to pick up the pieces of her broken heart and broken home. Now with Memorial Day approaching and Connor returning, will it be a summer of fresh starts or second chances?
51. A Court of Thorns and Roses by Sarah J. Maas (Bloomsbury, May 5): When nineteen-year-old huntress Feyre kills a wolf in the woods, a beast-like creature arrives to demand retribution for it. Dragged to a treacherous magical land she only knows about from legends, Feyre discovers that her captor is not an animal, but Tamlin—one of the lethal, immortal faeries who once ruled their world.
As she dwells on his estate, her feelings for Tamlin transform from icy hostility into a fiery passion that burns through every lie and warning she's been told about the beautiful, dangerous world of the Fae. But an ancient, wicked shadow grows over the faerie lands, and Feyre must find a way to stop it . . . or doom Tamlin—and his world—forever.
52. Crimson Bound by Rosamund Hodge (Balzer & Bray, May 5): When Rachelle was fifteen she was good—apprenticed to her aunt and in training to protect her village from dark magic. But she was also reckless— straying from the forest path in search of a way to free her world from the threat of eternal darkness. After an illicit meeting goes dreadfully wrong, Rachelle is forced to make a terrible choice that binds her to the very evil she had hoped to defeat.
Three years later, Rachelle has given her life to serving the realm, fighting deadly creatures in an effort to atone. When the king orders her to guard his son Armand—the man she hates most—Rachelle forces Armand to help her find the legendary sword that might save their world. As the two become unexpected allies, they uncover far-reaching conspiracies, hidden magic, and a love that may be their undoing. In a palace built on unbelievable wealth and dangerous secrets, can Rachelle discover the truth and stop the fall of endless night?
53. Galgorithm by Aaron Karo (Simon Pulse, May 5): What if the secrets of dating and love were revealed in one simple formula? That is the tantalizing proposition high school senior Shane Chambliss offers the hopeless and hapless guys who come to him for relationship advice.
After the girl of his dreams breaks his heart, Shane devises a mysterious formula called the Galgorithm and establishes himself as the resident dating guru at Kingsview High School. But his attempts to master the art of romance go outrageously awry.
As Shane tries to navigate the ensuing drama, he must follow his heart, abandon all the rules, and ignore his own advice in a quest for true love. What he discovers, no formula could ever predict.
54. The Last Leaves Falling by Sarah Benwell (Simon & Schuster BFYR, May 5): Japanese teenager, Sora, is diagnosed with ALS (Lou Gehrig's disease). Lonely and isolated, Sora turns to the ancient wisdom of the samurai for guidance and comfort. But he also finds hope in the present; through the internet he finds friends that see him, not just his illness. This is a story of friendship and acceptance, and testing strength in an uncertain future.
55. Material Girls by Elaine Dimopoulos (HMH Books for Young Readers, May 5): In Marla Klein and Ivy Wilde's world, teens are the gatekeepers of culture. A top fashion label employs sixteen-year-old Marla to dictate hot new clothing trends, while Ivy, a teen pop star, popularizes the garments that Marla approves. Both girls are pawns in a calculated but seductive system of corporate control, and both begin to question their world's aggressive levels of consumption. Will their new "eco-chic" trend subversively resist and overturn the industry that controls every part of their lives?
56. The Novice by Taran Matharu (Feiwel and Friends, May 5): When blacksmith apprentice Fletcher discovers that he has the ability to summon demons from another world, he travels to Adept Military Academy. There the gifted are trained in the art of summoning. Fletcher is put through grueling training as a battlemage to fight in the Hominum Empire's war against orcs. He must tread carefully while training alongside children of powerful nobles. The power hungry, those seeking alliances, and the fear of betrayal surround him. Fletcher finds himself caught in the middle of powerful forces, with only his demon Ignatius for help.
As the pieces on the board maneuver for supremacy, Fletcher must decide where his loyalties lie. The fate of an empire is in his hands. The Novice is the first in a trilogy about Fletcher, his demon Ignatius, and the war against the Orcs.
57. Saint Anything by Sarah Dessen (Viking, May 5): Peyton, Sydney's charismatic older brother, has always been the star of the family, receiving the lion's share of their parents' attention and—lately—concern. When Peyton's increasingly reckless behavior culminates in an accident, a drunk driving conviction, and a jail sentence, Sydney is cast adrift, searching for her place in the family and the world. When everyone else is so worried about Peyton, is she the only one concerned about the victim of the accident?
Enter the Chathams, a warm, chaotic family who run a pizza parlor, play bluegrass on weekends, and pitch in to care for their mother, who has multiple sclerosis. Here Sydney experiences unquestioning acceptance. And here she meets Mac, gentle, watchful, and protective, who makes Sydney feel seen, really seen, for the first time.
58. Seriously Wicked by Tina Connolly (Tor Teen, May 5): The only thing worse than being a witch is living with one.
Camellia's adopted mother wants Cam to grow up to be just like her. Problem is, Mom's a seriously wicked witch.
Cam's used to stopping the witch's crazy schemes for world domination. But when the witch summons a demon, he gets loose—and into Devon, the cute new boy at school.
Now Cam's suddenly got bigger problems than passing Algebra. Her friends are getting zombiefied. Their dragon is tired of hiding in the RV garage. For being a shy boy-band boy, Devon is sure kissing a bunch of girls. And a phoenix hidden in the school is going to explode on the night of the Halloween Dance.
To stop the demon before he destroys Devon's soul, Cam might have to try a spell of her own. But if she's willing to work spells like the witch…will that mean she's wicked too?
59. Some Kind of Normal by Juliana Stone (Sourcebooks Fire, May 5): What is Normal?
For Trevor normal was fast guitar licks, catching game-winning passes and partying all night. Until a car accident leaves Trevor with no band, no teammates and no chance of graduating. It's kinda hard to ace your finals when you've been in a coma. The last thing he needs is stuck-up Everly Jenkins as his new tutor—those beautiful blue eyes catching every last flaw.
For Everly normal was a perfect family around the dinner table, playing piano at Sunday service and sunning by the pool. Until she discovers her whole life is a lie. Now the perfect pastor's daughter is hiding a life-changing secret, one that is slowly tearing her family apart. And spending the summer with notorious flirt Trevor Lewis means her darkest secret could be exposed.
60. Tracked by Jenny Martin (Dial, May 5): On corporately controlled Castra, rally racing is a high-stakes game that seventeen-year-old Phoebe Van Zant knows all too well. Phee's legendary racer father disappeared mysteriously, but that hasn't stopped her from speeding headlong into trouble. When she and her best friend, Bear, attract the attention of Charles Benroyal, they are blackmailed into racing for Benroyal Corp, a company that represents everything Phee detests. Worse, Phee risks losing Bear as she falls for Cash, her charming new teammate. But when she discovers that Benroyal is controlling more than a corporation, Phee realizes she has a much bigger role in Castra's future than she could ever have imagined. It's up to Phee to take Benroyal down. But even with the help of her team, can a street-rat destroy an empire?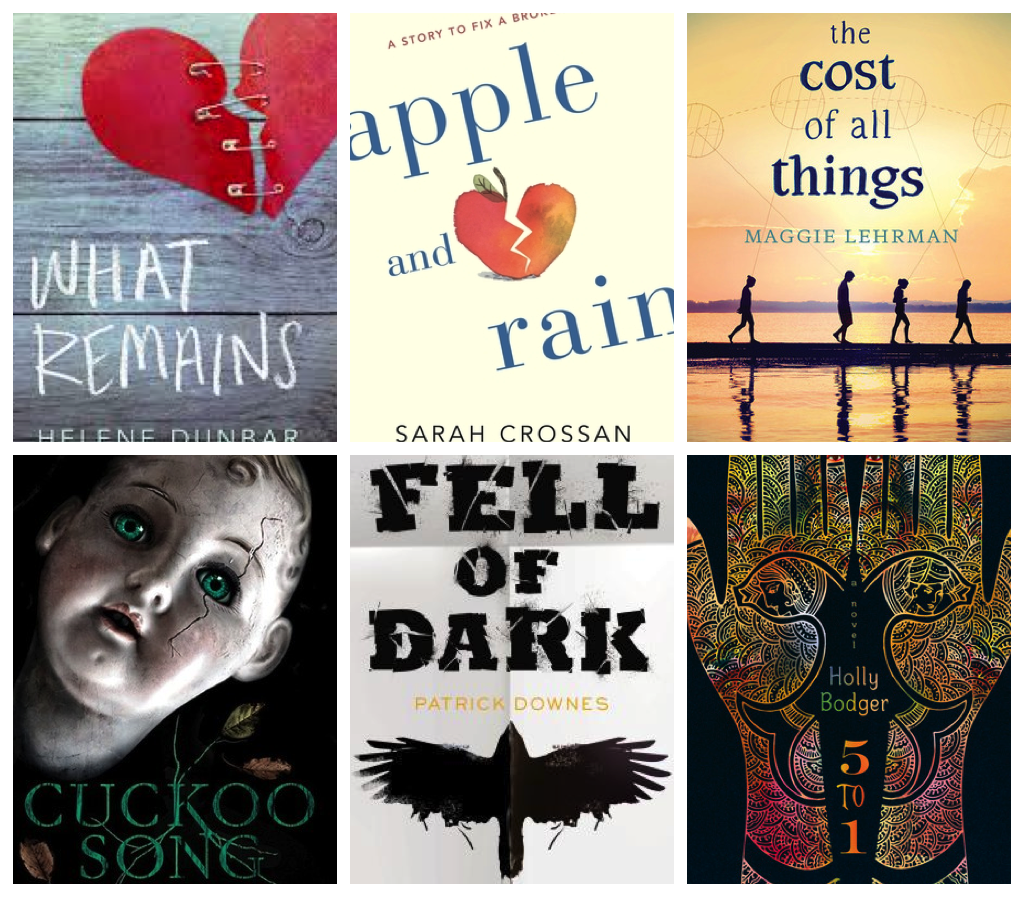 61. What Remains by Helene Dunbar (Flux, May 8): In less than a second…
… two of the things Cal Ryan cares most about–a promising baseball career and Lizzie, one of his best friends–are gone forever.
In the hours that follow…
…Cal's damaged heart is replaced. But his life will never be the same.
Everyone expects him to pick up the pieces and move on.
But Lizzie is gone, and all that remains for Cal is an overwhelming sense that her death was his fault. And a voice in his head that just…won't…stop.
Cal thought he and his friends could overcome any obstacle. But grief might be the one exception.
And that might take a lifetime to accept.
62. Apple and Rain by Sarah Crossan (Bloomsbury, May 12): When Apple's mother returns after eleven years of absence, Apple feels almost whole again. In order to heal completely, her mother will have to answer one burning question: Why did she abandon her? But just like the stormy Christmas Eve when she left, her mother's homecoming is bittersweet. It's only when Apple meets her younger sister, Rain-someone more lost than she is- that she begins to see things for how they really are, allowing Apple to discover something that might help her to feel truly whole again.
63. The Cost of All Things by Maggie Lehrman (Balzer & Bray, May 12): What would you pay to cure your heartbreak? Banish your sadness? Transform your looks? The right spell can fix anything…. When Ari's boyfriend Win dies, she gets a spell to erase all memory of him. But spells come at a cost, and this one sets off a chain of events that reveal the hidden—and sometimes dangerous—connections between Ari, her friends, and the boyfriend she can no longer remember.
Told from four different points of view, this original and affecting novel weaves past and present in a suspenseful narrative that unveils the truth behind a terrible tragedy.
64. The Cuckoo Song by Francine Harding (Abrams, May 12): When Triss wakes up after an accident, she knows something is very wrong. She is insatiably hungry, her sister seems scared of her, and her parents whisper behind closed doors. She looks through her diary to try to remember, but the pages have been ripped out. Soon Triss discovers that what happened to her is more strange and terrible than she could ever have imagined, and that she is quite literally not herself. In a quest to find the truth she must travel into the terrifying underbelly of the city to meet a twisted architect who has dark designs on her family-before it's too late.
65. Fell of Dark by Patrick Downes (Philomel, May 12): Written in searing prose, this is the story of two boys: Erik, who performs miracles, and Thorn, who hears voices. The book chronicles their lives as their minds devolve into hallucinations, and shows the way their worlds intersect, culminating in a final stand-off.
This debut novel offer a raw, insightful look at the forces that compel us to act against our will. Even more so, it captivates and dares us to look away, knowing full well we can't.
66. 5-to-1 by Holly Bodger (Knopf, May 12): In the year 2054, after decades of gender selection, India now has a ratio of five boys for every girl, making women an incredibly valuable commodity. Tired of marrying off their daughters to the highest bidder and determined to finally make marriage fair, the women who form the country of Koyanagar have instituted a series of tests so that every boy has the chance to win a wife.
Sudasa, though, doesn't want to be a wife, and Kiran, a boy forced to compete in the test to become her husband, has other plans as well. As the tests advance, Sudasa and Kiran thwart each other at every turn until they slowly realize that they just might want the same thing.
This beautiful, unique novel is told from alternating points of view-Sudasa's in verse and Kiran's in prose-allowing readers to experience both characters' pain and their brave struggle for hope.
67. Love, Fortune, and Other Disasters by Kimberly Karalius (Swoon Reads, May 12): Love is real in the town of Grimbaud, and Fallon Dupree has dreamed of attending high school there for years. After all, generations of Duprees have successfully followed the (100% accurate!) love fortunes from Zita's famous Love Charms Shop to happily marry their high school sweethearts. It's a tradition. So she is both stunned and devastated when her fortune states that she will NEVER find love.
Fortunately, Fallon isn't the only student with a terrible love fortune, and a rebellion is brewing. Fallon is determined to take control of her own fate—even if it means working with a notorious heartbreaker like Sebastian.
Will Fallon and Sebastian be able to overthrow Zita's tyranny and fall in love?
68. Making Pretty by Corey Ann Haydu (Katherine Tegen Books, May 12): Montana and her sister, Arizona, are named after the mountainous states their mother left them for. But Montana is a New York City girl through and through, and as the city heats up, she's stepping into the most intense summer of her life.
With Arizona wrapped up in her college world and their father distracted by yet another divorce, Montana's been immersing herself in an intoxicating new friendship with a girl from her acting class. Karissa is bold, imperfectly beautiful, and unafraid of being vulnerable. She's everything Montana would like to become. But the friendship with Karissa is driving a wedge between Montana and her sister, and the more of her own secrets Karissa reveals, the more Montana has to wonder if Karissa's someone she can really trust.
In the midst of her uncertainty, Montana finds a heady distraction in Bernardo. He's serious and spontaneous, and he looks at Montana in the way she wants to be seen. For the first time, Montana understands how you can become both lost and found in somebody else. But when that love becomes everything, where does it leave the rest of her imperfect life?
69. The Messengers by Edward Hogan (Candlewick, May 12): Fifteen-year-old Frances is sent to her aunt's house for the summer to escape difficulties at home. Soon she meets Peter, a man unlike anyone she has ever known. Peter is a messenger — but his messages never bring good news. Peter believes that Frances is a messenger, too.
70. Only Ever Yours by Louise O'Neill (Quercus, May 12): Where women are created for the pleasure of men, beauty is the first duty of every girl. In Louise O'Neill's world of Only Every Yours women are no longer born naturally, girls (called "eves") are raised in Schools and trained in the arts of pleasing men until they come of age. Freida and Isabel are best friends. Now, aged sixteen and in their final year, they expect to be selected as companions–wives to powerful men. All they have to do is ensure they stay in the top ten beautiful girls in their year. The alternatives–life as a concubine, or a chastity (teaching endless generations of girls)–are too horrible to contemplate.
But as the intensity of final year takes hold, the pressure to be perfect mounts. Isabel starts to self-destruct, putting her beauty–her only asset–in peril. And then into this sealed female environment, the boys arrive, eager to choose a bride. Freida must fight for her future–even if it means betraying the only friend, the only love, she has ever known.
71. Out of Control by Sarah Alderson (Simon Pulse, May 12): When seventeen-year-old Liva came to New York City, all she wanted was to escape the painful memories of her past and finally find a fresh start. Her hopes for a new future were dashed the moment she became the sole witness to a brutal murder. When she's taken into police custody (supposedly for her own protection) she realizes something isn't right, but it's too late. Soon, bullets start flying, and Liva realizes that she is not just a witness, but the target and she needs to escape before it's too late.
With the help of a sexy car thief that she met at the station, Liva manages to get away from the massacre unharmed, but now the two of them are alone in New York, trying to outrun and outwit the two killers who will stop at nothing to find them. Liva and Jay are living on the edge, but when you're on the edge, there's a long way to fall.
72. The Rise and Fall of the Gallivanters by M. J. Beaufrand (Amulet, May 12): In Portland in 1983, girls are disappearing. Noah, a teen punk with a dark past, becomes obsessed with finding out where they've gone—and he's convinced their disappearance has something to do with the creepy German owners of a local brewery, the PfefferBrau Haus. Noah worries about the missing girls as a way of avoiding the fact that something's seriously wrong with his best friend, Evan. Could it be the same dark force that's pulling them all down?
When the PfefferBrau Haus opens its doors for a battle of the bands, Noah pulls his band, the Gallivanters, back together in order to get to the bottom of the mystery. But there's a new addition to the band: an enigmatic David Bowie look-alike named Ziggy. And secrets other than where the bodies are buried will be revealed.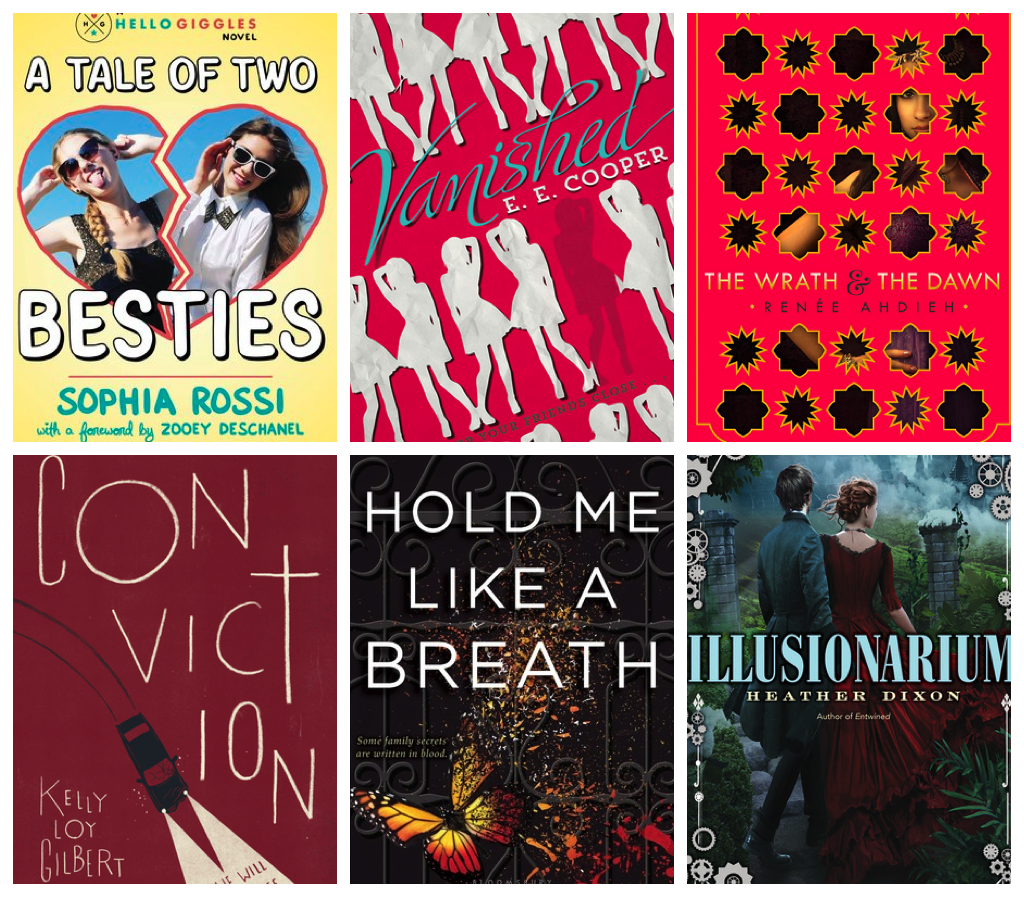 73. A Tale of Two Besties by Sophia Rossi (Razorbill, May 12): Best friends. BFFs. Soul twinsies. Whatever you want to call them, Harper and Lily were born to be besties. With high school just around the corner, casual-cool Cali girl Harper and awkward, always-costumed Lily make sure to text each other every day about their bond:
Harper: I love you so much that I am going to sneak out of detention to pay that guy from Craigslist $100 to cut off all your hair for my secret collection.
Lily: I love you so much I'm going destroy everyone in your life that matters and force you to depend and love only me.
Harper: That sounds beautiful. I love you.
Not even the threat of different high schools could throw this BFFship off-course, even if Lily begs her parents not to send her to the "dreaded Pathways," a special school for creative types, while effortlessly-popular Harper attends Beverly High with the rest of their class.
But in a city where fitting in means standing out and there's nothing more uncool than being cool, it's the naturally charismatic Harper–with her blond hair and perfect bone structure–who finds herself fighting the tide of American Apparel'd teens who rule the school. Meanwhile, it's the perpetually "gawkward" Lily–who accessories every ensemble with a pair of tattered fairy wings–who finds herself flying alongside the queen bees of Pathways. Can BFF-ship survive the tidal wave of HS drama, or does growing up mean leaving some friends behind?
74. Vanished by E. E. Cooper (Katherine Tegen Books, May 12): Kalah knows better than to fall for Beth Taylor . . . but that doesn't stop her from falling hard and falling fast, heart first into a sea of complications.
Then Beth vanishes. She skips town on her eighteenth birthday, leaving behind a flurry of rumors and a string of broken hearts. Not even Beth's best friend, Britney, knows where she went. Beth didn't even tell Kalah good-bye.
One of the rumors links Beth to Britney's boyfriend, and Kalah doesn't want to believe the betrayal. But Brit clearly believes it—and before Kalah can sort out the truth, Britney is dead.
When Beth finally reaches out to Kalah in the wake of Brit's suicide, Kalah wants to trust what Beth tells her. But she's swiftly realizing that nothing here is as it seems. Kalah's caught in the middle of a deadly psychological game, and only she can untangle the deceptions and lies to reveal the unthinkable truth.
75. The Wrath and The Dawn by Renee Ahdieh (Putnam, May 12): Every dawn brings horror to a different family in a land ruled by a killer. Khalid, the eighteen-year-old Caliph of Khorasan, takes a new bride each night only to have her executed at sunrise. So it is a suspicious surprise when sixteen-year-old Shahrzad volunteers to marry Khalid. But she does so with a clever plan to stay alive and exact revenge on the Caliph for the murder of her best friend and countless other girls. Shazi's wit and will, indeed, get her through to the dawn that no others have seen, but with a catch . . . she's falling in love with the very boy who killed her dearest friend.
She discovers that the murderous boy-king is not all that he seems and neither are the deaths of so many girls. Shazi is determined to uncover the reason for the murders and to break the cycle once and for all.
76. Conviction by Kelly Loy Gilbert (Disney-Hyperion, May 19): Ten years ago, God gave Braden a sign, a promise that his family wouldn't fall apart the way he feared.
But Braden got it wrong: his older brother, Trey, has been estranged from the family for almost as long, and his father, the only parent Braden has ever known, has been accused of murder. The arrest of Braden's father, a well-known Christian radio host, has sparked national media attention. His fate lies in his son's hands; Braden is the key witness in the upcoming trial.
Braden has always measured himself through baseball. He is the star pitcher in his small town of Ornette, and his ninety-four-mile-per-hour pitch al- ready has minor league scouts buzzing in his junior year. Now the rules of the sport that has always been Braden's saving grace are blurred in ways he never realized, and the prospect of playing against Alex Reyes, the nephew of the police officer his father is accused of killing, is haunting his every pitch.
Braden faces an impossible choice, one that will define him for the rest of his life, in this brutally honest debut novel about family, faith, and the ultimate test of conviction.
77. Hold Me Like A Breath by Tiffany Schmidt (Bloomsbury, May 19): Penelope Landlow has grown up with the knowledge that almost anything can be bought or sold—including body parts. She's the daughter of one of the three crime families that control the black market for organ transplants.
Penelope's surrounded by all the suffocating privilege and protection her family can provide, but they can't protect her from the autoimmune disorder that causes her to bruise so easily.
And in her family's line of work no one can be safe forever.
All Penelope has ever wanted is freedom and independence. But when she's caught in the crossfire as rival families scramble for prominence, she learns that her wishes come with casualties, that betrayal hurts worse than bruises, that love is a risk worth taking . . . and maybe she's not as fragile as everyone thinks.
78. Illusionarium by Heather Dixon (Greenwillow, May 19): A brilliantly conceived adventure through an alternate London. This sweeping, cinematic tale of an apprentice scientist desperate to save his family—and his world—is The Night Circusmeets Pixar.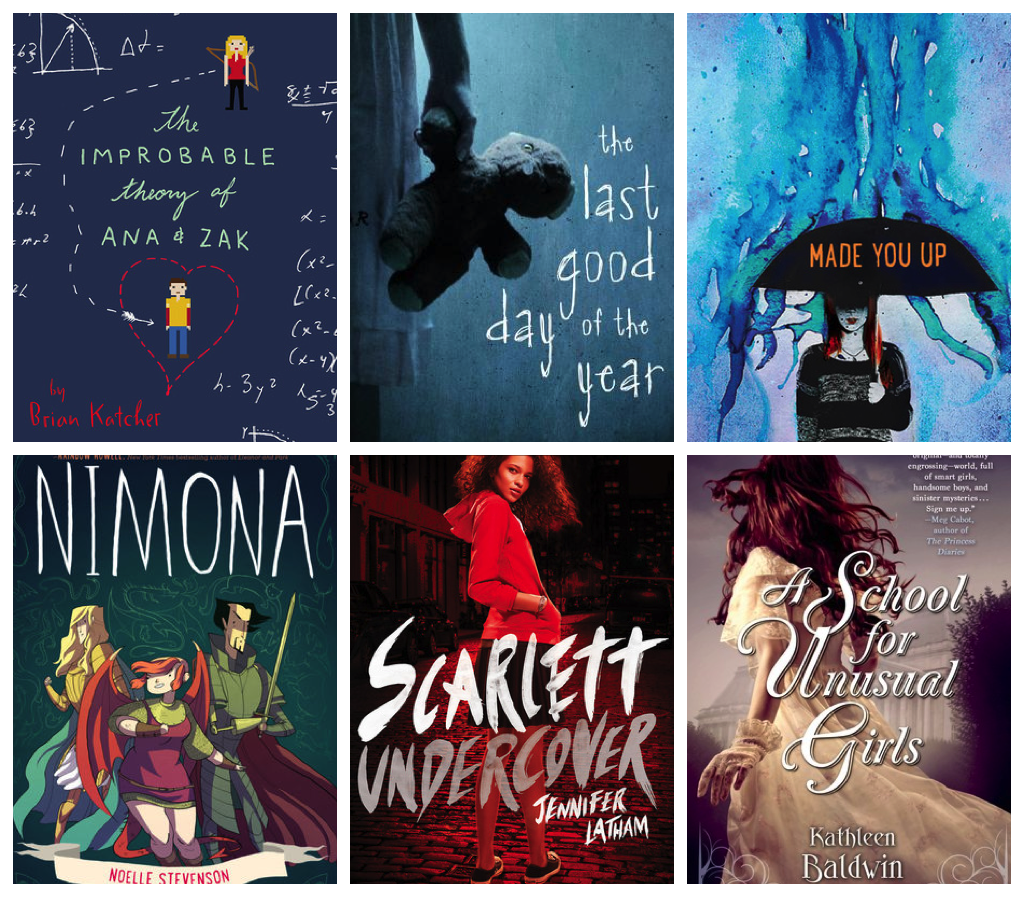 79. Improbable Theory of Ana and Zak by Brian Katcher (Katherine Tegen Books, May 19): It all begins when Ana Watson's little brother, Clayton, secretly ditches the quiz bowl semifinals to go to the Washingcon sci-fi convention on what should have been a normal, résumé-building school trip.
If slacker Zak Duquette hadn't talked up the geek fan fest so much, maybe Clayton wouldn't have broken nearly every school rule or jeopardized Ana's last shot at freedom from her uptight parents.
Now, teaming up with Duquette is the only way for Ana to chase down Clayton in the sea of orcs, zombies, bikini-clad princesses, Trekkies, and Smurfs. After all, one does not simply walk into Washingcon.
But in spite of Zak's devil-may-care attitude, he has his own reasons for being as lost as Ana-and Ana may have more in common with him than she thinks. Ana and Zak certainly don't expect the long crazy night, which begins as a nerdfighter manhunt, to transform into so much more.
80. The Last Good Day of the Year by Jessica Warman (Bloomsbury, May 19): Ten years ago, in the early hours of New Year's Day, seven-year-old Samantha and her next door neighbor, Remy, watched as a man broke into Sam's home and took her younger sister, Turtle, from her sleeping bag. Remy and Sam, too afraid to intervene at the time, later identified the man as Sam's sister Gretchen's much older ex-boyfriend, Steven, who was sent to prison for Turtle's murder.
Now, Sam's shattered family is returning to her childhood home in an effort to heal. As long-buried memories begin to surface, Sam wonders if she and Remy accurately registered everything they saw. The more they re-examine the events of that fateful night, the more questions they discover about what really happened to Turtle.
81. Made You Up by Francesca Zappia (Greenwillow, May 19): Alex fights a daily battle to figure out the difference between reality and delusion. Armed with a take-no-prisoners attitude, her camera, a Magic 8-Ball, and her only ally (her little sister), Alex wages a war against her schizophrenia, determined to stay sane long enough to get into college. She's pretty optimistic about her chances until classes begin, and she runs into Miles. Didn't she imagine him? Before she knows it, Alex is making friends, going to parties, falling in love, and experiencing all the usual rites of passage for teenagers. But Alex is used to being crazy. She's not prepared for normal.
82. Nimona by Noelle Stevenson (Harper Collins, May 19): Nemeses! Dragons! Science! Symbolism! All these and more await in this brilliantly subversive, sharply irreverent epic from Noelle Stevenson. Featuring an exclusive epilogue not seen in the web comic, along with bonus conceptual sketches and revised pages throughout, this gorgeous full-color graphic novel is perfect for the legions of fans of the web comic and is sure to win Noelle many new ones.
Nimona is an impulsive young shapeshifter with a knack for villainy. Lord Ballister Blackheart is a villain with a vendetta. As sidekick and supervillain, Nimona and Lord Blackheart are about to wreak some serious havoc. Their mission: prove to the kingdom that Sir Ambrosius Goldenloin and his buddies at the Institution of Law Enforcement and Heroics aren't the heroes everyone thinks they are.
But as small acts of mischief escalate into a vicious battle, Lord Blackheart realizes that Nimona's powers are as murky and mysterious as her past. And her unpredictable wild side might be more dangerous than he is willing to admit.
83. Scarlett Undercover by Jennifer Latham (Little, Brown Books for Young Readers, May 19): Meet Scarlett, a smart, sarcastic, kick-butt, Muslim American heroine, ready to take on crime in her hometown of Las Almas. When a new case finds the private eye caught up in a centuries-old battle of evil genies and ancient curses, Scarlett discovers that her own family secrets may have more to do with the situation than she thinks — and that cracking the case could lead to solving her father's murder.
84. A School for Unusual Girls by Kathleen Baldwin (Tor Teen, May 19): It's 1814. Napoleon is exiled on Elba. Europe is in shambles. Britain is at war on four fronts. And Stranje House, a School for Unusual Girls, has become one of Regency England's dark little secrets. The daughters of the beau monde who don't fit high society's constrictive mold are banished to Stranje House to be reformed into marriageable young ladies. Or so their parents think. In truth, Headmistress Emma Stranje, the original unusual girl, has plans for the young ladies—plans that entangle the girls in the dangerous world of spies, diplomacy, and war.
After accidentally setting her father's stables on fire while performing a scientific experiment, Miss Georgiana Fitzwilliam is sent to Stranje House. But Georgie has no intention of being turned into a simpering, pudding-headed, marriageable miss. She plans to escape as soon as possible—until she meets Lord Sebastian Wyatt. Thrust together in a desperate mission to invent a new invisible ink for the English war effort, Georgie and Sebastian must find a way to work together without losing their heads—or their hearts.
85. A Sense of the Infinite by Hilary T. Smith (Katherine Tegen Books, May 19): It's senior year of high school, and Annabeth is ready—ready for everything she and her best friend, Noe, have been planning and dreaming. But there are some things Annabeth isn't prepared for, like the constant presence of Noe's new boyfriend. Like how her relationship with her mom is wearing and fraying. And like the way the secret she's been keeping hidden deep inside her for years has started clawing at her insides, making it hard to eat or even breathe.
But most especially, she isn't prepared to lose Noe.
For years, Noe has anchored Annabeth and set their joint path. Now Noe is drifting in another direction, making new plans and dreams that don't involve Annabeth. Without Noe's constant companionship, Annabeth's world begins to crumble. But as a chain of events pulls Annabeth further and further away from Noe, she finds herself closer and closer to discovering who she's really meant to be—with her best friend or without.
86. Three Day Summer by Sarvenaz Tash (Simon & Schuster BFYR, May 19): Michael is unsure about most things. Go to college? Enlist in the military? Break up with his girlfriend? All big question marks. He is living for the moment and all he wants is a few days at the biggest concert of the summer.
Cora lives in the town hosting the music festival. She's volunteering in the medical tent. She's like that, always the good girl. But there is something in the air at this concert and suddenly Cora finds herself wanting to push her own boundaries.
When Michael and Cora meet, sparks fly, hearts race, and all the things songs are written about come true. And all the while, three days of the most epic summer await them.
87. Anything Could Happen by Will Walton (Push, May 26):Tretch lives in a very small town where everybody's in everybody else's business. Which makes it hard for him to be in love with his straight best friend. For his part, Matt is completely oblivious to the way Tretch feels – and Tretch can't tell whether that makes it better or worse.
The problem with living a lie is that the lie can slowly become your life. For Tretch, the problem isn't just with Matt. His family has no idea who he really is and what he's really thinking. The girl at the local bookstore has no clue how off-base her crush on him is. And the guy at school who's a thorn in Tretch's side doesn't realize how close to the truth he's hitting.
Tretch has spent a lot of time dancing alone in his room, but now he's got to step outside his comfort zone and into the wider world. Because like love, a true self can rarely be contained.
88. The Cage by Megan Shephard (Balzer & Bray, May 26): When Cora Mason wakes in a desert, she doesn't know where she is or who put her there. As she explores, she finds an impossible mix of environments—tundra next to desert, farm next to jungle, and a strangely empty town cobbled together from different cultures—all watched over by eerie black windows. And she isn't alone.
Four other teenagers have also been taken: a beautiful model, a tattooed smuggler, a secretive genius, and an army brat who seems to know too much about Cora's past. None of them have a clue as to what happened, and all of them have secrets. As the unlikely group struggles for leadership, they slowly start to trust each other. But when their mysterious jailer—a handsome young guard called Cassian—appears, they realize that their captivity is more terrifying than they could ever imagine: Their captors aren't from Earth. And they have taken the five teenagers for an otherworldly zoo—where the exhibits are humans.
As a forbidden attraction develops between Cora and Cassian, she realizes that her best chance of escape might be in the arms of her own jailer—though that would mean leaving the others behind. Can Cora manage to save herself and her companions? And if so . . . what world lies beyond the walls of their cage?
89. Dime by E. R. Frank (Atheneum, May 26): As a teen girl in Newark, New Jersey, lost in the foster care system, Dime just wants someone to care about her, to love her. A family. And that is exactly what she gets-a daddy and two "wifeys." So what if she has to go out and earn some coins to keep her place? It seems a fair enough exchange for love.
Dime never meant to become a prostitute. It happened so gradually, she pretty much didn't realize it was happening until it was too late.
But when a new "wifey" joins the family and Dime finds out that Daddy doesn't love her the way she thought he did, will Dime have the strength to leave? And will Daddy let her?
90. Emancipated by M. G. Reyes (Katherine Tegen Books, May 26): The good girl, the bad boy, the diva, the hustler, the rock star, and the nerd. Six teens legally liberated from parental control for six different reasons, all with one thing in common: something to hide.
Now they're sharing a house in Venice Beach, acting like a family, and living their lies. No parents. No limits. No alibis. One witnessed a crime, another might be a murderer—and one's been spying on them all.
As they cling to a fantasy of freedom and slowly let down their guards, the past creeps up on them. And when one of them gets arrested, everyone's carefully constructed facade comes crumbling down.
In this steamy, drama-filled series, relationships are tested and secrets revealed as lies threaten to destroy their perfect setup.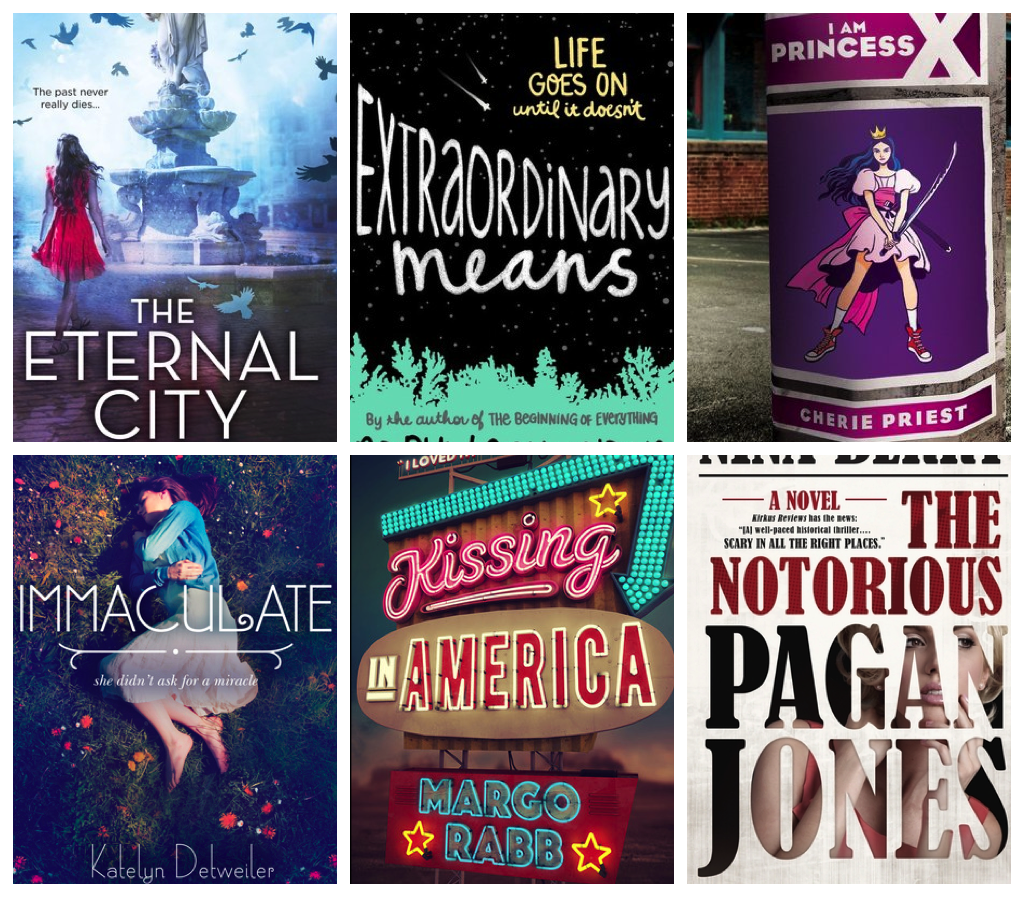 91. The Eternal City by Paula Morris (Push, May 26): Laura Martin is visiting Rome on a class trip, and she's entranced by the majestic Colosseum, the Trevi Fountain, the Pantheon. . . . Everything in this city seems magical.
That is, until the magic seems to turn very dark.
Suddenly, statues of Cupid and ancient works of art come to life before her eyes. Earthquakes rumble and a cloud of ash forms in the sky. A dark-eyed boy with wings on his heels appears and gives her a message. Laura soon realizes she is at the center of a brewing battle — a battle between the gods and goddesses, one that will shake modern-day Rome to its core.
Only she and her group of friends can truly unravel the mystery behind what is happening. As tensions mount and secret identities are revealed, Laura must rely on her own inner strength to face up to what may be a fight for her life.
92. Extraordinary Means by Robyn Schneider (Katherine Tegen Books, May 26): At seventeen, overachieving Lane finds himself at Latham House, a sanatorium for teens suffering from an incurable strain of tuberculosis. Part hospital and part boarding school, Latham is a place of endless rules and confusing rituals, where it's easier to fail breakfast than it is to flunk French.
There, Lane encounters a girl he knew years ago. Instead of the shy loner he remembers, Sadie has transformed. At Latham, she is sarcastic, fearless, and utterly compelling. Her friends, a group of eccentric troublemakers, fascinate Lane, who has never stepped out of bounds his whole life. And as he gradually becomes one of them, Sadie shows him their secrets: how to steal internet, how to sneak into town, and how to disable the med sensors they must wear at all times.
But there are consequences to having secrets, particularly at Latham House. And as Lane and Sadie begin to fall in love and their group begins to fall sicker, their insular world threatens to come crashing down. Told in alternating points of view, Extraordinary Means is a darkly funny story about doomed friendships, first love, and the rare miracle of second chances.
93. I Am Princess X by Cherie Priest (Arthur A. Levine, May 26): Once upon a time, two best friends created a princess together. Libby drew the pictures, May wrote the tales, and their heroine, Princess X, slayed all the dragons and scaled all the mountains their imaginations could conjure.
Once upon a few years later, Libby was in the car with her mom, driving across the Ballard Bridge on a rainy night. When the car went over the side, Libby passed away, and Princess X died with her.
Once upon a now: May is sixteen and lonely, wandering the streets of Seattle, when she sees a sticker slapped in a corner window.
Princess X?
When May looks around, she sees the Princess everywhere: Stickers. Patches. Graffiti. There's an entire underground culture, focused around a webcomic at IAmPrincessX.com. The more May explores the webcomic, the more she sees disturbing similarities between Libby's story and Princess X online. And that means that only one person could have started this phenomenon—her best friend, Libby, who lives.
94. Immaculate by Katelyn Detweiler (Viking, May 26): ina is seventeen. A virgin. And pregnant.
Mina is top of her class, girlfriend to the most ambitious guy in school, able to reason and study her way through anything. But when she suddenly finds herself pregnant—despite having never had sex—her orderly world collapses. Almost nobody believes Mina's claims of virginity. Her father assumes that her boyfriend is responsible; her boyfriend believes she must have cheated on him. As news of Mina's story spreads, there are those who brand her a liar. There are those who brand her a heretic. And there are those who believe that miracles are possible—and that Mina's unborn child could be the greatest miracle of all.
95. Kissing in America by Margo Rabb (HarperTeen, May 26): In the two years since her father died, sixteen-year-old Eva has found comfort in reading romance novels—118 of them, to be exact—to dull the pain of her loss that's still so present. Her romantic fantasies become a reality when she meets Will, who seems to truly understand Eva's grief. Unfortunately, after Eva falls head-over-heels for him, he picks up and moves to California without any warning. Not wanting to lose the only person who has been able to pull her out of sadness—and, perhaps, her shot at real love—Eva and her best friend, Annie, concoct a plan to travel to the west coast to see Will again. As they road trip across America, Eva and Annie confront the complex truth about love.
96. The Notorious Pagan Jones by Nina Berry (Harlequin Teen, May 26): Pagan Jones went from America's sweetheart to fallen angel in one fateful night in 1960: the night a car accident killed her whole family. Pagan was behind the wheel and driving drunk. Nine months later, she's stuck in the Lighthouse Reformatory for Wayward Girls and tortured by her guilt—not to mention the sadistic Miss Edwards, who takes special delight in humiliating the once-great Pagan Jones.
But all of that is about to change. Pagan's old agent shows up with a mysterious studio executive, Devin Black, and an offer. Pagan will be released from juvenile detention if she accepts a juicy role in a comedy directed by award-winning director Bennie Wexler. The shoot starts in West Berlin in just three days. If Pagan's going to do it, she has to decide fast—and she has to agree to a court-appointed "guardian," the handsome yet infuriating Devin, who's too young, too smooth, too sophisticated to be some studio flack.
The offer's too good to be true, Berlin's in turmoil and Devin Black knows way too much about her—there's definitely something fishy going on. But if anyone can take on a divided city, a scheming guardian and the criticism of a world that once adored her, it's the notorious Pagan Jones. What could go wrong?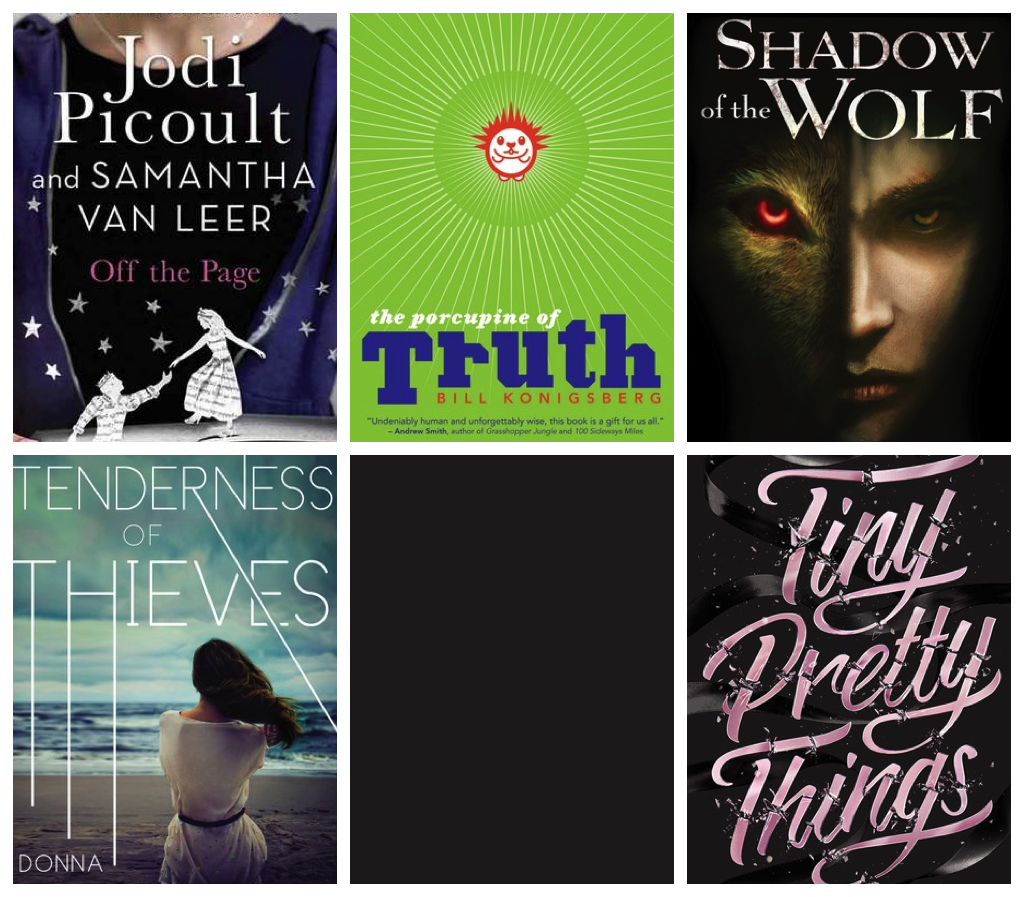 97. Off The Page by Jodi Picoult and Samantha van Leer (Delacorte, May 26): Sixteen-year-old Delilah is finally united with Oliver—a prince literally taken from the pages of a fairy tale. There are, however, complications now that Oliver has been able to enter the real world. To exist in Delilah's world, Oliver must take the place of a regular boy. Enter Edgar, who agrees to take Oliver's role in Delilah's favorite book. In this multilayered universe, the line between what is on the page and what is possible is blurred, but all must be resolved for the characters to live happily ever after. Includes twelve full-color illustrations, and black-and-white decorations throughout.
98. The Porcupine of Truth by Bill Konigsberg (Arthur A. Levine, May 26): Carson Smith is resigned to spending his summer in Billings, Montana, helping his mom take care of his father, a dying alcoholic he doesn't really know. Then he meets Aisha Stinson, a beautiful girl who has run away from her difficult family, and Pastor John Logan, who's long held a secret regarding Carson's grandfather, who disappeared without warning or explanation thirty years before. Together, Carson and Aisha embark on an epic road trip to find the answers that might save Carson's dad, restore his fragmented family, and discover the "Porcupine of Truth" in all of their lives.
99. Shadow of the Wolf by Tim Hall (David Fickling Books, May 26): Forget everything you've ever heard about Robin Hood.
Robin Loxley is seven years old when his parents disappear without a trace. Years later the great love of his life, Marian, is also taken from him. Driven by these mysteries, and this anguish, Robin follows a darkening path into the ancient heart of Sherwood Forest. What he encounters there will leave him transformed.
100. The Tenderness of Thieves by Donna Freitas (Philomel, May 26): Jane is ready for a fantastic summer. In fact, she's pretty sure the universe owes her one.
This past winter, Jane was held at knifepoint during an armed robbery and the specter of that night still haunts her. A summer romance with one of the town bad boys — sexy Handel Davies, who takes her breath away and makes her feel like a bolder version of herself — seems like the universe's way of paying her back.
But bad boys always have secrets, and Handel's secret just might shatter Jane completely.
101. Tiny Pretty Things by Sona Charaipotra and Dhonielle Clayton (HarperTeen, May 26): Gigi, Bette, and June, three top students at an exclusive Manhattan ballet school, have seen their fair share of drama. Free-spirited new girl Gigi just wants to dance—but the very act might kill her. Privileged New Yorker Bette's desire to escape the shadow of her ballet star sister brings out a dangerous edge in her. And perfectionist June needs to land a lead role this year or her controlling mother will put an end to her dancing dreams forever. When every dancer is both friend and foe, the girls will sacrifice, manipulate, and backstab to be the best of the best.
June
102. Ink and Ashes by Valynne E. Maetani (Lee & Low, June 1): Claire Takata has never known much about her father, who passed away when she was a little girl. But on the anniversary of his death, not long before her seventeenth birthday, she finds a mysterious letter from her deceased father, addressed to her stepfather. Claire never even knew that they had met.
Claire knows she should let it go, but she can't shake the feeling that something's been kept from her. In search of answers, Claire combs through anything that will give her information about her father . . . until she discovers he was a member of the yakuza, the Japanese mafia. The discovery opens a door that should have been left closed.
So begins the race to outrun his legacy as the secrets of her father's past threaten Claire's friends and family, newfound love, and ultimately her life.
103. Because You'll Never Meet Me by Leah Thomas (Bloomsbury, June 2): Ollie and Moritz are best friends, but they can never meet. Ollie is allergic to electricity. Contact with it causes debilitating seizures. Moritz's weak heart is kept pumping by an electronic pacemaker. If they ever did meet, Ollie would seize. But Moritz would die without his pacemaker. Both hermits from society, the boys develop a fierce bond through letters that become a lifeline during dark times—as Ollie loses his only friend, Liz, to the normalcy of high school and Moritz deals with a bully set on destroying him.
A story of impossible friendship and hope under strange circumstances, this debut is powerful, dark and humorous in equal measure. These extraordinary voices bring readers into the hearts and minds of two special boys who, like many teens, are just waiting for their moment to shine.
104. Charlie, Presumed Dead by Anne Heltzel (HMH Books for Young Readers, June 2): In Paris, family and friends gather to mourn the tragic passing of Charlie Price—young, handsome, charming, a world-traveler—who is presumed dead after an explosion. Authorities find only a bloodied jacket, ID'd as Charlie's. At the funeral, two teens who are perfect strangers, Lena Whitney and Aubrey Boroughs, make another shocking discovery: they have both been dating Charlie, both think Charlie loved them and them alone, and there is a lot they didn't know about their boyfriend. Over the next week, a mind-bending trip unfolds: first in London—then in Mumbai, Kerala, and Bangkok, the girls go in search of Charlie. Is he still alive? What did their love for him even mean? The truth is out there, but soon it becomes clear that the girls are harboring secrets of their own.
No one knows whom to trust in this thrilling tale of suspense and deception.
105. Dancing with Molly by Lena Horowitz (Simon Pulse, June 2): Before, I was never the life of the party. I was the reliable one. The one no one had to worry about. The one no one had to think about. I was the one that everyone could ignore.
Until that night, when everything changed and I finally became someone.
Someone special.
Someone noticeable.
Someone Carson might actually care about, as much as I cared about him.
But the cost of being someone is more than anyone can imagine. For every moment, there's a price to pay. For every party. For every choice made. For every kiss.
Ultimately, living a life of PURE ECSTASY might be no different from not living at all.
106. Daughter of Deep Silence by Carrie Ryan (Dutton, June 2): In the wake of the devastating destruction of the luxury yacht Persephone, just three souls remain to tell its story—and two of them are lying. Only Frances Mace knows the terrifying truth, and she'll stop at nothing to avenge the murders of everyone she held dear. Even if it means taking down the boy she loves and possibly losing herself in the process.
107. Deadly Design by Debra Dockter (Putnam, June 2): Genetically engineered identical twins Kyle and Connor McAdams were born two years apart. Their parents figured it was safer that way, to increase their odds of survival. Connor was born first, paving an impossibly perfect path for Kyle to follow. He was the best at everything—valedictorian, star quarterback etc. Kyle never thought he'd be able to live up, so he didn't even try.
But when Connor, 18, suddenly drops dead of a heart attack, and Kyle learns of other genetically modified kids who've also died on their eighteenth birthdays, he's suddenly motivated—to save his own life. Like Connor and all the rest, Kyle was conceived at the Genesis Innovations Laboratory, where the mysterious Dr. Mueller conducted experiments on them. The clock's ticking as Kyle searches for answers: who was Dr. Mueller really, and what did he do to cause their hearts to stop at eighteen? He must unravel the clues quickly, before, he too, becomes another perfect, blue-eyed corpse.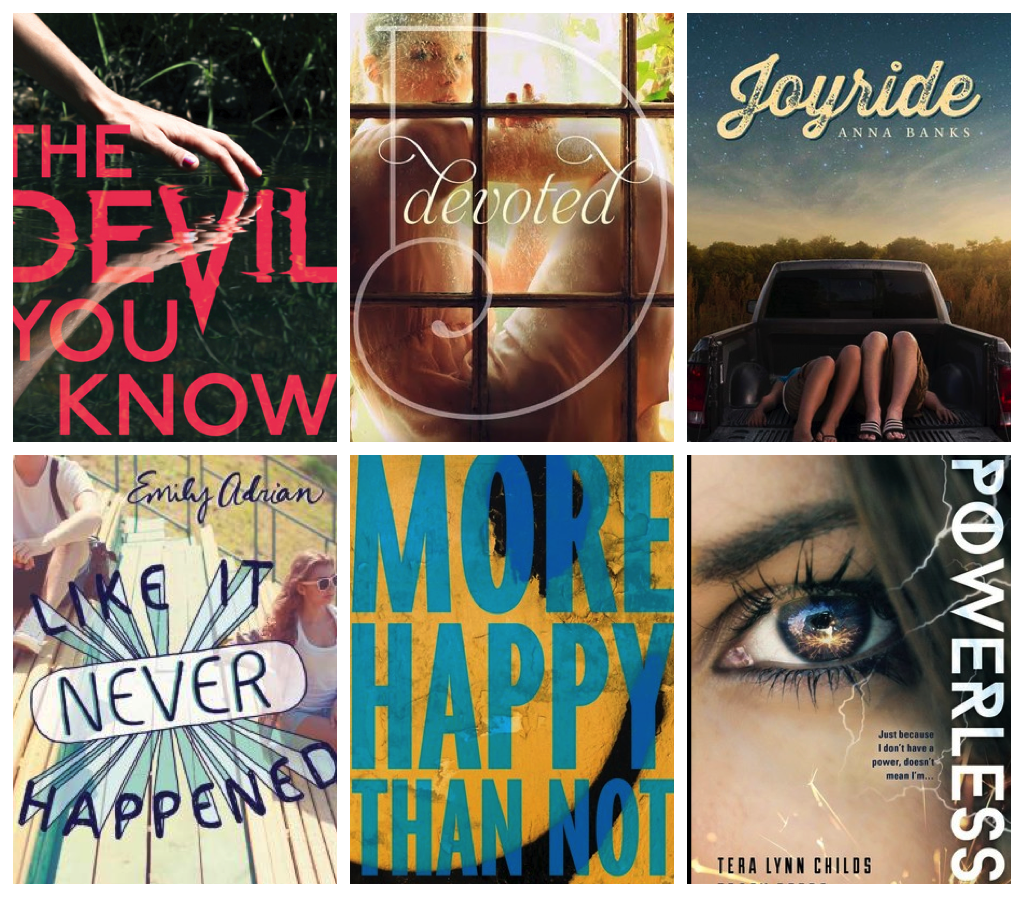 108. The Devil You Know by Trish Doller (Bloomsbury, June 2): Eighteen-year-old Arcadia wants adventure. Living in a tiny Florida town with her dad and four-year-old brother, Cadie spends most of her time working, going to school, and taking care of her family. So when she meets two handsome cousins at a campfire party, she finally has a chance for fun. They invite her and friend to join them on a road trip, and it's just the risk she's been craving-the opportunity to escape. But what starts out as a fun, sexy journey quickly becomes dangerous when she discovers that one of them is not at all who he claims to be. One of them has deadly intentions.
109. Devoted by Jennifer Mathieu (Roaring Brook Press, June 2): Rachel Walker is devoted to God. She prays every day, attends Calvary Christian Church with her family, helps care for her five younger siblings, dresses modestly, and prepares herself to be a wife and mother who serves the Lord with joy. But Rachel is curious about the world her family has turned away from, and increasingly finds that neither the church nor her homeschool education has the answers she craves. Rachel has always found solace in her beliefs, but now she can't shake the feeling that her devotion might destroy her soul.
110. Joyride by Anna Banks (Feiwel & Friends, June 2): A popular guy and a shy girl with a secret become unlikely accomplices for midnight pranking, and are soon in over their heads—with the law and with each other—in this sparkling standalone from NYT-bestselling author Anna Banks.
It's been years since Carly Vega's parents were deported. She lives with her brother, studies hard, and works at a convenience store to contribute to getting her parents back from Mexico.
Arden Moss used to be the star quarterback at school. He dated popular blondes and had fun with his older sister, Amber. But now Amber's dead, and Arden blames his father, the town sheriff who wouldn't acknowledge Amber's mental illness. Arden refuses to fulfill whatever his conservative father expects.
All Carly wants is to stay under the radar and do what her family expects. All Arden wants is to NOT do what his family expects. When their paths cross, they each realize they've been living according to others. Carly and Arden's journey toward their true hearts—and one another—is funny, romantic, and sometimes harsh.
111. Like It Never Happened by Emily Adrian (Dial, June 2): When Rebecca Rivers lands the lead in her school's production of The Crucible, she gets to change roles in real life, too. She casts off her old reputation, grows close with her four rowdy cast-mates, and kisses the extremely handsome Charlie Lamb onstage. Even Mr. McFadden, the play's critical director, can find no fault with Rebecca.
Though "The Essential Five" vow never to date each other, Rebecca can't help her feelings for Charlie, leaving her both conflicted and lovestruck. But the on and off-stage drama of the cast is eclipsed by a life-altering accusation that threatens to destroy everything…even if some of it is just make believe.
112. More Happy Than Not by Adam Silvera (Soho Teen, June 2): The Leteo Institute's revolutionary memory-relief procedure seems too good to be true to Aaron Soto — miracle cure-alls don't tend to pop up in the Bronx projects. But Aaron can't forget how he's grown up poor or how his friends aren't always there for him. Like after his father committed suicide in their one bedroom apartment. Aaron has the support of his patient girlfriend, if not necessarily his distant brother and overworked mother, but it's not enough.
Then Thomas shows up. He has a sweet movie-watching setup on his roof, and he doesn't mind Aaron's obsession with a popular fantasy series. There are nicknames, inside jokes. Most importantly, Thomas doesn't mind talking about Aaron's past. But Aaron's newfound happiness isn't welcome on his block. Since he's can't stay away from Thomas or suddenly stop being gay, Aaron must turn to Leteo to straighten himself out, even if it means forgetting who he is.
113. Powerless by Tera Lynn Childs and Tracy Deebs (Sourcebooks Fire, June 2): Kenna is tired of being "normal". The only thing special about her is that she isn't special at all. Which is frustrating in a world of absolutes. Villains, like the one who killed her father, are bad. Heroes, like her mother and best friend, are good. And Kenna, unlike everyone else around her, is completely ordinary— which she hates.
She's secretly working on an experiment that will land her a place among the Heroes, but when a Villain saves her life during a break-in at her lab, Kenna discovers there's a whole lot of gray area when it comes to good and evil and who she can trust.. After all…not all strength comes from superpowers.
114. Proof of Forever by Lexa Hillyer (HarperCollins, June 2): BEFORE: It was the perfect summer of first kisses, skinny-dipping, and bonfires by the lake. Joy, Tali, Luce, and Zoe knew their final summer at Camp Okahatchee would come to an end, but they swore they'd stay friends.
AFTER: Now, two years later, their bond has faded along with those memories.
THEN: That is, until the fateful flash of a photo booth camera transports the four of them back in time, to the summer they were fifteen—the summer everything changed.
NOW: The girls must recreate the past in order to return to the present. As they live through their second-chance summer, the mystery behind their lost friendship unravels, and a dark secret threatens to tear the girls apart all over again.
ALWAYS: Summers end. But this one will change them forever.
115. Skyscraping by Cordelia Jensen (Philomel, June 2): Mira is just beginning her senior year of high school when she discovers her father with his male lover. Her world–and everything she thought she knew about her family–is shattered instantly. Unable to comprehend the lies, betrayal, and secrets that–unbeknownst to Mira–have come to define and keep intact her family's existence, Mira distances herself from her sister and closest friends as a means of coping. But her father's sexual orientation isn't all he's kept hidden. A shocking health scare brings to light his battle with HIV. As Mira struggles to make sense of the many fractures in her family's fabric and redefine her wavering sense of self, she must find a way to reconnect with her dad–while there is still time.
Told in raw, exposed free verse.
116. Spelled by Betsy Schow (Sourcebooks Fire, June 2): Dorthea is completely princed out. Sure being the crown princess of Emerald has its perks—like Glenda Original ball gowns and Hans Christian Louboutin heels. But a forced marriage to the brooding prince Kato is so not what Dorthea had in mind for her enchanted future.
Talk about unhappily ever after.
Trying to fix her prince problem by wishing on a (cursed) star royally backfires, leaving the kingdom in chaos and her parents stuck in some place called "Kansas." Now it's up to Dorthea and her pixed off prince to find the mysterious Wizard of Oz and undo the curse…before it releases the wickedest witch of all and spells The End for the world of Story.
117. The Summer of Chasing Mermaids by Sarah Ockler (Simon Pulse, June 2): The youngest of six talented sisters, Elyse d'Abreau was destined for stardom—until a boating accident took everything from her. Now, the most beautiful singer in Tobago can't sing. She can't even speak.
Seeking quiet solitude, Elyse accepts a friend's invitation to Atargatis Cove. Named for the mythical first mermaid, the Oregon seaside town is everything Elyse's home in the Caribbean isn't: An ocean too cold for swimming, parties too tame for singing, and people too polite to pry—except for one.
Christian Kane is a notorious playboy—insolent, arrogant, and completely charming. He's also the only person in Atargatis Cove who doesn't treat Elyse like a glass statue. He challenges her to express herself, and he admires the way she treats his younger brother Sebastian, who believes Elyse is the legendary mermaid come to life.
When Christian needs a first mate for the Cove's high-stakes Pirate Regatta, Elyse reluctantly stows her fear of the sea and climbs aboard. The ocean isn't the only thing making waves, though—swept up in Christian's seductive tide and entranced by the Cove's charms, Elyse begins to wonder if a life of solitude isn't what she needs. But changing course again means facing her past. It means finding her inner voice. And scariest of all, it means opening her heart to a boy who's best known for breaking them.
118. Sweet by Emmy Laybourne (Feiwel & Friends, June 2): The luxurious celebrity cruise launching the trendy new diet sweetener Solu should be the vacation of a lifetime. But Laurel is starting to regret accepting her friend Viv's invitation. She's already completely embarrassed herself in front of celebrity host Tom Forelli—the hottest guy ever!—and she's too sick to even try the sweetener. And that's before Viv and all the other passengers start acting really strange.
Tom knows that he should be grateful for this job and the chance to shed his former-child-star image. His publicists have even set up a 'romance' with a sexy reality star. But as things on the ship start to get wild, he finds himself drawn to a different girl. And when the hosting gig turns into an expose on the shocking side effects of Solu, it's Laurel that he's determined to save.
119. The Witch Hunter by Virginia Boecker (Little, Brown Books for Young Readers, June 2): Elizabeth Grey is one of the king's best witch hunters, devoted to rooting out witchcraft and doling out justice. When she's accused of being a witch herself, Elizabeth is arrested and sentenced to die at the stake. Salvation comes from a man she thought was her enemy. Nicholas Perevil, the most powerful wizard in the kingdom, offers her a deal: he will save her from execution if she can track down the person who laid a deadly curse on him.
As she's thrust into the world of witches, ghosts, pirates, and all-too-handsome healers, Elizabeth is forced to redefine her ideas of right and wrong, of friends and enemies, and of love and hate.
120. Secret of the Sevens by Lynn Lundquist (Flux, June 8): Everyone at Singer, a boarding school for underprivileged kids, knows the urban legend of the Society of Seven. Decades ago, the original members of the secret guild for elite students murdered the school's founder and then perished in the fire they lit to hide the evidence. Or so the story goes. Talan Michaels doesn't care about Singer's past. He's too focused on his future and the fact that he'll be homeless after he graduates in May. To take his mind off it, he accepts a mysterious invitation to join a group calling itself the Sevens. He expects pranks, parties, and perks. Instead, he finds himself neck-deep in a conspiracy involving secret passages and cryptic riddles about the school's history. Even worse, he's now tangled in web of lies someone will kill to keep hidden.
121. Where You End by Anna Pellicioli (Flux, June 8): Miriam Feldman was always attracted to the artists, the musicians, the boys who wore broken-down cardigans. Boys like Elliot. Their relationship was intense, passionate, all consuming. When they were together, Miriam knew who she was, in the way you can only know when you're deeply in love. But then it ended, and Miriam had to move on. Even after Elliot started seeing someone else. Even after she impulsively destroyed a priceless work of art. Even after she was blackmailed by the mystery girl who saw her do it. After all this, Miriam had to go on with her life. If only she knew how.
122. Alive by Chandler Baker (Disney-Hyperion, June 9): Stella Cross's heart is poisoned.
After years on the transplant waiting list, she's running out of hope that she'll ever see her eighteenth birthday. Then, miraculously, Stella receives the transplant she needs to survive.
Determined to embrace everything she came so close to losing, Stella throws herself into her new life. But her recovery is marred by strange side effects: Nightmares. Hallucinations. A recurring pain that flares every day at the exact same moment. Then Stella meets Levi Zin, the new boy on everyone's radar at her Seattle prep school. Stella has never felt more drawn to anyone in her life, and soon she and Levi are inseparable.
Stella is convinced that Levi is her soul mate. Why else would she literally ache for him when they are apart?
After all, the heart never lies…does it?
123. Delicate Monsters by Stephanie Kuehn (St. Martin's Griffin, June 9): When nearly killing a classmate gets seventeen-year-old Sadie Su kicked out of her third boarding school in four years, she returns to her family's California vineyard estate. Here, she's meant to stay out of trouble. Here, she's meant to do a lot of things. But it's hard. She's bored. And when Sadie's bored, the only thing she likes is trouble.
Emerson Tate's a poor boy living in a rich town, with his widowed mother and strange, haunted little brother. All he wants his senior year is to play basketball and make something happen with the girl of his dreams. That's why Emerson's not happy Sadie's back. An old childhood friend, she knows his worst secrets. The things he longs to forget. The things she won't ever let him.
Haunted is a good word for fifteen-year-old Miles Tate. Miles can see the future, after all. And he knows his vision of tragic violence at his school will come true, because his visions always do. That's what he tells the new girl in town. The one who listens to him. The one who recognizes the darkness in his past.
But can Miles stop the violence? Or has the future already been written? Maybe tragedy is his destiny. Maybe it's all of theirs.
124. Even When You Lie To Me by Jessica Alcott (Crown Books for Young Readers, June 9): Charlie, a senior, isn't looking forward to her last year of high school. Another year of living in the shadow of her best friend, Lila. Another year of hiding behind the covers of her favorite novels. Another year of navigating her tense relationship with her perfectionist mom.
But everything changes when she meets her new English teacher. Mr. Drummond is smart. Irreverent. Funny. Hot. Everyone loves him. And Charlie thinks he's the only one who gets her.
She also thinks she might not be the only one with a crush.
125. Finding Audrey by Sophie Kinsella (Delacorte, June 9): An anxiety disorder disrupts fourteen-year-old Audrey's daily life. She has been making slow but steady progress with Dr. Sarah, but when Audrey meets Linus, her brother's gaming teammate, she is energized. She connects with him. Audrey can talk through her fears with Linus in a way she's never been able to do with anyone before. As their friendship deepens and her recovery gains momentum, a sweet romantic connection develops, one that helps not just Audrey but also her entire family.
126. Hello, I Love You by Katie M. Stout (St. Martin's Griffin, June 9): Grace Wilde is running—from the multi-million dollar mansion her record producer father bought, the famous older brother who's topped the country music charts five years in a row, and the mother who blames her for her brother's breakdown. Grace escapes to the farthest place from home she can think of, a boarding school in Korea, hoping for a fresh start.
She wants nothing to do with music, but when her roommate Sophie's twin brother Jason turns out to be the newest Korean pop music superstar, Grace is thrust back into the world of fame. She can't stand Jason, whose celebrity status is only outmatched by his oversized ego, but they form a tenuous alliance for the sake of her friendship with Sophie. As the months go by and Grace adjusts to her new life in Korea, even she can't deny the sparks flying between her and the KPOP idol.
Soon, Grace realizes that her feelings for Jason threaten her promise to herself that she'll leave behind the music industry that destroyed her family. But can Grace ignore her attraction to Jason and her undeniable pull of the music she was born to write? Sweet, fun, and romantic, this young adult novel explores what it means to experience first love and discover who you really are in the process.
127. Last Year's Mistake by Gina Ciocca (Simon Pulse, June 9): Before:
Kelsey and David became best friends the summer before freshman year and were inseparable ever after. Until the night a misunderstanding turned Kelsey into the school joke, and everything around her crumbled—including her friendship with David. So when Kelsey's parents decided to move away, she couldn't wait to start over and leave the past behind. Except, David wasn't ready to let her go…
After:
Now it's senior year and Kelsey has a new group of friends, genuine popularity, and a hot boyfriend. Her life is perfect. That is, until David's family moves to town and he shakes up everything. Soon old feelings bubble to the surface and threaten to destroy Kelsey's second chance at happiness. The more time she spends with David, the more she realizes she never truly let him go. And maybe she never wants to.
128. Our Brothers at the Bottom of the Sea by Jonathan Kranz (Henry Holt, June 9): Don't fall, Ethan scrawls in red permanent marker across the rides and signs of Sea Town. Since his brother Jason's death, Ethan can't let go of his big brother.
Don't fall, Rachel reads as she prepares to dump back into the ocean the shells her brother Curtis collected. Curtis had Down syndrome, but that isn't why he plummeted to his death from the Rock-It Roll-It Coaster.Together, Ethan and Rachel are about to discover just how far a man will go to protect his kingdom.
129. The Sacred Lies of Minnow Bly by Stephanie Oakes (Dial, June 9): The Kevinian cult has taken everything from seventeen-year-old Minnow: twelve years of her life, her family, her ability to trust.
And when she rebelled, they took away her hands, too.
Now their Prophet has been murdered and their camp set aflame, and it's clear that Minnow knows something—but she's not talking. As she languishes in juvenile detention, she struggles to un-learn everything she has been taught to believe, adjusting to a life behind bars and recounting the events that led up to her incarceration. But when an FBI detective approaches her about making a deal, Minnow sees she can have the freedom she always dreamed of—if she's willing to part with the terrible secrets of her past.
130. The Stars Never Rise by Rachel Vincent (Delacorte, June 9): Sixteen-year-old Nina Kane should be worrying about her immortal soul, but she's too busy trying to actually survive. Her town's population has been decimated by soul-consuming demons, and souls are in short supply. Watching over her younger sister, Mellie, and scraping together food and money are all that matters. The two of them are a family. They gave up on their deadbeat mom a long time ago.
When Nina discovers that Mellie is keeping a secret that threatens their very existence, she'll do anything to protect her. Because in New Temperance, sins are prosecuted as crimes by the brutal Church and its army of black-robed exorcists. And Mellie's sin has put her in serious trouble.
To keep them both alive, Nina will need to trust Finn, a fugitive with deep green eyes who has already saved her life once and who might just be an exorcist. But what kind of exorcist wears a hoodie?
Wanted by the Church and hunted by dark forces, Nina knows she can't survive on her own. She needs Finn and his group of rogue friends just as much as they need her.
131. Those Girls by Lauren Saft (Poppy, June 9): Junior year, the suburbs of Philadelphia. Alex, Mollie and Veronica are those girls: they're the best of friends and the party girls of the school. But how well does everybody know them–and really, how well do they know one another? Alex is secretly in love with the boy next door and has joined a band–without telling anyone. Mollie suffers from a popular (and possibly sociopathic) boyfriend, as well as a serious mean streak. And Veronica just wants to be loved–literally, figuratively, physically….she's not particular. Will this be the year that bonds them forever….or tears them apart for good?
132. To Hold The Bridge by Garth Nix (HarperCollins, June 9): Far to the north of the magical Old Kingdom, the Greenwash Bridge Company has been building a bridge for almost a hundred years. It is not an easy task, for many dangers threaten the bridge builders, from nomad raiders to Free Magic sorcerers. Despite the danger, Morghan wants nothing more than to join the Bridge Company as a cadet. But the company takes only the best, the most skillful Charter mages, and trains them hard, for the night might come when only a single young cadet must hold the bridge against many foes. Will Morghan be that cadet?
Also included in this remarkable collection are eighteen short stories that showcase Nix's versatility as he adds a fantastical twist on an array of genres including science fiction, paranormal, realistic fiction, mystery, and adventure.
133. The Truth About My Success by Dyan Sheldon (Candlewick, June 9): Paloma Rose is sixteen and already a major TV star. She has money, franchises, adoring fans—and an agent and parents who are dependent on her success to sustain their very comfortable lives. But all that could come to an end when Paloma becomes more famous for her bad behavior than for her acting and her show's sponsors threaten to cancel the upcoming season if things don't improve. Meanwhile, Paloma's worried agent happens upon Oona Ginness working in a coffee shop. Maybe she's not as tall or as blond as Paloma, but details aside, they really might be twins. So a plan is born: What if they send Paloma to a brat camp to become a better person and put the malleable and much nicer Oona in her place? Oona thinks it's a stupid idea, but the money is hard to resist, given her family's dire circumstances. What does she have to lose? Of course, plans don't always work out the way they're supposed to.
134. After Hours by Claire Kennedy (Simon Pulse, June 16): Isa, Xavi, Peter, and Finn know that a job at the high-end Waterside Cafe isn't just about waiting tables. It's about the gossip, the hook-ups, the after-hours parties and, most of all, it's about Tips.
Tips–the high-stakes game based on dares. Whoever completes the most dares wins the collected money. A sum that could change a wasted summer into a Summer to Remember.
Isa is the new girl with an embarrassing secret, and as long as she stays on top of her game, she sees no reason why anyone could ever find out.
Xavi will do anything for the money…absolutely anything.
Peter, Xavi's stepbrother, has been in love with her for years, and he thinks the game is the perfect time to confess his feelings.
Finn is in the game just for the thrill. He has enough tips coming in to keep him happy…even if those tips come with some conditions.
From seduction to stealing to threats, the dares are a complete free-for-all, and only the best can win.
The sophisticated Waterside Cafe is anything but classy behind the scenes…and things are about to get dirty.
135. Between the Notes by Sharon Huss Roat (HarperTeen, June 16): When Ivy Emerson's family loses their house—complete with her beloved piano—the fear of what's to come seizes her like a bad case of stage fright. Only this isn't one of her single, terrifying performances. It's her life.
And it isn't pretty.
Ivy is forced to move with her family out of their affluent neighborhood to Lakeside, also known as "the wrong side of the tracks." Hiding the truth from her friends—and the cute new guy in school, who may have secrets of his own—seems like a good idea at first. But when a bad boy next door threatens to ruin everything, Ivy's carefully crafted lies begin to unravel . . . and there is no way to stop them.
As things get to the breaking point, Ivy turns to her music, some unlikely new friends, and the trusting heart of her disabled little brother. She may be surprised that not everyone is who she thought they were . . . including herself.
136. Blood Will Tell by April Henry (Henry Holt, June 16): When a woman's body is found in a Portland park, suspicion falls on an awkward kid who lives only a hundred feet away, a teen who collects knives, loves first-person shooter video games, and obsessively doodles violent scenes in his school notebooks. Nick Walker goes from being a member of Portland's Search and Rescue team to the prime suspect in a murder, his very interest in SAR seen as proof of his fascination with violence. How is this even possible? And can Alexis and Ruby find a way to help clear Nick's name before it's too late?
137. Every Last Word by Tamara Ireland Stone (Disney-Hyperion, June 16): Samantha McAllister looks just like the rest of the popular girls in her junior class. But hidden beneath the straightened hair and expertly applied makeup is a secret that her friends would never understand: Sam has Purely-Obsessional OCD and is consumed by a stream of dark thoughts and worries that she can't turn off.
Second-guessing every move, thought, and word makes daily life a struggle, and it doesn't help that her lifelong friends will turn toxic at the first sign of a wrong outfit, wrong lunch, or wrong crush. Yet Sam knows she'd be truly crazy to leave the protection of the most popular girls in school. So when Sam meets Caroline, she has to keep her new friend with a refreshing sense of humor and no style a secret, right up there with Sam's weekly visits to her psychiatrist.
Caroline introduces Sam to Poet's Corner, a hidden room and a tight-knit group of misfits who have been ignored by the school at large. Sam is drawn to them immediately, especially a guitar-playing guy with a talent for verse, and starts to discover a whole new side of herself. Slowly, she begins to feel more "normal" than she ever has as part of the popular crowd . . . until she finds a new reason to question her sanity and all she holds dear.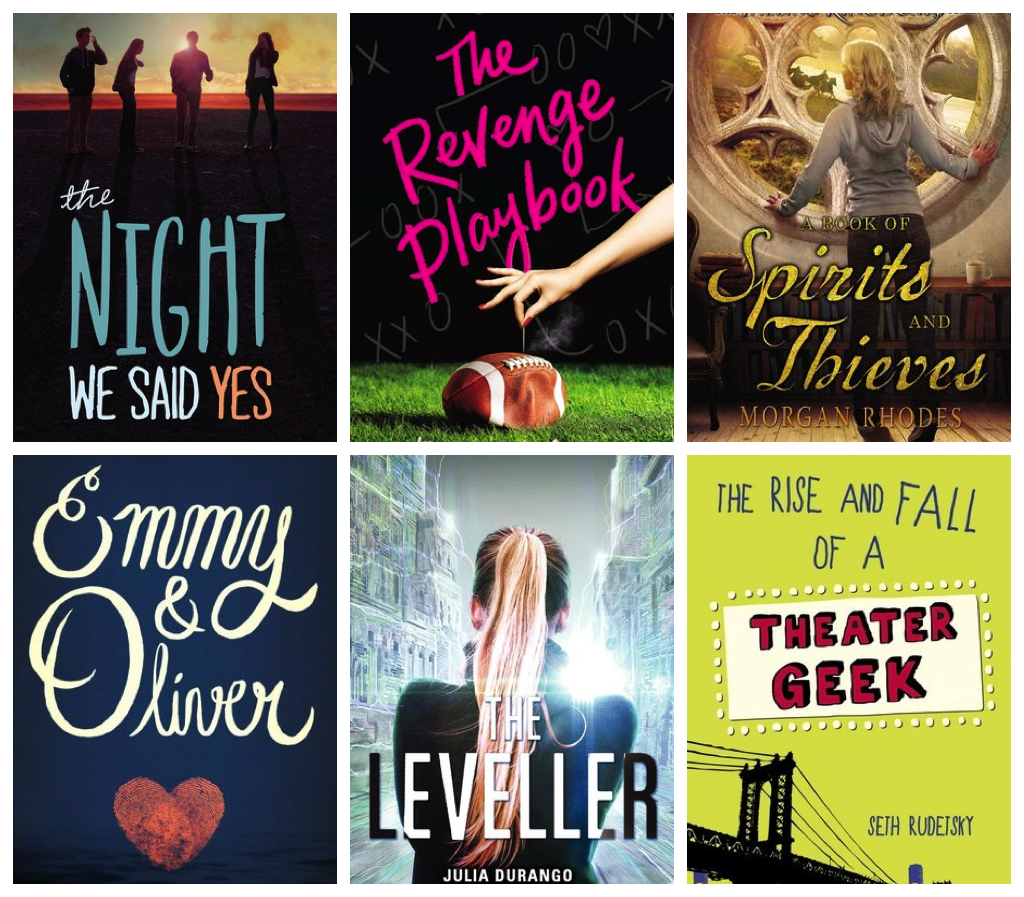 138. The Night We Said Yes by Lauren Gibaldi (HarperTeen, June 16): Before Matt, Ella had a plan. Get over a no-good ex-boyfriend. Graduate from high school without any more distractions. Move away from Orlando, Florida, where she's lived her entire life.
But Matt—the cute, shy, bespectacled bass player who just moved to town—was never part of that plan.
And neither was attending a party that was crashed by the cops just minutes after they arrived. Or spending an entire night saying "yes" to every crazy, fun thing they could think of.
Then Matt abruptly left town, and he broke not only Ella's heart but those of their best friends, too. So when he shows up a year later with a plan of his own—to relive the night that brought them together—Ella isn't sure whether Matt's worth a second chance. Or if re-creating the past can help them create a different future.
139. The Revenge Playbook by Rachael Allen (HarperTeen, June 16): In the small town of Ranburne, high school football rules and the players are treated like kings. How they treat the girls they go to school with? That's a completely different story. Liv, Peyton, Melanie Jane, and Ana each have their own reason for wanting to teach the team a lesson—but it's only when circumstances bring them together that they come up with the plan to steal the one thing the boys hold sacred. All they have to do is beat them at their own game.
140. A Book of Spirits and Thieves by Morgan Rhodes (Razorbill, June 23):
Crystal Hatcher, Modern-day Toronto: It's a normal afternoon in her father's antique bookshop when Crys witnesses the unthinkable: her little sister Becca collapses into a coma after becoming mesmerized by a mysterious book written in an unrecognizable language.
Maddox Corso, Ancient Mytica: Maddox Corso doesn't think much of it when he spots an unfamiliar girl in his small village. Until, that is, he realizes that she is a spirit, and he is the only one who can see or hear her. Her name is Becca Hatcher, and she needs Maddox to help get her home.
Farrell Grayson, Modern-day Toronto: Rich and aimless Farrell Grayson is thrilled when the mysterious leader of the ultra-secret Hawkspeare Society invites him into the fold. But when he learns exactly what he has to do to prove himself, Farrell starts to question everything he thought he knew about family, loyalty, and himself….
Fate has brought these young people together, but ancient magic threatens to rip them apart.
141. Emmy & Oliver by Robin Benway (HarperTeen, June 23): Emmy just wants to be in charge of her own life.
She wants to stay out late, surf her favorite beach—go anywhere without her parents' relentless worrying. But Emmy's parents can't seem to let her grow up—not since the day Oliver disappeared.
Oliver needs a moment to figure out his heart.
He'd thought, all these years, that his dad was the good guy. He never knew that it was his father who kidnapped him and kept him on the run. Discovering it, and finding himself returned to his old hometown, all at once, has his heart racing and his thoughts swirling.
Emmy and Oliver were going to be best friends forever, or maybe even more, before their futures were ripped apart. In Emmy's soul, despite the space and time between them, their connection has never been severed. But is their story still written in the stars? Or are their hearts like the pieces of two different puzzles—impossible to fit together?
142. The Leveller by Julia Durango (HarperCollins, June 23): Nixy Bauer is a self-made Leveller. Her job? Dragging kids out of virtual reality and back to their parents in the real world. It's normally easy cash, but Nixy's latest mission is fraught with real danger, intrigue, and romance.
Nixy Bauer is used to her classmates being very, very unhappy to see her. After all, she's a bounty hunter in a virtual reality gaming world. Kids in the MEEP, as they call it, play entirely with their minds, while their bodies languish in a sleeplike state on the couch. Irritated parents, looking to wrench their kids back to reality, hire Nixy to jump into the game and retrieve them.
But when the game's billionaire developer loses track of his own son in the MEEP, Nixy is in for the biggest challenge of her bounty-hunting career. Wyn Salvador isn't some lazy kid looking to escape his homework: Wyn does not want to be found. And he's left behind a suicide note. Nixy takes the job but quickly discovers that Wyn's not hiding—he's being held inside the game against his will. But who is holding him captive, and why?
Nixy and Wyn attempt to fight their way out of a mind game unlike any they've encountered, and the battle brings them closer than either could have imagined. But when the whole world is virtual, how can Nixy possibly know if her feelings are real?
143. The Rise and Fall of a Theater Geek by Seth Rudetsky (Random House Books for Young Readers, June 23): Broadway, New York. The shows, the neon lights . . . the cute chorus boys! It's where Justin has always wanted to be–and now, with a winter internship for a famous actor, he finally has his chance to shine. If only he could ditch his kind, virtuous, upright, and–dare he say it?—uptightboyfriend, Spencer. But once the internship begins, Justin has more to worry about than a cramped single-guy-in-the-city style. Instead of having his moment in the spotlight, he's a not-so-glorified errand boy. Plus, Spencer is hanging out with a celebra-hottie, Justin's best friend Becky isn't speaking to him, and his famous actor boss seems headed for flopdom. Justin's tap-dancing as fast as he can, but all his wit and sass might not be enough to switch his time in New York from nightmare-terrible to dream-come-true terrific.
144. The Rules by Nancy Holder and Debbie Viguie (Delacorte, June 23): Junior Robin Brisset has no idea what she's in for when she accepts an invitation to one of Callabrese High's most exclusive parties. And when the trademark scavenger hunt begins, Robin must go against every rule she's lived by to survive.
145. Tangled Webs by Lee Bross (Disney-Hyperion, June 23): London, 1725. Everybody has a secret. Lady A will keep yours—for a price. This sumptuous, scandalous YA novel is wickedly addictive.
Lady A is the most notorious blackmailer in the city. With just a mask and a gown to disguise her, she sweeps into lavish balls and exclusive events collecting the most valuable currency in 1725 London—secrets.
But leading a double life isn't easy. By day Lady A is just a sixteen-year-old girl named Arista who lives in fear of her abusive master, Bones, and passes herself off as a boy to move safely through the squalor of London's slums. When Bones attempts to dispose of his pawn forever, Arista is rescued by the last person she expects: Jonathan Wild, the infamous Thief Taker General who moves seamlessly between the city's criminal underworld and its most elite upper circles. Arista partners with Wild on her own terms in the hopes of saving enough money to buy passage out of London.
Everything changes when she meets Graeden Sinclair, the son of a wealthy merchant. Grae has traveled the world, has seen the exotic lands Arista has longed to escape to her whole life, and he loves Arista for who she is—not for what she can do for him. Being with Grae gives something Arista something precious that she swore off long ago: hope. He has promised to help Arista escape the life of crime that has claimed her since she was a child. But can you ever truly escape the past?
146. Trollhunters by Daniel Kraus and Guillermo del Toro (Disney-Hyperion, June 23): "You are food. Those muscles you flex to walk, lift, and talk? They're patties of meat topped with chewy tendon. That skin you've paid so much attention to in mirrors? It's delicious to the right tongues, a casserole of succulent tissue. And those bones that give you the strength to make your way in the world? They rattle between teeth as the marrow is sucked down slobbering throats. These facts are unpleasant but useful. There are things out there, you see, that don't cower in holes to be captured by us and cooked over our fires. These things have their own ways of trapping their kills, their own fires, their own appetites."
Jim Sturges is your typical teen in suburban San Bernardino —one with an embarrassingly overprotective dad, a best friend named "Tubby" who shares his hatred of all things torturous (like gym class), and a crush on a girl who doesn't know he exists. But everything changes for Jim when a 45-year old mystery resurfaces, threatening the lives of everyone in his seemingly sleepy town. Soon Jim has to team up with a band of unlikely (and some un-human) heroes to battle the monsters he never knew existed.
From the minds of horror geniuses Guillermo del Toro and Daniel Kraus comes a new illustrated novel about the fears that move in unseen places.
147. Shadowshaper by Daniel Jose Older (Arthur A. Levine, June 30): Sierra Santiago was looking forward to a fun summer of making art, hanging out with her friends, and skating around Brooklyn. But then a weird zombie guy crashes the first party of the season. Sierra's near-comatose abuelo begins to say "No importa" over and over. And when the graffiti murals in Bed-Stuy start to weep…. Well, something stranger than the usual New York mayhem is going on.
Sierra soon discovers a supernatural order called the Shadowshapers, who connect with spirits via paintings, music, and stories. Her grandfather once shared the order's secrets with an anthropologist, Dr. Jonathan Wick, who turned the Caribbean magic to his own foul ends. Now Wick wants to become the ultimate Shadowshaper by killing all the others, one by one. With the help of her friends and the hot graffiti artist Robbie, Sierra must dodge Wick's supernatural creations, harness her own Shadowshaping abilities, and save her family's past, present, and future.
____________________
Get a box of YA books and bookish goodies in the mail every quarter with our new YA Quarterly Box! Sign up here.