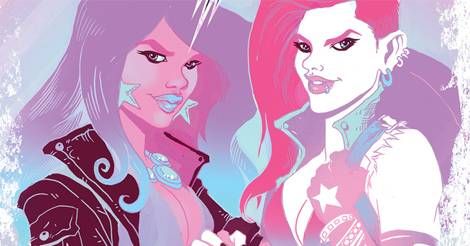 This content contains affiliate links. When you buy through these links, we may earn an affiliate commission.
If you haven't picked up the new comic Kim & Kim by Magdalene Visaggio (Writer), Eva Cabrera (Art), Claudia Aguirre (Color) you should. Right now. Immediately. It's awesome, fun, funny, filled with kick-ass scenes, adventures, a great friendship and partnership at it's core, and it's in space! It's so wonderful I feel the best way to express it's awesomeness is through gifs.
My first thought was Scooby-Doo van but flying in space like in Spaceballs!
Bounty hunters in space!
Robot gorillas!
Perfectly punk!
Sandworms!
Shape-shifting octopus!
Awesome lady partners and friendship!
Funny!
Attitude!
Action! Adventure!
Trans woman and bisexual characters created by a trans woman!
Family Drama!
and finally it's fun!