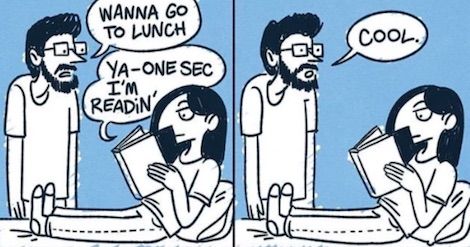 14 Illustrations That'll Make All Book Lovers Laugh: Critical Linking, November 18, 2018
Critical Linking is sponsored by our $250 All the Books Barnes and Noble gift card giveaway!

---
14 Illustrations That'll Make All Book Lovers Laugh
*Goes to read outside and immediately starts sweating under the sun.*
Have a laugh this Sunday with some seriously #relatable comics.
____________________
Kuwaiti authorities have blacklisted nearly 1,000 books at a literature festival, including one by Fyodor Dostoevsky.
Saad al-Anzi, who heads the Kuwait international literary festival, said the information ministry had banned 948 books including Dostoevsky's The Brothers Karamazov, a novel set in 19th-century Russia that explores morality, free will and the existence of God.
Dostoevsky joins a growing list of writers banned in the relatively moderate Gulf state, where there is a growing conservative trend in politics and society.
Book banning happens around the world and we don't hear about it enough in the West.
____________________
We've used a lot of words in 2018, so it's no surprise that there is more than one "word of the year." Oxford Dictionaries' judgment is that "toxic" illuminates something about this year.
I…immediately thought about the Britney Spears song. But this feels fitting.