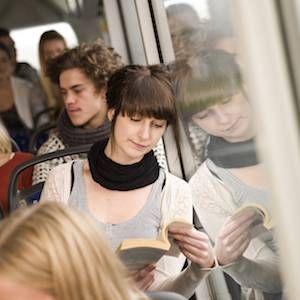 14 Days as a Public Transit Book Spy
This content contains affiliate links. When you buy through these links, we may earn an affiliate commission.
As a faithful public transit commuter since 1998, I have had my fair share of gripes about the subway and buses of New York City. For example, let's talk about the 6 local train at 7:20am. Every school day I squish myself and my two children into a packed subway car, and it's not uncommon for my older daughter to ask her sister, "Are you okay? Can you breathe?" Or what about the crazy person standing six inches away who does spoken word while staring at you and only you, as was the case when I was on my way home last night? Has anyone else experienced the recent phenomenon called trains-are-running-at-slower-speeds-due-to-severe-weather? And don't get me started on Manhattan crosstown buses (I've seen dogs missing up to two limbs go faster than those crosstowns).
Complaining about public transit is a daily ritual for those of us who depend on it for our daily lives. But in all honestly, I love public transit because 1) I don't have to drive and 2) I get to read (and spy on what other people are reading) while getting from Point A to Point B.
I've heard some people talk about how devices have transformed commuting and how it's rare to see anyone reading a book on public transit anymore. I do see a lot of people tapping away on smart phones, but I have to believe that books are still alive. To double check my hypothesis, I spent the last two weeks keeping a log of the books being read on New York City public transit.
Please be advised this is an extremely unscientific study. I didn't list any books read on ereaders, because there were no book covers I could peek at. Same thing with people reading on their smart phones. Also, some commuters were too far away from me and I couldn't see the book cover. Or, I might have been too focused making sure my daughters weren't suffocating while being squished inside the 6 train. And in case it's not already clear, I did not spend all day canvassing subway cars and buses. These were sightings as I went about my regular commuting.
So what were New York City subway and bus patrons reading during my commutes from February 20th and March 5th? Here are the results of my (not very comprehensive) book spy mission:
February 20, 2015
6 Subway Train: The One in the Middle is the Green Kangaroo by Judy Blume; Cat on a Hot Tin Roof by Tennessee Williams
4 Subway Train: A book by Danielle Steele (this stealthy reporter could not see the title)
February 21, 2015
2 Subway Train: Speak by Laurie Halse Anderson; The Mysteries of Pittsburgh by Michael Chabon; Sua Sponte: The Forging of a Modern American Ranger by Dick Couch
February 23, 2015
6 Subway Train: The Crossover by Kwame Alexander
February 24, 2015
2 Subway Train: Without Fail by Lee Child
1 Subway Train: Mrs. Dalloway by Virginia Woolf
M79 bus: Lonely Planet Switzerland Travel Guide
February 25, 2015
4 Subway Train: Brown Girl Dreaming by Jacqueline Woodson
February 27, 2015
1 subway train: The Lady in the Lake by Raymond Chandler
March 3, 2015
5 Subway Train: Catch 22 by Joseph Heller
March 4, 2015
5 Subway Train: City 1 by Gregg Rosenblum
6 Subway Train: Where'd You Go, Bernadette by Maria Semple
March 5, 2015
6 Subway Train: Snow Flower and the Secret Fan by Lisa See
It was fun to see what fellow public transit sufferers — I mean, commuters — were reading, and I put some of those books on my TBR list. I think I'll continue with my book spying. Can this be my full-time career? If you're a commuter with a book, I ask just one tiny favor: please display the cover loud and proud so I can see what you're reading.
For all you bookish commuters, what are you reading on your commutes this week?
____________________
Stay snuggly with these cozy Book Riot hoodies!