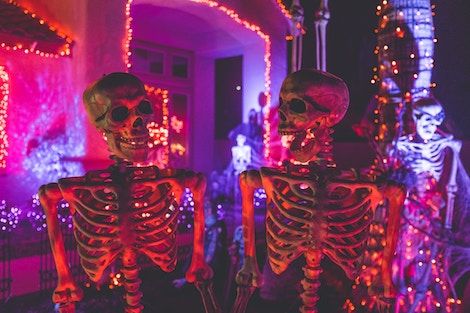 Horror
13 Horror Reads For The Squeamish
This content contains affiliate links. When you buy through these links, we may earn an affiliate commission.
Halloween is my favorite holiday. I love dressing up, I love spooky folklore, and I love the cozy feeling of reading a good ghost or witchy story at night. The problem is, I'm a wuss. Even though as a kid I voraciously read every horror novel I could find (I know I wasn't the only one with a gigantic pile of Goosebumps), once I transitioned into adult novels, horror was just too, well, horrific. People actually die, and often in gory or horrendous ways. I had to DNF It after a few sleepless nights.
But I still find myself wanting to read spooky books in October. Over the years, I've managed to find some not-so-scary reads to scratch that itch.
If you're the same, I've ranked these 13 horror reads for the squeamish by their scare level. The more ghosts the scarier, but none of these should leave you in a cold sweat.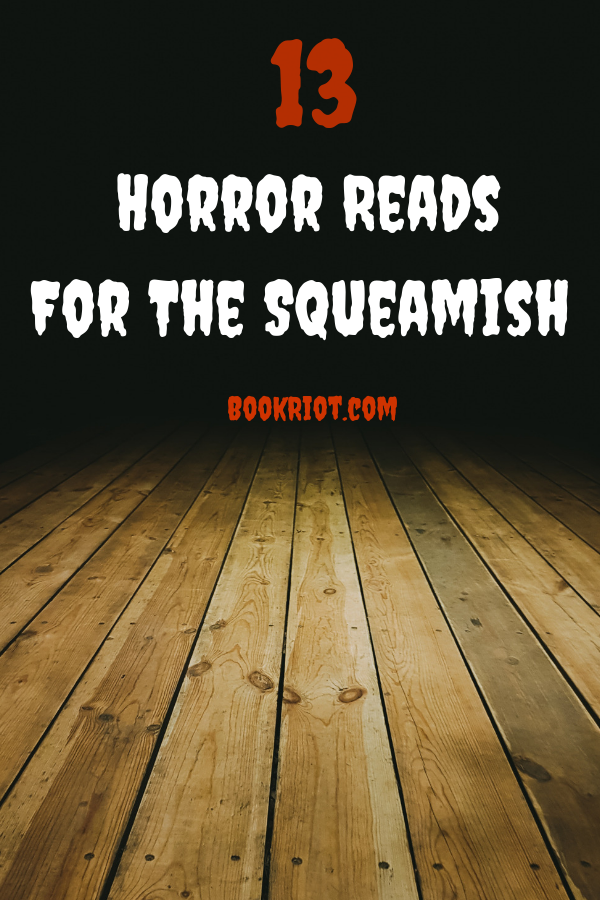 A classic work of magical realism, The House of Spirits makes a perfect October book for readers who don't like horror. It's a sweeping multi-generational family drama with ghosts, mermaid girls, and seers. The political elements are far more likely to make you squirm than the supernatural ones. 👻
This surrealist ghost story will have you scratching your head trying to figure out what's going on, but it shouldn't leave you awake at night trembling under the covers. It's about a teenage girl who runs away from home to live in a New York City boarding house where her mother once lived. But all is not as it appears in the house. This novel uses some classic gothic techniques in a contemporary setting. It's young adult, but easily crosses over to adult. 👻👻👻
Machado's stories will definitely make you uncomfortable. Every time I reread them, I pick up on some new, unsettling context. While they contain supernatural and weird aspects, it's not those parts that are unsettling — it's how our reality treats those weird elements. For example, "The Husband Stitch" retells "The Girl with the Green Ribbon around Her Neck." Do you remember that tale? In Machado's reinvention, it's not the green ribbon holding together a body and a head that's creepy. It's how the protagonist's relationship to a patriarchal society forms around the green ribbon that will give you the shivers. I've read this story so many times, and it still kinda freaks me out. 👻👻👻
If there's such a thing as a cozy horror novel, this is it. If Coraline scared the bejesus out of you, don't worry. This is nothing like Coraline. It's a gentle ghost story about an orphan that finds refuge in a graveyard, and the ghosts there become his family. It's a really lovely Halloween read and if you can make it past the first chapter, you're far more likely to be charmed than scared. 👻👻
In this very meta YA horror, Winnie works for a summer on her aunt's reality TV show about paranormal activity and ghosts. As she researches the New Jersey Devil for the show, she starts questioning its reality, and its possible connection to her mother's death. Told in scripts, letters, illustrations, and more, this is a non-scary examination of the horror genre and how horror can help with pain and loss. I recommend reading the print version. I tried reading this first on the Libby app, but it was very difficult to zoom in on the scripts, and it would be easier to read via print (though it might be fine to read on the kindle — I didn't try). 👻👻
I always try to read a classic horror every October, and my pick this year is We Have Always Lived in the Castle. I love Shirley Jackson. Her stories mesmerize me, from the sparse prose to the disturbing characters and eerie settings. However, there's nothing paranormal or frightening in this novella. The tension comes from knowing something is wrong, is off. It's a gothic without the ghost. I'm listening to the audiobook, and it's so good! 👻👻👻👻
Far more a historical fantasy than a horror novel, there's enough supernatural scare for horror to be a sub-genre. The main character Mouse, for example, is accused of being a witch. With the supernatural power to heal, Mouse wonders whether her abilities come from God or Satan. She fears she knows the answer. Set in a medieval Bohemia, this is a thrilling read with only a slight amount of scare. And book 3 of the trilogy — Book of the Just — is out now, so you can read the complete series. 👻👻
I haven't had a chance to read this yet, but contributor Ashlie Swicker says, "I'm a big chicken and I love ANNA DRESSED IN BLOOD by Kendare Blake. There is some minor gore but it's more creepy than all-out scary." Sounds perfect for the squeamish reader that still wants something that's definitely horror. Given the cover and title though, I'm giving this the highest scare rating. 👻👻👻👻
Somehow I found this book about a child trying to kill her mother funny. And I read this only a few months after giving birth. But despite the premise, and that the little girl claims to be possessed by a witch, this isn't a particularly scary read. It has just enough scare to make it great for October. 👻👻👻
As of the writing of this post, I still have two weeks before my hold comes up at the library. Arrggg. I requested it weeks before it was published. However, after reading through some Goodreads' reviews, I feel pretty confident in saying that there's not a lot of scare in this collection, except for the story by Nova Ren Suma. So if you pick up this anthology, you may want to skip that one. I'm so excited to read this collection. There are so many excellent writers in this anthology, and it's advertised as feminist and diverse. The combination of feminist, diverse, and witch puts me in my happiest of happy reading places. 👻👻👻
I wanted to put one book on this list by THE horror extraordinaire, and I decided to go with something a little different. Stephen King published "Cookie Jar," a short story, a few years ago, and it's free to read online by clicking the link. It's both charming and a little bit spooky. But it shouldn't give you nightmares at all, though it might make you look at your cookie jar a little harder next time you take out a cookie. 👻👻
Though it features the daughters of classic horror monsters, Strange Case reads much more like a historical mystery than a horror. The central cast includes: Mary Jekyll, Diana Hyde, Justine Frankenstein, Catherine Moreau, and Beatrice Rappaccini (though I should not forget Mrs. Poole, the housekeeper, and Alice, a house maid). These sleuths have some murders to investigate, which results in a feminist retelling of classic horror. I love it, and there's only a little squeam in the murders. The second book, European Travel for the Monstrous Gentlewoman, is out now, but I haven't had the chance to read it yet. 👻👻
While this is the sixth book in the Discworld Witches series, the great thing about Discworld is you can read them in any order you want. Trust me. If you've never read a Discworld novel, you can still start here! Discworld is a humorous yet profound high fantasy series, and the witches are my favorite characters. This one features the witches trying to save Lancre from vampires! A perfectly funny Halloween read. 👻
What are your favorite horror-lite reads?