This content contains affiliate links. When you buy through these links, we may earn an affiliate commission.
You know that actor that you liked in that one movie? She might totally have narrated an audiobook. I really like actors as audiobook performers (they give very emotive performances, a lot of the time), so I rounded up some audiobooks read by actors for you to check out.
P.S., Amanda also has a super rad list of classics read by famous people over here.
1. The Handmaid's Tale by Margaret Atwood, narrated by Claire Danes Oh. Em. Eff. Gee. I listened to this audiobook recently and it was actually the genesis of the idea for this list. Claire Danes crushed the narration so hard that I am sad she won't be playing Offred in the series, as much as I also love Elizabeth Moss and am glad she is in a series again so I can see her face.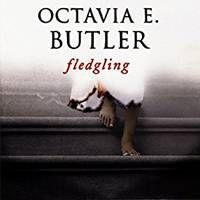 2. Fledgling by Octavia E. Butler, narrated by Tracey Leigh
Tracey Leigh appeared on some shows you love, like Grey's Anatomy and Modern Family. She has been in many plays. And she read this book, "the story of a young amnesiac girl whose alarmingly inhuman needs and abilities lead her to a startling conclusion: she is in fact a genetically modified 53-year-old vampire." I'm pretty sure actor + sci-fi horror = a great time in your ears.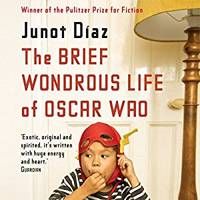 3. The Brief Wondrous Life of Oscar Wao by Junot Diaz, narrated by Lin-Manuel Miranda and Karen Olivo
Both this book and Lin-Manuel Miranda are TREASURES and even if you've already read it, I beseech you to listen this audiobook. BESEECH, I SAY. Karen Olivo has won awards for her performances onstage, so get ready for a lot of talent.
4. The Adventures of Tom Sawyer by Mark Twain, narrated by Nick Offerman
Guys. I don't .. I don't even care about Tom Sawyer, I'll be honest, but I'm going to listen to it because Nick Offerman read it. You know, Nick Offerman–better known by some as the lovable Ron Swanson from Parks and Recreation?
He's totally listening to an audiobook and definitely not any other thing.
5. Heartburn by Nora Ephron, narrated by Meryl Streep
It's just so good, you guys. On every level. But I doubt I have to convince you with Nora Ephron and Meryl Streep already in play, so I'll just leave that right there.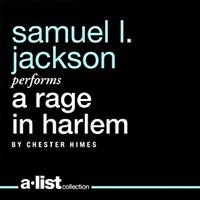 6. A Rage in Harlem by Chester Himes, narrated by Samuel L. Jackson
I know I had so many of you at Samuel L. Jackson, but Chester Himes wrote hardboiled detective fiction that took place in Harlem and was called "the greatest find in American crime fiction since Raymond Chandler" and I feel like that's the arguable lede, here. Also, this book belongs to a series of books, so you don't even have to say goodbye to the characters when you're done. It's a win-win-win.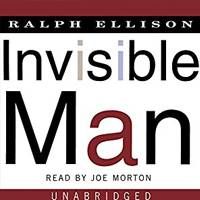 7. Invisible Man by Ralph Ellison, narrated by Joe Morton
Joe Morton is one of those actors that you have seen on so many things. He's currently on Scandal, but he's also been on The Good Wife, Grace and Frankie, Law and Order, Smallville, Eureka and a bunch more stuff. This is your chance to have Invisible Man, a book that is classic as hell and very important, read to you by a very experienced actor.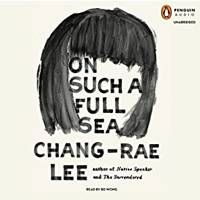 8. On Such a Full Sea by Chang-rae Lee, narrated by BD Wong
Who has a more soothing voice than BD Wong? I'm pretty sure the answer to that is no-fucking-body. Pair that with dystopian sci-fi from an award-winning author and you have yourself an audio masterpiece. This novel follows a woman named Fan, who lives in a future America where "urban neighborhoods have been repurposed as highwalled, self-contained labor colonies". She leaves her settlement when the man she loves disappears, journeying out on what becomes an epic quest.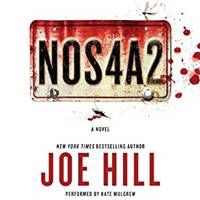 9. NOS4A2 by Joe Hill, narrated by Kate Mulgrew
If you don't know Kate Mulgrew from her time as Captain Janeway, then you probably know her from the series Orange is the New Black where she plays the lovable(?) Red. If you don't know Joe Hill as the son of Stephen King and also accomplished novelist, well, maybe it's time you get to know him. NOS4A2 turns Christmas into a creepfest when a child-snatcher with a holiday theme crosses paths with a girl who has magical talents.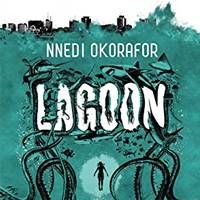 10. Lagoon by Nnedi Okorafor, narrated by Adjoa Andoh and Ben Onwukwe
If you're super into British TV, you probably know Adjoa Andoh and Ben Onwukwe. Andoh is known for the film Invictus but has also been on the shows Missing, Casualty, and some obscure show called Doctor Who. Onwukwe appeared on Coronation Street and The Bill. The book itself is a SF/F tale "combining everything from superhero comics to Nigerian mythology to tie together a story about a city consuming itself." Okorafor is a strong voice in speculative fiction, so don't miss this.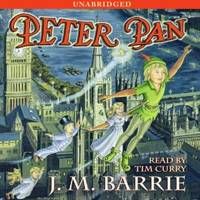 11. Peter Pan by J.M. Barrie, narrated by Tim Curry
HEY YEAH, I'm just going to let that all sink in for a minute. And then I'm going to remind you that Peter Pan features Captain Hook, and thus, this reading will have Tim Curry as Captain Hook (again! because it's already happened once) and it's everything I ever wanted.
(Tim Curry also read Foucault's Pendulum if you need more Tim Curry.)
12. The Odyssey by Homer, narrated by Ian McKellen
I.. have actually never read this? And I can't think of a better way of finally getting around to it than to lounge in the timbre of Sir Ian McKellen's voice.
13. Crazy Rich Asians by Kevin Kwan, narrated by Lynn Chen
I think this was the audiobook that got me into audiobooks, and I am not surprised to have looked up Lynn Chen to find out that she is also an actress (primarily an actress, even). She does a great, great job with the narration of this book, which takes place in Singapore and has a large cast of characters, each with a unique voice in Chen's narration. (I'm also hooked on this series and so happysad that the last one just came out.)
What actors and celebs have narrated audiobooks that you loved a whole lot?
Edited on 5 June 2017 because BD doesn't have periods, per his Twitter profile. Sorry BD. Fixed!