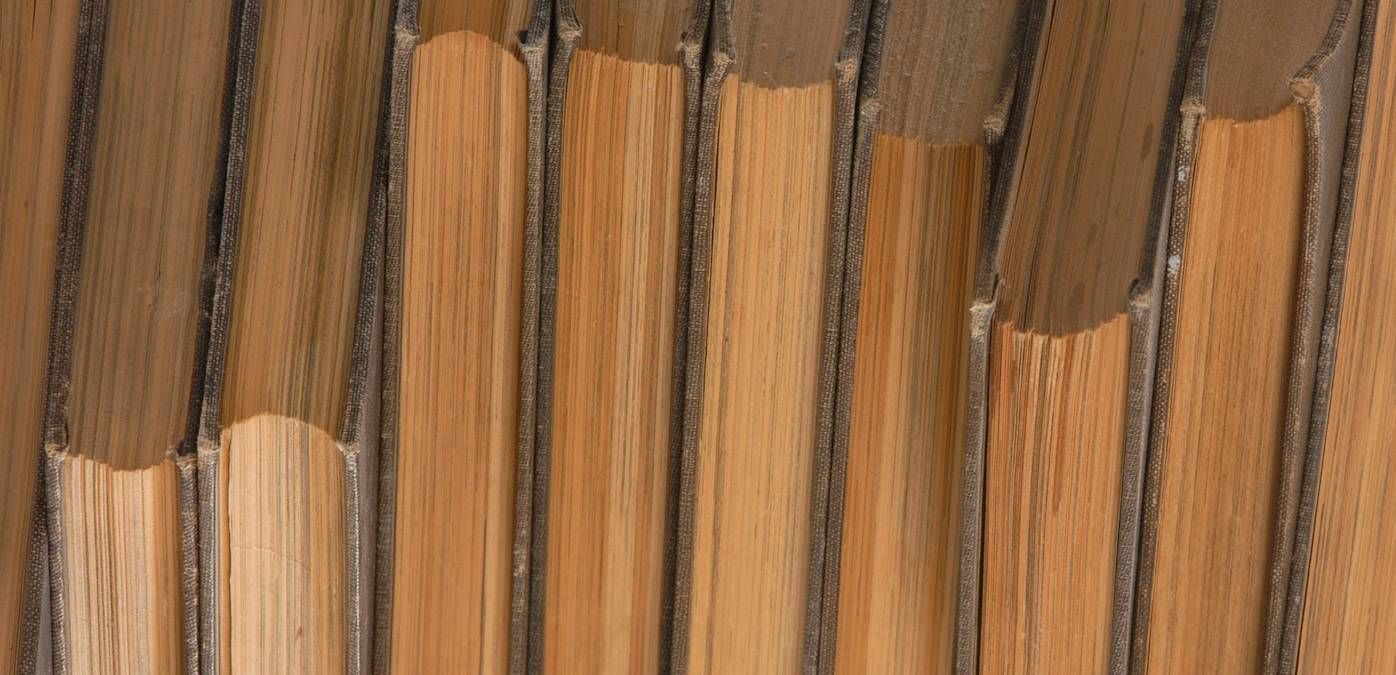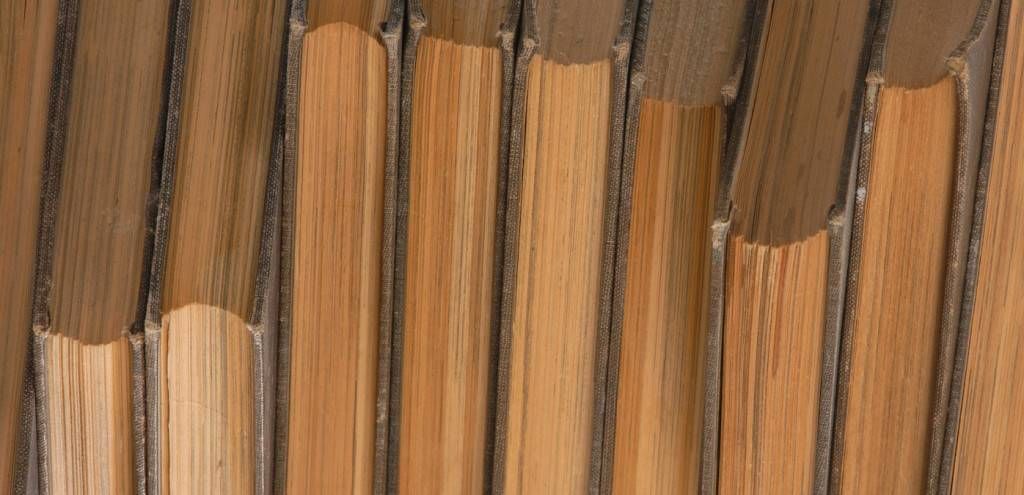 127 YA Books For Your July – September 2015 Radar
This content contains affiliate links. When you buy through these links, we may earn an affiliate commission.
Ready to have your to-be-read list explode with more young adult fiction? I've broken down this year's new releases by the quarter in which they're releasing, so this post covers YA books hitting shelves between July and the end of September. You can see previous posts covering January – March, April – June, and a big round-up of new and continuing YA series. Big series titles not included in this post are likely included there.
This list isn't comprehensive, but it's pretty close. There is something for every type of fiction reader here, from those who love their YA more literary to those who like a good laugh or fantasy adventure. Because release dates for books can sometimes change, a handful of these titles may become available sooner or later than the date listed, though you can plan around what's here as most likely to be the month it'll be available for you to read.
July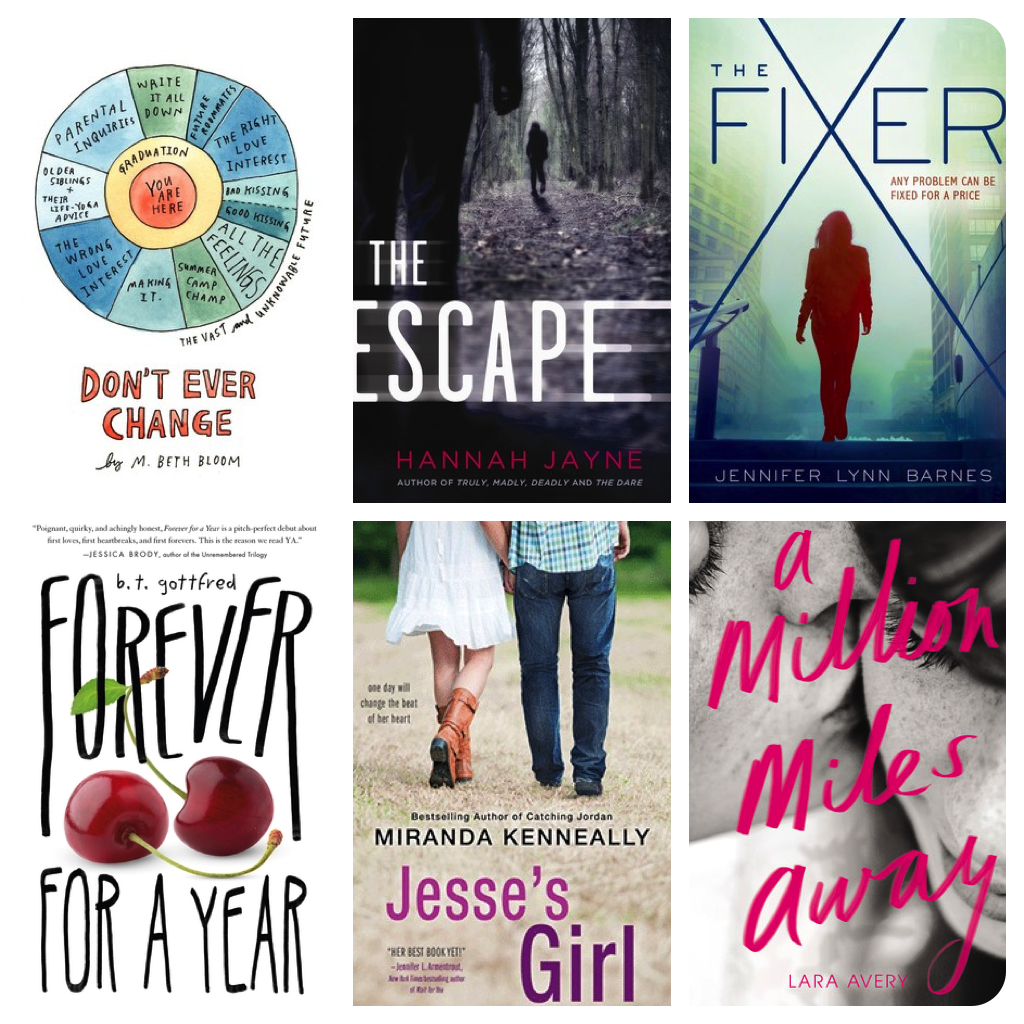 1. Don't Ever Change by M. Beth Bloom (July 7)
Eva has always wanted to write a modern classic—one that actually appeals to her generation. The only problem is that she has realized she can't "write what she knows" because she hasn't yet begun to live. So before heading off to college, Eva is determined to get a life worth writing about.
Soon Eva's life encounters a few unexpected plot twists. She becomes a counselor at a nearby summer camp—a job she is completely unqualified for. She starts growing apart from her best friends before they've even left for school. And most surprising of all, she begins to fall for the last guy she would have ever imagined. But no matter the roadblocks, or writer's blocks, it is all up to Eva to figure out how she wants this chapter in her story to end.
2. The Escape by Hannah Jayne (July 7)
When two boys walk into the woods, and one comes out covered in blood, what would you believe?
Fletcher and Adam venture into the woods for an afternoon hike, but when day turns into night and neither boy returns, their town is thrown into turmoil. Avery, the detective's daughter, is the one to find Fletcher—dishelved, disoriented, and covered in blood. He has no memory of what happened, but Avery can't shake the feeling that something's off.
When Adam's body is finally found, Avery is determined to uncover the truth. But if she stands by her gut, and Fletcher, is she standing by a friend, or a murderer? The answer might cost her her life.
3. The Fixer by Jennifer Lynn Barnes (July 7)
Sixteen-year-old Tess Kendrick has spent her entire life on her grandfather's ranch. But when her estranged sister Ivy uproots her to D.C., Tess is thrown into a world that revolves around politics and power. She also starts at Hardwicke Academy, the D.C. school for the children of the rich and powerful, where she unwittingly becomes a fixer for the high school set, fixing teens' problems the way her sister fixes their parents' problems.
And when a conspiracy surfaces that involves the family member of one of Tess's classmates, love triangles and unbelievable family secrets come to light and life gets even more interesting—and complicated—for Tess.
4. Forever for a Year by B. T. Gottfred (July 7)
When Carolina and Trevor meet on their first day of school, something draws them to each other. They gradually share first kisses, first touches, first sexual experiences. When they're together, nothing else matters. But one of them will make a choice, and the other a mistake, that will break what they thought was unbreakable. Both will wish that they could fall in love again for the first time . . . but first love, by definition, can't happen twice.
Told in Carolina and Trevor's alternating voices, this is an up-close-and-personal story of two teenagers falling in love for the first time, and discovering it might not last forever.
5. Jesse's Girl by Miranda Kenneally (July 7)
Everyone at Hundred Oaks High knows that career mentoring day is a joke. So when Maya Henry said she wanted to be a rock star, she never imagined she'd get to shadow *the* Jesse Scott, Nashville's teen idol.
But spending the day with Jesse is far from a dream come true. He's as gorgeous as his music, but seeing all that he's accomplished is just a reminder of everything Maya's lost: her trust, her boyfriend, their band, and any chance to play the music she craves. Not to mention that Jesse's pushy and opinionated. He made it on his own, and he thinks Maya's playing back up to other people's dreams. Does she have what it takes to follow her heart—and go solo?
6. A Million Miles Away by Lara Avery (July 7)
When high school senior Kelsey's identical twin sister, Michelle, dies in a car crash, Kelsey is left without her other half. The only person who doesn't know about the tragedy is Michelle's boyfriend, Peter, recently deployed to Afghanistan. But when Kelsey finally connects with Peter online, she can't bear to tell him the truth. Active duty has taken its toll, and Peter, thinking that Kelsey is Michelle, says that seeing her is the one thing keeping him alive. Caught up in the moment, Kelsey has no choice: She lets Peter believe that she is her sister.
As Kelsey keeps up the act, she crosses the line from pretend to real. Soon, Kelsey can't deny that she's falling, hard, for the one boy she shouldn't want.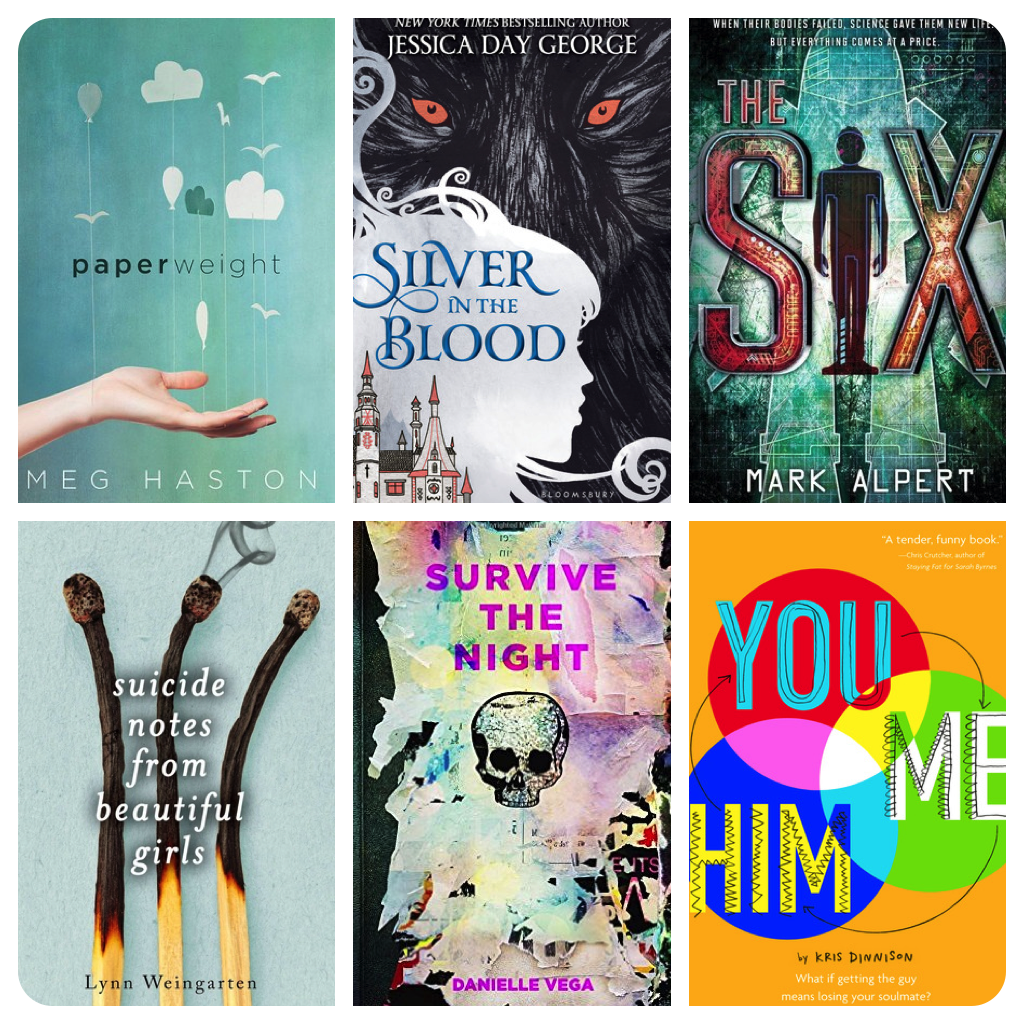 7. Paperweight by Meg Haston (July 7)
Seventeen-year-old Stevie is trapped. In her life. In her body. And now in an eating-disorder treatment center on the dusty outskirts of the New Mexico desert.
Life in the center is regimented and intrusive, a nightmare come true. Nurses and therapists watch Stevie at mealtime, accompany her to the bathroom, and challenge her to eat the foods she's worked so hard to avoid.
Her dad has signed her up for sixty days of treatment. But what no one knows is that Stevie doesn't plan to stay that long. There are only twenty-seven days until the anniversary of her brother Josh's death—the death she caused. And if Stevie gets her way, there are only twenty-seven days until she too will end her life.
8. Silver in the Blood by Jessica Day George (July 7)
Society girls from New York City circa 1890, Dacia and Lou never desired to know more about their lineage, instead preferring to gossip about the mysterious Romanian family that they barely knew. But upon turning seventeen, the girls must return to their homeland to meet their relatives, find proper husbands, and—most terrifyingly—learn the deep family secrets of The Claw, The Wing, and The Smoke. The Florescus, after all, are shape-shifters, and it is time for Dacia and Lou to fulfill the prophecy that demands their acceptance of this fate… or fight against this cruel inheritance with all their might.
With a gorgeous Romanian setting, stunning Parisian gowns, and dark brooding young men, readers will be swept up by this epic adventure of two girls in a battle for their lives.
9. The Six by Mark Alpert (July 7)
Adam's muscular dystrophy has stolen his mobility, his friends, and in a few short years, it will take his life. Virtual reality games are Adam's only escape from his wheelchair. In his alternate world, he can defeat anyone. Running, jumping, scoring touchdowns: Adam is always the hero.
Then an artificial intelligence program, Sigma, hacks into Adam's game. Created by Adam's computer-genius father, Sigma has gone rogue, threatening Adam's life-and world domination. Their one chance to stop Sigma is using technology Adam's dad developed to digitally preserve the mind of his dying son.
Along with a select group of other terminally ill teens, Adam becomes one of the Six who have forfeited their bodies to inhabit weaponized robots. But with time running short, the Six must learn to manipulate their new mechanical forms and work together to train for epic combat…before Sigma destroys humanity.
10. Suicide Notes From Beautiful Girls by Lynn Weingarten (July 7)
They say Delia burned herself to death in her stepfather's shed. They say it was suicide.
But June doesn't believe it.
June and Delia used to be closer than anything. Best friends in that way that comes before everyone else-before guys, before family. It was like being in love, but more. They had a billion secrets, tying them together like thin silk cords.
But one night a year ago, everything changed. June, Delia, and June's boyfriend Ryan were just having a little fun. Their good time got out of hand. And in the cold blue light of morning, June knew only this-things would never be the same again.
And now, a year later, Delia is dead. June is certain she was murdered. And she owes it to her to find out the truth…which is far more complicated than she ever could have imagined.
11. Survive the Night by Danielle Vega (July 7)
Julie lies dead and disemboweled in a dank, black subway tunnel, red-eyed rats nibbling at her fingers. Her friends think she's just off with some guy—no one could hear her getting torn apart over the sound of pulsing music.
In a tunnel nearby, Casey regrets coming to Survive the Night, the all-night underground rave in the New York City subway. Her best friend Shana talked her into it, even though Casey just got out of rehab. Alone and lost in the dark, creepy tunnels, Casey doesn't think Survive the Night could get any worse . . .
. . . until she comes across Julie's body, and the party turns deadly.
Desperate for help, Casey and her friends find themselves running through the putrid subway system, searching for a way out. But every manhole is sealed shut, and every noise echoes eerily in the dark, reminding them they're not alone.
They're being hunted.
Trapped underground with someone—or something—out to get them, Casey can't help but listen to her friend's terrified refrain: "We're all gonna die down here. . . ."
12. You and Me and Him by Kris Dinnison (July 7)
Maggie and Nash are outsiders. She's overweight. He's out of the closet. The best of friends, they have seen each other through thick and thin, but when Tom moves to town at the start of the school year, they have something unexpected in common: feelings for the same guy. This warm, witty novel—with a clear, true voice and a clever soundtrack of musical references—sings a song of love and forgiveness.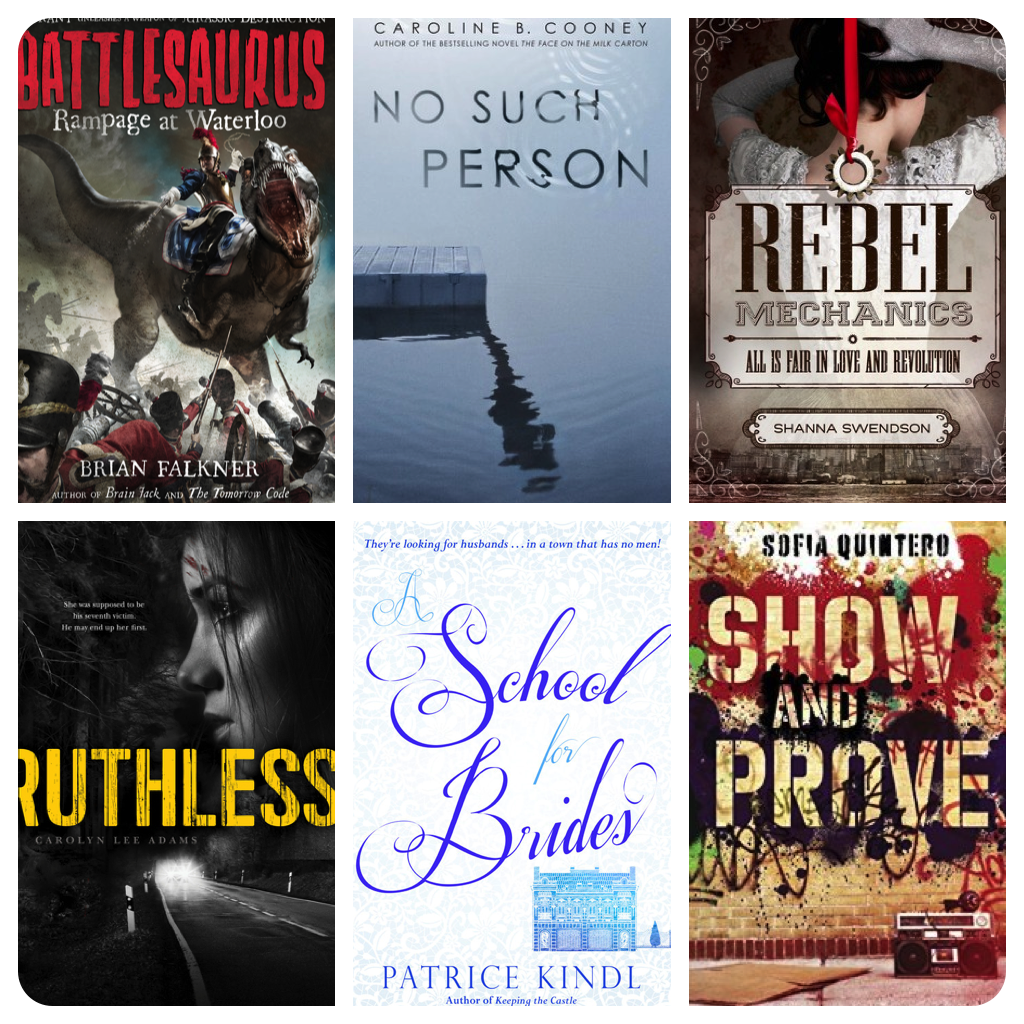 13. Battlesaurus: Rampage at Waterloo by Brian Falkner (July 14)
Did you know that beasts called "saurs" were a part of everyday life in 1815 Europe? Did you know that Napoleon won the battle of Waterloo? Did you know that he did so by using a terrible secret weapon against the British and Prussians? Did you know that only one boy–the son of a magician–knows how to foil the would-be Emperor's plans at world-domination? It's all true. At least according to this head-spinning historical fantasy by adventure author Brian Falkner, just in time for the bicentennial of the battle that re-shaped Europe.
14. No Such Person by Caroline B. Cooney (July 14)
Miranda and Lander Allerdon are sisters. Miranda is younger, a dreamer, and floating her way through life. Lander is older, focused, and determined to succeed. As the girls and their parents begin another summer at their cottage on the Connecticut River, Miranda and Lander's sibling rivalry is in high gear. Lander plans to start medical school in the fall, and Miranda feels cast in her shadow.
When the Allerdons become entangled in an unimaginable tragedy, the playing field is suddenly leveled. As facts are revealed, the significance of what has happened weighs heavily on all. How can the family prepare for what the future may hold?
15. Rebel Mechanics by Shanna Swendson (July 14)
It's 1888, and sixteen-year-old Verity Newton lands a job in New York as a governess to a wealthy leading family—but she quickly learns that the family has big secrets. Magisters have always ruled the colonies, but now an underground society of mechanics and engineers are developing non-magical sources of power via steam engines that they hope will help them gain freedom from British rule. The family Verity works for is magister—but it seems like the children's young guardian uncle is sympathetic to the rebel cause. As Verity falls for a charming rebel inventor and agrees to become a spy, she also becomes more and more enmeshed in the magister family's life. She soon realizes she's uniquely positioned to advance the cause—but to do so, she'll have to reveal her own dangerous secret.
16. Ruthless by Carolyn Lee Adams (July 14)
Ruth Carver has always competed like her life depends on it. Ambitious. Tough. Maybe even mean. It's no wonder people call her Ruthless.
When she wakes up with a concussion in the bed of a moving pickup trick, she realizes she has been entered into a contest she can't afford to lose.
At a remote, rotting cabin deep in the Blue Ridge Mountains, Ruth's blindfold comes off and she comes face-to-face with her captor. A man who believes his mission is to punish bad girls like Ruth. A man who has done this six times before.
The other girls were never heard from again, but Ruth won't go down easy. She escapes into the wilderness, but her hunter is close at her heels. That's when the real battle begins. That's when Ruth must decides just how far she'll go in order to survive.
Back home, they called her Ruthless. They had no idea just how right they were.
17. A School For Brides by Patrice Kindl (July 14)
The Winthrop Hopkins Female Academy of Lesser Hoo, Yorkshire, has one goal: to train its students in the feminine arts with an eye toward getting them married off. This year, there are five girls of marriageable age. There's only one problem: the school is in the middle of nowhere, and there are no men.
18. Show and Prove by Sofia Quintero (July 14)
The summer of 1983 was the summer hip-hop proved its staying power. The South Bronx is steeped in Reaganomics, war in the Middle East, and the twin epidemics of crack and AIDS, but Raymond "Smiles" King and Guillermo "Nike" Vega have more immediate concerns.
Smiles was supposed to be the assistant crew chief at his summer camp, but the director chose Cookie Camacho instead, kicking off a summer-long rivalry. Meanwhile, the aspiring b-boy Nike has set his wandering eye on Sara, the sweet yet sassy new camp counselor, as well as top prize at a breakdancing competition downtown. The two friends have been drifting apart ever since Smiles got a scholarship to a fancy private school, and this summer the air is heavy with postponed decisions that will finally be made.
Raw and poignant, this is a story of music, urban plight, and racial tension that's as relevant today as it was in 1983.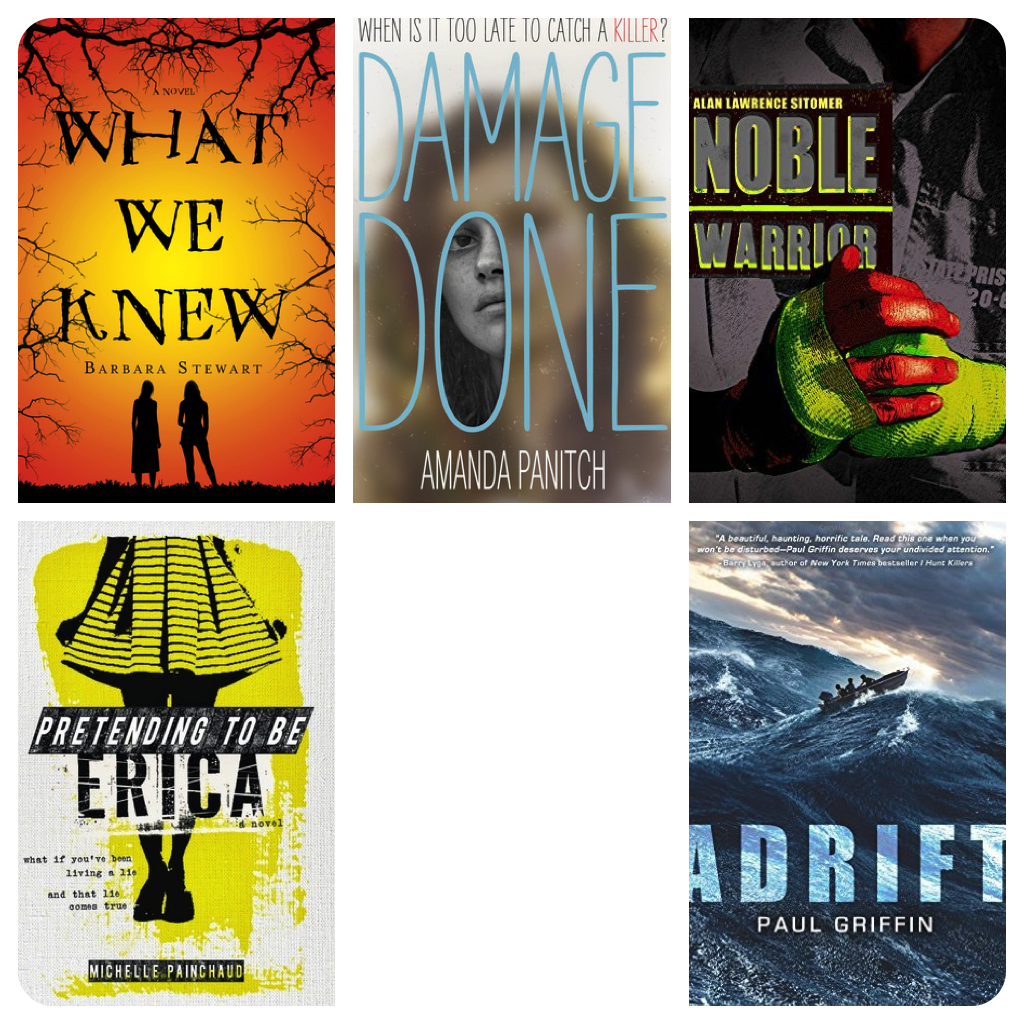 19. What We Knew by Barbara Stewart (July 14)
When a local myth starts to seem like a dangerous reality, two girls are set on a path that could change their lives forever
"When I was little, I imagined a monster: Scaly hands. Pits for eyes…"
When Tracy and her best friend, Lisa, were kids, stories about a man—a creep who exposes himself to little girls—kept them out of the woods and in their own backyards. But Tracy and Lisa aren't so little anymore, and the man in the woods is nothing but a stupid legend. Right?
But someone is in the woods. Someone is watching. And he knows all their secrets, secrets they can't tell anyone—not even each other.
"Monsters don't exist."
Lisa's just being paranoid. At least that's what Tracy thinks. But when a disturbing "gift" confirms her worst fears, it sets the girls on a dangerous journey that takes them beyond the edge of the woods. But reality is more terrifying than the most chilling myth, and what they find will test the bonds of friendship, loyalty, and love.
20. Damage Done by Amanda Panitch (July 21)
Twenty-two minutes separate Julia Vann's before and after.
Before: Julia had a twin brother, a boyfriend, and a best friend.
After: She has a new identity, a new hometown, and memories of those twenty-two minutes that refuse to come into focus. At least, that's what she tells the police.
Now that she's Lucy Black, she's able to begin again. She's even getting used to the empty bedroom where her brother should be. And her fresh start has attracted the attention of one of the hottest guys in school, a boy who will do anything to protect her. But when someone much more dangerous also takes notice, Lucy's forced to confront the dark secrets she thought were safely left behind.
One thing is clear: The damage done can never be erased. It's only just beginning.
21. Noble Warrior by Alan Lawrence Sitomer (July 21)
After placing teenage mixed martial arts phenom McCutcheon Daniels and his mother and sister in the Witness Relocation Program,the FBI comes to realize they have a unique asset on their hands. Recruited to help the FBI, McCutcheon finds himself hunting bad guys. But when he discovers that the notorious Priests have targeted Kaitlyn-the girl he loves and was forced to leave behind-as a way to seek revenge on the Daniels family, MD convinces the FBI to send him right into the belly of the beast: Jenkells State Penitentiary where the mob boss of Detroit is serving time. Yet in his universe where up is down, McCutcheon ends up disavowed by the government and left to rot in one of America's most notorious prisons. It's there here connects with his father and discovers the truth about his circumstances. McCutcheon, a trained urban warrior, escapes and sets out for revenge on those who betrayed him and his family.
22. Pretending To Be Erica by Michelle Painchaud (July 21)
Seventeen-year-old Violet's entire life has revolved around one thing: becoming Erica Silverman, an heiress kidnapped at age five and never seen again. Violet's father, the best con man in Las Vegas, has a plan, chilling in its very specific precision. Violet shares a blood type with Erica; soon, thanks to surgery and blackmail, she has the same face, body, and DNA. She knows every detail of the Silvermans' lives, as well as the PTSD she will have to fake around them. And then, when the time is right, she "reappears"—Erica Silverman, brought home by some kind of miracle. But she is also Violet, and she has a job: Stay long enough to steal the Silverman Painting, an Old Master legendary in the Vegas crime world.
23. Adrift by Paul Griffin (July 28)
Matt and John are best friends working out in Montauk for the summer. When Driana, JoJo and Stef invite the boys to their Hamptons mansion, Matt and John find themselves in a sticky situation where temptation rivals sensibility. The newfound friends head out into the Atlantic after midnight in a stolen boat. None of them come back whole, and not all of them come back.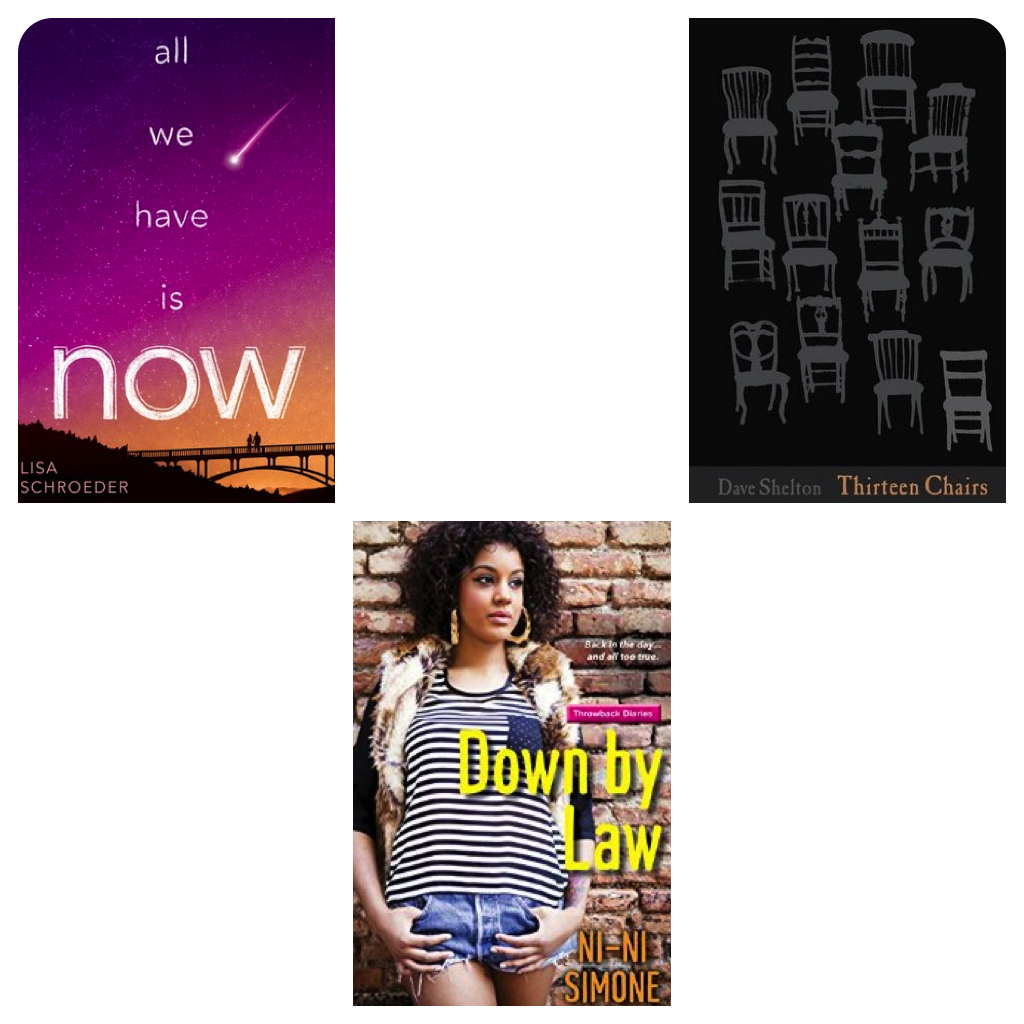 24. All We Have Is Now by Lisa Schroeder (July 28)
What do you do with your last day on earth?
Just over twenty-four hours are left until an asteroid strikes North America, and for Emerson and everyone else who didn't leave, the world will end. But Emerson's world already ended when she ran away from home. Since then, she has lived on the streets, relying on her wits and on her friend Vince to help her find places to sleep and food to eat.
The city's quieter now that most people are gone, and no one seems to know what to do as the end approaches. But then Emerson and Vince meet Carl, who tells them he has been granting people's wishes — and gives them his wallet full of money.
Suddenly, this last day seems full of possibility. Emerson and Vince can grant a lot of wishes in one last day — maybe even their own.
25. Down By Law by Ni-Ni Simone (July 28)
Isis Carter got schooled early on in surviving the streets. When some girls put a beatdown on her, she took back what was hers. When her brother was killed and her mom, Queenie, bailed, Isis fought to stay strong. And when her dad abandoned her for his new family, sixteen-year-old Isis buried the hurt by looking out for herself—and hookin' up with bad boy Fresh…until a run-in with the law shatters Isis's world and threatens to destroy her future.
Now the only person Isis can rely on is herself…until her secret crush K-Rock steps in. But when Isis lets her guard down, will she be given a second chance to get her life straight or will it cost her everything?
26. Thirteen Chairs by Dave Shelton (July 28)
In an abandoned house, the ghosts gather. They argue, they laugh, and they tell their stories. Some tell their own stories, some tell stories they have heard elsewhere. Some of them are true, some are not. But each tale draws you closer.
One by one, the storytellers depart, until suddenly it's just you and the narrator, alone in the dark…
August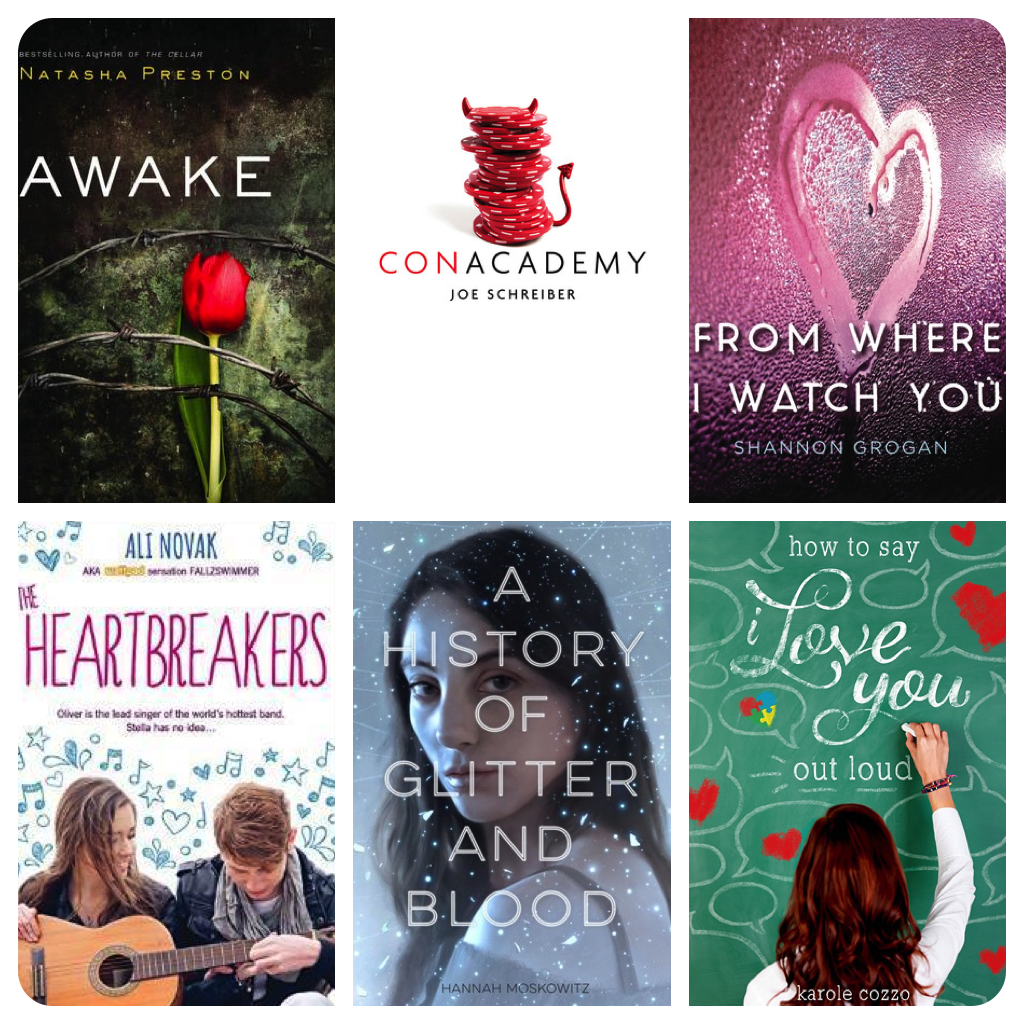 27. Awake by Natasha Preston (August 4)
Scarlett doesn't remember anything before the age of five. Her parents say it's from the trauma of seeing her house burn down, and she accepts the life they've created for her without question—until a car accident causes Scarlett to start remembering pieces of an unfamiliar past.
When a new guy moves into town, Scarlett feels an instant spark. But Noah knows the truth of Scarlett's past, and he's determined to shield her from it…because Scarlett grew up in a cult called Eternal Light, controlled by her biological parents.
And they want her back.
28. Con Academy by Joe Schreiber (August 4)
It's his senior year and Will Shea has conned his way into one of the country's most elite prep schools. But he soon runs into Andrea, a fellow con-artist. With the school not big enough for the both of them, they make a bet that whoever can con Brandt Rush, the richest, most privileged student in the school out of $50K, gets to stay at the school. Will starts setting up his con (an online poker scam) with his uncle who's one of the best grifters in the business, but also with the unwanted help of his father.. The plot thickens as Will starts falling for fellow student Gatsby, and some of Will's lies start to catch up with him. In this twisty tale of scams, secrets, lies and deception, it hard to figure out who's conning who!
29. From Where I Watch You by Shannon Grogan (August 4)
Sixteen-year-old Kara McKinley is about to realize her dream of becoming a professional baker. Beautifully designed and piped, her cookies are masterpieces, but also her ticket out of rainy Seattle—if she wins the upcoming national baking competition and its scholarship prize to culinary school in California. Kara can no longer stand the home where her family lived, laughed, and ultimately imploded after her mean-spirited big sister Kellen died in a drowning accident. Kara's dad has since fled, and her mom has turned from a high-powered attorney into a nutty holy-rolling Christian fundamentalist peddling "Soul Soup" in the family café. All Kara has left are memories of better times.
But the past holds many secrets, and they come to light as Kara faces a secret terror. Someone is leaving her handwritten notes. Someone who knows exactly where she is and what's she's doing. As they lead her to piece together the events that preceded Kellen's terrible, life-changing betrayal years before, she starts to catch glimpses of her dead sister: an unwelcome ghost in filthy Ugg boots. If Kara doesn't figure out who her stalker is, and soon, she could lose everything. Her chance of escape. The boy she's beginning to love and trust. Even her life.
30. Heartbreakers by Ali Novak (August 4)
Stella will do anything for her sick sister, Cara—even stand in line for an autographed Heartbreakers CD…for four hours. She's totally winning best birthday gift this year. At least she met a cute boy with soft brown hair and gorgeous blue eyes while getting her caffeine fix. Too bad she'll never see him again.
Except, Stella's life has suddenly turned into a cheesy love song. Because Starbucks Boy is Oliver Perry – lead singer for the Heartbreakers. And even after she calls his music crap, Oliver still gives Stella his phone number. And whispers quotes from her favorite Disney movie in her ear. OMG, what is her life?
But how can Stella even think about being with Oliver — dating and laughing and pulling pranks with the band — when her sister could be dying of cancer?
31. A History of Glitter and Blood by Hannah Moskowitz (August 4)
Sixteen-year-old Beckan and her friends are the only fairies brave enough to stay in Ferrum when war breaks out. Now there is tension between the immortal fairies, the subterranean gnomes, and the mysterious tightropers who arrived to liberate the fairies.
But when Beckan's clan is forced to venture into the gnome underworld to survive, they find themselves tentatively forming unlikely friendships and making sacrifices they couldn't have imagined. As danger mounts, Beckan finds herself caught between her loyalty to her friends, her desire for peace, and a love she never expected.
32. How To Say I Love You Out Loud by Karole Cozzo (August 4)
When Jordyn Michaelson's autistic brother joins her at her elite school, she's determined not to let anyone know they're related. Even if that means closing herself off to all her closest friends, including charming football stud Alex Colby. But despite her best intentions, she just can't shake the memory of kissing Alex last summer, and the desire to do it again.
Can Jordyn find the courage to tell Alex how she really feels—and the truth about her family—before he slips away forever?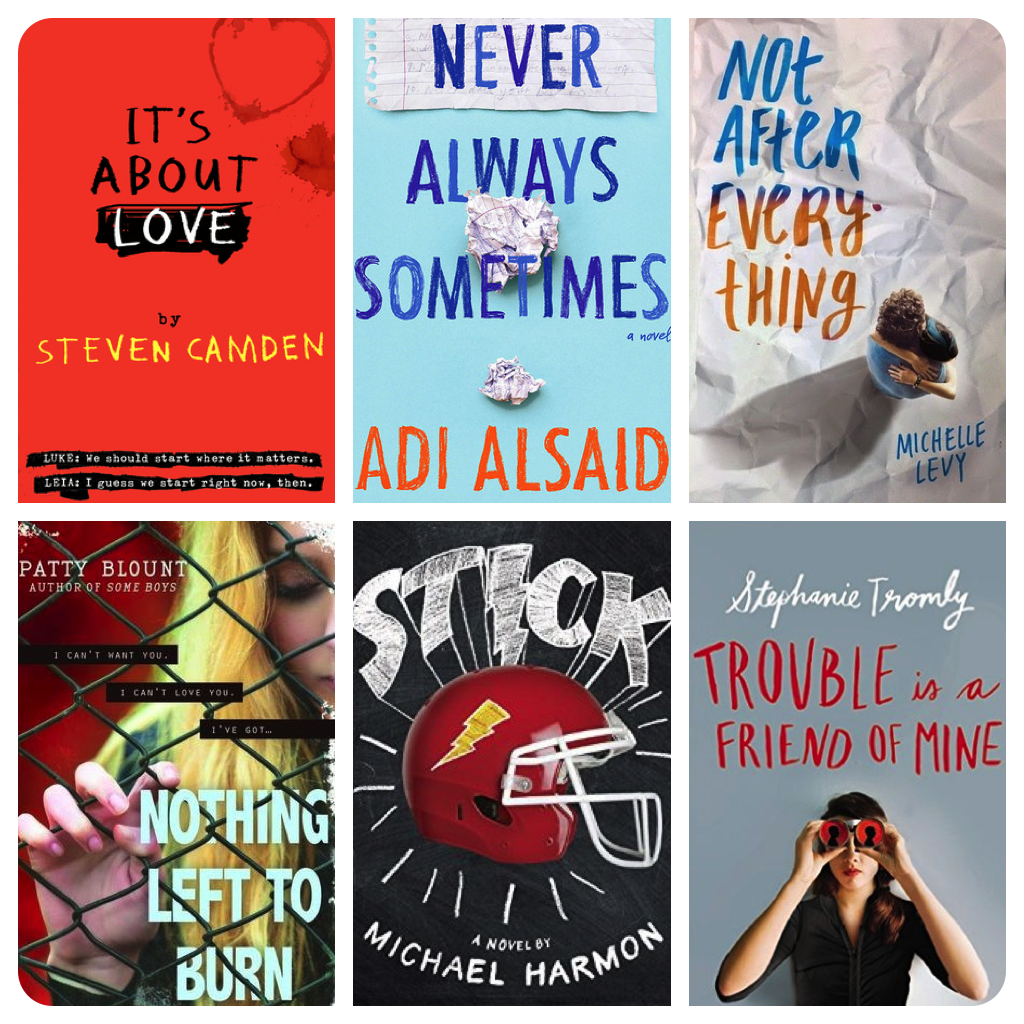 33. It's About Love by Steven Camden (August 4)
Real life is messier than the movies. A bold, thought-provoking novel from the exceptionally talented, Steven Camden.
He's Luke. She's Leia.
Just like in Star Wars. Just like they're made for each other. Same film studies course, different backgrounds, different ends of town.
Only this isn't a film. This is real life. This is where monsters from the past come back to take revenge. This is where you are sometimes the monster.
But real life? Sometimes, only sometimes, it turns out just like in the movies…
… maybe.
34. Never Always Sometimes by Adi Alsaid (August 4)
Best friends Dave and Julia were determined to never be cliché high school kids—the ones who sit at the same lunch table every day, dissecting the drama from homeroom and plotting their campaigns for prom king and queen. They even wrote their own Never List of everything they vowed they'd never, ever do in high school.
Some of the rules have been easy to follow, like #5, never die your hair a color of the rainbow, or #7, never hook up with a teacher. But Dave has a secret: he's broken rule #8, never pine silently after someone for the entirety of high school. It's either that or break rule #10, never date your best friend. Dave has loved Julia for as long as he can remember.
Julia is beautiful, wild and impetuous. So when she suggests they do every Never on the list, Dave is happy to play along. He even dyes his hair an unfortunate shade of green. It starts as a joke, but then a funny thing happens: Dave and Julia discover that by skipping the clichés, they've actually been missing out on high school. And maybe even on love.
35. Not After Everything by Michelle Levy (August 4)
Tyler has a football scholarship to Stanford, a hot girlfriend, and a reliable army of friends to party with. Then his mom kills herself. And Tyler lets it all go. Now he needs to dodge what his dad is offering (verbal tirades and abuse) and earn what his dad isn't (money). Tyler finds a job that crashes him into Jordyn, his former childhood friend turned angry-loner goth-girl. She brings Tyler an unexpected reprieve from the never-ending pity party his life has become. How could he not fall for her? But with his dad more brutally unpredictable than ever, Tyler knows he can't risk bringing Jordyn too deeply into the chaos. So when violence rocks his world again, will it be Jordyn who shows him the way to a hopeful future? Or after everything, will Tyler have to find it in himself?
36. Nothing Left to Burn by Patty Blount (August 4)
Reece's father hasn't spoken to him since the car wreck that killed Reece's brother. Desperate for forgiveness, Reece joins the Junior Cadet program at his dad's firehouse. But the program is grueling, and Reece isn't sure he can make it through. Then he meets Amanda.
Amanda understands wanting to belong. As a foster kid, the firehouse is the only place that feels like home. She agrees to help Reece, but falling for him wasn't part of the deal. And when a string of arsons suddenly point to Amanda, their relationship could go up in flames.
37. Stick by Michael Harmon (August 4)
"Stick" is the best wide receiver in the history of his high school—the football seems magnetically drawn to his hands, hence his nickname.
Preston is an outcast, and his pipsqueak stature and nerdy social status couldn't be further from a star athlete's.
Stick puts on his football costume every week to make others—his teammates, his dad, everyone but himself—happy, but he's fallen out of love with the sport and feels that he's lost control of his future.
Preston puts on his homemade superhero costume every night to help others, too: to avenge his father's murder, he's determined to right the wrongs he sees in his neighborhood and regain control of the flawed world he sees around him.
A twist of fate brings this unlikely pair together in a friendship that is as odd as it is true. Each can see the other better than he can see himself, and in these unexpected reflections lies a chance for mutual redemption.
38. Trouble is a Friend of Mine by Stephanie Tromly (August 4)
Preparing to survive a typical day of being Digbys friend wasn't that different from preparing to survive the apocalypse.
Her first day not in school (because she cut) in her new hometown that will soon be her old hometown (because she's getting out of Dodge as fast as she can) Zoe meets Digby. Or rather, Digby decides he's going to meet Zoe and get her to help him find missing teenager. Zoe isn't sure how, but Digby—the odd and brilliant and somehow…attractive?—Digby always gets what he wants, including her help on several illegal ventures. Before she knows it, Zoe has vandalized an office complex with fake snow, pretended to buy drugs alongside a handsome football player dressed like the Hulk, had a throw-down with a possible cult, and, oh yeah, saved her new hometown (which might be worth making her permanent hometown after all.)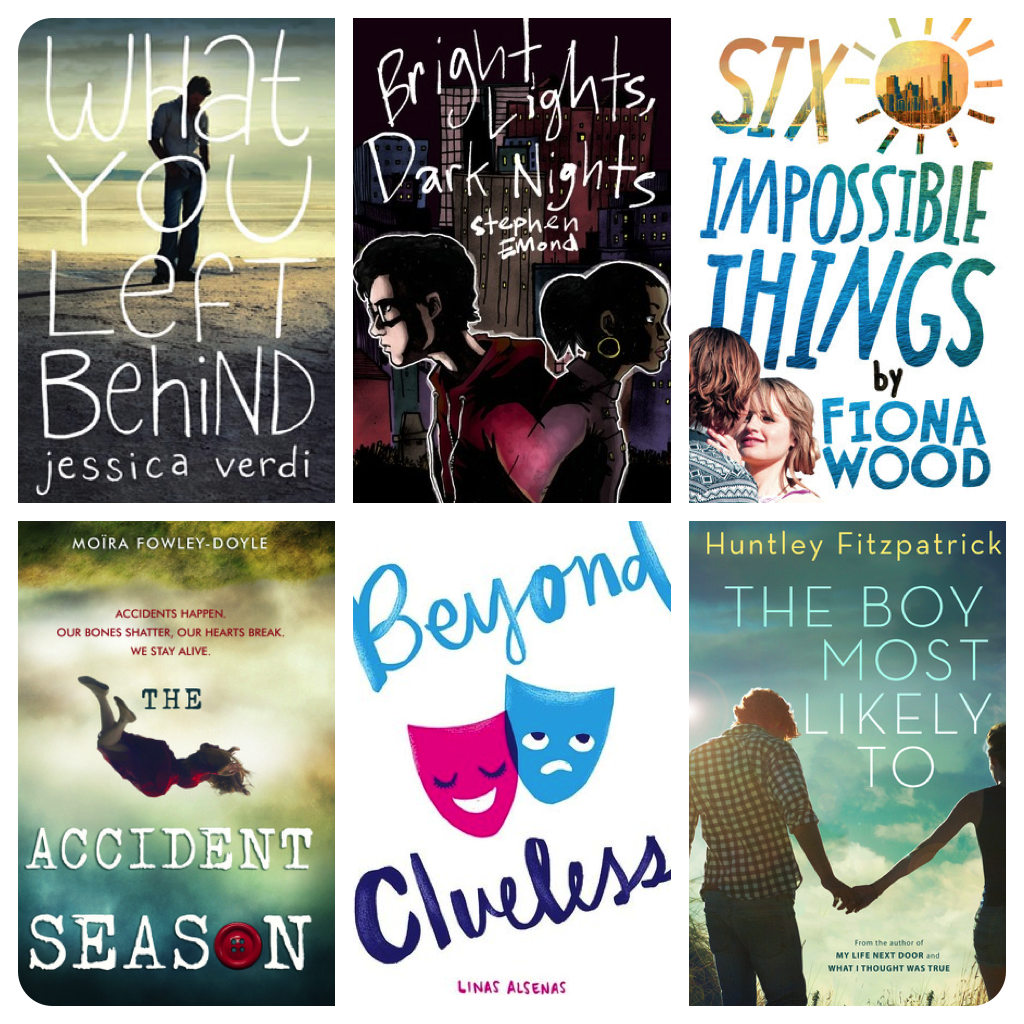 39. What You Left Behind by Jessica Verdi (August 4)
It's all Ryden's fault. If he hadn't gotten Meg pregnant, she would have never stopped her chemo treatments and would still be alive. Instead, he's failing fatherhood one dirty diaper at a time. And it's not like he's had time to grieve while struggling to care for their infant daughter, start his senior year, and earn the soccer scholarship he needs to go to college.
The one person who makes Ryden feel like his old self is Joni. She's fun and energetic—and doesn't know he has a baby. But the more time they spend together, the harder it becomes to keep his two worlds separate. Finding one of Meg's journals only stirs up old emotions, and Ryden's convinced Meg left other notebooks for him to find, some message to help his new life make sense. But how is he going to have a future if he can't let go of the past?
40. Bright Lights, Dark Nights by Stephen Emond (August 11)
Walter Wilcox has never been in love. That is, until he meets Naomi, and sparks, and clever jokes, fly. But when his cop dad is caught in a racial profiling scandal, Walter and Naomi, who is African American, are called out at school, home, and online. Can their bond (and mutual love of the Foo Fighters) keep them together?
41. Six Impossible Things by Fiona Wood (August 11)
Fourteen year old nerd-boy Dan Cereill is not quite coping with a reversal of family fortune, moving house, new school hell, a mother with a failing wedding cake business, a just-out gay dad, and an impossible crush on Estelle, the girl next door. His life is a mess, but for now he's narrowed it down to just six impossible things.
42. The Accident Season by Moira Fowley-Doyle (August 18)
The accident season has been part of seventeen-year-old Cara's life for as long as she can remember. Towards the end of October, foreshadowed by the deaths of many relatives before them, Cara's family becomes inexplicably accident-prone. They banish knives to locked drawers, cover sharp table edges with padding, switch off electrical items – but injuries follow wherever they go, and the accident season becomes an ever-growing obsession and fear.
But why are they so cursed? And how can they break free?
43. Beyond Clueless by Linas Alsenas (August 18)
Marty Sullivan's life ends, basically, when her parents enroll her in a private high school. A private, Catholic, girls-only high school. Meanwhile, at their local public school, her best friend, Jimmy, comes out of the closet and finds himself a boyfriend and a new group of friends. Marty feels left out and alone, until she gets a part in the school musical, Into the Woods, and Jimmy and his new crew are in it, too! Things start looking even better when Marty falls for foxy fellow cast member Felix Peroni. And Felix seems to like her back. But the drama is just beginning. Can Marty and Jimmy keep up their friendship? And is Marty's new beau everything he appears to be? Or is Marty too clueless to figure it all out before it's too late?
44. The Boy Most Likely To by Huntley Fitzpatrick (August 18)
Tim Mason was The Boy Most Likely To:
– find the liquor cabinet blindfolded
– need a liver transplant
– drive his car into a house
Alice Garrett was The Girl Most Likely To:
– well, not date her little brother's baggage-burdened best friend, for starters.
For Tim, it wouldn't be smart to fall for Alice. For Alice, nothing could be scarier than falling for Tim. But Tim has never been known for making the smart choice, and Alice is starting to wonder if the "smart" choice is always the right one. When these two crash into each other, they crash hard.
Then the unexpected consequences of Tim's wild days come back to shock him. He finds himself in a situation that isn't all it appears to be, that he never could have predicted . . . but maybe should have.
And Alice is caught in the middle.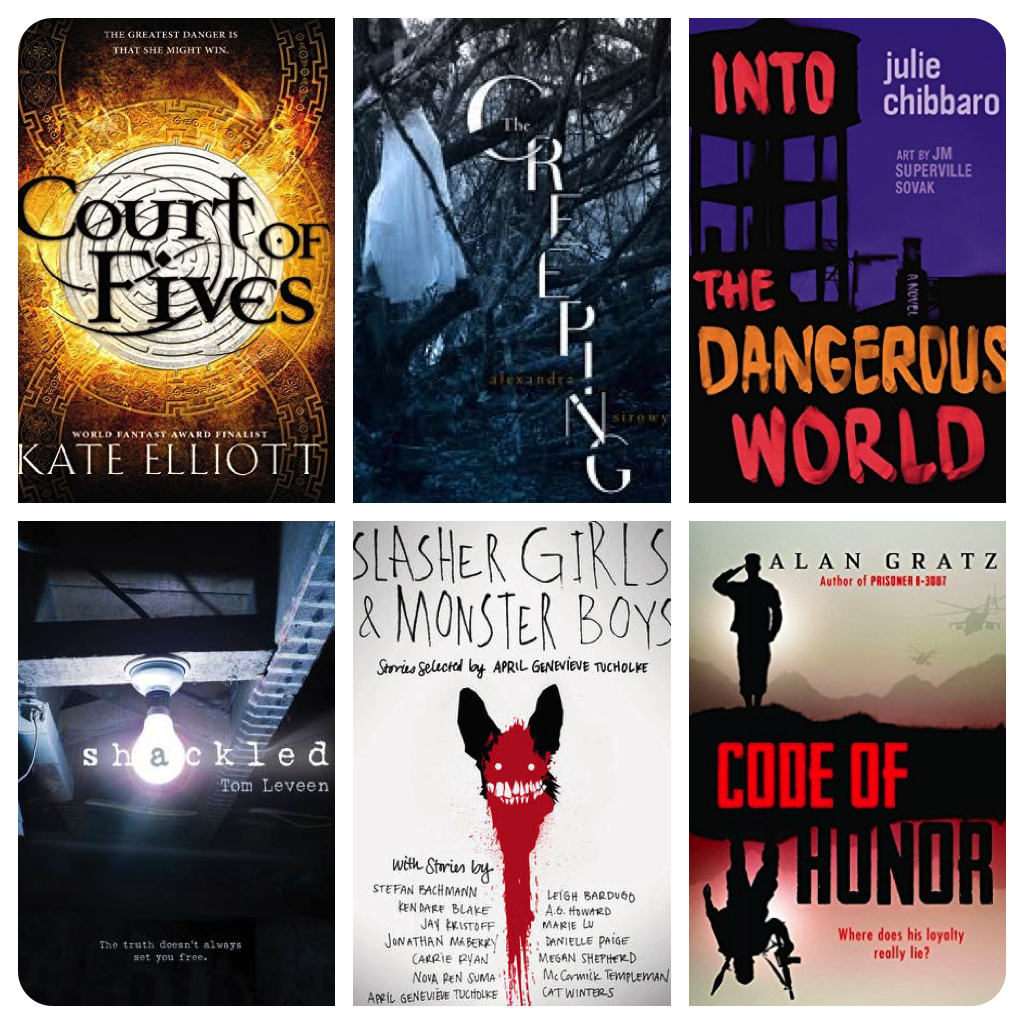 45. Court of Fives by Kate Elliott (August 18)
Jessamy's life is a balance between acting like an upper class Patron and dreaming of the freedom of the Commoners. But at night she can be whomever she wants when she sneaks out to train for The Fives, an intricate, multi-level athletic competition that offers a chance for glory to the kingdom's best competitors. Then Jes meets Kalliarkos, and an unlikely friendship between a girl of mixed race and a Patron boy causes heads to turn. When a scheming lord tears Jes's family apart, she'll have to test Kal's loyalty and risk the vengeance of a powerful clan to save her mother and sisters from certain death.
46. The Creeping by Alexandra Sirowy (August 18)
Twelve years ago Stella and Jeanie vanished while picking strawberries. Stella returned minutes later, with no memory of what happened. Jeanie was never seen or heard from again.
Now Stella is seventeen, and she's over it. She's the lucky one who survived, and sure, the case is still cloaked in mystery—and it's her small town's ugly legacy—but Stella is focused on the coming summer. She's got a great best friend, a hookup with an irresistibly crooked smile, and two months of beach days stretching out before her.
Then along comes a corpse, a little girl who washes up in an ancient cemetery after a mudslide, and who has red hair just like Jeanie did. Suddenly memories of that haunting day begin to return, and when Stella discovers that other red-headed girls have gone missing as well, she begins to suspect that something sinister is at work.
And before the summer ends, Stella will learn the hard way that if you hunt for monsters, you will find them.
47. Into The Dangerous World by Julie Chibbaro (August 18)
Ror lives to draw—to her, it's like breathing; it's how she understands life. When her father dies, she finds herself at a crossroads. Should she paint in the classic tradition, the way he taught her? Go to college, like her art teacher wants? Or should she listen to Trey, the seductive street artist who leads the crew Noise Ink? She is a brilliant artist—but will she use her talent, or waste it?
48. Shackled by Tom Leveen (August 18)
Sixteen-year-old Pelly has a master plan. After years of therapy, medication, and even a stint in a mental hospital, she's finally ready to re-enter the world of the living. Pelly has been suffering from severe panic attacks ever since her best friend, Tara, disappeared from a mall six years ago.
And her plan seems to be working, until an unkempt girl accompanied by an older man walks into the coffee shop where she works. Pelly thinks she's seen a ghost, until the girl mouths "help me" on the way out, and Pelly knows she's just seen Tara.
Too shocked to do anything, Pelly helplessly watches Tara slip away again as she steels herself against a renewed spiral of crippling anxiety. But rather than being overcome by anxiety, Pelly feels more energized than she has in years. Determined to track down enough evidence to force the police to reopen Tara's file, Pelly's master plan takes a turn for the dangerous.
Pelly decides she cannot be shackled by her past—and the anxiety, fear, and grief that comes with it—any longer if she wants to save Tara. But in seeking answers through whatever means necessary, she'll come face-to-face with true evil. And not all the shackles are in her head.
49. Slasher Girls and Monster Boys edited by April Genevieve Tucholke (August 18)
A host of the smartest young adult authors come together in this collection of scary stories and psychological thrillers curated by Between the Devil and the Deep Blue Sea's April Genevieve Tucholke.
Each story draws from a classic tale or two—sometimes of the horror genre, sometimes not—to inspire something new and fresh and terrifying. There are no superficial scares here; these are stories that will make you think even as they keep you on the edge of your seat. From bloody horror to supernatural creatures to unsettling, all-too-possible realism, this collection has something for any reader looking for a thrill.
50. Code of Honor by Alan Gratz (August 25)
When seventeen-year-old Iranian American Kamran Smith learns that his brother has been labeled a terrorist, he knows something isn't right. In a race against time, it is up to Kamran to prove his brother's innocence, even as the country has turned against him and his family. With the help of a ragtag team of underground intelligence professionals, Kamran must piece together the clues and the codes that will save his brother's life–and save his country from possibly the largest terrorist attack since 9/11.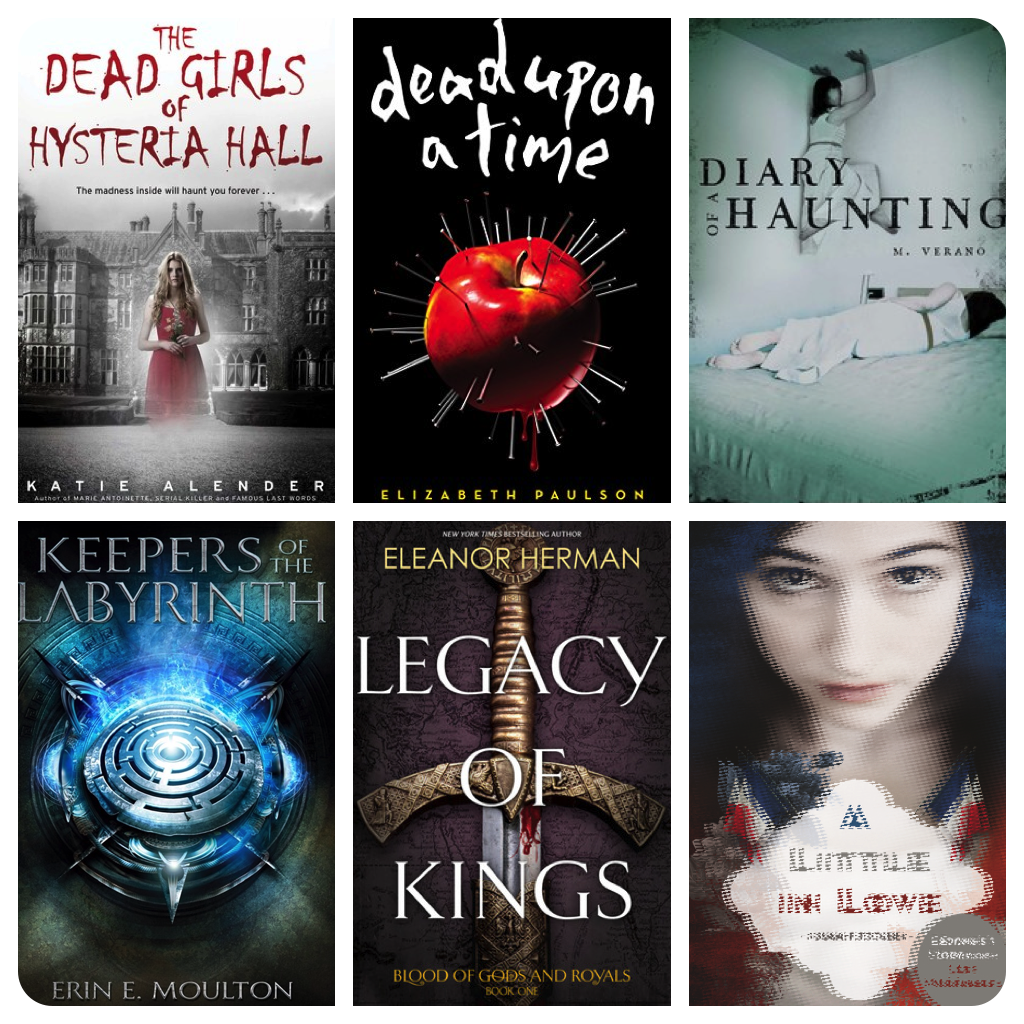 51. The Dead Girls of Hysteria Hall by Katie Alender (August 25)
Delia's new house isn't just a house. It used to be an insane asylum, a place to lock up "troubled" young women long ago. And a restless, wicked spirit is still at play–and it doesn't want defiant girls like Delia to go anywhere.
So the house kills her.
Now Delia is a ghost, trapped in her creepy home forever. As she meets the other ghost girls who haunt the narrow hallways, as well as the handsome ghost boy on the grounds, she learns shocking truths about the house's history. Delia also realizes that her alive and grieving sister might be the house's next target. Can Delia unlock the mystery of the old asylum, save her sister, and free herself?
52. Dead Upon A Time by Elizabeth Paulson (August 25)
It's a fairy-tale nightmare . . .
One girl is kept in a room where every day the only food she's given is a poisoned apple. Another is kept in a room covered in needles — and if she pricks her finger, she'll die. Then there are the brother and sister kept in a cell that keeps getting hotter and hotter. . .
A sinister kidnapper is on the loose in Kate's world. She's not involved until one day she heads to her grandmother's house in the woods — and finds her grandmother has also been taken. Already an outcast, Kate can't get any help from the villagers who hate her. Only Jack, another outsider, will listen to what's happened.
Then a princess is taken, and suddenly the king is paying attention — even though the girl's stepmother would rather he didn't. It's up to Kate and Jack to track down the victims before an ever after arrives that's far from happy.
53. Diary of a Haunting by M. Verano (August 25)
When Paige moves from LA to Idaho with her mom and little brother after her parents' high-profile divorce, she expects to completely hate her new life, and the small town doesn't disappoint. Worse yet, the drafty old mansion they've rented is infested with flies, spiders, and other pests Paige doesn't want to think about.
She chalks it up to her rural surroundings, but it's harder to ignore the strange things happening around the house, from one can of ravioli becoming a dozen, to unreadable words appearing in the walls. Soon Paige's little brother begins roaming the house at all hours of the night, and there's something not right about the downstairs neighbor, who knows a lot more than he's letting on.
Things only get creepier when she learns about the sinister cult that conducted experimental rituals in the house almost a hundred years earlier.
The more Paige investigates, and the deeper she digs, the clearer it all becomes: whatever is in the house, whatever is causing all the strange occurrences, has no intention of backing down without a fight.
Found in the aftermath, Diary of a Haunting collects the journal entries, letters, and photographs Paige left behind.
54. Keepers of the Labyrinth by Erin Moulton (August 25)
Lilith Bennette runs at midnight. She scales walls in the dark and climbs without a harness. She hopes that if she follows exactly in the steps of her strong air force pilot mother, she'll somehow figure out the mystery of her mother's death—and the reason why her necklace of Greek symbols has been missing ever since.
So when Lil is invited to Crete for a Future Leaders International conference, the same conference her mom attended years ago, she jumps at the chance to find some answers. But things in Melios Manor are not what they seem. Lil finds herself ensnared in an adventure of mythological proportions that leads her and her friends through the very labyrinth in which the real Minotaur was imprisoned. And they're not in there alone. What secrets does the labyrinth hold, and will they help Lil find the truth about her mother?
55. Legacy of Kings by Eleanor Herman (August 25)
Imagine a time when the gods turn a blind eye to the agony of men, when the last of the hellions roam the plains and evil stirs beyond the edges of the map. A time when cities burn, and in their ashes, empires rise.
Alexander, Macedonia's sixteen-year-old heir, is on the brink of discovering his fated role in conquering the known world but finds himself drawn to newcomer Katerina, who must navigate the dark secrets of court life while hiding her own mission: kill the Queen. But Kat's first love, Jacob, will go to unthinkable lengths to win her, even if it means competing for her heart with Hephaestion, a murderer sheltered by the prince. And far across the sea, Zofia, a Persian princess and Alexander's unmet fiancée, wants to alter her destiny by seeking the famed and deadly Spirit Eaters.
56. A Little In Love by Susan Fletcher (August 25)
Paris, 1832
A girl lies alone in the darkness, clutching a letter to her heart.
Eponine remembers being a child: her swing and the peach tree, and the baby brother she loved. But mostly she remembers being miserable. Taught to lie and cheat, and to hate the one girl, Cosette, who might have been her friend.
Now, at sixteen, the two girls meet again, and Eponine has one more chance. But what is the price of friendship–the love of a boy?
57. Mechanica by Betsy Cornwell (August 25)
Nicolette's awful stepsisters call her "Mechanica" to demean her, but the nickname fits: she learned to be an inventor at her mother's knee. Her mom is gone now, though, and the Steps have turned her into a servant in her own home.
But on her sixteenth birthday, Nicolette discovers a secret workshop in the cellar and begins to dare to imagine a new life for herself. Could the mysterious books and tools hidden there—and the mechanical menagerie, led by a tiny metal horse named Jules—be the key to escaping her dreary existence? With a technological exposition and royal ball on the horizon, the timing might just be perfect for Nicolette to earn her freedom at last.
Gorgeous prose and themes of social justice and family shine in this richly imagined Cinderella retelling about an indomitable inventor who finds her prince . . . but realizes she doesn't want a fairy tale happy ending after all.
58. Reawakened by Colleen Houck (August 25)
When seventeen-year-old Lilliana Young enters the Metropolitan Museum of Art one morning during spring break, the last thing she expects to find is a live Egyptian prince with godlike powers, who has been reawakened after a thousand years of mummification.
And she really can't imagine being chosen to aid him in an epic quest that will lead them across the globe to find his brothers and complete a grand ceremony that will save mankind.
But fate has taken hold of Lily, and she, along with her sun prince, Amon, must travel to the Valley of the Kings, raise his brothers, and stop an evil, shape-shifting god named Seth from taking over the world.
59. Stranded by Melinda Braun (August 25)
It's human instinct to survive…but Mother Nature has other plans.
Plagued with guilt after surviving the car accident that took her sister's life, Emma ventures into the rugged and mysterious wilderness of the Boundary Waters in search of some much needed peace. But when a freak windstorm kills her guide, Emma and a handful of other campers are forced to fend for themselves. Lost, hungry, and exhausted, the small group must rely on their survival instincts as they travel through the forest towards Lake Superior.
But the Boundary Waters is vast and unpredictable, and as the days drag on, it becomes clear that the group is no match for what Mother Nature has in store—and time is running out.
As they continue to battle the elements, Emma realizes that nature isn't her only threat: there's one camper who will do whatever it takes to make it out of the Boundary Waters alive. Even if he's the only one…
September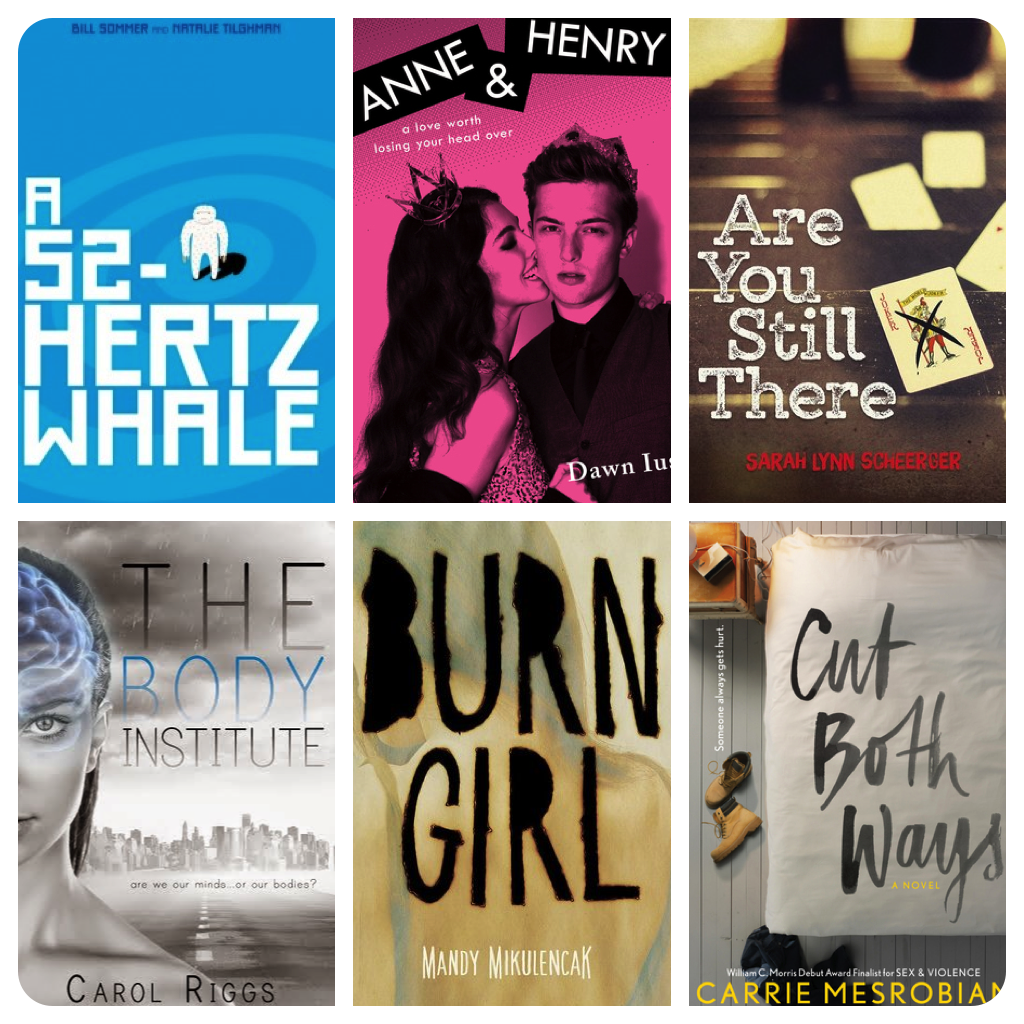 60. A 52-Hertz Whale by Natalie Tilghman and Bill Sommers (September 1)
In the YA epistolary novel an unlikely friendship develops via email correspondence between 14-year-old James, who studies the Urban Dictionary in hopes of making sense of his bewildering peer interactions, and 23-year old Darren, who is trying to win back his ex-girlfriend while doing grunt work on the set of a sitcom.
61. Anne & Henry by Dawn Ius (September 1)
Henry Tudor's life has been mapped out since the day he was born: student body president, valedictorian, Harvard Law School, and a stunning political career just like his father's. But ever since the death of his brother, the pressure for Henry to be perfect has doubled. And now he's trapped: forbidden from pursuing a life as an artist or dating any girl who isn't Tudor-approved.
Then Anne Boleyn crashes into his life.
Wild, brash, and outspoken, Anne is everything Henry isn't allowed to be—or want. But soon Anne is all he can think about. His mother, his friends, and even his girlfriend warn him away, but his desire for Anne consumes him.
Henry is willing to do anything to be with her, but once they're together, will their romance destroy them both?
62. Are You Still There? by Sarah Lynn Scheerger (September 1)
After her high school is rocked by an anonymous bomb threat, "perfect student" Gabriella Mallory is recruited to work on a secret crisis helpline that may help uncover the would-be bomber's identity.
Gabriella Mallory, AP student and perfect-daughter-in-training, stands barefoot on a public toilet for three hours while her school is on lockdown. Someone has planted a bomb and she is hiding. The bomb is defused but the would-be-bomber is still at large. And everyone at Central High School is a suspect. The school starts a top-secret crisis help line and Gabi is invited to join. When she does, she is drawn into a suspenseful game of cat and mouse with the bomber, who has unfinished business. He leaves threatening notes on campus. He makes threatening calls to the help line. And then he begins targeting Gabi directly. Is it because her father is the lead police detective on the case? Is the bomber one of her new friends. Could it be her new boyfriend with his complicated past? As the story unfolds, Gabi knows she is somehow connected to the bomber. Even worse she is part of his plan. Can Gabi reach out and stop him? Or will she be too late?
63. The Body Institute by Carol Riggs (September 1)
Meet Morgan Dey, one of the top teen Reducers at The Body Institute.
Thanks to cutting-edge technology, Morgan can temporarily take over another girl's body, get her in shape, and then return to her own body—leaving her client slimmer, more toned, and feeling great. Only there are a few catches…
For one, Morgan won't remember what happens in her "Loaner" body. Once she's done, she won't recall walks with her new friend Matt, conversations with the super-cute Reducer she's been text-flirting with, or the uneasy feeling she has that the director of The Body Institute is hiding something. Still, it's all worth it in the name of science. Until the glitches start…
Suddenly, residual memories from her Loaner are cropping up in Morgan's mind. She's feeling less like herself and more like someone else. And when protests from an anti–Body Institute organization threaten her safety, she'll have to decide if being a Reducer is worth the cost of her body and soul.
63. Burn Girl by Mandy Mikulencak (September 1)
A meth lab explosion leaves Arlie permanently scarred — both physically and emotionally. Yet, she develops the street smarts and survival skills to keep her addict mother out of the reach of the law and hidden from her stepfather, Lloyd, the man responsible for the explosion that killed three people.
Shortly after Arlie's 16th birthday, her mother overdoses, forcing an end to their nomadic lives. Social services steps in and rules suddenly exist where none had before. Soon, she's living in a 31-foot Airstream trailer with an eccentric uncle and attending high school for the first time.
While her facial scar makes it hard to fit in, Arlie begins to think a normal life might be possible – that is, until her stepfather tracks her down and insists she return drug money her mother had stolen. A final confrontation tests Arlie's idea of right and wrong, and how far she's willing to go to protect her new life.
64. Cut Both Ways by Carrie Mesrobian (September 1)
Will Caynes never has been good with girls. At seventeen, he's still waiting for his first kiss. He's certainly not expecting it to happen in a drunken make-out session with his best friend, Angus. But it does and now Will's conflicted—he knows he likes girls, but he didn't exactly hate kissing a guy.
Then Will meets Brandy, a cute and easy-to-talk-to sophomore. He's totally into her too—which proves, for sure, that he's not gay. So why does he keep hooking up with Angus on the sly?
Will knows he can't keep seeing both of them, but besides his new job in a diner, being with Brandy and Angus are the best parts of his whole messed-up life. His divorced parents just complicate everything. His father, after many half-baked business ventures and endless house renovations, has started drinking again. And his mom is no help—unless loading him up with a bunch of stuff he doesn't need plus sticking him with his twin half-sisters counts as parenting. He's been bouncing between both of them for years, and neither one feels like home.
Deciding who to love, who to choose, where to live. Whichever way Will goes, someone will get hurt. Himself, probably the most.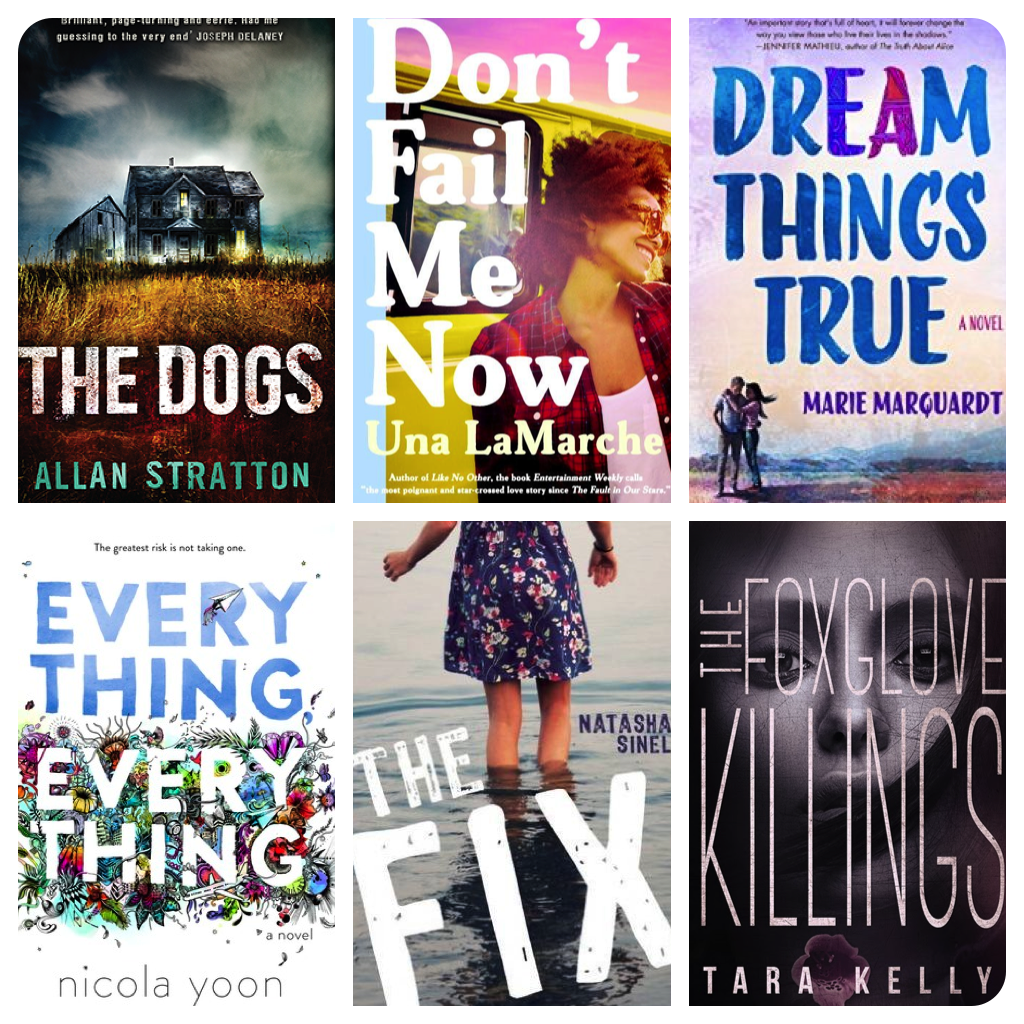 65. The Dogs by Allan Stratton (September 1)
Cameron and his mom have been on the run for five years. His father is hunting them. At least, that's what Cameron's been told.
When they settle in an isolated farmhouse, Cameron starts to see and hear things that aren't possible. Soon he's questioning everything he thought he knew and even his sanity.
What's hiding in the night? Buried in the past? Cameron must uncover the dark secrets before they tear him apart.
66. Don't Fail Me Now by Una LaMarche (September 1)
Michelle and her little siblings Cass and Denny are African-American and living on the poverty line in urban Baltimore, struggling to keep it together with their mom in jail and only Michelle's part-time job at the Taco Bell to sustain them.
Leah and her stepbrother Tim are white and middle class from suburban Maryland, with few worries beyond winning lacrosse games and getting college applications in on time.
Michelle and Leah only have one thing in common: Buck Devereaux, the biological father who abandoned them when they were little.
After news trickles back to them that Buck is dying, they make the uneasy decision to drive across country to his hospice in California. Leah hopes for closure; Michelle just wants to give him a piece of her mind.
Five people in a failing, old station wagon, living off free samples at food courts across America, and the most pressing question on Michelle's mind is: Who will break down first–herself or the car? All the signs tell her they won't make it. But Michelle has heard that her whole life, and it's never stopped her before.
67. Dream Things True by Marie Marquardt (September 1)
Evan, a soccer star and the nephew of a conservative Southern Senator, has never wanted for much — except a functional family. Alma has lived in Georgia since she was two-years-old, excels in school, and has a large, warm Mexican family. Never mind their differences, the two fall in love, and they fall hard. But when ICE (Immigration and Customs Enforcement) begins raids on their town, Alma knows that she needs to tell Evan her secret. There's too much at stake. But how to tell her country-club boyfriend that she's an undocumented immigrant? That her whole family and most of her friends live in the country without permission. What follows is a beautiful, nuanced, well-paced exploration of the complications of immigration, young love, defying one's family, and facing a tangled bureaucracy that threatens to completely upend two young lives.
68. Everything Everything by Nicola Yoon (September 1)
My disease is as rare as it is famous. Basically, I'm allergic to the world. I don't leave my house, have not left my house in seventeen years. The only people I ever see are my mom and my nurse, Carla.
But then one day, a moving truck arrives next door. I look out my window, and I see him. He's tall, lean and wearing all black—black T-shirt, black jeans, black sneakers, and a black knit cap that covers his hair completely. He catches me looking and stares at me. I stare right back. His name is Olly.
Maybe we can't predict the future, but we can predict some things. For example, I am certainly going to fall in love with Olly. It's almost certainly going to be a disaster.
69. The Fix by Natasha Sinel (September 1)
Seventeen-year-old Macy Lyons has been through something no one should ever have to experience. And she's dealt with it entirely alone.
On the outside, she's got it pretty good. Her family's well-off, she's dating the cute boy next door, she has plenty of friends, and although she long ago wrote her mother off as a superficial gym rat, she's thankful to have allies in her loving, laid-back dad and her younger brother.
But a conversation with a boy at a party one night shakes Macy out of the carefully maintained complacency that has defined her life so far. The boy is Sebastian Ruiz, a recovering addict who recognizes that Macy is hardened by dark secrets. And as Macy falls for Sebastian, she realizes that, while revealing her secret could ruin her seemingly perfect family, keeping silent might just destroy her.
70. The Foxglove Killings by Tara Kelly (September 1)
Gramps always said that when the crickets were quiet, something bad was coming. And the crickets have been as silent as the dead. It started with the murdered deer in the playground with the unmistakable purple of a foxglove in its mouth. But in the dying boondock town of Emerald Cove, life goes on.
I work at Gramps's diner, and the cakes―the entitled rich kids who vacation here―make our lives hell. My best friend, Alex Pace, is the one person who gets me. Only Alex has changed. He's almost like a stranger now. I can't figure it out…or why I'm having distinctly more-than-friend feelings for him. Ones I shouldn't be having.
Then one of the cakes disappears.
When she turns up murdered, a foxglove in her mouth, a rumor goes around that Alex was the last person seen with her—and everyone but me believes it. Well, everyone except my worst enemy, Jenika Shaw. When Alex goes missing, it's up to us to prove his innocence and uncover the true killer. But the truth will shatter everything I've ever known about myself — and Alex.
71. Has To Be Love by Jolene Perry (September 1)
Years ago, Clara survived a vicious bear attack. She's used to getting sympathetic looks around town, but meeting strangers is a different story. Yet her dreams go far beyond Knik, Alaska, and now she's got a secret that's both thrilling and terrifying–an acceptance letter from Columbia University. But it turns out her scars aren't as fixable as she hoped, and when her boyfriend begins to press for a forever commitment, she has second thoughts about New York. Then Rhodes, a student teacher in her English class, forces her to acknowledge her writing talent, and everything becomes even more confusing–especially with the feelings she's starting to have about him. Now all Clara wants to do is hide from the tough choices she has to make. When her world comes crashing down around her, Clara has to confront her problems and find her way to a decision. Will she choose the life of her dreams or the life that someone she loves has chosen? Which choice is scarier?
72. Hello, Goodbye, and Everything In Between by Jennifer E. Smith (September 1)
On the night before they leave for college, Clare and Aidan only have one thing left to do: figure out whether they should stay together or break up. Over the course of twelve hours, they'll retrace the steps of their relationship, trying to find something in their past that might help them decide what their future should be. The night will lead them to friends and family, familiar landmarks and unexpected places, hard truths and surprising revelations. But as the clock winds down and morning approaches, so does their inevitable goodbye. The question is, will it be goodbye for now or goodbye forever?
73. Hunter by Mercedes Lackey (September 1)
Centuries ago, the barriers between our world and the Otherworld were slashed open allowing hideous fantastical monsters to wreak havoc; destroying entire cities in their wake. Now, people must live in enclosed communities, behind walls that keep them safe from the evil creatures constantly trying to break in. Only the corps of teen Hunters with lightning reflexes and magical abilities can protect the populace from the daily attacks.
Joyeaux Charmand is a mountain girl from a close knit village who comes to the big city to join the Hunters. Joy thinks she is only there to perform her civic duty and protect the capitol Cits, or civilians, but as cameras follow her every move, she soon learns that the more successful she is in her hunts, the more famous she becomes.
With millions of fans watching her on reality TV, Joy begins to realize that Apex is not all it seems. She is forced to question everything she grew up believing about the legendary Hunters and the very world she lives in. Soon she finds that her fame may be part of a deep conspiracy that threatens to upend the protective structure built to keep dark magic out. The monsters are getting in and it is up to Joy to find out why.
74. Infinite In Between by Carolyn Mackler (September 1)
Zoe, Jake, Mia, Gregor, and Whitney meet at freshman orientation. At the end of that first day, they make a promise to reunite after graduation. So much can happen in those in-between years….
Zoe feels like she will live forever in her famous mother's shadow. Jake struggles to find the right connections in friendship and in love. Mia keeps trying on new identities, looking for one that actually fits. Gregor thoughthe wanted to be more than just a band geek. And Whitney seems to have it all, until it's all falling apart around her.
Echoing aspects of John Hughes's The Breakfast Club, Carolyn Mackler skillfully brings the stories of these five disparate teens together to create a distinct and cohesive whole—a novel about how we can all affect one another's lives in the most unexpected and amazing ways.
75. Jillian Cade: Fake Paranormal Investigator by Jen Klein (September 1)
Jillian Cade doesn't believe in the paranormal. But her famous professor father does, and now that he's gone, she decides to milk his reputation—and all the suckers who believe in the stuff—to open a private investigation firm. After all, a high school junior has to take care of herself, especially if she's on her own.
Ironically, it's when she takes on a case that might involve a totally non-paranormal missing person that things get strange. Particularly when Sky Ramsey—a new boy at school and an avid fan of her father's—forces his way into becoming her partner and won't shut up about succubi, of all things.
Before Jillian knows it, she finds herself navigating both her growing feelings for Sky and a sneaking suspicion that the poor saps she's been scamming know something she doesn't. Yet.
76. Last Night at the Circle Cinema by Emily Franklin (September 1)
Olivia, Bertucci, and Codman were the trio no one else in high school could quite figure out, an impenetrable triangle of friendship. Now they're graduating and about to start new lives away at college and without one another. Beyond their friendship, there's one thing they have in common: the Circle Cinema, a once-thriving old movie theater now reduced to a boarded up concrete box, condemned and about to be forgotten forever―which is, as far as Olivia and Codman can tell, a lot like what's going to happen to them.
So in one last desperate effort to hold on to the secrets they share, Bertucci hatches a plan―an experiment, really. He convinces Olivia and Codman to join him in spending their last night before graduation locked inside the cinema's concrete walls. None of them can open the box before sunrise. Over the course of the night, the trio is then forced to face one another, the events of the past year, and whatever is to come when the new day dawns.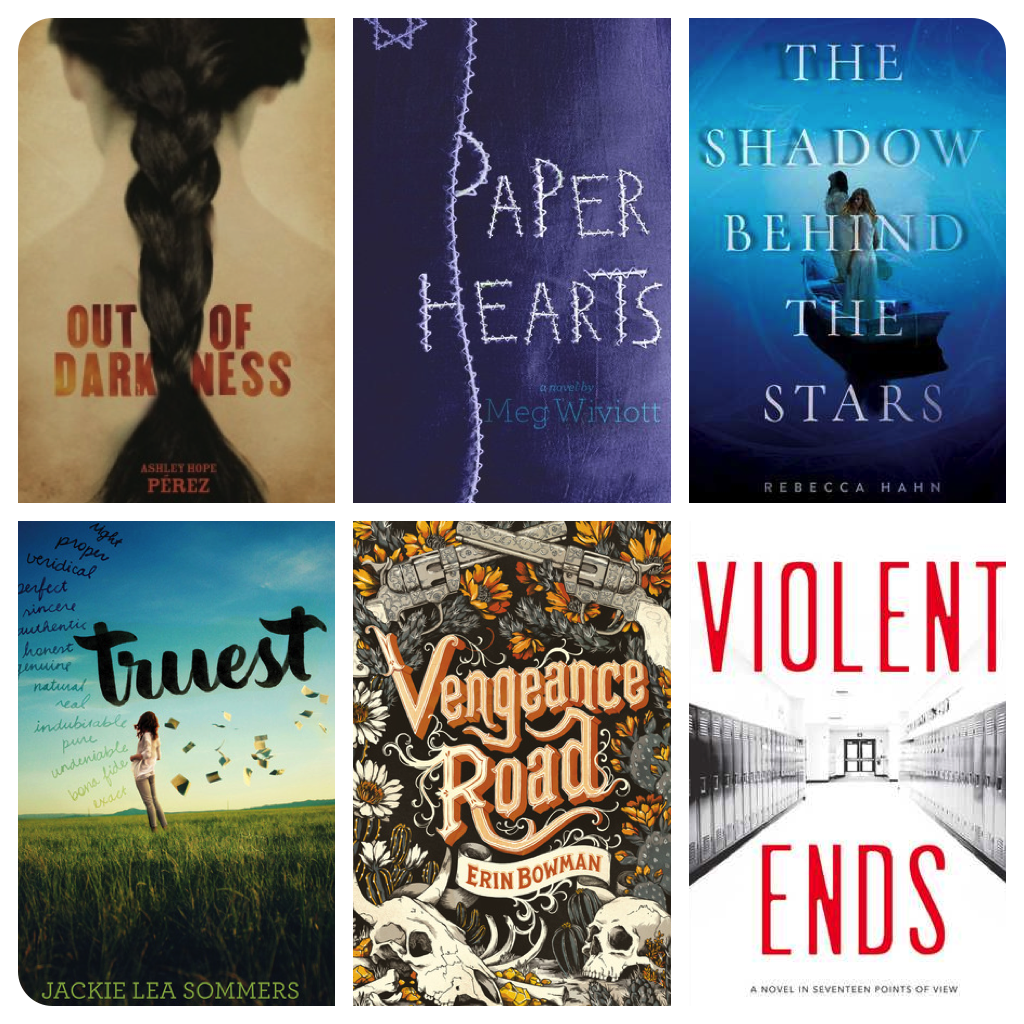 77. Out of Darkness by Ashley Hope Perez (September 1)
New London, Texas. 1937. Naomi Smith and Wash Fullerton know about the lines in East Texas as well as anyone. They know the signs that mark them. They know the people who enforce them. But there are some forces even the most determined color lines cannot resist. And sometimes all it takes is an explosion.
78. Paper Hearts by Meg Wiviott (September 1)
Amid the brutality of Auschwitz during the Holocaust, a forbidden gift helps two teenage girls find hope, friendship, and the will to live in this novel in verse that's based on a true story.
An act of defiance.
A statement of hope.
A crime punishable by death.
Making a birthday card in Auschwitz was all of those things. But that is what Zlatka did, in 1944, for her best friend, Fania. She stole and bartered for paper and scissors, secretly creating an origami heart. Then she passed it to every girl at the work tables to sign with their hopes and wishes for happiness, for love, and most of all—for freedom.
Fania knew what that heart meant, for herself and all the other girls. And she kept it hidden, through the bitter days in the camp and through the death marches. She kept it always.
This novel is based on the true story of Fania and Zlatka, the story of the bond that helped them both to hope for the best in the face of the worst.
79. The Shadow Behind The Stars by Rebecca Hahn (September 1)
A girl's dark destiny could cause the unraveling of the world in this spellbinding novel from the author of A Creature of Moonlight, which Kirkus Reviews called "cumulatively stunning" in a starred review.
Heed this warning, mortal: stay far away from the three sister Fates. For if they come to love you, they might bring about the end of the world…
Chloe is the youngest. Hers are the fingers that choose the wool, that shape the thread, that begin it. The sun smiles upon her. Men love her without knowing who she is. She has lived forever and will live forever more. She and her sisters have been on their isolated Greek island for centuries, longer than any mortal can remember. They spin, measure, and slice the countless golden threads of human life. They are the three Fates, and they have stayed separate for good reason: it is dangerous for them to become involved with the humans whose lives they shape.
So when a beautiful girl named Aglaia shows up on their doorstep, Chloe tries to make sure her sisters don't become attached. But in seeking to protect them, Chloe discovers the dark power of Aglaia's destiny. As her path unwinds, the three Fates find themselves pulled inextricably along—toward mortal pain, and mortal love, and a fate that could unravel the world.
80. Truest by Jackie Lea Sommers (September 1)
Silas Hart has seriously shaken up Westlin Beck's small-town life. Brand new to town, Silas is different than the guys in Green Lake. He's curious, poetic, philosophical, maddening– and really, really cute. But Silas has a sister– and she has a secret. And West has a boyfriend. And life in Green Lake is about to change forever.
81. Vengeance Road by Erin Bowman (September 1)
When Kate Thompson's father is killed by the notorious Rose Riders for a mysterious journal that reveals the secret location of a gold mine, the eighteen-year-old disguises herself as a boy and takes to the gritty plains looking for answers and justice. What she finds are devious strangers, dust storms, and a pair of brothers who refuse to quit riding in her shadow. But as Kate gets closer to the secrets about her family, she gets closer to the truth about herself and must decide if there's room for love in a heart so full of hate.
82. Violent Ends edited by Shaun Hutchinson (September 1)
It took only twenty-two minutes for Kirby Matheson to exit his car, march onto school grounds, enter the gymnasium, and open fire, killing six and injuring five others.
But this isn't a story about the shooting itself. This isn't about recounting that one unforgettable day.
This is about Kirby and how one boy—who had friends, enjoyed reading, played saxophone in the band, and had never been in trouble before—became a monster capable of entering his school with a loaded gun and firing on his classmates.
Each chapter is told from a different victim's viewpoint, giving insight into who Kirby was and who he'd become. Some are sweet, some are dark; some are seemingly unrelated, about fights or first kisses or late-night parties.
83. The Wanderers by Kate Ormand (September 1)
Flo lives an eccentric life—she travels with a popular circus in which the main acts star orphaned children with secret shape-shifting abilities. Once Flo turns sixteen, she must perform, but she's not ready. While practicing jumping a flaming hurdle in a clearing beside the circus, she spots a dark figure in the trees and fears he saw her shift. The news sends the circus into a panic.
In Flo's world, shifters are unknown to humans with the exception of a secret organization—the EOS, referred to as "hunters." Hunters capture and kill. They send some shifters to labs for observation and testing—testing they don't often survive—and deem others useless, a danger to society, and eliminate them. To avoid discovery, shifters travel in packs, constantly moving and keeping themselves hidden. Up until now, the circus was the perfect disguise.
Believing she has brought attention to the group, Flo feels dread and anxiety, causing her to make a mistake during her performance in front of the audience—a mistake that triggers a violent attack from the hunters.
Flo manages to flee the torched circus grounds with Jett, the bear shifter who loves her; the annoying elephant triplets; and a bratty tiger named Pru. Together they begin a new journey, alone in a world they don't understand and don't know how to navigate. On the run, they unravel secrets and lies that surround the circus and their lives—secrets and lies that all point to the unthinkable: Have they been betrayed by the people they trusted most?
84. Whippoorwill by Joseph Monninger (September 1)
Whippoorwill follows Clair and Danny, two teenagers who fall into an unlikely relationship as they endeavor to save a mistreated Labrador retriever.
85. Your Voice Is All I Hear by Leah Scheier (September 1)
Everything about Jonah is unexpected. On the first day of school, he sits next to April, when he could have chosen to sit with the popular girl. He turns down an invitation to join the school team and declares he'd rather paint. He encourages April to develop her musical talent and shrugs off the bullies that torment them.
April isn't surprised to find herself falling for Jonah. The unexpected part is when he falls for her too.
But the giddy happiness of their first romance begins to fade when Jonah's unpredictability begins to take a darker turn. April understands that her boyfriend is haunted by a painful memory, but his sudden mood swings worry her. She can't explain his growing fear of cellphones, electric keyboards, and of sounds that no one else can hear. Still, no matter what happens, April is sure that she'll always stand by him.
Until Jonah finally breaks and is committed to a psychiatric ward.
Until schizophrenia changes everything.
Though everyone urges her to let him go, April stays true to Jonah. But as the boy she adores begins to disappear in front of her, she has to face her worst fear: that her love may not be enough to save him.
86. The Boy Meets Girl Massacre by Ainslie Hogarth (September 8)
Noelle takes a summer nightshift job at the infamous Boy Meets Girl Inn, even though she's well aware of the grisly murders that happened there decades ago. That's why she has a diary—to write down everything she experiences in case things go bump in the night. But the inexplicable freezing drafts, the migrating rotten-flesh smell, and the misplaced personal items don't really scare her. Noelle has bigger problems: her father's ailing health, her friend Alfred's inappropriate crush, and the sore spot on the back of her head that keeps getting worse.
When a party commemorating the anniversary of the original killings ends in a ghoulish bloodbath, Noelle's diary becomes the key piece of evidence for investigators. But the cryptic and often incoherent entries suggest there is more to the bizarre case than can be rationally explained.
87. Dark Shimmer by Donna Jo Napoli (September 8)
Set in medieval Venice, this captivating fairy tale retelling by award-winning author Donna Jo Napoli explores belonging, beauty, and the transformative power of love through the eyes of a teenage girl. Dolce has grown up hidden away on an island in a lagoon. She is a giant, a freak, tormented by everyone but her loving mother. She spends her time learning the valuable secret of making mirrors. Following a tragedy, Dolce swims away and lands on an island where people see her as normal, even beautiful. Marin, a kind widower, and his little daughter bring Dolce to live with them in their grand palazzo. Eventually, Dolce and Marin marry. She secretly continues to make mirrors, not realizing that quicksilver endangers her . . . and so evil begins in innocence.
88. Drowning Is Inevitable by Shalanda Stanley (September 8)
Olivia has spent her whole life struggling to escape her dead mother's shadow. But when her father can't even look at her because Olivia reminds him of her mother, and her grandmother mistakenly calls her "Lillian," shaking a reputation she didn't ask for is next to impossible. Olivia is used to leaning on her best friend, Jamie; her handsome but hot-tempered boyfriend, Max; and their wild-child friend, Maggie, for the reality check that her small Louisiana town can't provide. But when a terrible fight between Jamie and his father turns deadly, all Olivia can think to do is grab her friends and run.
In a flash, Olivia, Jamie, Max, and Maggie become fugitives on the back roads of Louisiana. They're headed to New Orleans, where they hope to find a solution to an unfixable problem. But with their faces displayed on all the news stations, their journey becomes a harrowing game of hide-and-seek from the police—and so-called allies, who just might be the real enemy.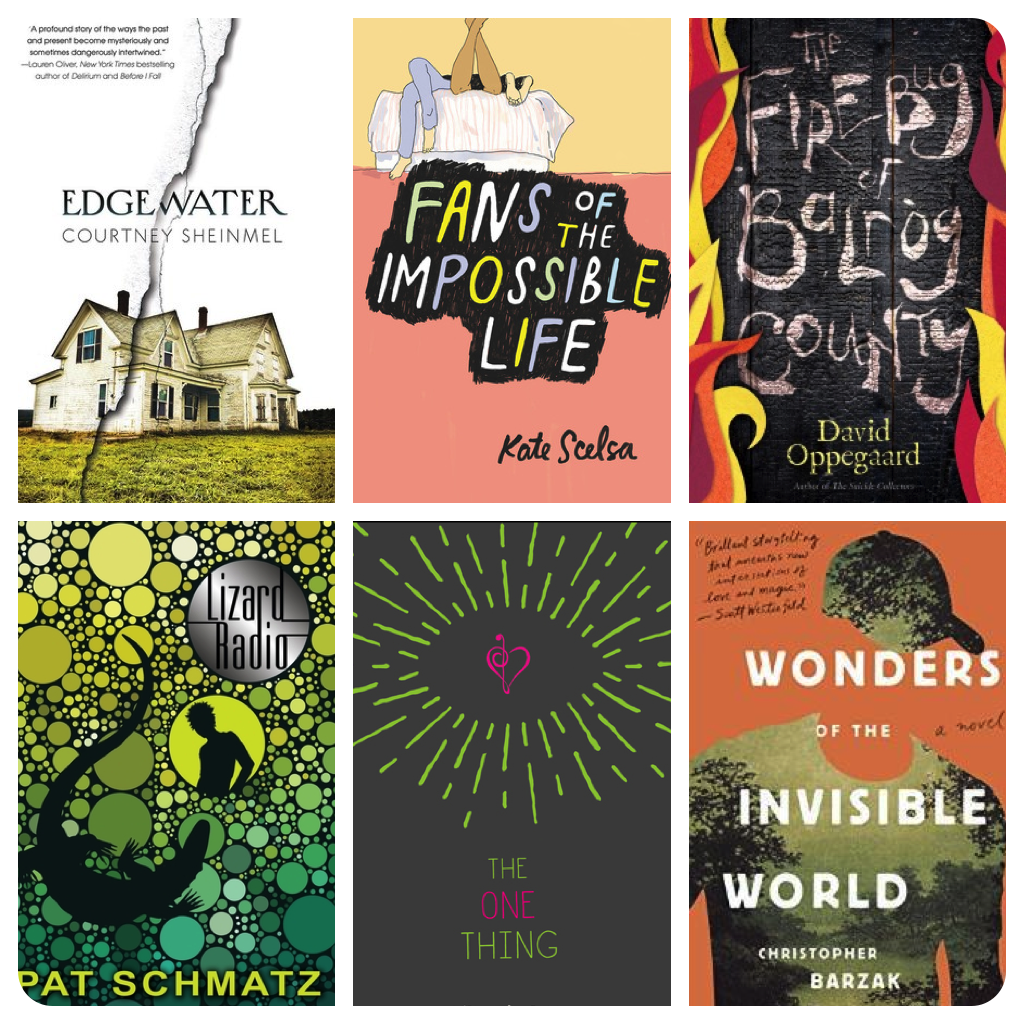 89. Edgewater by Courtney Sheinmel (September 8)
Lorrie Hollander used to be a rich girl, but now she's lost everything because of the secrets and lies of the people around her. It's been 12 years since Lorrie's mother skipped town and left Lorrie in the care of her unstable aunt Gigi. Together they live in a neglected, decrepit mansion called Edgewater, the eyesore in a town of extraordinary wealth and privilege. Then Charlie, the son of an esteemed senator, takes an interest in Lorrie, her shame for her family and lifestyle runs deep. But what she doesn't know is that Charlie's family is hiding something, too, and that their secrets are inextricably tied. Now Lorrie must confront the truth about her family–and everything she ever thought she knew about herself.
90. Fans of the Impossible Life by Kate Scelsa (September 8)
Ten months after her recurring depression landed her in the hospital, Mira is starting over as a new student at Saint Francis Prep. She promised her parents she would at least try to act like a normal, functioning human this time around, not a girl who sometimes can't get out of bed for days on end, who only feels awake when she's with Sebby.
Jeremy is the painfully shy art nerd at Saint Francis who's been in self-imposed isolation after an incident that ruined his last year of school. When he sees Sebby for the first time across the school lawn it's as if he's been expecting this blond, lanky boy with a mischievous glint in his eye.
Sebby, Mira's gay best friend, is a boy who seems to carry sunlight around with him like a backlit halo. Even as life in his foster home starts to take its toll, Sebby and Mira together craft a world of magic rituals and secret road trips, designed to fix the broken parts of their lives.
As Jeremy finds himself drawn into Sebby and Mira's world, he begins to understand the secrets that they hide in order to protect themselves, to keep each other safe from those who don't understand their quest to live for the impossible.
91. The Firebug of Balrog County by David Oppegaard (September 8)
Dark times have fallen on remote Balrog County, and Mack Druneswald, a high school senior with a love of clandestine arson, is doing his best to deal. While his family is haunted by his mother's recent death, Mack spends his nights roaming the countryside, looking for something new to burn. When he encounters Katrina, a college girl with her own baggage, Mack sets out on a path of pyromania the likes of which sleepy Balrog County has never seen before.
92. Lizard Radio by Pat Schmatz (September 8)
Fifteen-year-old bender Kivali has had a rough time in a gender-rigid culture. Abandoned as a baby and raised by Sheila, an ardent nonconformist, Kivali has always been surrounded by uncertainty. Where did she come from? Is it true what Sheila says, that she was deposited on Earth by the mysterious saurians? What are you? people ask, and Kivali isn't sure. Boy/girl? Human/lizard? Both/neither? Now she's in CropCamp, with all of its schedules and regs, and the first real friends she's ever had. Strange occurrences and complicated relationships raise questions Kivali has never before had to consider. But she has a gift—the power to enter a trancelike state to harness the "knowings" inside her. She has Lizard Radio. Will it be enough to save her? A coming-of-age story rich in friendships and the shattering emotions of first love, this deeply felt novel will resonate with teens just emerging as adults in a sometimes hostile world.
93. The One Thing by Marci Lyn Curtis (September 8)
Maggie Sanders might be blind, but she won't invite anyone to her pity party. Ever since losing her sight six months ago, Maggie's rebellious streak has taken on a life of its own, culminating with an elaborate school prank. Maggie called it genius. The judge called it illegal.
Now Maggie has a probation officer. But she isn't interested in rehabilitation, not when she's still mourning the loss of her professional-soccer dreams, and furious at her so-called friends, who lost interest in her as soon as she could no longer lead the team to victory.
Then Maggie's whole world is turned upside down. Somehow, incredibly, she can see again. But only one person: Ben, a precocious ten-year-old unlike anyone she's ever met.Ben's life isn't easy, but he doesn't see limits, only possibilities. After awhile, Maggie starts to realize that losing her sight doesn't have to mean losing everything she dreamed of. Even if what she's currently dreaming of is Mason Milton, the infuriatingly attractive lead singer of Maggie's new favorite band, who just happens to be Ben's brother.
But when she learns the real reason she can see Ben, Maggie must find the courage to face a once-unimaginable future…before she loses everything she has grown to love.
94. Wonders of the Invisible World by Christopher Barzak (September 8)
Aidan Lockwood feels like he's been sleepwalking through life, each day as hazy and unremarkable as the one before it. But when his former best friend, Jarrod, suddenly moves back to town, the veil that has clouded Aidan's mind begins to lift. Yet what Aidan discovers is that his world is haunted by stories of the past; stories that he has somehow been prevented from remembering.
But visions from the past come to him unbidden, starting with an old apple tree—a gnarled, dead thing—that haunts Aidan's sleep, and seems to beckon to him from across his family's orchard. And then there are the dreams that show him people and places he's only heard of in family stories: a great-grandfather on the field of battle; his own father, stumbling upon an unspeakable tragedy; and a mysterious young boy whose whispered words may be at the heart of the curse that now holds Aidan's family in its grip.
But there's another presence lurking within this invisible world—someone who has been waiting to collect on a debt set into motion generations ago. As the lines between the past and the present, stories and truths, friends and lovers begin to blur, Aidan will be forced to spin a story of his own to protect those he loves, and keep the invisible world at bay.
95. The Hired Girl by Laura Amy Schlitz (September 9)
Fourteen-year-old Joan Skraggs, just like the heroines in her beloved novels, yearns for real life and true love. But what hope is there for adventure, beauty, or art on a hardscrabble farm in Pennsylvania where the work never ends? Over the summer of 1911, Joan pours her heart out into her diary as she seeks a new, better life for herself—because maybe, just maybe, a hired girl cleaning and cooking for six dollars a week can become what a farm girl could only dream of—a woman with a future. Inspired by her own grandmother's journal, Newbery Medalist Laura Amy Schlitz relates Joan's journey from the muck of the chicken coop to the comforts of a society household in Baltimore (Electricity! Carpet sweepers! Sending out the laundry!), taking readers on an exploration of feminism and housework; religion and literature; love and loyalty; cats, hats, and bunions.
96. Ash & Bramble by Sarah Prineas (September 15)
The tale of Cinderella has been retold countless times. But what you know is not the true story.
Pin has no recollection of who she is or how she got to the Godmother's fortress. She only knows that she is a Seamstress, working day in and out to make ball gowns fit for fairy tales. But she longs to forsake her backbreaking servitude and dares to escape with the brave young Shoemaker.
Pin isn't free for long before she's captured again and forced to live the new life the Godmother chooses for her—a fairy tale story, complete with a charming prince—instead of finding her own happily ever after.
97. Breakaway by Kat Spears (September 15)
When Jason Marshall's younger sister passes away, he knows he can count on his three best friends and soccer teammates—Mario, Jordie, and Chick—to be there for him. With a grief-crippled mother and a father who's not in the picture, he needs them more than ever. But when Mario starts hanging out with a rough group of friends and Jordie finally lands the girl of his dreams, Jason is left to fend for himself while maintaining a strained relationship with troubled and quiet Chick. Then Jason meets Raine, a girl he thinks is out of his league but who sees him for everything he wants to be, and he finds himself pulled between building a healthy and stable relationship with a girl he might be falling in love with, grieving for his sister, and trying to hold onto the friendships he has always relied on.
98. The Dead House by Dawn Kurtagich (September 15)
Over two decades have passed since the fire at Elmbridge High, an inferno that took the lives of three teenagers. Not much was known about the events leading up to the tragedy – only that one student, Carly Johnson, vanished without a trace…
…until a diary is found hidden in the ruins.
But the diary, badly scorched, does not belong to Carly Johnson. It belongs to Kaitlyn Johnson, a girl who shouldn't exist Who was Kaitlyn? Why did she come out only at night? What is her connection to Carly?
The case has been reopened. Police records are being reexamined: psychiatric reports, video footage, text messages, e-mails. And the diary.
The diary that paints a much more sinister version of events than was ever made publicly known.
99. Delicate by CK Kelly Martin (September 15)
Ivy's seemingly perfect, master-of-social-causes boyfriend breaks it off in the school hallway before their final exam. So much for love. It turns out Jeremy wants to get good and laid by someone new over summer vacation, before they both head off to different universities in the fall. At her grandmother's seventy-fifth birthday party, Ivy is in no mood to socialize. In fact, she's downright delicate. Unfortunately, sixteen-year-old Lucan's peanut allergy reaction happens right in front of her eyes. As Ivy keeps him company the two realize they're second cousins who haven't seen each other in six years due to a mysterious family feud.
The old drama is the last thing on Lucan's mind. He has more immediate problems, like his mom's noisy playtime activities with her brash younger boyfriend. On top of that, Lucan's a constant witness to his best friend's toxic relationship, which he begins to suspect has become abusive.
As the weeks pass, Lucan and Ivy's summer seems more like a minefield of disastrous events — but at least they have their developing friendship with each other to count on. Or is that what's really going on?
100. Dumplin' by Julie Murphy (September 15)
Self-proclaimed fat girl Willowdean Dickson (dubbed "Dumplin'" by her former beauty queen mom) has always been at home in her own skin. Her thoughts on having the ultimate bikini body? Put a bikini on your body. With her all-American beauty best friend, Ellen, by her side, things have always worked . . . until Will takes a job at Harpy's, the local fast-food joint. There she meets Private School Bo, a hot former jock. Will isn't surprised to find herself attracted to Bo. But she is surprised when he seems to like her back.
Instead of finding new heights of self-assurance in her relationship with Bo, Will starts to doubt herself. So she sets out to take back her confidence by doing the most horrifying thing she can imagine: entering the Miss Clover City beauty pageant—along with several other unlikely candidates—to show the world that she deserves to be up there as much as any twiggy girl does. Along the way, she'll shock the hell out of Clover City—and maybe herself most of all.
101. Imposter by Antony John (September 15)
Seth Crane has hit rock bottom. His mom recently died, his dad had a stroke and is out of work, and he just lost out on a commercial role. So when a producer shows up at his community theater production and offers him the lead role in an Indie film with major Hollywood buzz, it seems like the answer to all Seth's problems. Seth gets swept up in the Hollywood glamour right away, staying in a fancy hotel, going to the best parties, doing press conferences, and falling for the beautiful starlet Sabrina Layton and then his costar Annaleigh. But things suddenly start popping up in the tabloids—things Sabrina and Annaleigh told him in confidence and that no one else could know—and the line between the film and reality starts to blur. Nothing in Hollywood is what it seems, and Seth has to decide just how far he's willing to go for fame, money, and to protect the people he loves.
102. Lock & Mori by Heather W. Petty (September 15)
In modern-day London, two brilliant high school students, one Sherlock Holmes and a Miss James "Mori" Moriarty, meet. A murder will bring them together. The truth very well might drive them apart.
Before they were mortal enemies, they were much more.
FACT: Someone has been murdered in London's Regent's Park. The police have no leads.
FACT: Miss James "Mori"Moriarty and Sherlock "Lock" Holmes should be hitting the books on a school night. Instead, they are out crashing a crime scene.
FACT: Lock has challenged Mori to solve the case before he does. Challenge accepted.
FACT: Despite agreeing to Lock's one rule–they must share every clue with each other–Mori is keeping secrets.
OBSERVATION: Sometimes you can't trust the people closest to you with matters of the heart. And after this case, Mori may never trust Lock again.
103. Mirrored by Alex Flinn (September 15)
A modern, multi-generational tale of Kendra, the witch from "Snow White," who trains Violet, an ugly, lonely, and heartbroken girl in the 1980s who transforms herself into "the fairest one of all" but still cannot win Greg's heart, and Celine, Greg's daughter with Violet's high school rival, Jennifer.
104. One by Sarah Crossan (September 15)
Tippi and Grace share everything—clothes, friends . . . even their body. Writing in free verse, Sarah Crossan tells the sensitive and moving story of conjoined twin sisters, which will find fans in readers of Gayle Forman, Jodi Picoult, and Jandy Nelson.
Tippi and Grace. Grace and Tippi. For them, it's normal to step into the same skirt. To hook their arms around each other for balance. To fall asleep listening to the other breathing. To share. And to keep some things private. The two sixteen-year-old girls have two heads, two hearts, and each has two arms, but at the belly, they join. And they are happy, never wanting to risk the dangerous separation surgery.
But the girls' body is beginning to fight against them. And soon they will have to face the impossible choice they have avoided for their entire lives.
105. Tonight the Streets Are Ours by Leila Sales (September 15)
Seventeen-year-old Arden Huntley is recklessly loyal. Taking care of her loved ones is what gives Arden purpose in her life and makes her feel like she matters. But she's tired of being loyal to people who don't appreciate her—including her needy best friend and her absent mom.
Arden finds comfort in a blog she stumbles upon called "Tonight the Streets Are Ours," the musings of a young New York City writer named Peter. When Peter is dumped by the girlfriend he blogs about, Arden decides to take a road trip to see him.
During one crazy night out in NYC filled with parties, dancing, and music—the type of night when anything can happen, and nearly everything does—Arden discovers that Peter isn't exactly who she thought he was. And maybe she isn't exactly who she thought she was, either.
106. The Weight of Feathers by Anna-Marie McLemore (September 15)
Seventeen-year-old Arden Huntley is recklessly loyal. Taking care of her loved ones is what gives Arden purpose in her life and makes her feel like she matters. But she's tired of being loyal to people who don't appreciate her—including her needy best friend and her absent mom.
Arden finds comfort in a blog she stumbles upon called "Tonight the Streets Are Ours," the musings of a young New York City writer named Peter. When Peter is dumped by the girlfriend he blogs about, Arden decides to take a road trip to see him.
During one crazy night out in NYC filled with parties, dancing, and music—the type of night when anything can happen, and nearly everything does—Arden discovers that Peter isn't exactly who she thought he was. And maybe she isn't exactly who she thought she was, either.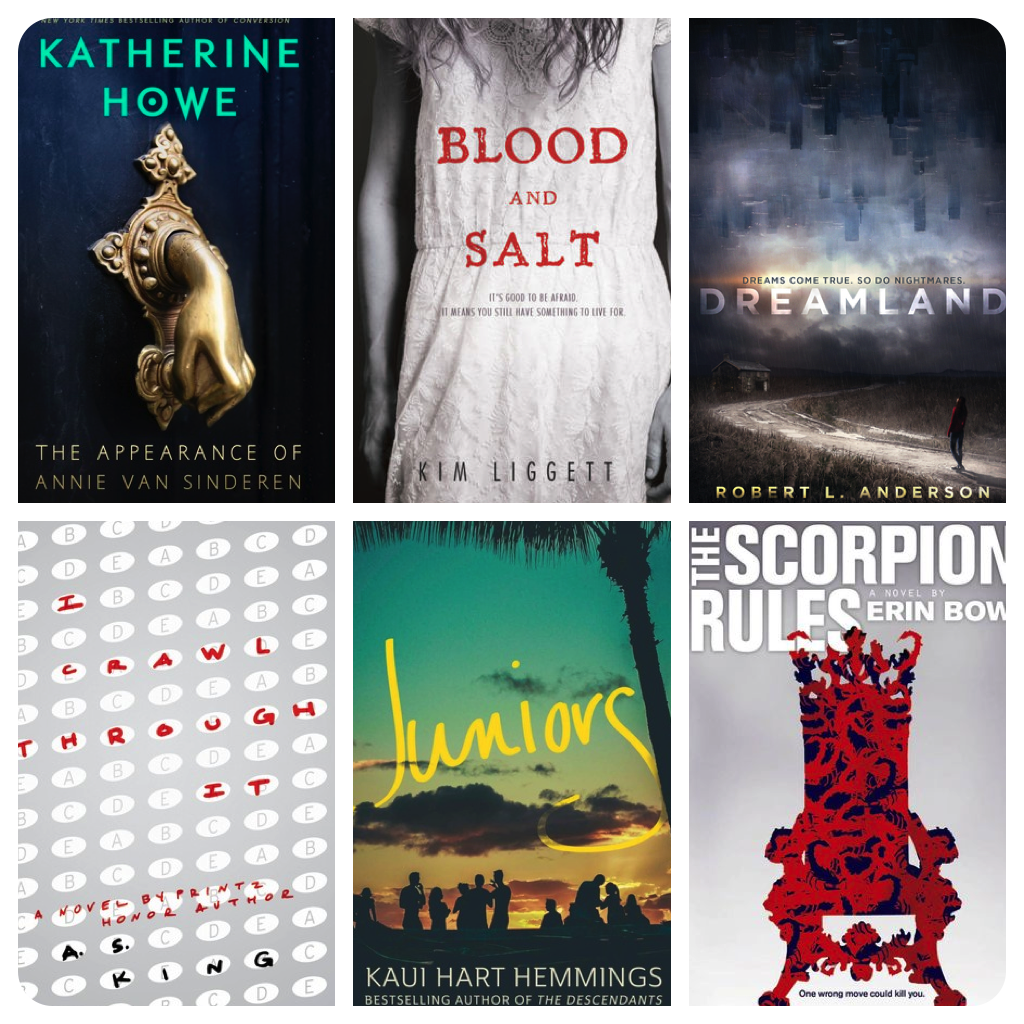 107. The Appearance of Annie van Sinderen by Katherine Howe (September 22)
It's summertime in New York City, and aspiring filmmaker Wes Auckerman has just arrived to start his summer term at NYU. While shooting a séance at a psychic's in the East Village, he meets a mysterious, intoxicatingly beautiful girl named Annie.
As they start spending time together, Wes finds himself falling for her, drawn to her rose petal lips and her entrancing glow. But there's something about her that he can't put his finger on that makes him wonder about this intriguing hipster girl from the Village. Why does she use such strange slang? Why does she always seem so reserved and distant? And, most importantly, why does he only seem to run into her on one block near the Bowery? Annie's hiding something, a dark secret from her past that may be the answer to all of Wes's questions.
108. Blood and Salt by Kim Liggett (September 22)
"When you fall in love, you will carve out your heart and throw it into the deepest ocean. You will be all in—blood and salt."
These are the last words Ash Larkin hears before her mother returns to the spiritual commune she escaped long ago. But when Ash follows her to Quivira, Kansas, something sinister and ancient waits among the rustling cornstalks of this village lost to time.
Ash is plagued by memories of her ancestor, Katia, which harken back to the town's history of unrequited love and murder, alchemy and immortality. Charming traditions soon give way to a string of gruesome deaths, and Ash feels drawn to Dane, a forbidden boy with secrets of his own.
As the community prepares for a ceremony five hundred years in the making, Ash must fight not only to save her mother, but herself—and discover the truth about Quivira before it's too late. Before she's all in—blood and salt.
109. Dreamland by Robert L. Anderson (September 22)
Odea Donahue has been able to travel through people's dreams since she was six years old. Her mother taught her the three rules of walking: Never interfere. Never be seen. Never walk the same person's dream more than once. Dea has never questioned her mother, not about the rules, not about the clocks or the mirrors, not about moving from place to place to be one step ahead of the unseen monsters that Dea's mother is certain are right behind them.
Then a mysterious new boy, Connor, comes to town and Dea finally starts to feel normal. As Connor breaks down the walls that she's had up for so long, he gets closer to learning her secret. For the first time she wonders if that's so bad. But when Dea breaks the rules, the boundary between worlds begins to deteriorate. How can she know what's real and what's not?
110. I Crawl Through It by A. S. King (September 22)
Four talented teenagers are traumatized-coping with grief, surviving trauma, facing the anxiety of standardized tests and the neglect of self-absorbed adults–and they'll do anything to escape the pressure. They'll even build an invisible helicopter, to fly far away to a place where everyone will understand them… until they learn the only way to escape reality is to fly right into it.
111. Juniors by Kaui Hart Hemmings (September 22)
Lea Lane has lived in between all her life.
Part Hawaiian, part Mainlander. Perpetual new girl at school. Hanging in the shadow of her actress mother's spotlight. And now: new resident of the prominent West family's guest cottage.
Bracing herself for the embarrassment of being her classmates' latest charity case, Lea is surprised when she starts becoming friends with Will and Whitney West instead—or in the case of gorgeous, unattainable Will, possibly even more than friends. And despite their differences, Whitney and Lea have a lot in common: both are navigating a tangled web of relationships, past disappointments and future hopes. As things heat up with Will, and her friendship with Whitney deepens, Lea has to decide how much she's willing to change in order to fit into their world.
Lea Lane has lived in between all her life. But it isn't until her junior year that she learns how to do it on her own terms.
112. The Scorpion Rules by Erin Bow (September 22)
A world battered by climate shift and war turns to an ancient method of keeping peace: the exchange of hostages. The Children of Peace – sons and daughters of kings and presidents and generals – are raised together in small, isolated schools called Preceptures. There, they learn history and political theory, and are taught to gracefully accept what may well be their fate: to die if their countries declare war.
Greta Gustafsen Stuart, Duchess of Halifax and Crown Princess of the Pan-Polar Confederation, is the pride of the North American Prefecture. Learned and disciplined, Greta is proud of her role in keeping the global peace, even though, with her country controlling two-thirds of the world's most war-worthy resource — water — she has little chance of reaching adulthood alive.
Enter Elián Palnik, the Prefecture's newest hostage and biggest problem. Greta's world begins to tilt the moment she sees Elián dragged into the school in chains. The Prefecture's insidious surveillance, its small punishments and rewards, can make no dent in Elián, who is not interested in dignity and tradition, and doesn't even accept the right of the UN to keep hostages.
What will happen to Elián and Greta as their two nations inch closer to war?
113. Sound by Alexandra Duncan (September 22)
As a child, Ava's adopted sister Miyole watched her mother take to the stars, piloting her own ship from Earth to space making deliveries. Now a teen herself, Miyole is finally living her dream as a research assistant on her very first space voyage. If she plays her cards right, she could even be given permission to conduct her own research and experiments in her own habitat lab on the flight home. But when her ship saves a rover that has been viciously attacked by looters and kidnappers, Miyole—along with a rescued rover girl named Cassia—embarks on a mission to rescue Cassia's abducted brother, and that changes the course of Miyole's life forever.
114. This Monstrous Thing by Mackenzi Lee (September 22)
In 1818 Geneva, men built with clockwork parts live hidden away from society, cared for only by illegal mechanics called Shadow Boys. Two years ago, Shadow Boy Alasdair Finch's life shattered to bits.
His brother, Oliver—dead.
His sweetheart, Mary—gone.
His chance to break free of Geneva—lost.
Heart-broken and desperate, Alasdair does the unthinkable: He brings Oliver back from the dead.
But putting back together a broken life is more difficult than mending bones and adding clockwork pieces. Oliver returns more monster than man, and Alasdair's horror further damages the already troubled relationship.
Then comes the publication of Frankenstein and the city intensifies its search for Shadow Boys, aiming to discover the real life doctor and his monster. Alasdair finds refuge with his idol, the brilliant Dr. Geisler, who may offer him a way to escape the dangerous present and his guilt-ridden past, but at a horrible price only Oliver can pay.
115. The Unquiet by Makaela Everett (September 22)
For most of her life, Lirael has been training to kill—and replace—a duplicate version of herself on a parallel Earth. She is the perfect sleeper-soldier. But she's beginning to suspect she is not a good person.
The two Earths are identical in almost every way. Two copies of every city, every building, even every person. But the people from the second Earth know something their duplicates do not—two versions of the same thing cannot exist. They—and their whole planet—are slowly disappearing. Lira has been trained mercilessly since childhood to learn everything she can about her duplicate, to be a ruthless sleeper-assassin who kills that other Lirael and steps seamlessly into her life.
116. Walk on Earth a Stranger by Rae Carson (September 22)
Lee Westfall has a secret. She can sense the presence of gold in the world around her. Veins deep beneath the earth, pebbles in the river, nuggets dug up from the forest floor. The buzz of gold means warmth and life and home—until everything is ripped away by a man who wants to control her. Left with nothing, Lee disguises herself as a boy and takes to the trail across the country. Gold was discovered in California, and where else could such a magical girl find herself, find safety? Rae Carson, author of the acclaimed Girl of Fire and Thorns trilogy, dazzles with this new fantasy that subverts both our own history and familiar fantasy tropes.
117. What We Saw by Aaron Hartzler (September 22)
Kate Weston can piece together most of the bash at John Doone's house: shots with Stacey Stallard, Ben Cody taking her keys and getting her home early—the feeling that maybe he's becoming more than just the guy she's known since they were kids.
But when a picture of Stacey passed out over Deacon Mills's shoulder appears online the next morning, Kate suspects she doesn't have all the details. When Stacey levels charges against four of Kate's classmates, the whole town erupts into controversy. Facts that can't be ignored begin to surface, and every answer Kate finds leads back to the same question: Where was Ben when a terrible crime was committed?
118. All American Boys by Jason Reynolds and Brendan Kiely (September 29)
A bag of chips. That's all sixteen-year-old Rashad is looking for at the corner bodega. What he finds instead is a fist-happy cop, Paul Galuzzi, who mistakes Rashad for a shoplifter, mistakes Rashad's pleadings that he's stolen nothing for belligerence, mistakes Rashad's resistance to leave the bodega as resisting arrest, mistakes Rashad's every flinch at every punch the cop throws as further resistance and refusal to STAY STILL as ordered. But how can you stay still when someone is pounding your face into the concrete pavement?
But there were witnesses: Quinn Collins—a varsity basketball player and Rashad's classmate who has been raised by Paul since his own father died in Afghanistan—and a video camera. Soon the beating is all over the news and Paul is getting threatened with accusations of prejudice and racial brutality. Quinn refuses to believe that the man who has basically been his savior could possibly be guilty. But then Rashad is absent. And absent again. And again. And the basketball team—half of whom are Rashad's best friends—start to take sides. As does the school. And the town. Simmering tensions threaten to explode as Rashad and Quinn are forced to face decisions and consequences they had never considered before.
Written in tandem by two award-winning authors, this tour de force shares the alternating perspectives of Rashad and Quinn as the complications from that single violent moment, the type taken from the headlines, unfold and reverberate to highlight an unwelcome truth.
119. Daughters unto Devils by Amy Lukavics (September 29)
When sixteen-year-old Amanda Verner's family decides to move from their small mountain cabin to the vast prairie, she hopes it is her chance for a fresh start. She can leave behind the memory of the past winter; of her sickly Ma giving birth to a baby sister who cries endlessly; of the terrifying visions she saw as her sanity began to slip, the victim of cabin fever; and most of all, the memories of the boy she has been secretly meeting with as a distraction from her pain. The boy whose baby she now carries.
When the Verners arrive at their new home, a large cabin abandoned by its previous owners, they discover the inside covered in blood. And as the days pass, it is obvious to Amanda that something isn't right on the prairie. She's heard stories of lands being tainted by evil, of men losing their minds and killing their families, and there is something strange about the doctor and his son who live in the woods on the edge of the prairie. But with the guilt and shame of her sins weighing on her, Amanda can't be sure if the true evil lies in the land, or deep within her soul.
120. Faceless by Alyssa Sheinmel (September 29)
When Maisie gets into a terrible accident, her face is partially destroyed. She's lucky enough to get a face transplant–but how do you live your life when you can't even recognize yourself anymore?
She was a runner, a girlfriend, a good student…a normal girl. Now all that has changed. As Maisie discovers how much her looks did–and didn't–shape her relationship to the world, she has to redefine her own identity, and figure out what "lucky" really means.
121. Madly by Amy Alward (September 29)
When the Princess of Nova accidentally poisons herself with a love potion meant for her crush, she falls crown-over-heels in love with her own reflection. Oops. A nationwide hunt is called to find the cure, with competitors travelling the world for the rarest ingredients, deep in magical forests and frozen tundras, facing death at every turn.
Enter Samantha Kemi – an ordinary girl with an extraordinary talent. Sam's family were once the most respected alchemists in the kingdom, but they've fallen on hard times, and winning the hunt would save their reputation. But can Sam really compete with the dazzling powers of the ZoroAster megapharma company? Just how close is Sam willing to get to Zain Aster, her dashing former classmate and enemy, in the meantime?
And just to add to the pressure, this quest is ALL OVER social media. And the world news.
No big deal, then.
122. Sanctuary by Jennifer McKissack (September 29)
After the untimely death of her aunt Laura, Cecilia Cross is forced to return to Sanctuary, a rambling, old French-Gothic mansion that crowns a remote island off the coast of Maine. Cecilia is both drawn to and repulsed by Sanctuary. The scent of the ocean intoxicates her, but she's also haunted by the ghosts of her past–of her father who died at Sanctuary five years ago, and of her mother who was committed soon after. The memories leave Cecilia feeling shaken, desperate to run away and forget her terrible family history.
But then a mysterious guest arrives at Sanctuary: Eli Bauer, a professor sent to examine Sanctuary's library. Cecilia is intrigued by this strange young man who seems so interested in her — even more interested in her than in the books he is meant to be studying. Who is he and what does he want? Can Cecilia possibly trust her growing feelings for him? And can he help her make peace with her haunted, tragic past?
123. Six of Crows by Leigh Bardugo (September 29)
Ketterdam: a bustling hub of international trade where anything can be had for the right price—and no one knows that better than criminal prodigy Kaz Brekker. Kaz is offered a chance at a deadly heist that could make him rich beyond his wildest dreams. But he can't pull it off alone…
A convict with a thirst for revenge.
A sharpshooter who can't walk away from a wager.
A runaway with a privileged past.
A spy known as the Wraith.
A Heartrender using her magic to survive the slums.
A thief with a gift for unlikely escapes.
Six dangerous outcasts. One impossible heist. Kaz's crew is the only thing that might stand between the world and destruction—if they don't kill each other first.
124. Untwine by Edwidge Danticat (September 29)
Giselle Boyer and her identical twin, Isabelle, are as close as sisters can be, even as their family seems to be unraveling. Then the Boyers are caught in a car crash that will shatter everyone's world forever.
Giselle wakes up in the hospital, injured and unable to speak or move. Trapped in the prison of her own body, Giselle must revisit her past in order to understand how the people closest to her–her friends, her parents, and above all, Isabelle, her twin–have shaped and defined her. Will she allow her love for her family and friends to lead her to recovery? Or will she remain lost in a spiral of longing and regret?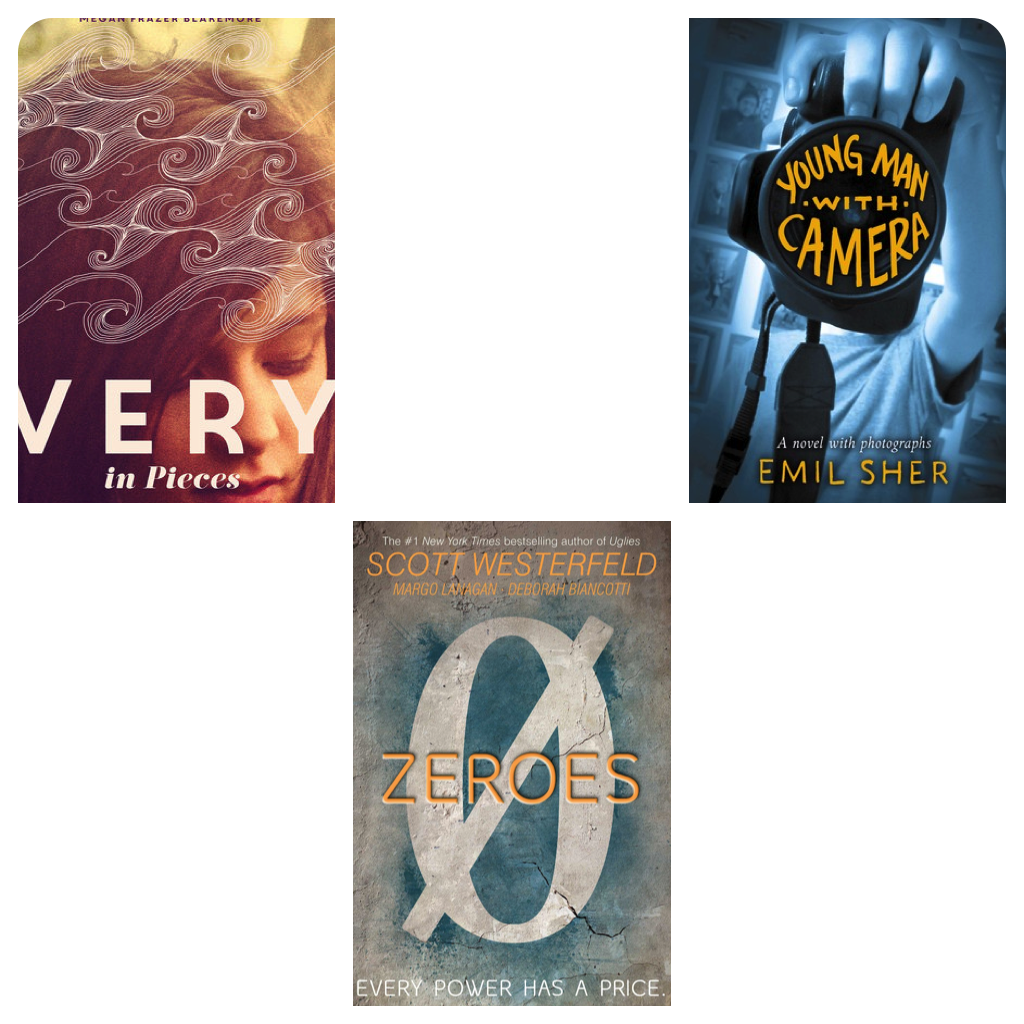 125. Very In Pieces by Megan Frazer Blakemore (September 29)
Very Sales-Woodruff is done being a good girl. Done being the only responsible one in a family that's unraveling. Done being the obliging girlfriend in a relationship that's sinking. Done saying no to what she wants—like Dominic, her rebellious classmate.
With her mom's drinking, her dad's extended absences from home, and her younger sister, Ramona, running wild, the path Very has always seen for herself doesn't seem to matter anymore. At the same time, Very's grandmother, a poet known less for her work and more for her exploits with the likes of Andy Warhol and Arthur Miller, is slipping away.
If everything else can fall to pieces, why can't she?
126. Young Man With Camera by Emil Sher (September 29)
A picture is worth a thousand words–and with a unique photographic format, a stunning original voice, and a provocative portrayal of bullying, Young Man with a Camera is a book to get people talking.
T– is used to getting grief. He gets it from his mom, who blames herself for his accident years earlier. He gets it from Mr. Lam, who suspects every kid of stealing from his shop. Worst of all, he gets it from Joined at the Hip, a trio of bullies so vicious that they leave T– terrified of even using his entire name.
But T– has his own strength too: his camera, which captures the unique way he sees the world. His pictures connect him to Ms. Karamath, the kind librarian at school; his friend Sean, whose passion for mysteries is matched only by his love for his dog; and especially Lucy, a homeless woman who shares his admiration for the photographer Diane Arbus. When Lucy is attacked by Joined at the Hip, T– documents the assault on film. But the bullies know he has the photographs, and their anger could be deadly. What's the right thing for T– to do? Do pictures ever tell the whole truth? And what if the truth isn't always the right answer?
127. Zeroes by Scott Westerfeld, Margo Lanagan, and Deborah Biancotti (September 29)
Ethan, aka "Scam," has a way with words. When he opens his mouth, whatever he wants you to hear comes out. But Ethan isn't just a smooth talker. He has a unique ability to say things he doesn't consciously even know. Sometimes the voice helps, but sometimes it hurts – like now, when the voice has lied and has landed Ethan in a massive mess. So now Ethan needs help. And he needs to go to the last people who would ever want to help him – his former group of friends, the self-named "zeros" who also all possess similarly double-edged abilities, and who are all angry at Ethan for their own respective reasons. Brought back together by Scam's latest mischief, they find themselves entangled in an epic, whirlwind adventure packed with as much interpersonal drama as mind-bending action.