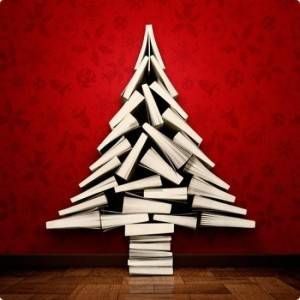 Classics
12 Christmas Stories to Listen to on Spotify
One of my favorite holiday traditions is re-reading Charles Dickens' A Christmas Carol, usually on Christmas Eve (or Eve Eve), which I realize is a tradition for many, many people.
But there are so many lovely and fun Christmas stories to enjoy during the holiday season that you might consider changing up the standard or discovering something new. (Can I get a Chanukah story please? One not by Adam Sandler.) Thankfully, Spotify is here to help.
Buried in their catalog, the music platform also has a bunch of spoken word tracks and audiobooks, including some classic (and not so classic) Christmas stories. To save you the work of going to look for them yourself, I've created a playlist (embedded at the end of this post) to share some of my favorite Christmas tales. Create a new tradition with your family with one or many of these – perhaps one a day for the 12 days of Christmas?
The Night Before Christmas performed by Bright Eyes
What better way to get in the holiday spirit than with a recitation of the Clement Clarke Moore poem?
A Christmas Carol by Charles Dickens

It is only appropriate to include the timeless tale of Scrooge, his three ghosts, and Tiny Tim, in this case read by a lovely-accented narrator which could only be improved by being Patrick Stewart.
A Child's Christmas in Wales, A Story by Dylan Thomas
Read by the author, this anecdote was originally recorded by Thomas for the BBC in 1952. It is 20 minutes of near Welsh perfection.
The Gift of the Magi by O. Henry

Published in 1905, this short story is all about a couple struggling to buy gifts for each other that has a true O. Henry twist at the end. This particular production has musical accompaniment and, being read by
Bonanza
radio star Lorne Greene, feels like an old time radio program.
A Christmas Tree by Charles Dickens
What is it with Dickens and Christmas? This is often referred to as his "other" Christmas story, about an elderly narrator's remembrances of Christmases past, read by Bart Wolffe.
The Little Match Girl by Hans Christian Andersen
Prepare the tissues. I am incapable of reading or listening to this story about a dying girl on the street who has visions of Christmas celebrations as she sits on the freezing street without sobbing.
The Adventure of the Blue Carbuncle by Sir Arthur Conan Doyle
One of Doyle's 56 Sherlock Holmes stories, this mystery is all about a missing jewel, a Christmas goose and mistaken identity.
The Nutcracker and the Mouse King by E.T.A. Hoffmann
Though many people don't realize it, the traditional Christmas ballet The Nutcracker was adapted for the stage by Tchaikovsky from this short story about a girl whose toy nutcracker comes to life. Appropriately, this recording includes some of the music by the composer, just to give you a full appreciation for the story.
The Little Fir Tree by Margaret Wise Brown
Adapted from Hans Christian Andersen's much sadder version, the story of a fir tree who becomes a little boy's Christmas tree is so sweet and delightful that it's perfect to listen to with kids.
A Kidnapped Santa Claus by L. Frank Baum
One of the darker entries on this playlist, Baum – who also wrote The Wonderful Wizard of Oz – created a story where Santa Claus is despised by five daemons who hate that Santa makes children happy. There's quite the moral to be learned at the end of this one.
Papa Panov's Visitors by Leo Tolstoy
A Russian story about an old shoemaker who dreams of making shoes for Jesus Christ on Christmas morning. This is also called Papa Panov's Special Christmas.
How the Grinch Stole Christmas by Dr. Seuss
Technically this is the soundtrack to the original animated movie of the same name, but you get all the wonderful music (including "You're a Mean One, Mr. Grinch") and the full story. The very best way to close this playlist, obviously.