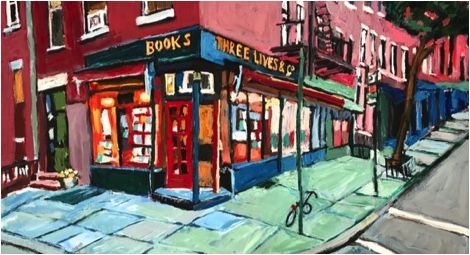 11 of the Coolest Bookish Paintings on Etsy Right Now
I'm a thrift store hound and have found some pretty excellent bookish paintings. My husband and I have them peppered throughout the home, but good little book nerd that I am, I always want more!
The good news is that there are some fantastic options for sale on Etsy RIGHT NOW. The bad news is that I have not yet won the bookish lottery and therefore cannot purchase any of these fantastic options. My hope is that I can live vicariously through those readers and rioters out there who have deep pockets and great taste.
Okay, so how much do you love J.K. Rowling? Like, $400 worth? $1,000 worth? If you love her a cool $1,500 worth then this painting (with bonus cat) is a great option.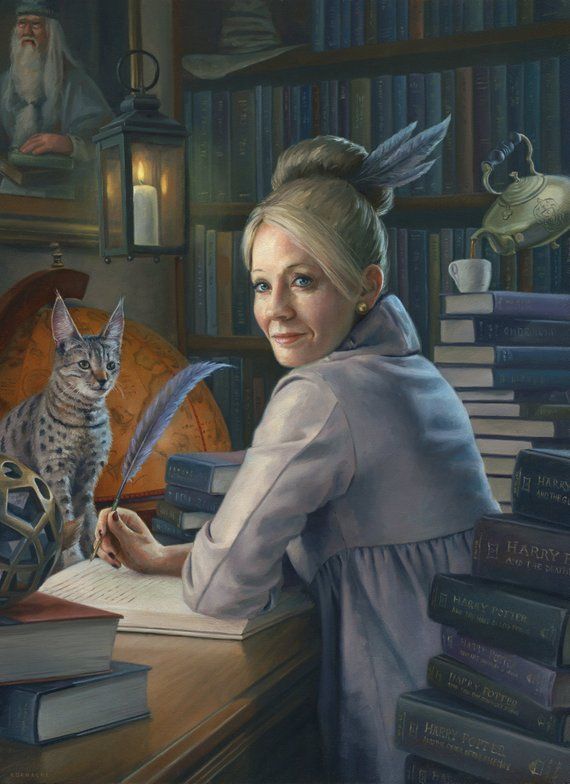 This acrylic painting of Lois Lane Silver Age Comic Books is so fantastic that I kept shuffling through the pictures trying to find the painting and did not understand why there were so many pictures of the comic books the painting was based on. Turns out it was the painting all along – BOOM.
If your idea of the perfect afternoon is a cuppa tea and a stack of books, this oil painting of books and a teacup is a great option. Let's just pretend we can't see the damage that tea cup is doing to that poor book's spine.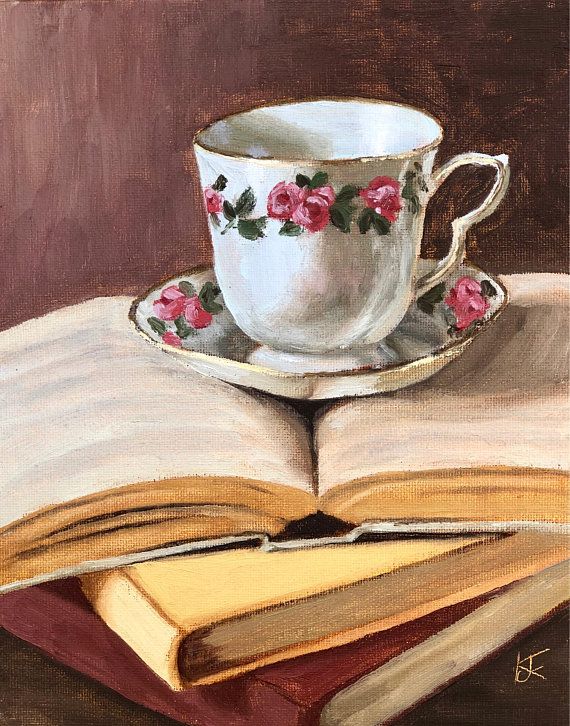 At first glance I saw a painting of a woman reading to a child, but with a closer look it appears that they are actually quietly reading the book together. Isn't that just sweeter 'n heck? If I had $1,000 I might just spend it on this oil painting of a woman and child reading.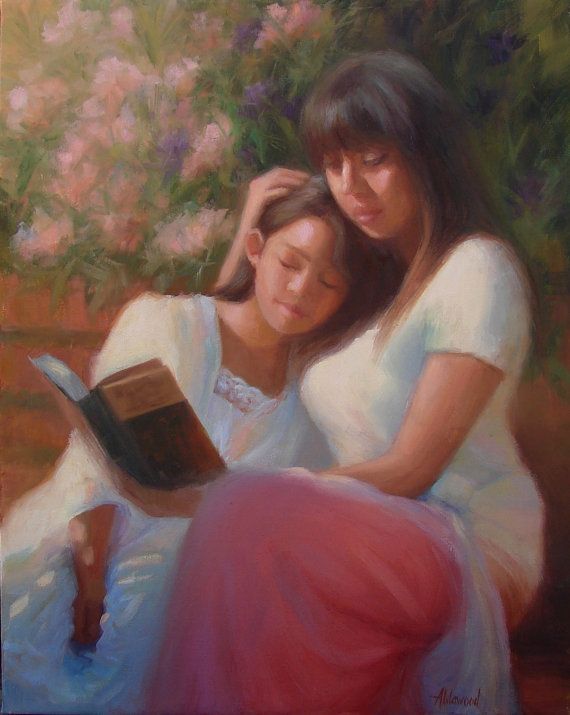 You like books? You like bookstores? You like New York? You like books in bookstores in New York? Then you'll like this painting of Three Lives & Company.
The artist states, "Some days are just perfect for curling up with a few favorite books about the impressionist Henri Matisse," and if that makes perfect sense to you then this oil painting of Matisse Books is a must-have – provided you have a spare $350 on hand.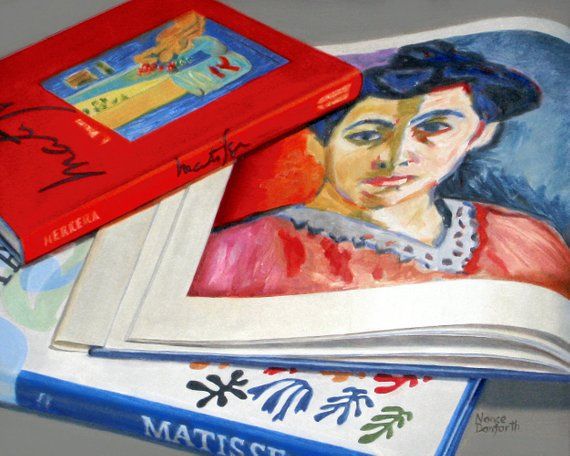 This oil painting of a reader riding the San Francisco trolley with all her literary favorites is my favorite of all these paintings (except for all the other paintings, which are also my favorites). It will cost you a cool $1,100 but the detail on this one is amazing.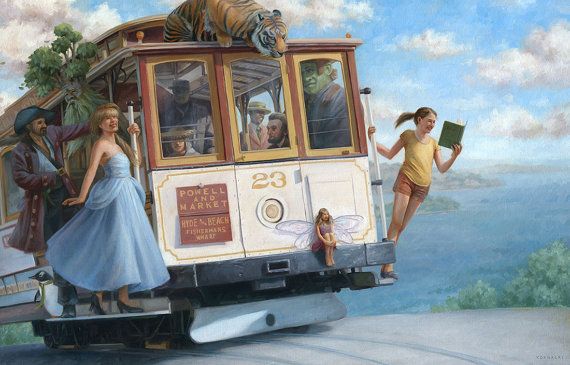 The bibliophilic bookworm isn't letting a little farsightedness affect his reading pleasure. No word on whether or not he found the book he was looking for (or a hairbrush) but certainly I've found a painting I'd buy if a won $750 in a raffle that required me to spend my winnings on a painting of an old man looking at books.
You guys, this Mama raven is reading The Raven to baby Raven and my heart's about to explode. My husband and I have an entire room known as the Bird Room because it is decorated in – you guessed it – birds. We need this Ravens Read painting and it's only $650 which is really a steal when compared to this other incredible painting from the same artist in which Edgar Allen Poe's head is angrily stuck in a TV and presumably being pooped on by ravens.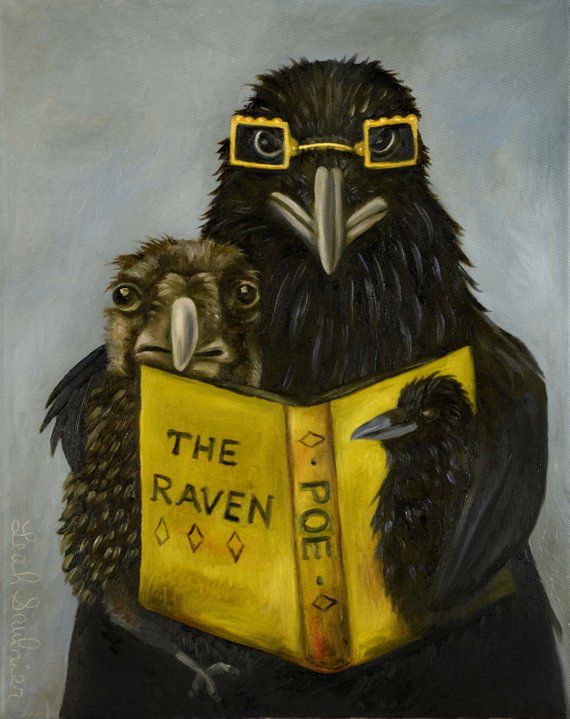 It's true that I love this painting of two sisters reading but it's also true that it freaks me out a little. Are their faces moving? Obviously they aren't, but then again…are they? Compared to other bookish paintings we found, this one is relatively affordable at a cool $176.25.
To round up our list of bookish paintings I'm going to loosen the rules for a second and present Something Over the Rainbow, which is more mixed media than straight painting – but it's painted on books!