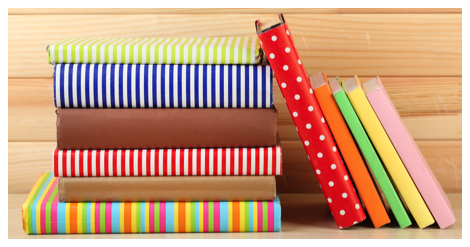 This content contains affiliate links. When you buy through these links, we may earn an affiliate commission.
This post is sponsored by The Women in the Walls by Amy Lukavics.
"Horror fans, prepare to shudder."
—Kendare Blake, author of Anna Dressed in Blood and Three Dark Crowns
Lucy Acosta's mother died when she was three. Growing up in a Victorian mansion with her cold, distant father, she was left to explore the dark hallways of the estate with her cousin, Margaret.
When her aunt Penelope disappears, Lucy is left devastated and alone. Margaret has been spending a lot of time in the attic, claiming she can hear her mother's voice whispering from the walls. Emotionally shut out by her father, Lucy watches helplessly as her cousin's sanity unravels. Then, she begins hearing voices too.
---
One of the most common requests I see from YA readers is for books that contain little or no romantic elements to them. A couple of years ago, one of the biggest complaints I read across the book blogging and greater literary world was how there were "too many" books in YA with a romance at the center of the story. There were "too many" love triangles and "too many" stories where love was more important than anything else in the book.
I'm not a reader who fancies a romance in her books. A lot of times, I don't pay attention to it in the story. In YA books, romance adds a lot of tension and often, it fits in fine with the story — teenagers are the main characters and their hormones are raging, so it's not a surprise to see it play out in the page in ways that do or do not make sense. Because of that, I disagree with the notion that there are "too many" or that there is "too much" in terms of romance in YA books. Does it sometimes feel unnecessary? Sure. But a lot of times, it's pretty natural to how teenagers are in the real world.
That said, knowing how many readers are hungry for books where romance takes a huge backseat or, perhaps, isn't present at all, I thought it would be useful to create a big list of must-read YA books where there is little to no romance in the story.
This was not easy.
Finding YA books written by authors of color where there is little or no romance is challenging. Not because those authors aren't writing them. Instead, it's because the pool of those books is already tiny to begin with. As I found with a number of the books I chose to include, many of these skew on the younger side of YA and could, in some cases, easily be handed to middle grade readers. I also found many of these books are a little bit older, meaning they might be challenging to come by today.
The other challenge was defining what "little to no romance" meant. In the creation of this list, some of the books may feature characters who have a significant other but that partner plays little or no role in the story beyond a passing one. Some of these stories may have a kiss or two, but again, it's in the interest of experimentation and teenagerness, rather than in any way that advances or adds tension to the plot of the story. Some of the books on this list, too, are first in a series, and there are no guarantees that later installments don't go down a romantic road. . . though by book two or three or six, perhaps that romance feels like a necessary and welcoming element. In short, "little to no romance" simply means that romance is way in the backseat, with no driving force in the narrative.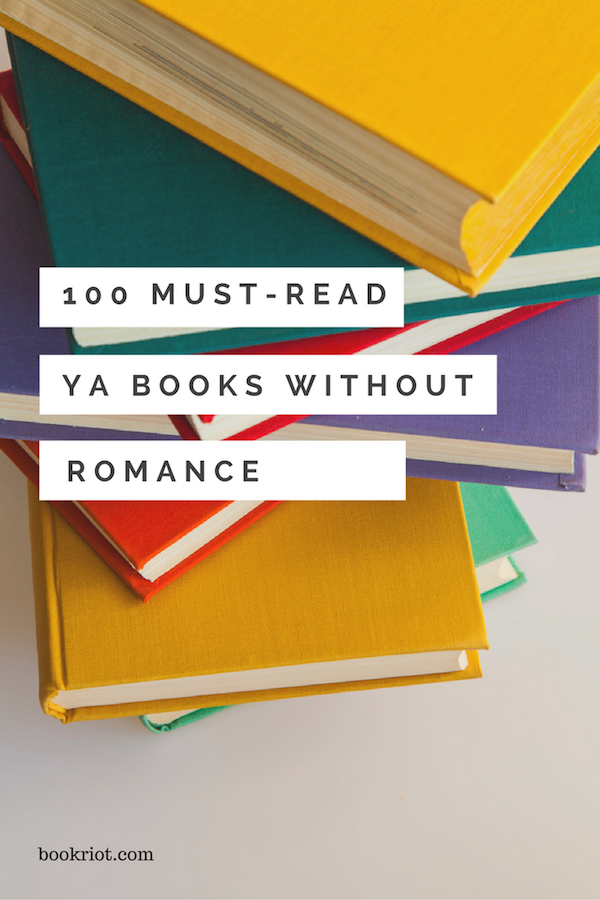 Just because a book doesn't feature a romance, though, doesn't mean it's an easy book nor that it's not a book tackling tough, gritty topics. Many of these books do just that. Other books are pure adventure stories, science fiction romps, constructed entirely in fantasy worlds, or spine-tingling thriller or horror reads. I've included historical fiction, as well, which is where one can find books with little or no romance most easily. There is literally something for every kind of YA reader, along with books that represent the nice wide swath of landscape that YA books not take up in our cultural and literary histories. In other words: you're getting classics, award winners, and titles that are pretty new. To really give a sense of how many books exist here, selections were limited to one per author.
Remember: the next time someone bemoans the state of YA fiction, no matter what it is they're bemoaning, know they're probably wrong. In this instance, it's about romance — there are plenty of great YA reads with little or none of it.
1. A Madness So Discreet by Mindy McGinnis
2. A Step From Heaven by An Na
3. A Trick of the Light by Lois Metzger
4. As Red As Blood by Salla Simukka
5. Bamboo People by Mitali Perkins
6. Beauty Queens by Libba Bray
7. Between Shades of Gray by Ruta Sepetys
8. Cat Girl's Day Off by Kimberly Pauley
9. Celine by Brock Cole
10. Challenger Deep by Neal Schusterman
11. Charm and Strange by Stephanie Kuehn
12. Charmed Life by Diana Wynne-Jones
13. Code Name Verity by Elizabeth Wein
14. Dangerous by Shannon Hale
15. Deadline by Chris Crutcher
16. Define "Normal" by Julie Anne Peters
17. Devoted by Jennifer Mathieu
18. Does My Head Look Big In This? by Randa Abdel-Fattah
19. Eon by Alison Goodman
20. Eragon by Christopher Paolini
21. Feathered by Laura Kasischke
22. Finnikin of the Rock by Melina Marchetta
23. First Day On Earth by Cecil Castellucci
24. Forgive Me, Leonard Peacock by Matthew Quick
25. Half Brother by Kenneth Oppel
26. Hold Me Closer, Necromancer by Lish McBride
27. How It Went Down by Kekla Magoon
28. How To Say Goodbye in Robot by Natalie Standiford
29. I Am Princess X by Cherie Priest
30. I Hunt Killers by Barry Lyga
31. If I Ever Get Out Of Here by Eric Gansworth
32. Illusive by Emily Lloyd-James
33. Imaginary Girls by Nova Ren Suma
34. Incarceron by Catherine Fisher
35. Inside Out by Terry Truman
36. Inside The Shadow City (Kiki Strike #1) by Kirsten Miller
37. Island's End by Padma Venkatraman
38. Jackaby by William Ritter
39. Juliette Takes A Breath by Gabby Rivera
40. Jumped by Rita Williams-Garcia
41. Jumped In by Patrick Flores-Scott
42. Killer of Enemies by Joseph Bruchac
43. Labyrinth Lost by Zoraida Cordova
44. Leviathan by Scott Westerfeld
45. Life As We Knew It by Susan Beth Pfeffer
46. Mare's War by Tanita S. Davis
47. Monster by Walter Dean Myers
48. No Parking At The End Times by Bryan Bliss
49. Nothing by Janne Teller
50. On The Edge of Gone by Corinne Duyvis
51. Orleans by Sherri L. Smith
52. Parrot in the Oven: Mi Vida by Victor Martinez
53. Perfect Escape by Jennifer Brown
54. Plain Kate by Erin Bow
55. Revolution by Jennifer Donnelly
56. Rotten by Michael Northrup
57. Rotters by Daniel Kraus
58. Sabriel by Garth Nix
59. Saving Montgomery Sole by Mariko Tamaki
60. Shark Girl by Kelly Bingham
61. Ship Breaker by Paulo Bacigalupi
62. Sold by Patricia McCormick
63. Some Girls Are by Courtney Summers
64. Split by Swati Avasthi
65. StarCrossed by Elizabeth C. Bunce
66. Summer of the Mariposas by Guadalupe Garcia McCall
67. Ten Cents a Dance by Christine Fletcher
68. Terrier by Tamora Pierce
69. The Absolutely True Diary of a Part-Time Indian by Sherman Alexie
70. The Adoration of Jenna Fox by Mary E Pearson
71. The Alchemyst by Michael Scott
72. The Boneshaker by Kate Milford
73. The Book Thief by Marcus Zusak
74. The Chocolate War by Robert Cormier
75. The Compound by SA Bodeen
76. The Cuckoo Song by Frances Hardinge
77. The Dead Girls of Hysteria Hall by Kate Alender
78. The Disreputable History of Frankie Landau Banks by E. Lockhart
79. The Fixer by Jennifer Lynn Barnes
80. The Girl From The Well by Rin Chupecho
81. The Golden Compass (His Dark Materials #1) by Philip Pullman
82. The Golden Day by Ursula Dubosarsky
83. The Knife of Never Letting Go by Patrick Ness
84. The Latte Rebellion by Sarah Jamila Stevenson
85. The Memory of Light by Francisco X Stork
86. The Outsiders by SE Hinton
87. The Screaming Staircase (Lockwood & Co #1) by Jonathan Stroud
88. The Sky Inside by Clare B. Dunkel
89. The Story of Owen by E. K. Johnston
90. The Thief by Megan Whalen Turner
91. The Wicked and the Just by J. Anderson Coats
92. This Savage Song by Victoria Schwab
93. Tighter by Adele Griffin
94. Touching Snow by M. Sindy Felin
95. Under A Painted Sky by Stacey Lee
96. Untwine by Edwidge Danticat
97. We Were Here by Matt De La Peña
98. Wee Free Men by Terry Pratchett
99. When I Was The Greatest by Jason Reynolds
100. Wintergirls by Laurie Halse Anderson