Lists
100 Must-Read Second Novels
This content contains affiliate links. When you buy through these links, we may earn an affiliate commission.
Amazing debut novels are a thing of joy, and lucky us, it seems like there are more of them than ever these days. But what about the follow-ups? How many authors survived the dreaded sophomore slump? And how many famous novels were actually an author's second?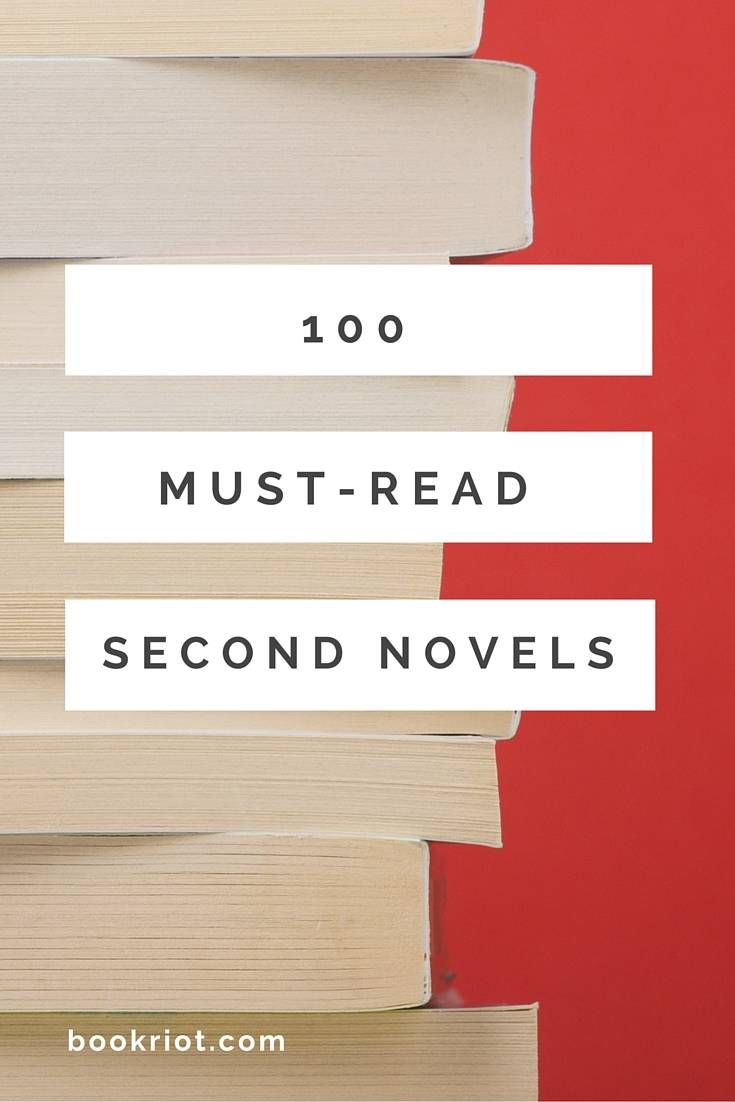 I was curious about this, but when I Googled "second novels," there were a lot of articles about people trying to write a second novel, but not many on great second novels themselves.
So here's a list of fantastic second novels that I hope will give people lots of new books to check out. There are literally hundreds of thousands (if not millions) of second novels in existence, so I went with the first 100 that popped into my brain.
Some of these are an author's most famous work, and some of them are an author's lesser known work, but all are wonderful.
What are your favorite second novels? Tell us in the comments! And stay tuned for more "second" book lists in the future.
No Longer at Ease by Chinua Achebe
At Night We Walk in Circles by Daniel Alarcón
The Hummingbird's Daughter by Luis Alberto Urrea
In the Time of the Butterflies by Julia Álvarez
Surfacing by Margaret Atwood
Pride and Prejudice by Jane Austen
Giovanni's Room by James Baldwin
Sister of My Heart by Chitra Banerjee Divakaruni
City of Thieves by David Benioff
The Teleportation Accident by Ned Beauman
The Blood of Others by Simone de Beauvoir
Peacekeeping by Mischa Berlinski
Let It Come Down by Paul Bowles
Fahrenheit 451 by Ray Bradbury
The Brief History of the Dead by Kevin Brockmeier
The Master and Margarita by Mikhail Bulgakov
O Pioneers! By Willa Cather
The Queen of the Night by Alexander Chee
The Awakening by Kate Chopin
The House on Mango Street by Sandra Cisneros
Kings of the Earth by Jon Clinch
Open City by Teju Cole
Our Spoons Came from Woolworths by Barbara Comyns
The Farming of Bones by Edwidge Danticat
Moonheart by Charle de Lint
The Inheritance of Loss by Kiran Desai
The Sisters Brothers by Patrick deWitt
Play It as It Lays by Joan Didion
The Maytrees by Annie Dillard
The Brothers K by David James Duncan
Juneteenth by Ralph Ellison
The Days of Abandonment by Elena Ferrante
The Magus by John Fowles
Desperate Characters by Paula Fox
The Agüero Sisters by Cristina García
One Hundred Years of Solitude by Gabriel García Márquez
Arcadia by Lauren Groff
The Forever War by Joe Haldeman
Angelmaker by Nick Harkaway
Imagine Me Gone by Adam Haslett
The Reluctant Fundamentalist by Mohsin Hamid
The Book of Unknown Americans by Cristina Henríquez
The Price of Salt by Patricia Highsmith
The Mambo Kings Sing Songs of Love by Oscar Hijuelos
Midnight Robber by Nalo Hopkinson
A Thousand Splendid Suns by Khaled Hosseini
Hangsaman by Shirley Jackson
The Book of Night Women by Marlon James
Three Men in a Boat (To Say Nothing of the Dog) by Jerome K. Jerome
Welcome to Braggsville by T. Geronimo Johnson
Sometimes a Great Notion by Ken Kesey
The Last Illusion by Porochista Khakpour
The English Teacher by Lily King
'Salem's Lot by Stephen King
Life is Elsewhere by Milan Kundera
The Lowland by Jhumpa Lahiri
The Story of My Teeth by Valeria Luiselli
The Association of Small Bombs by Karan Mahajan
The Assistant by Bernard Malmaud
They Came Like Swallows by William Maxwell
Outer Dark by Cormac McCarthy
How to Read the Air by Dinaw Mengestu
All Quiet on the Orient Express by Magnus Mills
Heft by Liz Moore
Sula by Toni Morrison
The Flight from the Enchanter by Iris Murdoch
Skippy Dies by Paul Murray
Inferno by Eileen Myles
Foreign Gods, Inc. by Okey Ndibe
Half of a Yellow Sun by Chimamanda Ngozi Adichie
Dept. of Speculation by Jenny Offill
In the Skin of a Lion by Michael Ondaatje
My Year of Meats by Ruth Ozeki
Cry, the Beloved Country by Alan Paton
True Grit by Charles Portis
The Chosen by Chaim Potok
Gilead by Marilynne Robinson
Midnight's Children by Salman Rushdie
The Killer Angels by Michael Shaara
Family Life by Akhil Sharma
Hotel World by Ali Smith
The Autograph Man by Zadie Smith
The Winged Histories by Sofia Samatar
Eat the Document by Dana Spiotta
Dog Soldiers by Robert Stone
The Kitchen God's Wife by Amy Tan
The Space Between Us by Thrity Umrigar
The Green House by Mario Vargas Llosa
Meridian by Alice Walker
Infinite Jest by David Foster Wallace
Land of the Blind by Jess Walter
Affinity by Sarah Waters
The Music Lesson by Katharine Weber
John Henry Days by Colson Whitehead
Butcher's Crossing by John Williams
Annabel by Kathleen Winter
The Passion by Jeanette Winterson
All the Birds, Singing by Evie Wyld
A Little Life by Hanya Yanagihara
Kitchen by Banana Yoshimoto