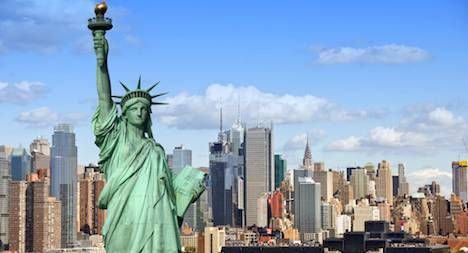 Lists
100 Must-Read New York City Novels
This content contains affiliate links. When you buy through these links, we may earn an affiliate commission.
While we at the Riot take some time off to rest and catch up on our reading, we're re-running some of our favorite posts from the last several months. Enjoy our highlight reel, and we'll be back with new stuff on Tuesday, January 3rd.
This post originally ran January 28, 2016.
---
This post is sponsored by DK Eyewitness Travel Guides, publisher of travel guidebooks to more than 200 destinations around the world—including New York City.
For more than two decades, DK Eyewitness Travel Guides have helped travelers get out and explore, with the most maps, photography, and illustrations of any guide. Unearth archaeological treasures at The Metropolitan Museum of Art, bike through Central Park, stroll the streets of Soho . . . experience all that New York City has to offer with DK's comprehensive guidebooks to the city.
Check out "A Book-Lover's Guide to New York City" and discover how DK Eyewitness Travel Guides can show you more.
---
In a way that nearly no other place can, New York City is often utilized in fiction as a character unto itself. It is a living, breathing entity and when a writer places a story in a particular time in New York – even in a particular neighborhood – she is doing something very specific in the message she is trying to convey.
The five boroughs – Manhattan, Brooklyn, Queens, the Bronx, and Staten Island – serve as the backdrop for so many iconic stories that compiling this list actually required a significant narrowing of the qualifications. With publication dates spanning from the early 1800s through this week, the novels on this list cover an even broader range of the city's history. All the way from its founding as New Amsterdam to a future (and fantastical) Gotham, they include the best and worst moments in New York's lifetime.
For the purposes of this list, I looked only at adult novels. I could've created an entirely separate list for nonfiction or for YA or even for theater. The common thread is not just novels that use New York City as a setting, but ones that render the city as a fully realized character in the story. Here are 100 novels of New York City. I hope you'll discover classics you haven't read, unknown gems you've never heard of, and modern additions that round out the richness of NYC's storytelling tradition. You'll find entries from Harlem Renaissance writers, stories of the Gilded Age, immigrant narratives from a huge range of cultures, modern tales of both excess and famine, and everything in between.