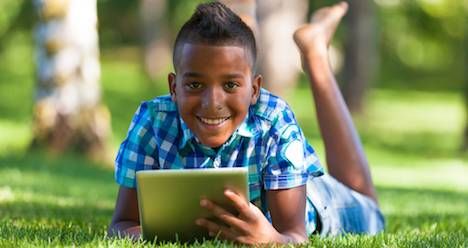 Children's
100 Must-Read Middle Grade Books for the Summer
This content contains affiliate links. When you buy through these links, we may earn an affiliate commission.
Summer is here, and what better time for middle grade readers (and adults) to discover their next favorite book! This list was hard to compile, not because I couldn't think of one hundred books, but because there were so many great ones. This list consists of middle grade books published from June 2016 up to July 2017, so these are all books fresh off the presses and ready to be enjoyed by kids and adults alike.
Notes:
*This symbol is next to middle grade books that I consider excellent for reluctant readers.
Sign up for our weekly kid's lit and middle grade newsletter (and all our other newsletters that interest you) here!
---
Realistic Middle Grade Books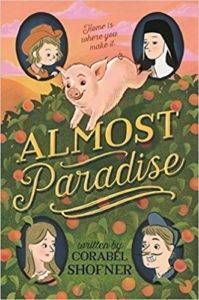 1. Almost Paradise by Corabel Shofner
"Twelve-year-old Ruby Clyde Henderson's life changes the day her mother's boyfriend holds up a convenience store, and her mother is wrongly jailed for assisting with the crime. Ruby and her pet pig, Bunny, find their way to her estranged Aunt Eleanor's home. Aunt Eleanor is an ornery nun who lives in the midst of a peach orchard on Paradise Ranch. With a little patience, she and Ruby begin to get along, but Eleanor has secrets of her own―secrets that might mean more hard times for Ruby."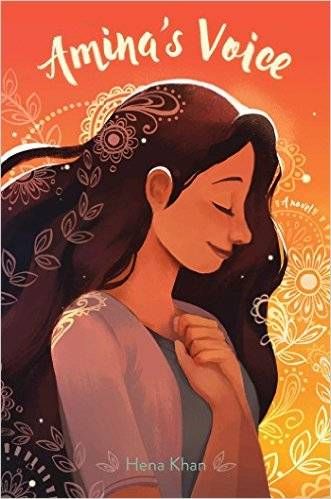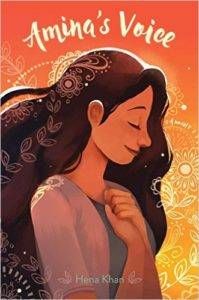 2. Amina's Voice by Hena Khan *
"Amina has never been comfortable in the spotlight. She is happy just hanging out with her best friend, Soojin. Except now that she's in middle school everything feels different. Soojin is suddenly hanging out with Emily, one of the "cool" girls in the class, and even talking about changing her name to something more "American." Does Amina need to start changing too? Or hiding who she is to fit in? While Amina grapples with these questions, she is devastated when her local mosque is vandalized."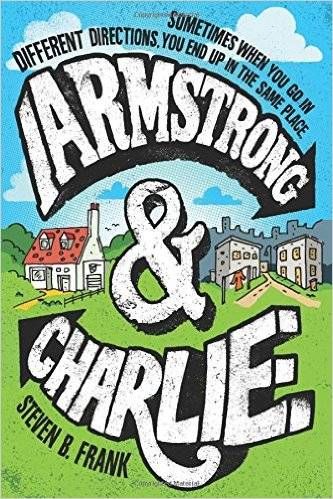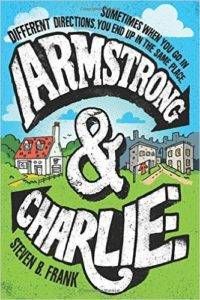 3. Armstrong and Charlie by Steven B. Frank *
"Charlie isn't looking forward to sixth grade. If he starts sixth grade, chances are he'll finish it. And when he does, he'll grow older than the brother he recently lost. Armstrong isn't looking forward to sixth grade, either. When his parents sign him up for Opportunity Busing to a white school in the Hollywood Hills, all he wants to know is "What time in the morning will my alarm clock have the opportunity to ring?" When these two land at the same desk, it's the Rules Boy next to the Rebel, a boy who lost a brother elbow-to-elbow with a boy who longs for one."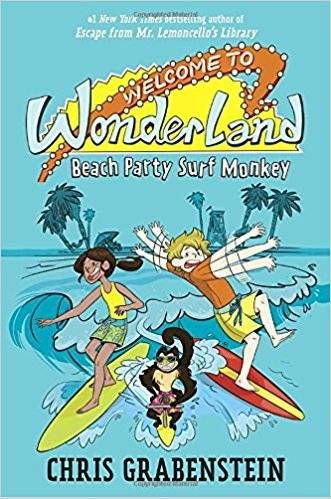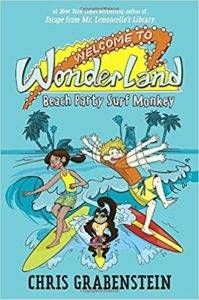 4. Beach Party Surf Monkey by Chris Grabenstein *
"There's always something wacky happening when you live in a motel, and P.T. (named after P. T. Barnum, of course) has grown up at the world's wackiest! When word gets out that the hottest teen idols in Hollywood (plus current YouTube sensation Kevin the Monkey!) will be filming their next movie—Beach Party Surf Monkey—right in St. Pete's Beach, Florida, P.T. and his friend Gloria know that the Wonderland would be the perfect location. Now they just have to convince the producers!"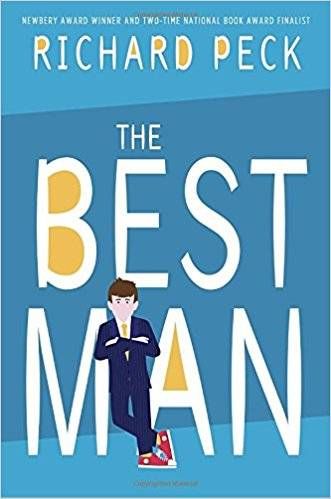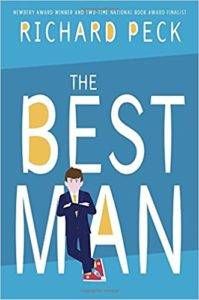 5. The Best Man by Richard Peck
"Archer Magill has spent a lively five years of grade school with one eye out in search of grown-up role models. Three of the best are his grandpa, the great architect; his dad, the great vintage car customizer,; and his uncle Paul, who is just plain great. These are the three he wants to be. Along the way he finds a fourth—Mr. McLeod, a teacher. In fact, the first male teacher in the history of the school."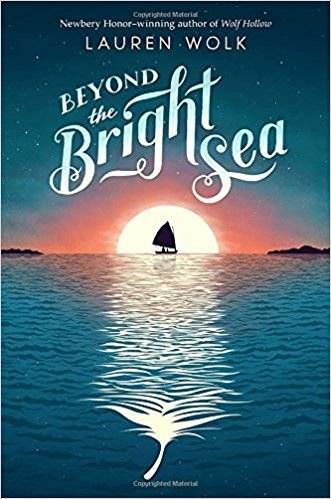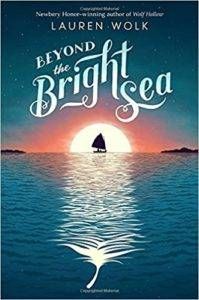 6. Beyond the Bright Sea by Lauren Wolk
"Twelve-year-old Crow has lived her entire life on a tiny, isolated piece of the starkly beautiful Elizabeth Islands in Massachusetts. Abandoned and set adrift in a small boat when she was just hours old, Crow's only companions are Osh, the man who rescued and raised her, and Miss Maggie, their fierce and affectionate neighbor across the sandbar. Crow has always been curious about the world around her, but it isn't until the night a mysterious fire appears across the water that the unspoken question of her own history forms in her heart. Soon, an unstoppable chain of events is triggered, leading Crow down a path of discovery and danger."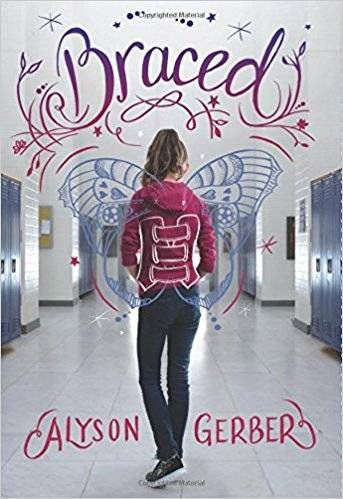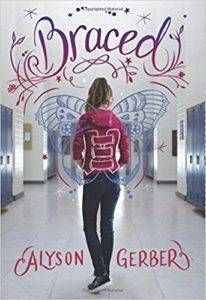 7. Braced by Alyson Gerber *
"Rachel Brooks is excited for the new school year. She's finally earned a place as a forward on her soccer team. Her best friends make everything fun. And she really likes Tate, and she's pretty sure he likes her back. After one last appointment with her scoliosis doctor, this will be her best year yet. Then the doctor delivers some terrible news: The sideways curve in Rachel's spine has gotten worse, and she needs to wear a back brace twenty-three hours a day. The brace wraps her in hard plastic from shoulder blades to hips. It changes how her clothes fit, how she kicks a ball, and how everyone sees her–even her friends and Tate. But as Rachel confronts all the challenges the brace presents, the biggest change of all may lie in how she sees herself."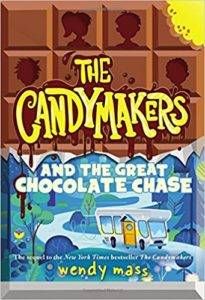 8. The Candymakers and the Great Chocolate Chase by Wendy Mass (second in a series) *
"It has been a few months since the nationwide New Candy Contest, and Logan, Miles, Philip, and Daisy have returned to their regular lives. But when the winning candy bar comes down the conveyor belt at the Life is Sweet candy factory, Logan realizes something's very wrong…. When the Candymaker announces that they will be going on tour to introduce the new candy bar, the four friends see this as an opportunity to make things right. But with a fifty-year-old secret revealed and stakes higher for each of them than they ever imagined, they will have to trust one another–and themselves–in order to face what lies ahead."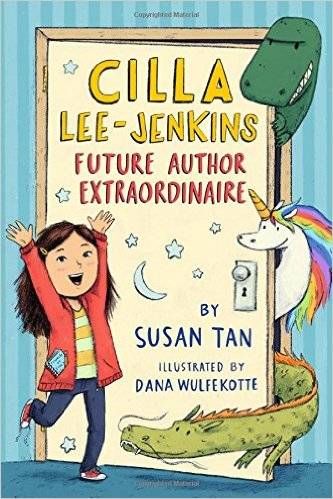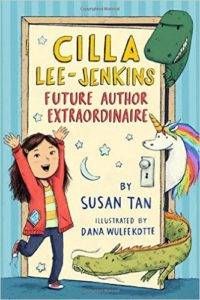 9. Cilla Lee-Jenkins, Author Extraordinaire by Susan Tan *
"Priscilla 'Cilla' Lee-Jenkins is on a tight deadline. Her baby sister is about to be born, and Cilla needs to become a bestselling author before her family forgets all about her. So she writes about what she knows best―herself!"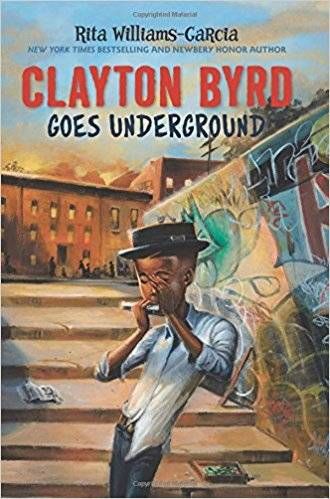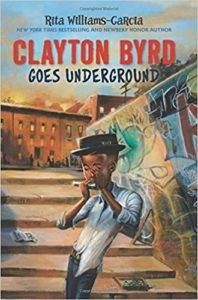 10. Clayton Byrd Goes Underground by Rita Williams-Garcia
"Clayton feels most alive when he's with his grandfather, Cool Papa Byrd, and the band of Bluesmen—he can't wait to join them, just as soon as he has a blues song of his own. But then the unthinkable happens. Cool Papa Byrd dies, and Clayton's mother forbids Clayton from playing the blues. And Clayton knows that's no way to live. Armed with his grandfather's brown porkpie hat and his harmonica, he runs away from home in search of the Bluesmen, hoping he can join them on the road. But on the journey that takes him through the New York City subways and to Washington Square Park, Clayton learns some things that surprise him."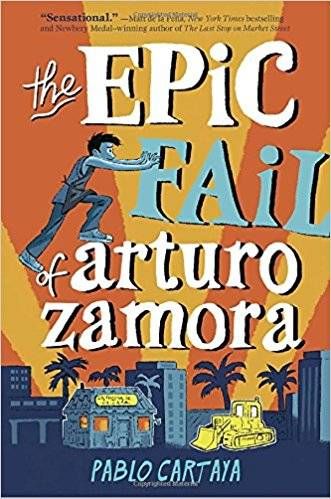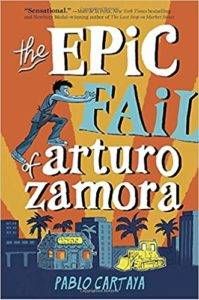 11. The Epic Fail of Arturo Zamora by Pablo Cartaya
"For Arturo, summertime in Miami means playing basketball until dark, sipping mango smoothies, and keeping cool under banyan trees. And maybe a few shifts as junior lunchtime dishwasher at Abuela's restaurant. Maybe. But this summer also includes Carmen, a cute poetry enthusiast who moves into Arturo's apartment complex and turns his stomach into a deep fryer. He almost doesn't notice the smarmy land developer who rolls into town and threatens to change it. Arturo refuses to let his family and community go down without a fight, and as he schemes with Carmen, Arturo discovers the power of poetry and protest through untold family stories and the work of José Martí."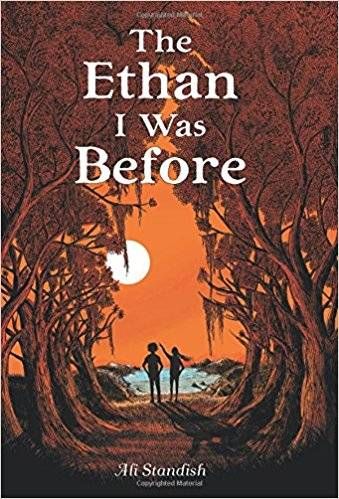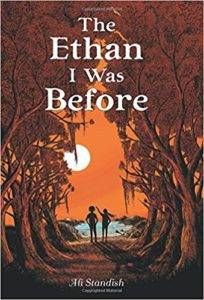 12. The Ethan I Was Before by Ali Standish
"Ethan had been many things. He was always ready for adventure and always willing to accept a dare, especially from his best friend, Kacey. But that was before. Before the accident that took Kacey from him. Before his family moved from Boston to the small town of Palm Knot, Georgia. Palm Knot may be tiny, but it's the home of possibility and second chances. It's also home to Coralee, a girl with a big personality and even bigger stories. Coralee may be just the friend Ethan needs, except Ethan isn't the only one with secrets. Coralee's are catching up with her, and what she's hiding might be putting both their lives at risk."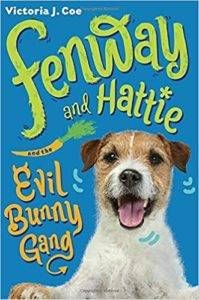 13. Fenway and Hattie and the Evil Bunny Gang by Victoria Coe *
"When evil bunnies invade the Dog Park, Fenway's hot on their trail. Hattie seems understandably alarmed, though she clearly doesn't appreciate his efforts. She shoos him out of the garden and fills in holes as fast as he can dig them! Fenway wonders if his beloved Hattie could be working against him, until she brings home a cage with a bunny inside. He can hardly control his excitement – she captured one of the intruders! But when Fenway realizes Hattie actually likes the bunny, he's crushed. Is his heart big enough to accept that Hattie can love another pet, too?"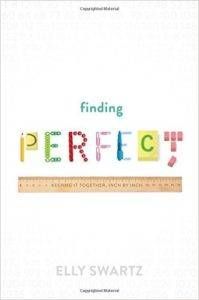 14. Finding Perfect by Elly Schwartz
"To twelve-year-old Molly Nathans, perfect is:
―The number four
―The tip of a newly sharpened No. 2 pencil
―A crisp white pad of paper
―Her neatly aligned glass animal figurines
What's not perfect is Molly's mother leaving the family to take a faraway job with the promise to return in one year. Molly knows that promises are sometimes broken, so she hatches a plan to bring her mother home: Win the Lakeville Middle School Poetry Slam Contest. The winner is honored at a fancy banquet with white tablecloths. Molly is sure her mother would never miss that. Right…?
But as time passes, writing and reciting slam poetry become harder. Actually, everything becomes harder as new habits appear, and counting, cleaning, and organizing are not enough to keep Molly's world from spinning out of control. In this fresh-voiced debut novel, one girl learns there is no such thing as perfect."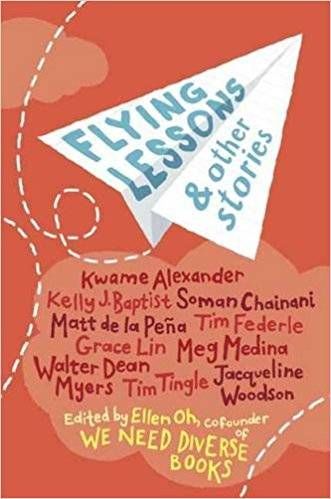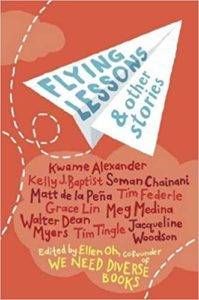 15. Flying Lessons and Other Stories edited by Ellen Oh
"In a partnership with We Need Diverse Books, industry giants Kwame Alexander, Soman Chainani, Matt de la Peña, Tim Federle, Grace Lin, Meg Medina, Walter Dean Myers, Tim Tingle, and Jacqueline Woodson join newcomer Kelly J. Baptist in a story collection that is as humorous as it is heartfelt. This impressive group of authors has earned among them every major award in children's publishing and popularity as New York Times bestsellers. From these distinguished authors come ten distinct and vibrant stories."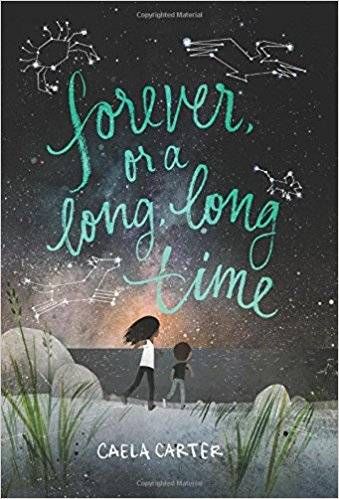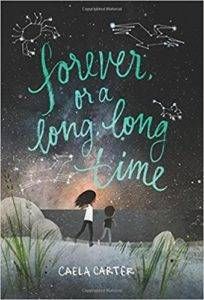 16. Forever, or a Long Time by Caela Carter
"Flora and her brother, Julian, don't believe they were born. They've lived in so many foster homes, they can't remember where they came from. And even now that they've been adopted, Flora still struggles to believe in forever. So along with their new mother, Flora and Julian begin a journey to go back and discover their past—for only then can they really begin to build their future."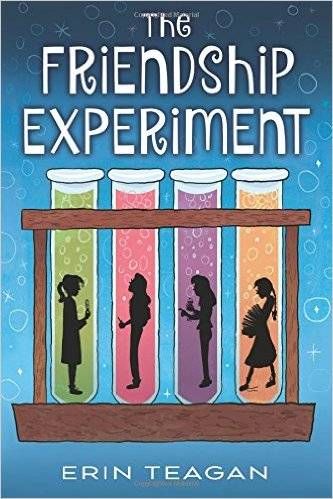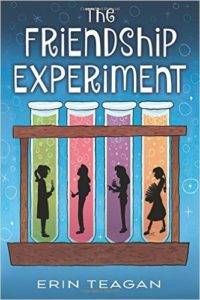 17. The Friendship Experiment by Erin Teagan *
"Future scientist Madeline Little is dreading the start of middle school. Nothing has been right since her grandfather died and her best friend changed schools. Maddie would rather help her father in his research lab or write Standard Operating Procedures in her lab notebook than hang out with a bunch of kids who aren't even her friends. Despite Maddie's reluctance, some new friends start coming her way—until they discover what she's written in that secret notebook. And that's just part of the trouble. Can this future scientific genius find the formula for straightening out her life?"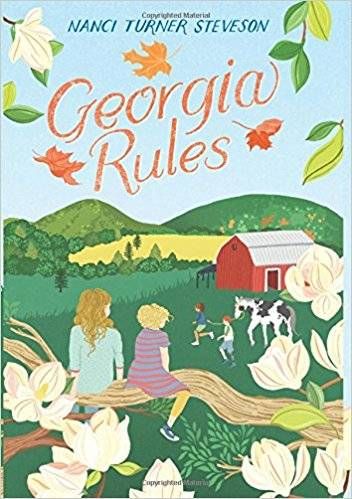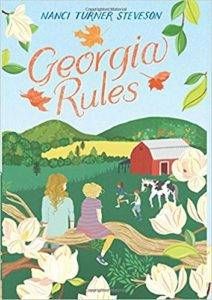 18. Georgia Rules by Nanci Turner Steveson
"Magnolia Grace never wanted to leave Georgia. She never wanted to move with her mama to the farm her daddy owned before he died. But now here she is, in a tiny Vermont town where everybody sings the praises of the father Maggie never knew. Then Maggie meets the Parker family—two moms, six kids, plus a pony. The Parkers are loud and wild, ask lots of questions, and don't follow any of the rules Maggie grew up with in Georgia. Suddenly Maggie has questions too—questions about her father, and why Mama kept him away for so long. In her search for answers, Maggie will learn that families are like patchwork quilts, sewn together by love, and all the more beautiful for their different colors."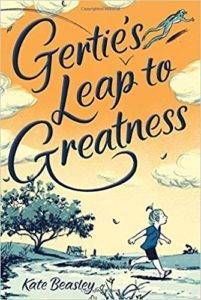 19. Gertie's Leap to Greatness by Kate Beasley, illustrated by Jillian Tamaki *
"Gertie Reece Foy is 100% Not-From-Concentrate awesome. She has a daddy who works on an oil rig, a great-aunt who always finds the lowest prices at the Piggly Wiggly, and two loyal best friends. So when her absent mother decides to move away from their small town, Gertie sets out on her greatest mission yet: becoming the best fifth grader in the universe to show her mother exactly what she'll be leaving behind. There's just one problem: Seat-stealing new girl Mary Sue Spivey wants to be the best fifth grader, too. And there is simply not enough room at the top for the two of them."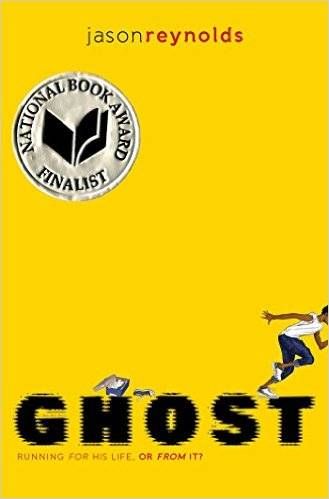 20. Ghost by Jason Reynolds *
"Ghost. Lu. Patina. Sunny. Four kids from wildly different backgrounds with personalities that are explosive when they clash. But they are also four kids chosen for an elite middle school track team—a team that could qualify them for the Junior Olympics if they can get their acts together. They all have a lot to lose, but they also have a lot to prove, not only to each other, but to themselves. Ghost has a crazy natural talent, but no formal training. If he can stay on track, literally and figuratively, he could be the best sprinter in the city. But Ghost has been running for the wrong reasons—it all starting with running away from his father, who, when Ghost was a very little boy, chased him and his mother through their apartment, then down the street, with a loaded gun, aiming to kill. Since then, Ghost has been the one causing problems—and running away from them—until he meets Coach, an ex-Olympic Medalist who blew his own shot at success by using drugs, and who is determined to keep other kids from blowing their shots at life."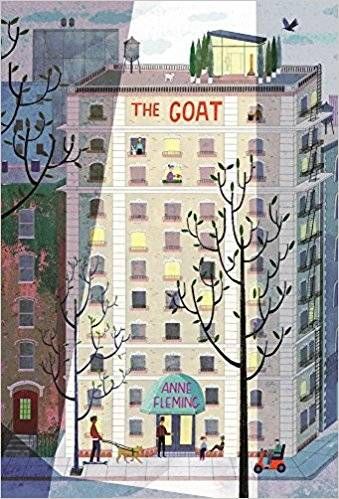 21. The Goat by Anne Fleming
"When Kid accompanies her parents to New York City for a six-month stint of dog-sitting and home-schooling, she sees what looks like a tiny white cloud on top of their apartment building.
Rumor says there's a goat living on the roof, but how can that be?"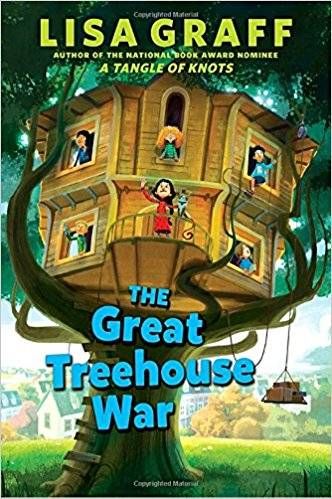 22. The Great Treehouse War by Lisa Graff
"Winnie's last day of fourth grade ended with a pretty life-changing surprise. That was the day Winnie's parents got divorced and decided that Winnie would live three days a week with each of them and spend Wednesdays by herself in a treehouse smack between their houses, to divide her time perfectly evenly. It was the day Winnie's seed of frustration with her parents was planted, a seed that grew until it felt like it was as big as a tree itself."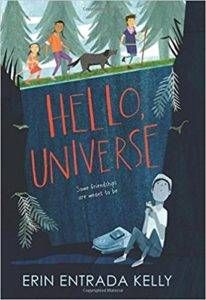 23. Hello, Universe by Erin Entrada Kelly
"In one day, four lives weave together in unexpected ways. Virgil Salinas is shy and kindhearted and feels out of place in his crazy-about-sports family. Valencia Somerset, who is deaf, is smart, brave, and secretly lonely, and she loves everything about nature. Kaori Tanaka is a self-proclaimed psychic, whose little sister, Gen, is always following her around. And Chet Bullens wishes the weird kids would just stop being so different so that he can concentrate on basketball. They aren't friends, at least not until Chet pulls a prank that traps Virgil and his pet guinea pig at the bottom of a well. This disaster leads Kaori, Gen, and Valencia on an epic quest to find the missing Virgil. Sometimes four can do what one cannot. Through luck, smarts, bravery, and a little help from the universe, a rescue is performed, a bully is put in his place, and friendship blooms."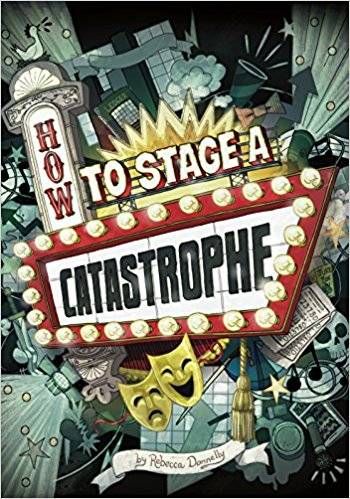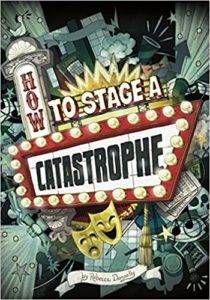 24. How to Stage a Catastrophe by Rebecca Donnelly
"ACT 1: The Juicebox Theatre is about ready for the recycling bin. ACT 2: Sidney and Folly consider a crime. [You have to read it to see if we commit a crime – that's called suspense.] ACT 3: Sidney and Folly save the Juicebox Children's Theatre! [It's not giving anything away to tell you that. We just don't want you to worry.] Sidney Camazzola plans to be the director of the Juicebox Theater when he grows up. But the theater is in danger of closing, and he and his friends know they need a plan to save it – and fast. Hilarious and heartwarming, the mission to save a failing community theater unites a riotous cast of characters in this offbeat middle-grade novel."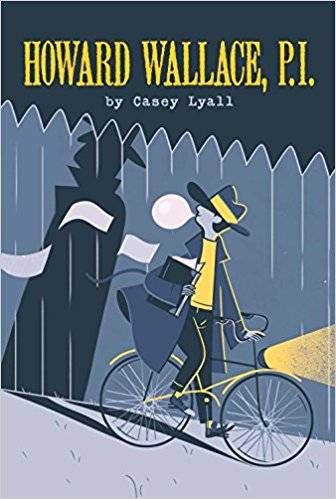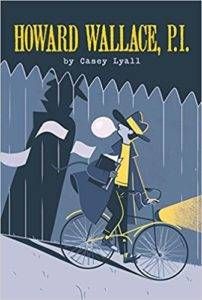 25. Howard Wallace, P.I. by Casey Lyall *
"Twelve-year-old Howard Wallace lives by his list of rules of private investigation. He knows more than anyone how to work with what he's got: a bathrobe for a trench coat, a makeshift office behind the school equipment shed, and not much else—least of all, friends. So when a hot case of blackmail lands on his desk, he's ready to take it on himself . . . until the new kid, Ivy Mason, convinces him to take her on as a junior partner. As they banter through stakeouts and narrow down their list of suspects, Howard starts to wonder if having Ivy as a sidekick—and a friend—is such a bad thing after all.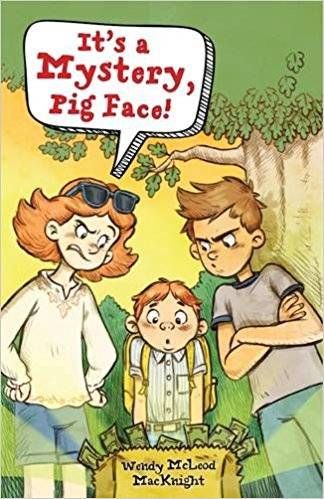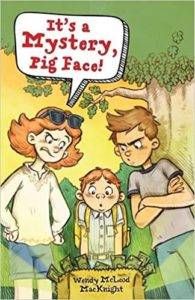 26. It's a Mystery, Pig Face! by Wendy McLeod MacKnight
"Eleven-year-old Tracy Munroe and her family have just gotten back from their family vacation—why did no one realize that her little brother, Lester, a.k.a. Pig Face, was allergic to sand, salt air, and the ocean before they decided to go to the beach. But when Tracy and Ralph discover an envelope stuffed with money in the dugout at baseball field (and Lester forces them to let him help), they have a mystery on their hands. Did someone lose the cash? Or, did someone steal it? St. Stephens has always seemed like a quiet place to live, but soon the town is brimming with suspects. Now they're on a hunt to discover the truth, before the trio is accused of the crime themselves."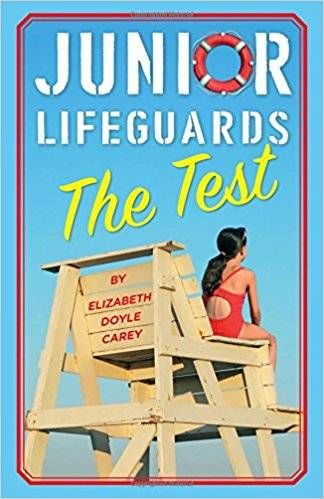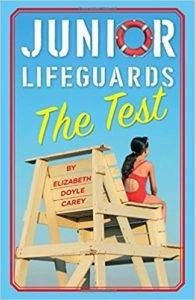 27. Junior Lifeguards (series) by Elizabeth Doyle Carey *
"Join the girls of the Junior Lifeguards as they continue their summery adventures in Cape Cod, where ice cream, lip gloss, and sand-between-your-toes combine with crushes and life skills for fun beachfront escapades! Dive right into tryouts with Jenna, Piper, Selena, and Ziggy– four diverse girls entering their first season as lifeguards-in-training on Cape Cod's iconic Atlantic coast. Romance and rivalries abound in this beachside town, where swanky seasonal homeowners and hard-working locals clash and unite in age-old patterns. In this first book of the Junior Lifeguards series, the girls are vying for spots on the summer squad, with ocean legend Bud Slater hand-picking a team of winners. Will they or won't they make the cut?"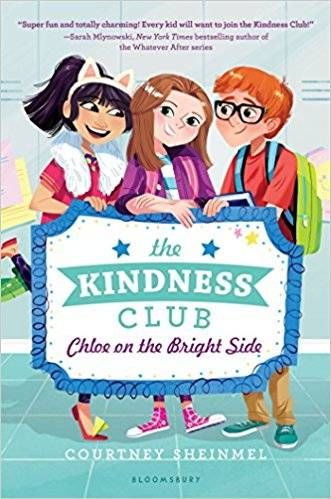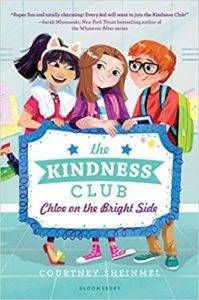 28. The Kindness Club: Chloe on the Bright Side by Courtney Sheinmel *
"Chloe Silver has always been good at looking on the bright side. Even though her parents got divorced and she's moved to a new town, she knows that she will make great friends at her new school. So when she is assigned a science project with offbeat Lucy Tanaka and nerdy Theo Barnes, they have fun creating an experiment that tests out the laws of science through different acts of kindness . . . officially forming The Kindness Club. But when she is also asked join the cool girls' exclusive It Girls club, Chloe feels completely torn between the It Girls and The Kindness Club. Faced with the possibility of upsetting all her new friends, Chloe's capacity for kindness is put to the test. Sometimes mistakes yield the best discoveries, and there is one hypothesis that can always be proven correct: Kindness is the coolest."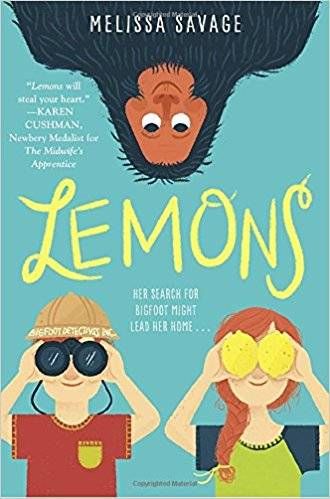 29. Lemons by Melissa Savage
"Lemonade Liberty Witt's mama always told her: When life gives you lemons, make lemonade. But Lem can't possibly make lemonade out of her new life in Willow Creek, California—the Bigfoot Capital of the World—where she's forced to live with a grandfather she's never met after her mother passes away. Then she meets eleven-year-old Tobin Sky, the CEO of Bigfoot Detectives Inc., who is the sole Bigfoot investigator for their small town. After he invites Lem to be his assistant for the summer, they set out on an epic adventure to capture a shot of the elusive beast on film. But along the way, Lem and Tobin end up discovering more than they ever could have imagined. And Lem realizes that maybe she can make lemonade out of her new life after all."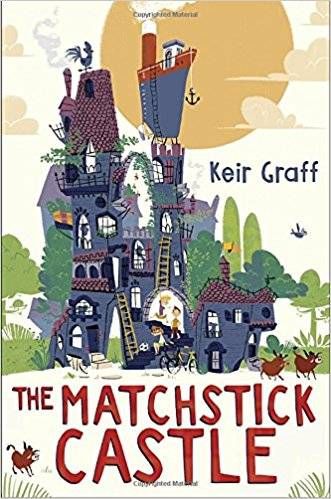 30. The Matchstick Castle by Keir Graff
"Brian can think of a few places he'd rather spend his summer than with his aunt and uncle in Boring, Illinois. Jail, for example. Or an earplug factory. Anything would be better than doing summer school on a computer while his scientist dad is stationed at the South Pole. Boring lives up to its name until Brian and his cousin Nora have a fight, get lost, and discover a huge, wooden house in the forest. With balconies, turrets, and windows seemingly stuck on at random, it looks ready to fall over in the next stiff breeze. To the madcap, eccentric family that lives inside, it's not just a home—it's a castle. Suddenly, summer gets a lot more exciting. With their new friends, Brian and Nora tangle with giant wasps, sharp-tusked wild boars, and a crazed bureaucrat intent on bringing the dangerously dilapidated old house down with a wrecking ball."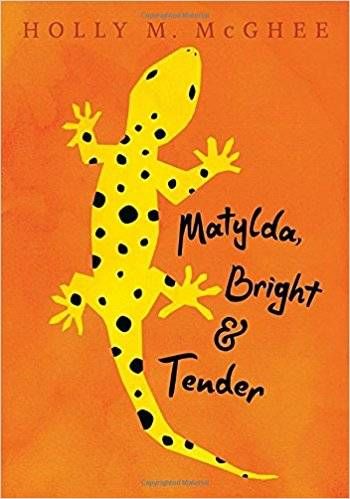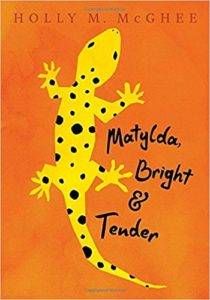 31. Matylda, Bright and Tender by Holly M. McGhee
"Sussy and Guy are best friends, fourth-graders who share their silliest thoughts and deepest hopes. One afternoon, the two of them decide they must have something of their very own to love. After a trip to the pet store, they bring home a spotted lizard, the one with the ancient face and starfish toes, and they name her Matylda (with a y so it's all her own). With Guy leading the way, they feed her and give her an origin story fit for a warrior lizard. A few weeks later, on a simple bike ride, there is a terrible accident. As hard as it is, Sussy is sure she can hold on to Guy if she can find a way to love Matylda enough. But in a startling turn of events, Sussy reconsiders what it means to grieve and heal and hope and go on, for her own sake and Matylda's. By turns both devastating and buoyant, this story is a brave one, showing how far we can justify going for a real and true friend."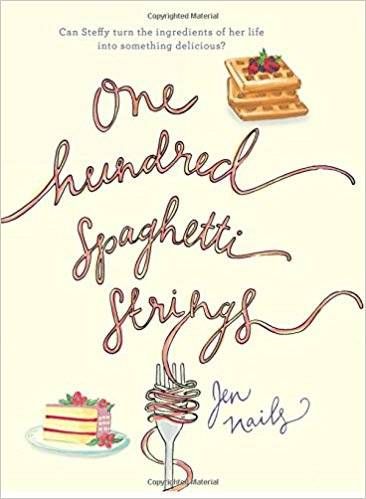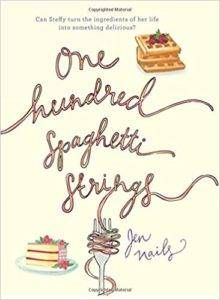 32. One Hundred Spaghetti Strings by Jen Nails
"Since Steffy was little, she and her older sister, Nina, have lived with beloved Auntie Gina. But when Steffy and Nina's dad comes home to live with them, everything changes. So Steffy does what she does best: She cooks her way through the hardest year of her life. But sometimes her life feels like a kitchen-sink meal—too many ingredients that don't quite work. All Steffy wants is for her family to be whole again. Can her recipes help bring them back together?"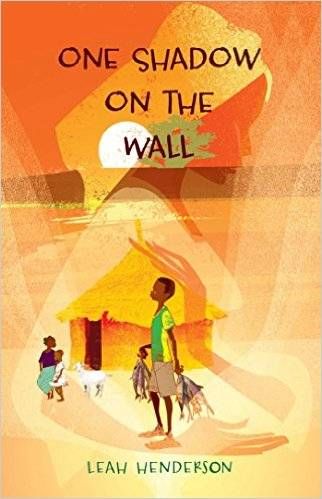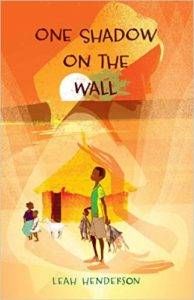 33. One Shadow on the Wall by Leah Henderson (6/6/17)
"Eleven-year-old Mor was used to hearing his father's voice, even if no one else could since his father's death. It was comforting. It was also a reminder that Mor had made a promise to his father before he passed: keep your sisters safe. Keep the family together. But almost as soon as they are orphaned, that promise seems impossible to keep. With an aunt from the big city ready to separate him and his sisters as soon as she arrives, and a gang of boys from a nearby village wanting everything he has—including his spirit—Mor is tested in ways he never imagined. With only the hot summer months to prove himself, Mor must face a choice. Does he listen to his father and keep his heart true, but risk breaking his promise through failure? Or is it easier to just join the Danka Boys, whom in all their maliciousness are at least loyal to their own?"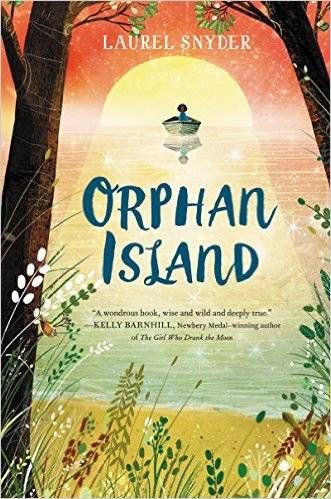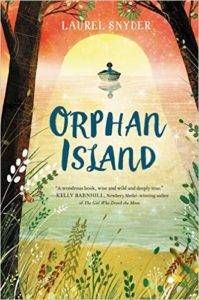 34. Orphan Island by Laurel Snyder
"On the island, everything is perfect. The sun rises in a sky filled with dancing shapes; the wind, water, and trees shelter and protect those who live there; when the nine children go to sleep in their cabins, it is with full stomachs and joy in their hearts. And only one thing ever changes: on that day, each year, when a boat appears from the mist upon the ocean carrying one young child to join them—and taking the eldest one away, never to be seen again. Today's Changing is no different. The boat arrives, taking away Jinny's best friend, Deen, replacing him with a new little girl named Ess, and leaving Jinny as the new Elder. Jinny knows her responsibility now—to teach Ess everything she needs to know about the island, to keep things as they've always been. But will she be ready for the inevitable day when the boat will come back—and take her away forever from the only home she's known?"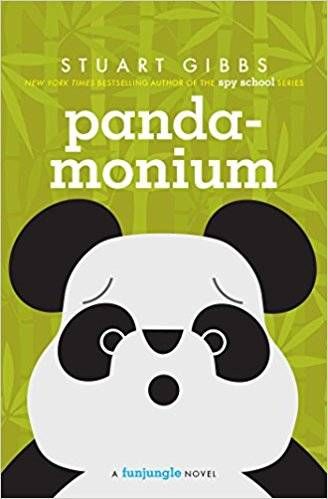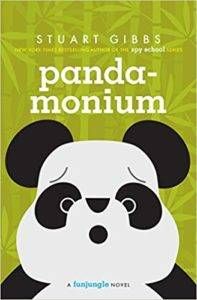 35. Panda-Monium (series) by Stuart Gibbs *
"FunJungle is frenzied, awaiting the arrival of its most thrilling animal yet—Li Ping—a rare and very expensive giant panda that the zoo went to enormous lengths to secure. But when the truck transporting Li Ping shows up, its precious cargo has vanished into thin air. The FBI steps in to investigate, and Teddy is happy to leave the job in their (supposedly) capable hands. After all, FunJungle has never encountered a crime this serious. But when someone threatens to blackmail Teddy's girlfriend, Summer, if he doesn't solve the crime, his involvement in this mystery is no longer black and white."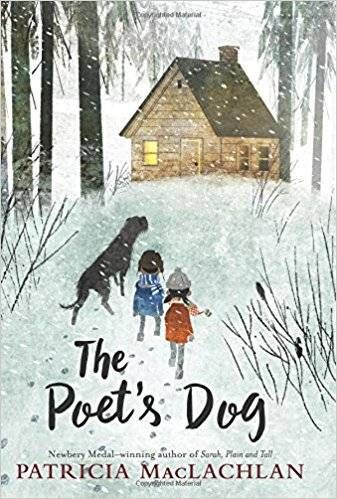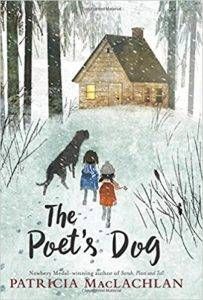 36. The Poet's Dog by Patricia MacLachlan
"Teddy is a gifted dog. Raised in a cabin by a poet named Sylvan, he grew up listening to sonnets read aloud and the comforting clicking of a keyboard. Although Teddy understands words, Sylvan always told him there are only two kinds of people in the world who can hear Teddy speak: poets and children. Then one day Teddy learns that Sylvan was right. When Teddy finds Nickel and Flora trapped in a snowstorm, he tells them that he will bring them home—and they understand him. The children are afraid of the howling wind, but not of Teddy's words. They follow him to a cabin in the woods, where the dog used to live with Sylvan . . . only now his owner is gone. As they hole up in the cabin for shelter, Teddy is flooded with memories of Sylvan. What will Teddy do when his new friends go home? Can they help one another find what they have lost?"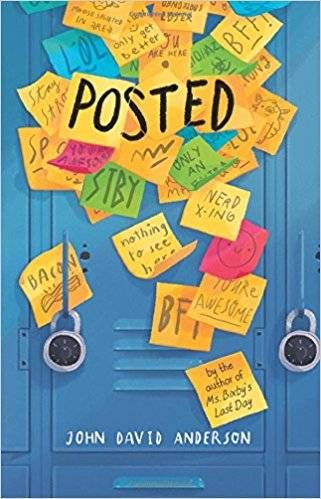 37. Posted by John David Anderson *
"In middle school, words aren't just words. They can be weapons. They can be gifts. The right words can win you friends or make you enemies. They can come back to haunt you. Sometimes they can change things forever. When cell phones are banned at Branton Middle School, Frost and his friends Deedee, Wolf, and Bench come up with a new way to communicate: leaving sticky notes for each other all around the school. It catches on, and soon all the kids in school are leaving notes—though for every kind and friendly one, there is a cutting and cruel one as well. In the middle of this, a new girl named Rose arrives at school and sits at Frost's lunch table. Rose is not like anyone else at Branton Middle School, and it's clear that the close circle of friends Frost has made for himself won't easily hold another. As the sticky-note war escalates, and the pressure to choose sides mounts, Frost soon realizes that after this year, nothing will ever be the same."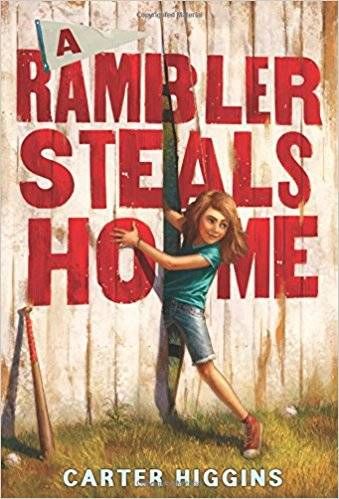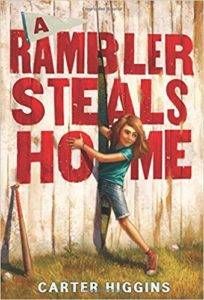 38. A Rambler Steals Home by Carter Higgins
"Garland, Derby, and Triple Clark spend each season traveling highways and byways in their Rambler—until summer, when small-town Ridge Creek, Virginia, calls them back. There they settle in, selling burgers and fries out of Garland's Grill after each game the Rockskippers play in their battered minor-league baseball stadium. Derby's summer traditions bring her closer than she's ever been to a real home that isn't on wheels, but this time, her return to Ridge Creek reveals unwelcome news. Now the person Derby loves most in town needs her help—and yet finding a way to do so may uncover deeply held stories and secrets."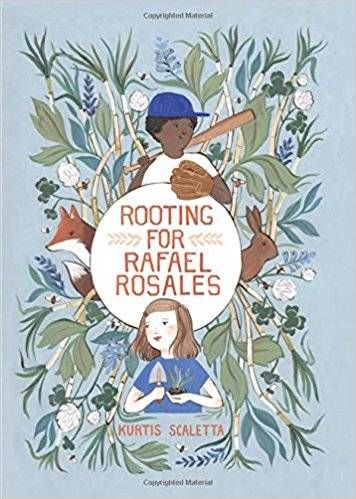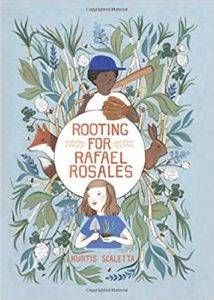 39. Rooting for Rafael Rosales by Kurtis Scaletta
"Rafael has dreams. Every chance he gets he plays in the street games trying to build his skills, get noticed by scouts, and—someday—play Major League Baseball. Maya has worries. The bees are dying all over the world, and the company her father works for is responsible, making products that harm the environment. Follow Rafael and Maya in a story that shifts back and forth in time and place, from Rafael's neighborhood in the Dominican Republic to present-day Minnesota, where Maya and her sister are following Rafael's first year in the minor leagues. In their own ways, Maya and Rafael search for hope, face difficult choices, and learn a secret—the same secret—that forever changes how they see the world."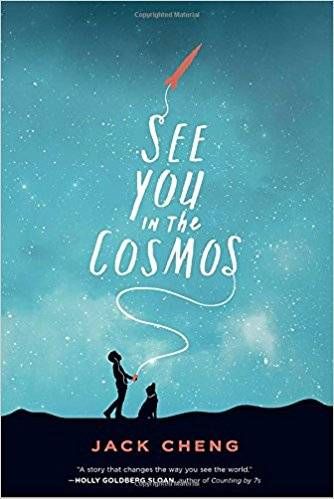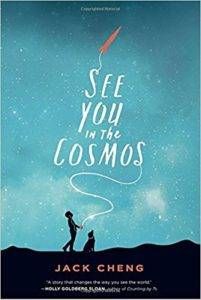 40. See You in the Cosmos by Jack Cheng *
"11-year-old Alex Petroski loves space and rockets, his mom, his brother, and his dog Carl Sagan—named for his hero, the real-life astronomer. All he wants is to launch his golden iPod into space the way Carl Sagan (the man, not the dog) launched his Golden Record on the Voyager spacecraft in 1977. From Colorado to New Mexico, Las Vegas to L.A., Alex records a journey on his iPod to show other lifeforms what life on earth, his earth, is like. But his destination keeps changing. And the funny, lost, remarkable people he meets along the way can only partially prepare him for the secrets he'll uncover—from the truth about his long-dead dad to the fact that, for a kid with a troubled mom and a mostly not-around brother, he has way more family than he ever knew."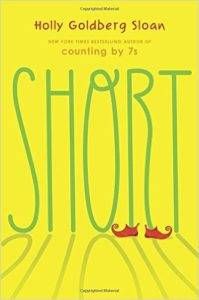 41. Short by Holly Goldberg Sloan
"Julia is very short for her age, but by the end of the summer run of The Wizard of Oz, she'll realize how big she is inside, where it counts. She hasn't ever thought of herself as a performer, but when the wonderful director of Oz casts her as a Munchkin, she begins to see herself in a new way. Julia becomes friendly with the poised and wise Olive–one of the adults with dwarfism who've joined the production's motley crew of Munchkins. With her deeply artistic neighbor, Mrs. Chang, Julia's own sense of self as an artist grows. Soon, she doesn't want to fade into the background–and it's a good thing, because her director has more big plans for Julia!"
42. Soccer Sisters by Andrea Montalbano *
"Makena Walsh absolutely loves soccer. She knows it's the best sport around and she feels lucky that the teammates on her super competitive and super skilled team, the Brookville Breakers, feel the same way. The girls always have and always will be Soccer Sisters. But when a new person joins the Breakers, everything changes. Skylar is a great player and really cool―but she also doesn't always play by the rules. Makena, hoping to impress Skylar, starts acting out and running wild, off and on the field. But with a huge tournament looming, Mac's got tough choices ahead. Choices that will affect her family, her friends, and the game she loves. Can she stay true to what the Soccer Sisters believe in and win the big game?"
43. The Someday Birds by Sally Pla
"Charlie's perfectly ordinary life has been unraveling ever since his war journalist father was injured in Afghanistan. When his father heads from California to Virginia for medical treatment, Charlie reluctantly travels cross-country with his boy-crazy sister, unruly brothers, and a mysterious new family friend. He decides that if he can spot all the birds that he and his father were hoping to see someday along the way, then everything might just turn out okay."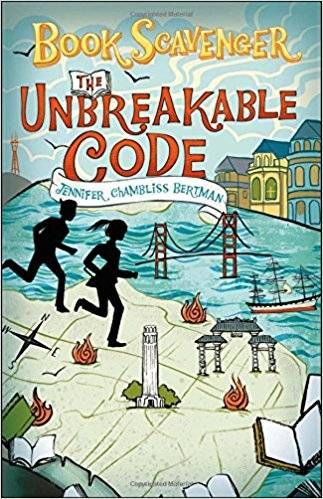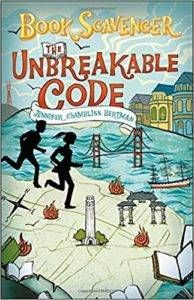 44. The Unbreakable Code by Jennifer Bertman *
"Mr. Quisling is definitely up to something mysterious, and Emily and James are on high alert. First, there's the coded note he drops at a book event. Then, they uncover a trail of encrypted messages in Mark Twain-penned books hidden through Book Scavenger. What's most suspicious is that each hidden book triggers an arson fire. As the sleuthing friends dig deeper, they discover Mr. Quisling has been hunting a legendary historical puzzle: the Unbreakable Code. This new mystery is irresistible, but Emily and James can't ignore the signs that Mr. Quisling might be the arsonist."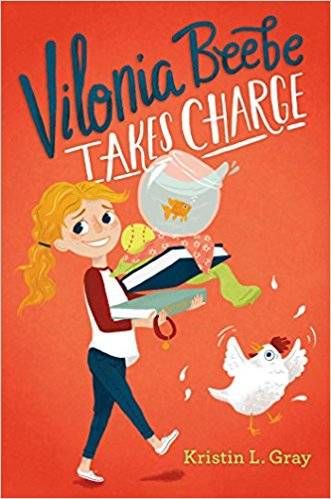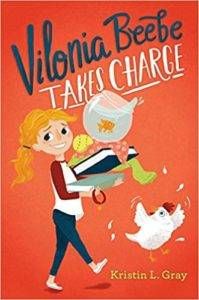 45. Vilonia Beebe Takes Charge by Kristin L. Gray *
Fourth grader Vilonia hasn't lost her rain coat in the three weeks she's had it and she's brushed her teeth every night and she's volunteered to be the Friday Library Helper. But all that hard work is worth it if it means she can get a dog. Besides, this dog isn't just because Vilonia has wanted one for pretty much ever. It's also to help Mama, who's been lost in one, big sadness fog for forty-three days—ever since Nana died. But Vilonia read that pets can help with sadness. Now all she has to do is keep the library goldfish alive over spring break, stop bringing stray animals home, and help Mama not get fired from her job. And she's got to do all of it before the Catfish Festival. Easy as pie, right?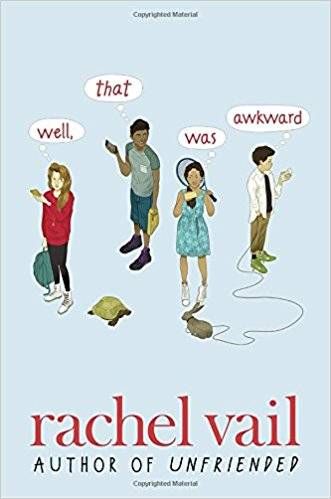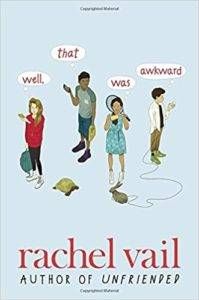 46. Well, That Was Awkward by Rachel Vail *
"Gracie has never felt like this before. One day, she suddenly can't breathe, can't walk, can't anything—and the reason is standing right there in front of her, all tall and weirdly good-looking: A.J. But it turns out A.J. likes not Gracie but Gracie's beautiful best friend, Sienna. Obviously Gracie is happy for Sienna. Super happy! She helps Sienna compose the best texts, responding to A.J.'s surprisingly funny and appealing texts, just as if she were Sienna. Because Gracie is fine. Always! She's had lots of practice being the sidekick, second-best. It's all good. Well, almost all. She's trying."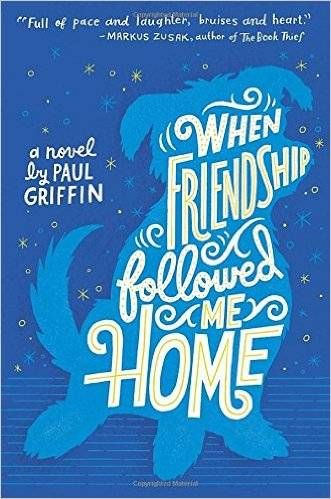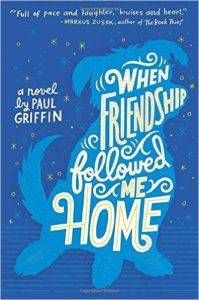 47. When Friendship Followed Me Home by Paul Griffin
"Ben Coffin has never been one for making friends. As a former foster kid, he knows people can up and leave without so much as a goodbye. Ben prefers to spend his time with the characters in his favorite sci-fi books…until he rescues an abandoned mutt from the alley next-door to the Coney Island Library. Scruffy little Flip leads Ben to befriend a fellow book-lover named Halley—yes, like the comet—a girl unlike anyone he has ever met. Ben begins thinking of her as "Rainbow Girl" because of her crazy-colored clothes and her laugh, pure magic, the kind that makes you smile away the stormiest day. Rainbow Girl convinces Ben to write a novel with her. But as their story unfolds Ben's life begins to unravel, and Ben must discover for himself the truth about friendship and the meaning of home."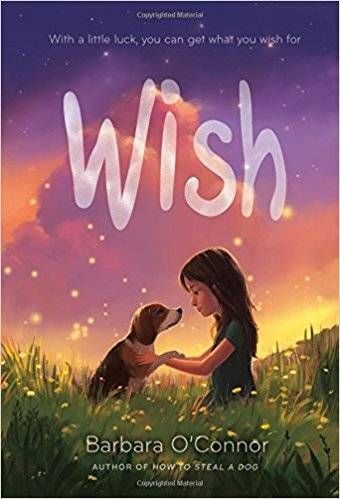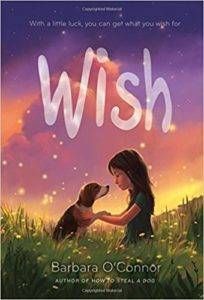 48. Wish by Barbara O'Connor *
"Eleven-year-old Charlie Reese has been making the same secret wish every day since fourth grade. She even has a list of all the ways there are to make the wish, such as cutting off the pointed end of a slice of pie and wishing on it as she takes the last bite. But when she is sent to the Blue Ridge Mountains of North Carolina to live with family she barely knows, it seems unlikely that her wish will ever come true. That is until she meets Wishbone, a skinny stray dog who captures her heart, and Howard, a neighbor boy who proves surprising in lots of ways. Suddenly Charlie is in serious danger of discovering that what she thought she wanted may not be what she needs at all."
Historical Fiction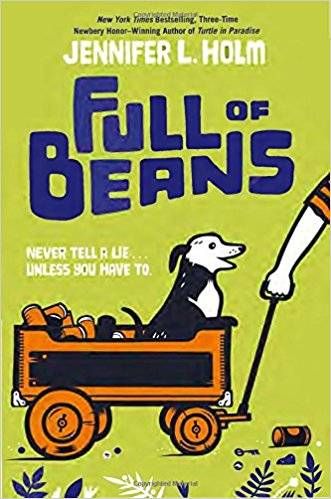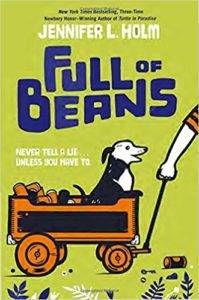 49. Full of Beans by Jennifer Holm *
"Grown-ups lie. That's one truth Beans knows for sure. He and his gang know how to spot a whopper a mile away, because they are the savviest bunch of barefoot conchs (that means "locals") in all of Key West. Not that Beans really minds; it's 1934, the middle of the Great Depression. With no jobs on the island, and no money anywhere, who can really blame the grown-ups for telling a few tales? Besides, Beans isn't anyone's fool. In fact, he has plans. Big plans. And the consequences might surprise even Beans himself."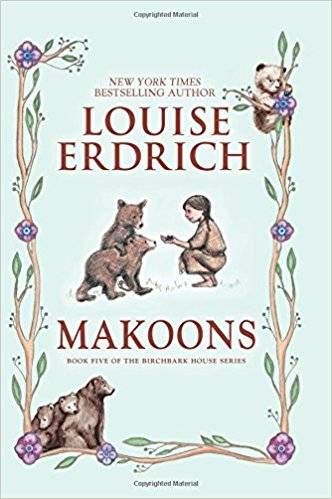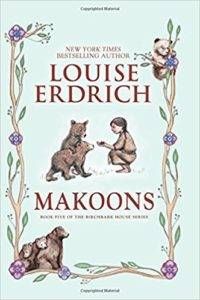 50. Makoons by Louise Erdrich (series)
"In the sequel to Chickadee, acclaimed author Louise Erdrich continues her award-winning Birchbark House series with the story of an Ojibwe family in nineteenth-century America. Named for the Ojibwe word for little bear, Makoons and his twin, Chickadee, have traveled with their family to the Great Plains of Dakota Territory. There they must learn to become buffalo hunters and once again help their people make a home in a new land. But Makoons has had a vision that foretells great challenges—challenges that his family may not be able to overcome."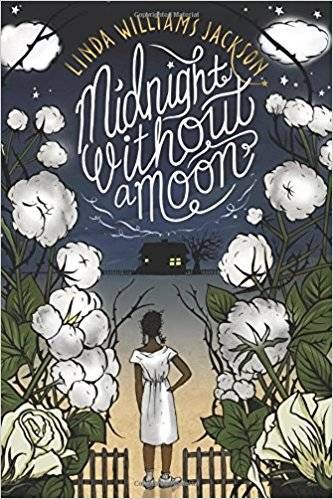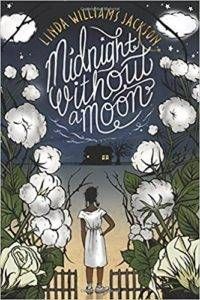 51. Midnight Without a Moon by Linda Williams Jackson
"It's Mississippi in the summer of 1955, and Rose Lee Carter can't wait to move north. But for now, she's living with her sharecropper grandparents on a white man's cotton plantation. Then, one town over, an African American boy, Emmett Till, is killed for allegedly whistling at a white woman. When Till's murderers are unjustly acquitted, Rose realizes that the South needs a change . . . and that she should be part of the movement."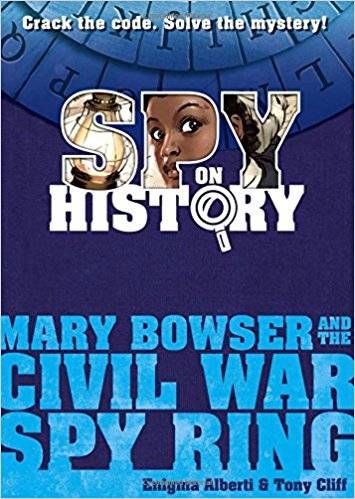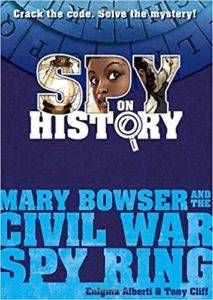 52. Spy on History: Mary Bowser and the Civil War Spy Ring by Tony Cliff and Enigma Alberti *
"Meet Mary Bowser, an African American spy who was able to infiltrate the Confederate leadership at the highest level. Enigma Alberti dramatizes Mary Bowser's suspenseful story—how she pretended to be illiterate, how she masterfully evaded detection, how she used her photographic memory to "copy" critical documents. Using spycraft materials included in a sealed envelope inside the book, a canny reader will be able to discover and unravel clues embedded in the text and illustrations, and solve the book's ultimate mystery: Where did Mary hide her secret diary?"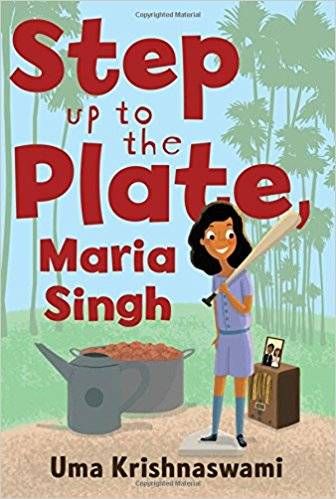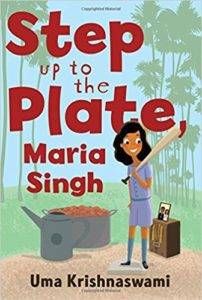 53. Step Up to the Plate, Maria Singh by Uma Krishnaswami
"Nine-year-old Maria Singh longs to play softball in the first-ever girls' team forming in Yuba City, California. It's the spring of 1945, and World War II is dragging on. Miss Newman, Maria's teacher, is inspired by Babe Ruth and the All-American Girls' League to start a girls' softball team at their school. Meanwhile, Maria's parents–Papi from India and Mama from Mexico–can no longer protect their children from prejudice and from the discriminatory laws of the land. When the family is on the brink of losing their farm, Maria must decide if she has what it takes to step up and find her voice in an unfair world. In this fascinating middle grade novel, award-winning author Uma Krishnaswami sheds light on a little-known chapter of American history set in a community whose families made multicultural choices before the word had been invented."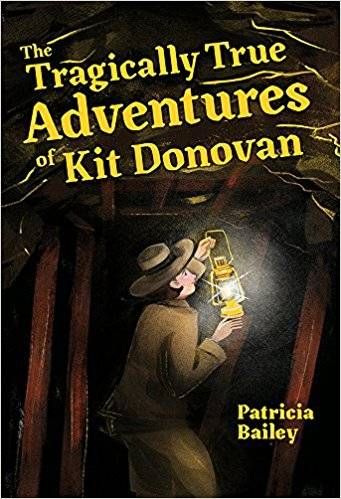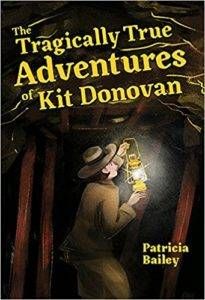 54. The Tragically True Adventures of Kit Donovan by Patricia Bailey
"Life in a 1905 Nevada mining town is not easy for any thirteen-year-old. For Kit Donovan, it seems downright impossible. When her mother dies of a fever, Kit is certain she is to blame. Guilt-ridden, she is determined to honor her promises to her mother—namely to be a "proper lady." Only being a lady is tougher than it looks. When Kit discovers that Papa's boss at the gold mine (the menacing and self-serving Mr. Granger) is profiting from unsafe working conditions in the mine, she convinces her dad to speak out. But sometimes doing the right thing leads to trouble. Now Kit must find a way to expose Granger's misdeeds before it's too late. Aided by an eccentric woman, a Shoshone boy, and a drunken newspaperman, Kit puts her big mouth and all the life skills she's learned from reading The Adventures of Huckleberry Finn to work. With a man's hat and a printing press, Kit defies threats of violence and discovers that justice doesn't always look like she imagined it would."
Fantasy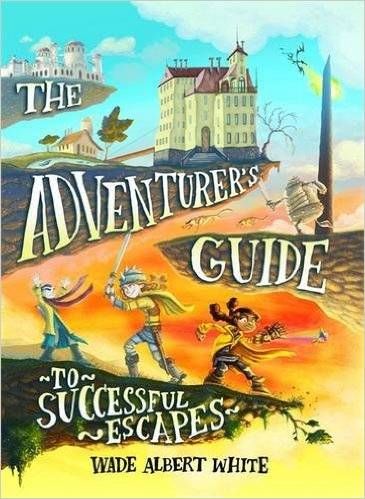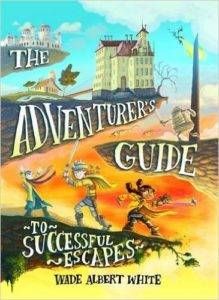 55. The Adventurer's Guide to Successful Escapes by Wade Albert White *
"Anne has spent most of her thirteen years dreaming of the day she and her best friend Penelope will finally leave Saint Lupin's Institute for Perpetually Wicked and Hideously Unattractive Children. When the big day arrives, a series of very curious happenings lead to Anne being charged with an epic quest. Anne, Penelope, and new questing partner Hiro have only days to travel to strange new locales, solve myriad riddles, and triumph over monstrous foes–or face the horrible consequences."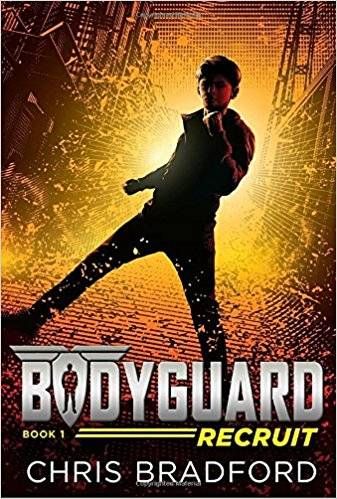 56. Bodyguard by Chris Bradford (series) *
"Teenage kickboxing champion Connor Reeves is determined to do his father, a former special forces soldier, proud. Recruited into the ranks of a top-secret young bodyguard squad known as Guardian, Connor trains in surveillance, anti-ambush exercises, hostage survival and unarmed combat. Whatever it takes to prepare him for the dangerous missions ahead. But nothing can prepare Connor for his first assignment when the US president summons him to protect the First Daughter. For not even the Secret Service knows that a terrorist sleeper cell has been activated in America. Its mission: to take the president's daughter hostage."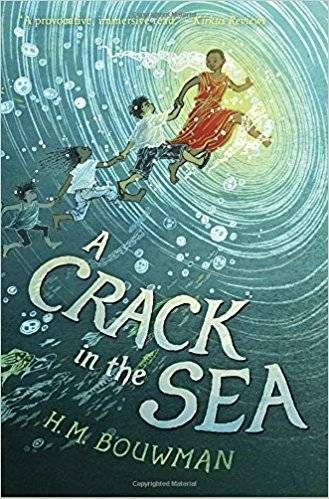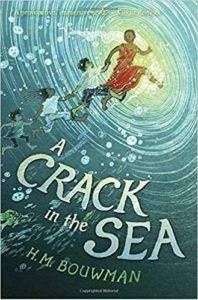 57. A Crack in the Sea by H.M. Bouwman
"No one comes to the Second World on purpose. The doorway between worlds opens only when least expected. The Raft King is desperate to change that by finding the doorway that will finally take him and the people of Raftworld back home. To do it, he needs Pip, a young boy with an incredible gift—he can speak to fish; and the Raft King is not above kidnapping to get what he wants. Pip's sister Kinchen, though, is determined to rescue her brother and foil the Raft King's plans."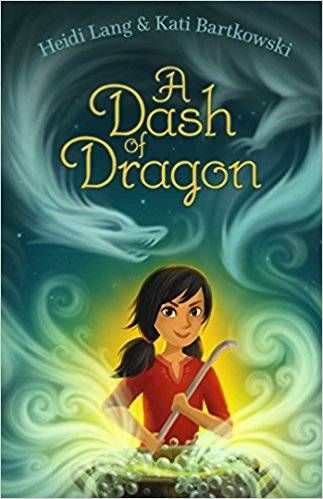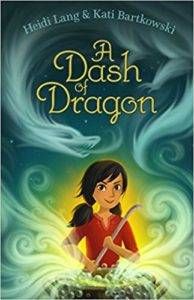 58. A Dash of Dragon by Heidi Lang and Kati Bartkowski (7/11/17)
"For years Lailu has trained to be the best chef in the city. Her specialty? Monster cuisine. When her mentor agrees to open a new restaurant with Lailu as the head chef, she's never been more excited. But her celebration is cut short when she discovers that her mentor borrowed money from Mr. Boss, a vicious loan shark. If they can't pay him back, Lailu will not only lose her restaurant—she'll have to cook for Mr. Boss for the rest of her life. As Lailu scrambles to raise the money in time, she becomes trapped in a deadly conflict between the king's cold-blooded assassin, the terrifying elf mafia, and Mr. Boss' ruthless crew. Worst of all, her only hope in outsmarting Mr. Boss lies with the one person she hates—Greg, the most obnoxious boy in school and her rival in the restaurant business. But like Lailu always says, if you can't stand the heat, stay out of the kitchen. And she's determined to succeed, no matter the cost!"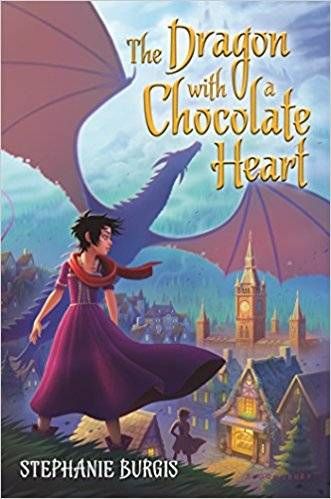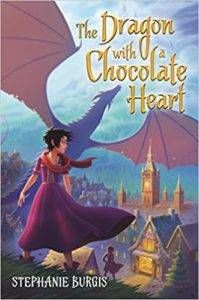 59. The Dragon with a Chocolate Heart by Stephanie Burgis
"Aventurine is a brave young dragon ready to explore the world outside of her family's mountain cave . . . if only they'd let her leave it. Her family thinks she's too young to fly on her own, but she's determined to prove them wrong by capturing the most dangerous prey of all: a human. But when that human tricks her into drinking enchanted hot chocolate, she's transformed into a puny human without any sharp teeth, fire breath, or claws. Still, she's the fiercest creature in these mountains–and now she's found her true passion: chocolate. All she has to do is get to the human city to find herself an apprenticeship (whatever that is) in a chocolate house (which sounds delicious), and she'll be conquering new territory in no time . . . won't she?"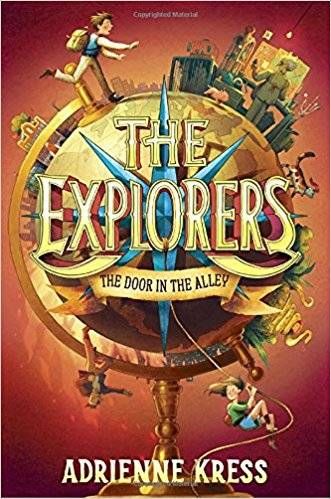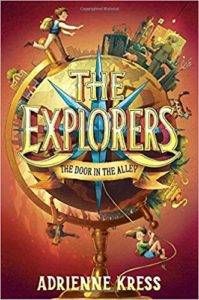 60. The Explorers: The Door in the Alley by Adrienne Kress *
"This is one of those stories that start with a pig in a teeny hat. It's not the one you're thinking about. (This story is way better than that one.) This pig-in-a-teeny-hat story starts when a very uninquisitive boy stumbles upon a very mysterious society. After that, there is danger and adventure; there are missing persons, hired thugs, a hidden box, a lost map, and famous explorers; and there is a girl looking for help that only uninquisitive boys can offer."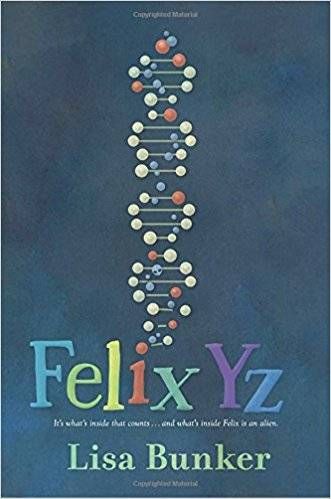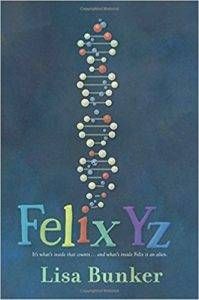 61. Felix Yz by Lisa Bunker (6/6/17)
"When Felix Yz was three years old, a hyperintelligent fourth-dimensional being became fused inside him after one of his father's science experiments went terribly wrong. The creature is friendly, but Felix—now thirteen—won't be able to grow to adulthood while they're still melded together. So a risky Procedure is planned to separate them . . . but it may end up killing them both instead. This book is Felix's secret blog, a chronicle of the days leading up to the Procedure. Some days it's business as usual—time with his close-knit family, run-ins with a bully at school, anxiety about his crush. But life becomes more out of the ordinary with the arrival of an Estonian chess Grandmaster, the revelation of family secrets, and a train-hopping journey. When it all might be over in a few days, what matters most?"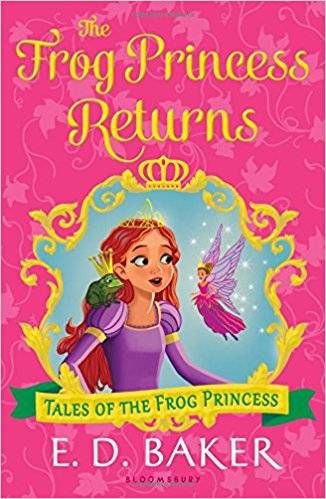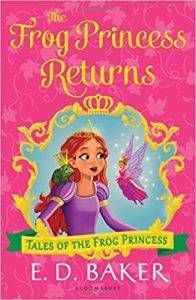 62. The Frog Princess Returns by Ed Baker (6/7/2017)
"Two weeks after Emma's birthday, Prince Eadric — having been turned from a frog into a human again — is still in Greater Greensward. One day, a beautiful princess named Adara arrives at the castle in Greater Greensward for a visit, claiming to be Emma's distant cousin. But Adara has other motives that threaten Emma and Eadric's blossoming romance. Meanwhile, something is very wrong in Greater Greensward. Crops are dying, streams are drying up, and large sections of trees in the enchanted forest are withering — all because the Fairy Queen has disappeared. Without her, there is no peace in the magical kingdom, and dangerous foes threaten to take advantage of her absence. Only brave, tenacious Emma with her knowledge of the land can restore order . . . but first she must set out on a journey unlike any before."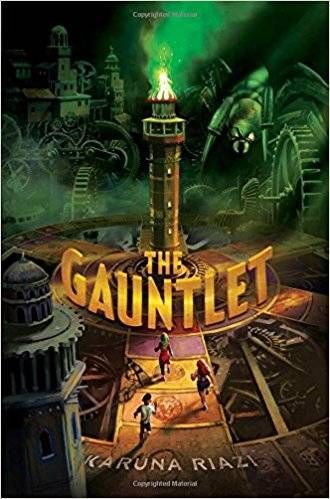 63. The Gauntlet by Karuna Riazi *
"When twelve-year-old Farah and her two best friends get sucked into a mechanical board game called The Gauntlet of Blood and Sand—a puzzle game akin to a large Rubik's cube—they know it's up to them to defeat the game's diabolical architect in order to save themselves and those who are trapped inside, including her baby brother Ahmed. But first they have to figure out how. Under the tutelage of a lizard guide named Henrietta Peel and an aeronaut Vijay, the Farah and her friends battle camel spiders, red scorpions, grease monkeys, and sand cats as they prepare to face off with the maniacal Lord Amari, the man behind the machine. Can they defeat Amari at his own game…or will they, like the children who came before them, become cogs in the machine?"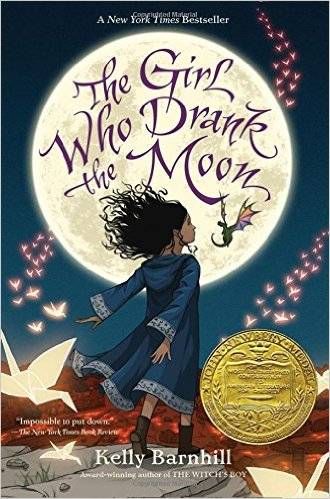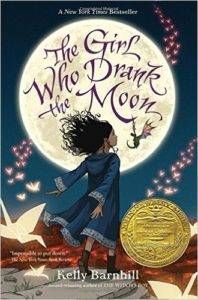 64. The Girl Who Drank the Moon by Kelly Barnhill *
"Every year, the people of the Protectorate leave a baby as an offering to the witch who lives in the forest. They hope this sacrifice will keep her from terrorizing their town. But the witch in the Forest, Xan, is kind. She shares her home with a wise Swamp Monster and a Perfectly Tiny Dragon. Xan rescues the children and delivers them to welcoming families on the other side of the forest, nourishing the babies with starlight on the journey. One year, Xan accidentally feeds a baby moonlight instead of starlight, filling the ordinary child with extraordinary magic. Xan decides she must raise this girl, whom she calls Luna, as her own. As Luna's thirteenth birthday approaches, her magic begins to emerge–with dangerous consequences. Meanwhile, a young man from the Protectorate is determined to free his people by killing the witch. Deadly birds with uncertain intentions flock nearby. A volcano, quiet for centuries, rumbles just beneath the earth's surface. And the woman with the Tiger's heart is on the prowl."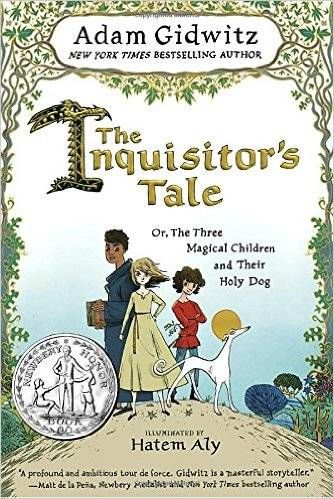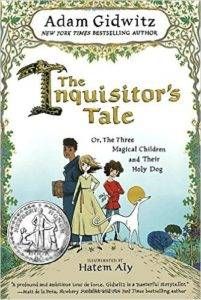 65. The Inquisitor's Tale: Or, The Three Magical Children and Their Holy Dog by Adam Gidwitz, illustrated by Hatem Aly *
"1242. On a dark night, travelers from across France cross paths at an inn and begin to tell stories of three children. Their adventures take them on a chase through France: they are taken captive by knights, sit alongside a king, and save the land from a farting dragon. On the run to escape prejudice and persecution and save precious and holy texts from being burned, their quest drives them forward to a final showdown at Mont Saint-Michel, where all will come to question if these children can perform the miracles of saints. Join William, an oblate on a mission from his monastery; Jacob, a Jewish boy who has fled his burning village; and Jeanne, a peasant girl who hides her prophetic visions. They are accompanied by Jeanne's loyal greyhound, Gwenforte . . . recently brought back from the dead. Told in multiple voices, in a style reminiscent of The Canterbury Tales, our narrator collects their stories and the saga of these three unlikely allies begins to come together."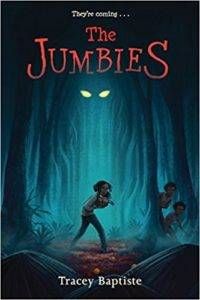 66. The Jumbies by Tracey Baptiste *
"Corinne La Mer claims she isn't afraid of anything. Not scorpions, not the boys who tease her, and certainly not jumbies. They're just tricksters made up by parents to frighten their children. Then one night Corinne chases an agouti all the way into the forbidden forest, and shining yellow eyes follow her to the edge of the trees. They couldn't belong to a jumbie. Or could they? When Corinne spots a beautiful stranger at the market the very next day, she knows something extraordinary is about to happen. When this same beauty, called Severine, turns up at Corinne's house, danger is in the air. Severine plans to claim the entire island for the jumbies. Corinne must call on her courage and her friends and learn to use ancient magic she didn't know she possessed to stop Severine and to save her island home."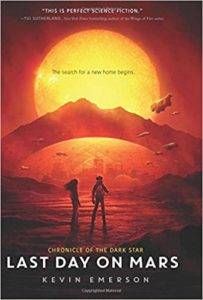 67. Last Day on Mars by Kevin Emerson *
"It is Earth year 2213—but, of course, there is no Earth anymore. Not since it was burned to a cinder by the sun, which has mysteriously begun the process of going supernova. The human race has fled to Mars, but this was only a temporary solution while we have prepared for a second trip: a one-hundred-fifty-year journey to a distant star, our best guess at where we might find a new home. Liam Saunders-Chang is one of the last humans left on Mars. The son of two scientists who have been racing against time to create technology vital to humanity's survival, Liam, along with his friend Phoebe, will be on the last starliner to depart before Mars, like Earth before it, is destroyed. Or so he thinks. Because before this day is over, Liam and Phoebe will make a series of profound discoveries about the nature of time and space and find out that the human race is just one of many in our universe locked in a dangerous struggle for survival."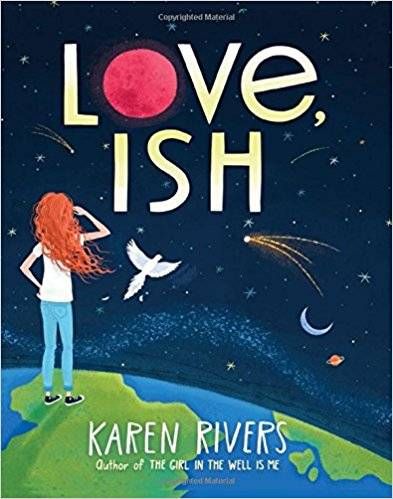 68. Love, Ish by Karen Rivers
"In Karen Rivers's riveting new novel, Ish's dreams for a future on Mars go heartbreakingly awry when an unexpected diagnosis threatens to rewrite her whole future."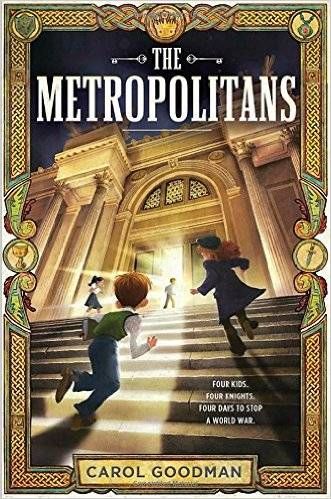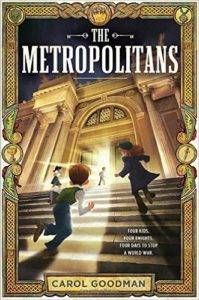 69. The Metropolitans by Carol Goodman
"The day Japan bombs Pearl Harbor, four thirteen-year-olds converge at the Metropolitan Museum of Art where an eccentric curator is seeking four uncommonly brave souls to track down the hidden pages of the Kelmsbury Manuscript, an ancient book of Arthurian legends that lies scattered within the museum's collection, and that holds the key to preventing a second attack on American soil. When Madge, Joe, Kiku, and Walt agree to help, they have no idea that the Kelmsbury is already working its magic on them. But they begin to develop extraordinary powers and experience the feelings of King Arthur, Queen Guinevere, Morgan le Fay, and Lancelot: courage, friendship, love…and betrayal. Are they playing out a legend that's already been lived, over and over, across the ages? Or can the Metropolitans forge their own story?"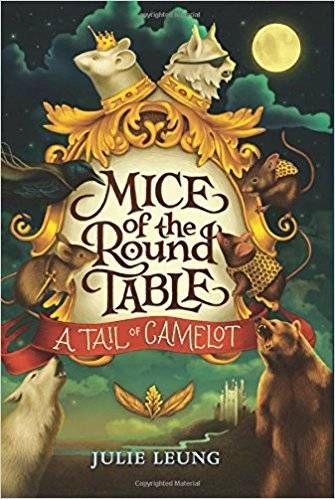 70. Mice of the Round Table by Julie Leung *
"Young mouse Calib Christopher dreams of becoming a Knight of the Round Table. For generations, his family has led the mice who live just out of sight of the humans, defending Camelot from enemies both big and small. But when Calib and his friend Cecily discover that a new threat is gathering—one that could catch even the Two-Leggers unaware—it is up to them to unmask the real enemy, unite their forces, and save the castle they all call home."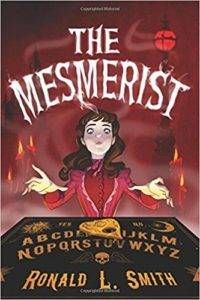 71. The Mesmerist by Ronald L. Smith
"Thirteen-year-old Jessamine Grace and her mother make a living as sham spiritualists—until they discover that Jess is a mesmerist and that she really can talk to the dead. Soon she is plunged into the dark world of Victorian London's supernatural underbelly and learns that the city is under attack by ghouls, monsters, and spirit summoners. Can Jess fight these powerful forces? And will the group of strange children with mysterious powers she befriends be able to help? As shy, proper Jess transforms into a brave warrior, she uncovers terrifying truths about the hidden battle between good and evil, about her family, and about herself. "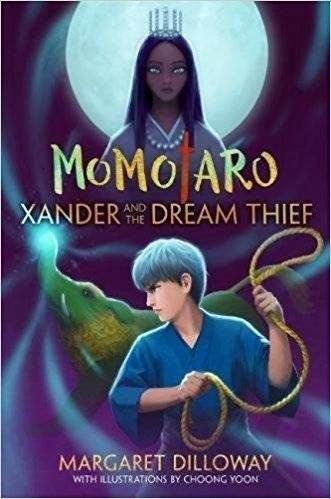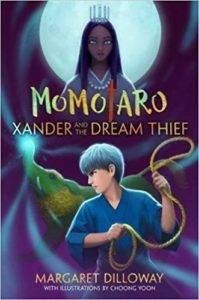 72. Momotaro Xander and the Dream Thief by Margaret Dilloway (second in a series) *
"Xander Miyamoto should be feeling great. It's the beginning of summer vacation, his mother has returned from a long absence, and he has learned that he is a warrior with special powers. Xander never would have guessed that the old Japanese folktale about Momotaro, the hero who sprang from a peach pit, was real, much less part of his own heritage. But instead of reveling in his recent victory against the oni, monsters bent on creating chaos, Xander is feeling resentful. What took his mother so long to come back? Why does his father insist on ruining the summer with study and training? And why is Xander plagued by nightmares every night? Maybe this whole Momotaro thing is overrated. Xander's grandmother gives him a special baku charm to use to chase his nightmares away. He just has to be careful not to rely on it too much. If he does, the baku will not only take his dreams, but those of everyone in the house, forever. Without dreams, there is no hope, no motivation, no imagination, no Momotaro. And then it would be far too easy for Ozuno, king of the oni, to wreak havoc. . . . On his second quest, Xander explores new surreal landscapes, encounters more strange and dangerous creatures, and faces even higher stakes as he learns whether or not he has what it takes to be Momotaro."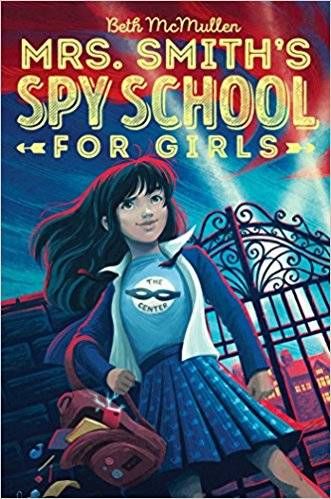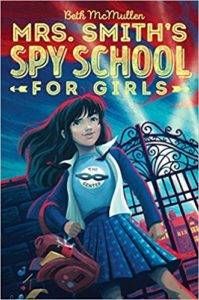 73. Mrs. Smith's Spy School for Girls by Beth McMullen (7/4/17) *
"After a botched escape plan from her boarding school, Abigail is stunned to discover the school is actually a cover for an elite spy ring called The Center, along with being training grounds for future spies. Even more shocking? Abigail's mother is a top agent for The Center and she has gone MIA, with valuable information that many people would like to have—at any cost. Along with a former nemesis and charming boy from her grade, Abigail goes through a crash course in Spy Training 101, often with hilarious—and sometimes painful—results. But Abigail realizes she might be a better spy-in-training than she thought—and the answers to her mother's whereabouts are a lot closer than she thinks…"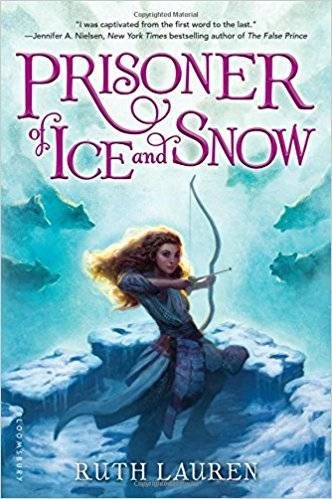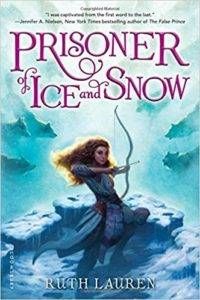 74. Prisoner of Ice and Snow by Ruth Lauren *
"When thirteen-year-old Valor is sent to jail, she couldn't be happier. Demidova's prison for criminal children is exactly where she wants to be. Valor's twin sister, Sasha, is serving a life sentence for stealing from the royal family, and Valor is going to help her escape . . . from the inside. Never mind that no one has escaped the prison in centuries. Valor has a master plan and resources most people could only dream about. But she didn't count on having to outsmart both the guards and her fellow prisoners. If Valor's plan is to succeed, she'll need to make some unlikely allies. And if the plan fails, she and Sasha could end up with fates worse than prison."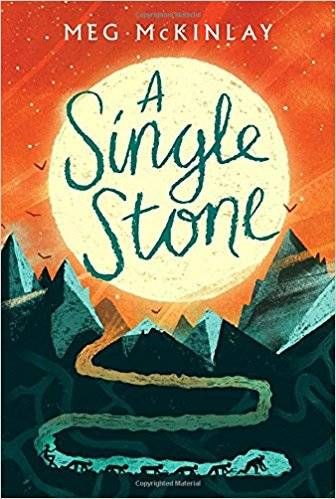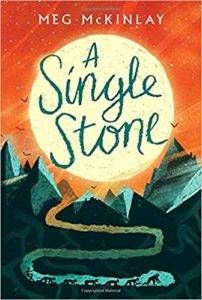 75. A Single Stone by Meg McKinlay
"Jena — strong, respected, reliable — is the leader of the line, a job every girl in the village dreams of. Watched over by the Mothers as one of the chosen seven, Jena's years spent denying herself food and wrapping her limbs have paid off. She is small enough to squeeze through the tunnels of the mountain and gather the harvest, risking her life with each mission. No work is more important. This has always been the way of things, even if it isn't easy. But as her suspicions mount and Jena begins to question the life she's always known, the cracks in her world become impossible to ignore."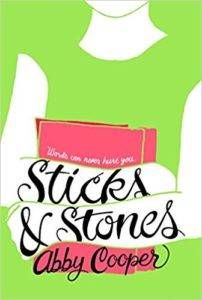 76. Sticks and Stones by Abby Cooper
"Ever since she was a baby, the words people use to describe Elyse have instantly appeared on her arms and legs. At first it was just "cute" and "adorable," but as she's gotten older and kids have gotten meaner, words like "loser" and "pathetic" appear, and those words bubble up and itch. And then there are words like "interesting," which she's not really sure how to feel about. Now, at age twelve, she's starting middle school, and just when her friends who used to accept and protect her are drifting away, she receives an anonymous note saying "I know who you are, and I know what you're dealing with. I want to help." As Elyse works to solve the mystery of who is sending her these notes, she also finds new ways to accept who she is and to become her best self."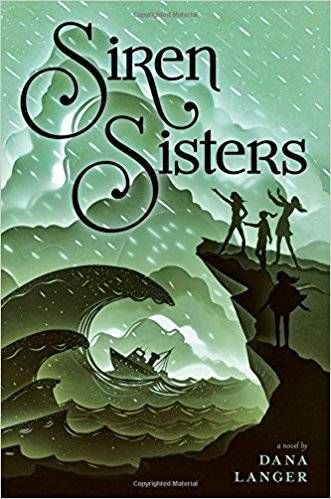 77. Siren Sisters by Dana Langer *
"Lolly Salt has three beautiful sisters. When they're not in school or running their small town's diner, they're secretly luring ships to their doom from the cliffs of Starbridge Cove, Maine. With alluring voices that twelve-year-old Lolly has yet to grow into, the Salt sisters do the work mandated by the Sea Witch, a glamorously frightening figure determined to keep the girls under her control. With their mother dead after a mysterious car accident, and their father drowning in grief, the sisters carry on with their lives and duties until a local sea captain gets suspicious about the shipwrecks."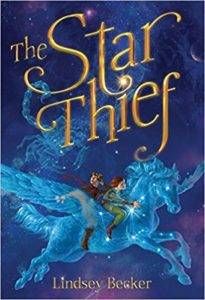 78. The Star Thief by Lindsay Becker *
"Honorine's life as a maid at the Vidalia mansion is rather dull, dusting treasures from faraway places and daydreaming in front of maps of the world. But everything changes when she catches two brutish sailors ransacking Lord Vidalia's study, and then follows a mysterious girl with wings out into the night… Suddenly, Honorine is whisked into the middle of a battle between the crew of a spectacular steamship and a band of mythical constellations. The stars in the sky have come to life to defend themselves against those who want to harness their powers. Much to her surprise, Honorine is the crux of it all, the center of an epic clash between magic and science, the old ways and the new. But can this spirited young girl bring both sides of a larger-than-life fight together before they unleash an evil power even older than the stars?"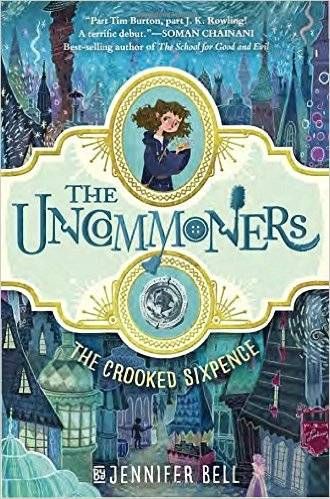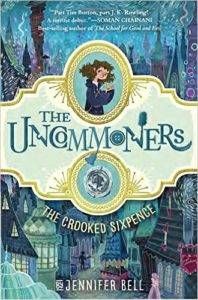 79. The Uncommoners: The Crooked Sixpence by Jennifer Bell
"When their grandmother Sylvie is rushed to the hospital, Ivy Sparrow and her annoying big brother Seb cannot imagine what adventure lies in store. Soon their house is ransacked by unknown intruders, and a very strange policeman turns up on the scene, determined to apprehend them . . . with a toilet brush. Ivy and Seb make their escape only to find themselves in a completely uncommon world, a secret underground city called Lundinor where ordinary objects have amazing powers. There are belts that enable the wearer to fly, yo-yos that turn into weapons, buttons with healing properties, and other enchanted objects capable of very unusual feats. But the forces of evil are closing in fast, and when Ivy and Seb learn that their family is connected to one of the greatest uncommon treasures of all time, they must race to unearth the treasure and get to the bottom of a family secret . . . before it's too late."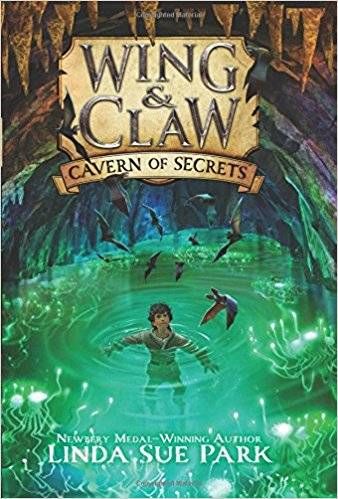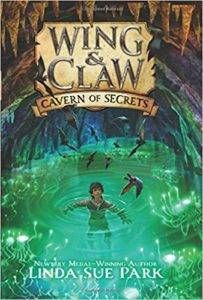 80. Wing and Claw #2: Cavern of Secrets by Linda Sue Park (series) *
"Raffa Santana has spent all winter hiding in the harsh wilderness of the Sudden Mountains, and now it's time to return home. Home, where his parents will help him fight back against the vile Chancellor who has captured and altered the wild creatures of the Forest of Wonders. Home, where Raffa's beloved companion, Echo the bat, will recover from his mysterious sickness. To get there, Raffa must make a treacherous journey across Obsidia. Along the way, he will discover a luminous plant that might be the key to saving the creatures stuck in the Chancellor's grasp… if only Raffa can unlock the plant's secrets and deliver the cure to the captive animals."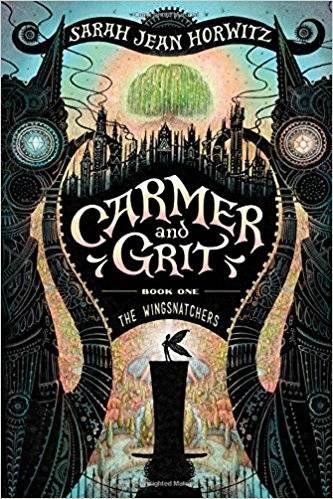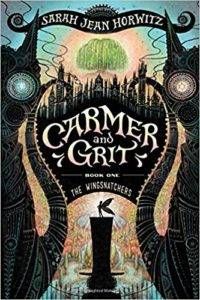 81. The Wingsnatchers: Carmer and Grit by Sarah Jean Horwitz
"Aspiring inventor and magician's apprentice Felix Carmer III would rather be tinkering with his latest experiments than sawing girls in half on stage, but with Antoine the Amazifier's show a tomato's throw away from going under, Carmer is determined to win the cash prize in the biggest magic competition in Skemantis. When fate throws Carmer across the path of fiery, flightless faerie princess Grit (do not call her Grettifrida), they strike a deal. If Carmer will help Grit investigate a string of faerie disappearances, she'll use her very real magic to give his mechanical illusions a much-needed boost against the competition. But Carmer and Grit soon discover they're not the only duo trying to pair magic with machine – and the combination can be deadly."
Non-Fiction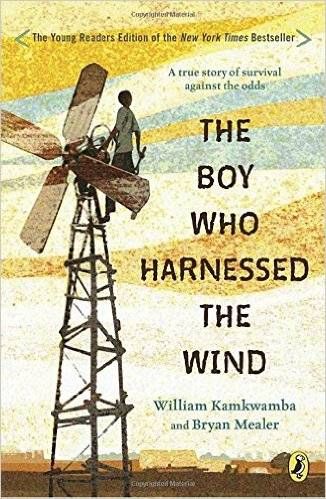 82. The Boy Who Harnessed the Wind Young Reader's Edition by William Kamkwamba
"When a terrible drought struck William Kamkwamba's tiny village in Malawi, his family lost all of the season's crops, leaving them with nothing to eat and nothing to sell. William began to explore science books in his village library, looking for a solution. There, he came up with the idea that would change his family's life forever: he could build a windmill. Made out of scrap metal and old bicycle parts, William's windmill brought electricity to his home and helped his family pump the water they needed to farm the land."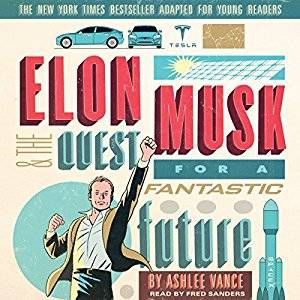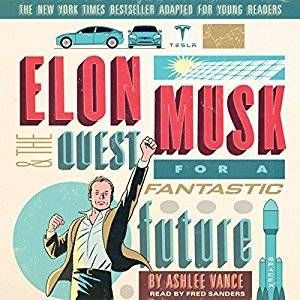 83. Elon Musk and the Quest for a Fantastic Future Young Reader's Edition by Ashlee Vance
"There are few people in history who could match Elon Musk's relentless drive and vision. A modern combination of famous inventors and industrialists like Thomas Edison, Henry Ford, and Steve Jobs, Elon is the man behind companies such as SpaceX, Tesla Motors, SolarCity, and PayPal that are transforming the way we live. Written with exclusive access to Elon, his family, and his friends, this book traces Elon's journey from a kid in South Africa to a young man in the United States, his dramatic technical inventions, and his world-changing companies. Elon has sparked new levels of innovation in the world, and this book gives young readers a detailed but fast-paced look at his story."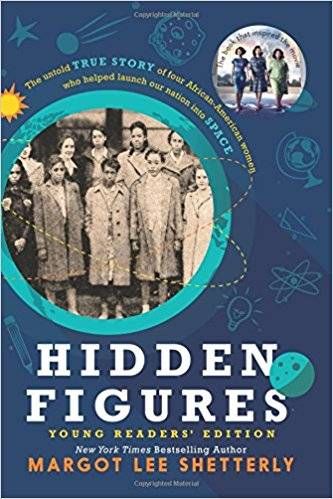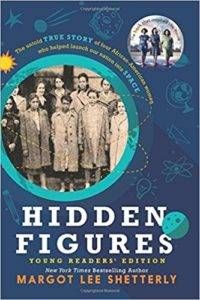 84. Hidden Figures Young Reader's Edition by Margot Lee Shetterly
"Before John Glenn orbited the earth, or Neil Armstrong walked on the moon, a group of dedicated female mathematicians known as "human computers" used pencils, slide rules, and adding machines to calculate the numbers that would launch rockets, and astronauts, into space. This book brings to life the stories of Dorothy Vaughan, Mary Jackson, Katherine Johnson, and Christine Darden, four African-American women who lived through the civil rights era, the Space Race, the Cold War, and the movement for gender equality, and whose work forever changed the face of NASA and the country."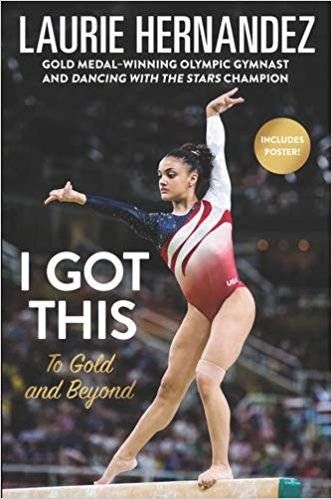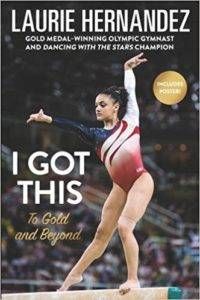 85. I Got This: To Gold and Beyond by Laurie Hernandez
"At sixteen years old, Laurie Hernandez has already made many of her dreams come true—and yet it's only the beginning for this highly accomplished athlete. A Latina Jersey girl, Laurie saw her life take a dramatic turn last summer when she was chosen to be a part of the 2016 US Olympic gymnastics team. After winning gold in Rio as part of the Final Five, Laurie also earned an individual silver medal for her performance on the balance beam. Nicknamed "the Human Emoji" for her wide-eyed and animated expressions, Laurie continued to dance her way into everyone's hearts while competing on the hit reality TV show Dancing with the Stars, where she was the youngest-ever winner of the Mirrorball Trophy. Poignant and funny, Laurie's story is about growing up with the dream of becoming an Olympian and what it took to win gold. She talks about her loving family, her rigorous training, her intense sacrifices, and her amazing triumphs. Be prepared to fall in love with and be mesmerized by America's newest sweetheart all over again."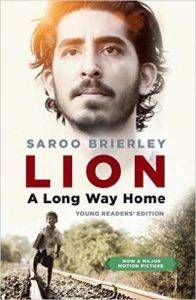 86. Lion: A Long Way Home by Saroo Bradley *
"When Saroo Brierley used Google Earth to find his long-lost home town half a world away, he made global headlines. Saroo had become lost on a train in India at the age of five. Not knowing the name of his family or where he was from, he survived for weeks on the streets of Kolkata before being taken into an orphanage and adopted by a couple in Australia. Despite being happy in his new family, Saroo always wondered about his origins. When he was a young man the advent of Google Earth led him to pore over satellite images of India for landmarks he recognized. And one day, after years of searching, he miraculously found what he was looking for and set off on a journey to find his mother."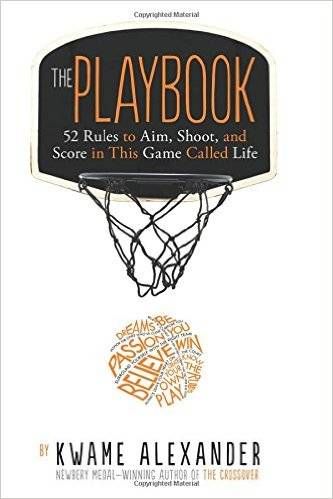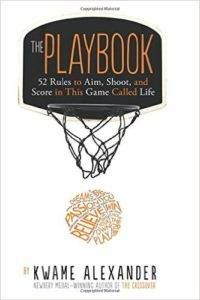 87. The Playbook: 52 Rules to Aim, Shoot, and Score in This Game Called Life by Kwame Alexander *
You gotta know the rules to play the game. Ball is life. Take it to the hoop. Soar. What can we imagine for our lives? What if we were the star players, moving and grooving through the game of life? What if we had our own rules of the game to help us get what we want, what we aspire to, what will enrich our lives?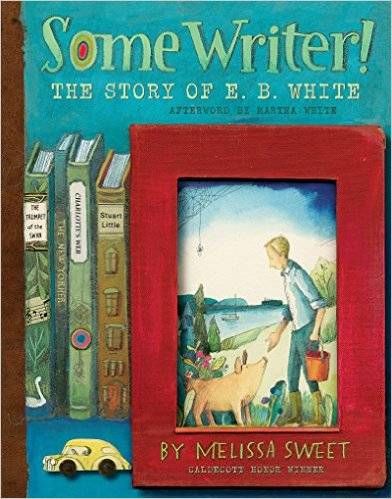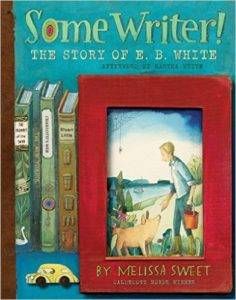 88. Some Writer! The Story of E.B. White by Melissa Sweet
"Caldecott Honor winner Sweet mixes White's personal letters, photos, and family ephemera with her own exquisite artwork to tell the story of this American literary icon. Readers young and old will be fascinated and inspired by the journalist, New Yorker contributor, and children's book author who loved words his whole life. This authorized tribute, a New York Times bestseller, includes an afterword by Martha White, his granddaughter."
Graphic Novels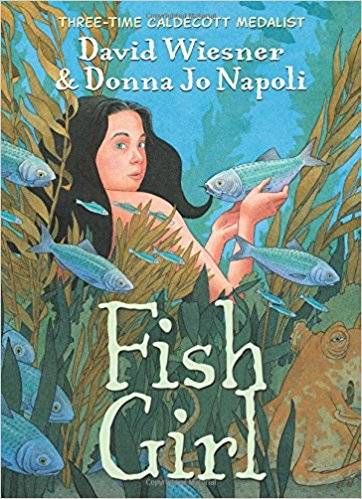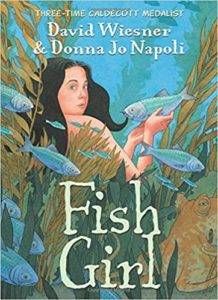 89. Fish Girl by David Weisner and Donna Jo Napoli *
"A young mermaid, called Fish Girl, in a boardwalk aquarium has a chance encounter with an ordinary girl. Their growing friendship inspires Fish Girl's longing for freedom, independence, and a life beyond the aquarium tank. Sparkling with humor and brilliantly visualized, Fish Girl's story will resonate with every young person facing the challenges and rewards of growing up."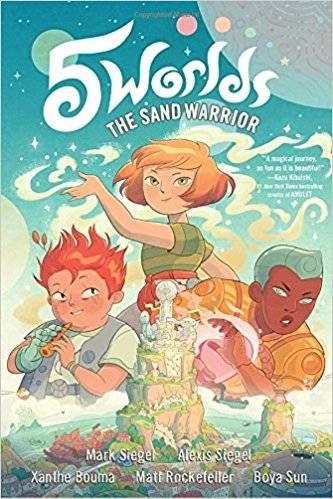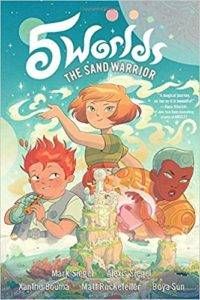 90. Five Worlds: The Sand Warrior *
"The Five Worlds are on the brink of extinction unless five ancient and mysterious beacons are lit. When war erupts, three unlikely heroes will discover there's more to themselves—and more to their worlds—than meets the eye…"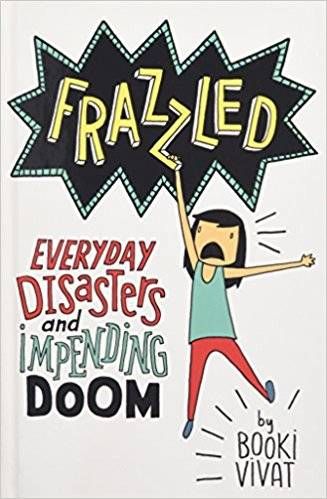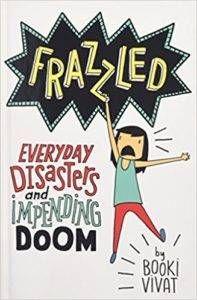 91. Frazzled: Everyday Disasters and Impending Doom by Booki Vivat *
"Meet Abbie Wu. Abbie is in crisis—and not just because she's starting middle school or because she's stuck in a family that doesn't quite get her or because everyone seems to have a Thing except her. Abbie Wu is always in crisis."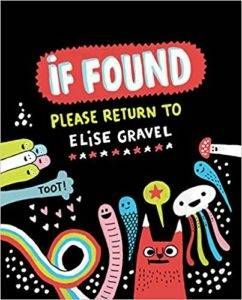 92. If Found Please Return to Elise Gravel by Elisa Gravel (6/6/17) *
"Elise Gravel offers readers a sneak peek into her sketchbook, where colorful monsters, imaginary friends, a grumpy things reign supreme. Meet Donald, who sings off-key; Francine, who likes to eat stones; and Marvin, the man with lots of stuff in his beard. Mixing the real with the fantastical, Elise's drawings exude curiosity, as microbes and mushrooms share the page with speckled pepper pops, gloppers, and floofs. Filled to the brim with vibrant felt marker illustrations, If Found… is not just an exhibition of Gravel's work, but a challenge to young artists to keep a daily sketchbook. She reveals her top tips to becoming a successful illustrator―practice! practice! practice!―while empowering young artists to face their fears of making "ugly drawings." Stop worrying about what makes a drawing good or bad―Elise draws anything and everything and you can too!"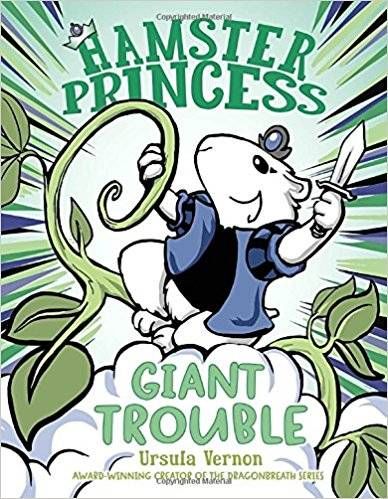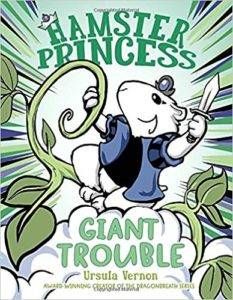 93. Hamster Princess: Giant Trouble by Ursula Vernon *
"Princess Harriet Hamsterbone doesn't go looking for trouble. She prefers to think of it as looking for adventure. But when she climbs to the top of an enormous beanstalk and sneaks into the castle at the top, Harriet finds plenty of both. The castle is home to one very poetically challenged giant rabbit with two unusual prisoners—a girl who is half harp, half hamster, and an extremely large goose. This calls for a heroic rescue, and Harriet is just the hamster for the job."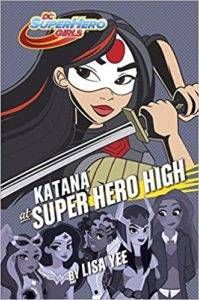 94. Katana at Super Hero High by Lisa Yee (7/4/17) *
"Sword-wielding Katana isn't like most high school students—but with classmates like Wonder Woman, Batgirl, and Supergirl, Super Hero High isn't like most high schools! In addition to training to be a super hero, Katana also follows the noble warrior traditions of the Samurai. Now a mysterious presence has given her the responsibility of guarding a hundred ancient Samurai swords—but why her, and for what purpose? With the help of Wonder Woman, Supergirl, Ms. Martian, and some of her other super friends, she intends to find out. But she just made captain of the fencing team, she has a huge school project due, and a villain with ties to her family's past seems to be amassing an army. Maintaining her inner peace isn't going to be easy… but Katana has the steel to save the day!"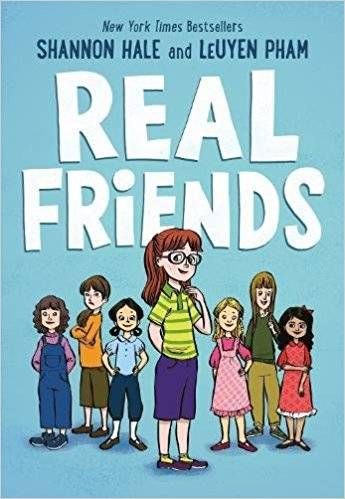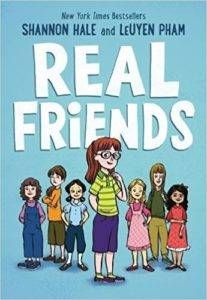 95. Real Friends by Shannon Hale, illustrated by LeUyem Pham *
"Shannon and Adrienne have been best friends ever since they were little. But one day, Adrienne starts hanging out with Jen, the most popular girl in class and the leader of a circle of friends called The Group. Everyone in The Group wants to be Jen's #1, and some girls would do anything to stay on top . . . even if it means bullying others. Now every day is like a roller coaster for Shannon. Will she and Adrienne stay friends? Can she stand up for herself? And is she in The Group―or out?"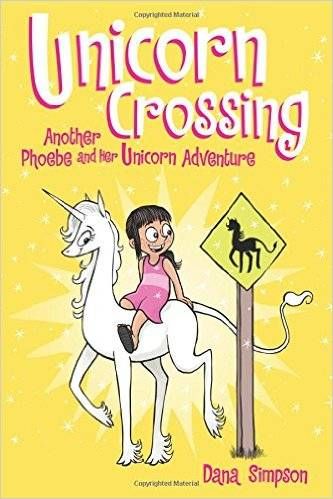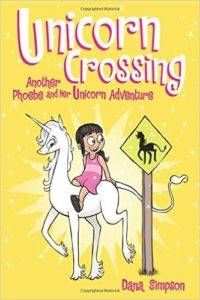 96. Unicorn Crossing: Another Phoebe and Her Unicorn Adventure (series) by Dana Simpson *
"Time flies in this fifth volume of Dana Simpson's Phoebe and Her Unicorn! Follow the lovable duo as they experience somewhat-spooky Halloween parties, ecstatic snow days, and looming summer reading assignments. Although the journey of growing up can sometimes be difficult, along the way Phoebe and Marigold discover something more enduring than goblin fads, unicorn spa vacations, and even a Spell of Forgetting—their one of a kind friendship."
Poetry and Books in Verse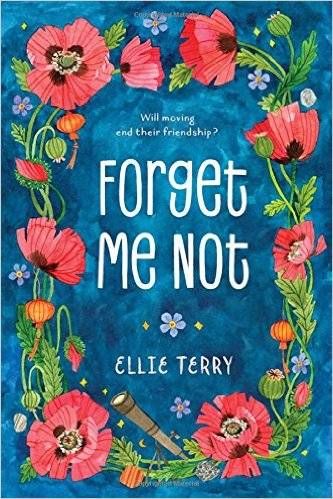 97. Forget-Me-Not by Ellie Terry
"Astronomy-loving Calliope June has Tourette syndrome, so she sometimes makes faces or noises that she doesn't mean to make. When she and her mother move yet again, she tries to hide her TS. But it isn't long before the kids at her new school realize she's different. Only Calliope's neighbor, who is also the popular student body president, sees her as she truly is–an interesting person and a good friend. But is he brave enough to take their friendship public? As Calliope navigates school, she must also face her mother's new relationship and the fact that they might be moving–again–just as she starts to make friends and finally accept her differences."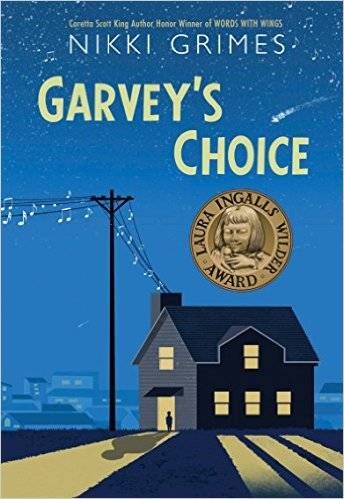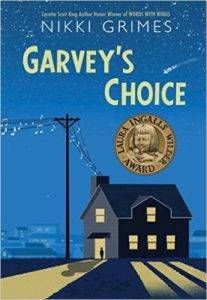 98. Garvey's Choice by Nikki Grimes
"Garvey's father has always wanted Garvey to be athletic, but Garvey is interested in astronomy, science fiction, reading—anything but sports. Feeling like a failure, he comforts himself with food. Garvey is kind, funny, smart, a loyal friend, and he is also overweight, teased by bullies, and lonely. When his only friend encourages him to join the school chorus, Garvey's life changes. The chorus finds a new soloist in Garvey, and through chorus, Garvey finds a way to accept himself, and a way to finally reach his distant father—by speaking the language of music instead of the language of sports."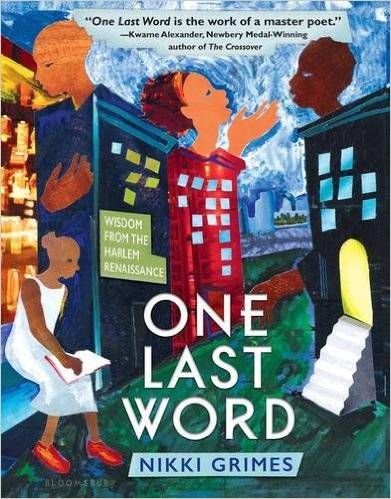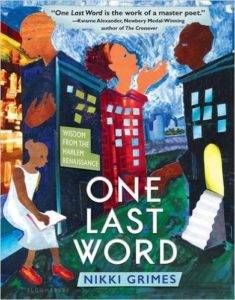 99. One Last Word: Wisdom from the Harlem Renaissance by Nikki Grimes
"In this collection of poetry, Nikki Grimes looks afresh at the poets of the Harlem Renaissance — including voices like Langston Hughes, Georgia Douglas Johnson, and many more writers of importance and resonance from this era — by combining their work with her own original poetry. Using "The Golden Shovel" poetic method, Grimes has written a collection of poetry that is as gorgeous as it is thought-provoking. This special book also includes original artwork in full-color from some of today's most exciting African American illustrators, who have created pieces of art based on Nikki's original poems. Featuring art by: Cozbi Cabrera, R. Gregory Christie, Pat Cummings, Jan Spivey Gilchrist, Ebony Glenn, Nikki Grimes, E. B. Lewis, Frank Morrison, Christopher Myers, Brian Pinkney, Sean Qualls, James Ransome, Javaka Steptoe, Shadra Strickland, and Elizabeth Zunon."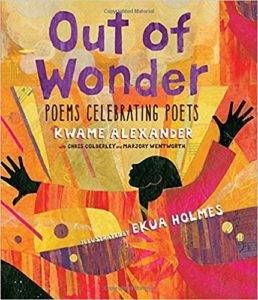 100. Out of Wonder by Kwame Alexander
"Out of gratitude for the poet's art form, Newbery Award–winning author and poet Kwame Alexander, along with Chris Colderley and Marjory Wentworth, present original poems that pay homage to twenty famed poets who have made the authors' hearts sing and their minds wonder. Stunning mixed-media images by Ekua Holmes, winner of a Caldecott Honor and a John Steptoe New Talent Illustrator Award, complete the celebration and invite the reader to listen, wonder, and perhaps even pick up a pen."
What are your favorite middle grade books? Find all of our middle grade recommendations here.