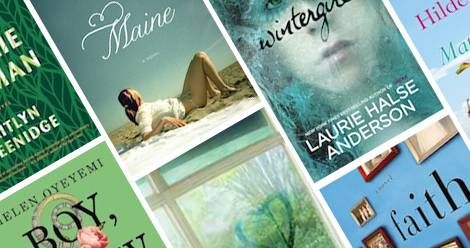 100 Must-Read Books Set in New England
This content contains affiliate links. When you buy through these links, we may earn an affiliate commission.
I was born and raised in New England, and I cannot get enough of books set in that little Northeastern neck of the country. Here are 100 books that are set in–or at least have major storylines that are set in–New England.
Fiction
Little Women by Louisa May Alcott
Mystic River by Dennis Lehane
The Scarlett Letter by Nathaniel Hawthorne
The Handmaid's Tale by Margaret Atwood
The Lowland by Jhumpa Lahiri
The Boston Girl by Anita Diamant
The Cider House Rules by John Irving
Olive Kitteridge by Elizabeth Strout
We Love You, Charlie Freeman by Kaitlyn Greenidge
Ethan Frome by Edith Wharton
Revolutionary Road by Richard Yates
Empire Falls by Richard Russo
Maine by J. Courtney Sullivan
Wintergirls by Laurie Halse Anderson
The Pilot's Wife by Anita Shreve
Labor Day by Joyce Maynard
On Beauty by Zadie Smith
Faith by Jennifer Haigh
Hush, Hush by Becca Fitzpatrick
Interpreter of Maladies by Jhumpa Lahiri
The Rules of Attraction by Bret Easton Ellis
Infinite Jest by David Foster Wallace
Boy, Snow, Bird by Helen Oyeyemi
Strong Motion by Jonathan Franzen
The Bell Jar by Sylvia Plath
Summer by Edith Wharton
House Rules by Jodi Picoult
This Is How You Lose Her by Junot Díaz
The Secret History by Donna Tartt
Edinburgh by Alexander Chee
It by Stephen King
Seating Arrangements by Maggie Shipstead
The House of Seven Gables by Nathaniel Hawthorne
The Europeans by Henry James
Mercy by Jodi Picoult
Island Girls by Nancy Thayer
Blowback by Bev Prescott
The Namesake by Jhumpa Lahiri
God's Kingdom by Howard Frank Mosher
A Little Life by Hanya Yanagihara
The Witch of Blackbird Pond by Elizabeth George Speare
The Wedding by Dorothy West
The Stepford Wives by Ira Levin
I Know This Much Is True by Wally Lamb
Delirium by Lauren Oliver
The Witches of Eastwick by John Updike
The Narrows by Ann Petry
Small Great Things by Jodi Picoult
The Bostonians by Henry James
Unaccustomed Earth by Jhumpa Lahiri
Still Alice by Lisa Genova
The Mortifications by Derek Palacio
The Ghost Writer by Philip Roth
X: A Novel by Ilyasah Shabazz
The Wapshot Chronicle by John Cheever
The Emperor of Ocean Park by Stephen L. Carter
The Giant's House by Elizabeth McCracken
Shelter by Jung Yun
The Hopeful by Tracy O'Neill
See Now Then by Jamaica Kincaid
The Rise of Silas Lapham by William Dean Howells
The Physick Book of Deliverance Dane by Katherine Howe
Crossing to Safety by Wallace Stegner
Midwives by Chris Bohjalian
Nantucket Nights by Elin Hilderbrand
Dirty Love by Andre Dubus III
The Pearl of Orr's Island by Harriet Beecher Stowe
The State We're In by Ann Beattie
A Prayer for Owen Meany by John Irving
The Weight of Water by Anita Shreve
The Last Policeman by Ben H. Winters
The Virgins by Pamela Erens
Boston Noir, Edited by Dennis Lahane
The Island by Elin Hilderbrand
The Good House by Ann Leary
The Edge of Winter by Luanne Rice
Fortune's Rocks by Anita Shreve
Karma and Other Stories by Rishi Reddi
The Good Lord Bird by James McBride
Tell Me Again How a Crush Should Feel by Sara Farizan
Fasting, Feasting by Anita Desai
The Painted Drum by Louise Erdrich
The Taste of Salt by Martha Southgate
The Hotel New Hampshire by John Irving
Northern Borders by Howard Frank Mosher
The World Below by Sue Miller
Shutter Island by Dennis Lehane
Blind Stitches by J.B. Chicoine
Nonfiction
All Souls by Michael Patrick MacDonald
Black Mass by Dick Lehr and Gerard O'Neill
Townie by Andre Dubus III
John Adams by David McCullough
The Witches by Stacy Schiff
Bunker Hill by Nathaniel Philbrick
Black Ice by Lorene Cary
Mayflower by Nathaniel Philbrick
The Perfect Storm by Sebastian Junger
The Maine Woods by Henry David Thoreau
The Gardner Heist by Ulrich Boser