Lists
100 Must-Read Books of U.S. Historical Fiction
This content contains affiliate links. When you buy through these links, we may earn an affiliate commission.
This list of 100 must-read books of U.S. historical fiction is sponsored by The Widow Nash by Jamie Harrison: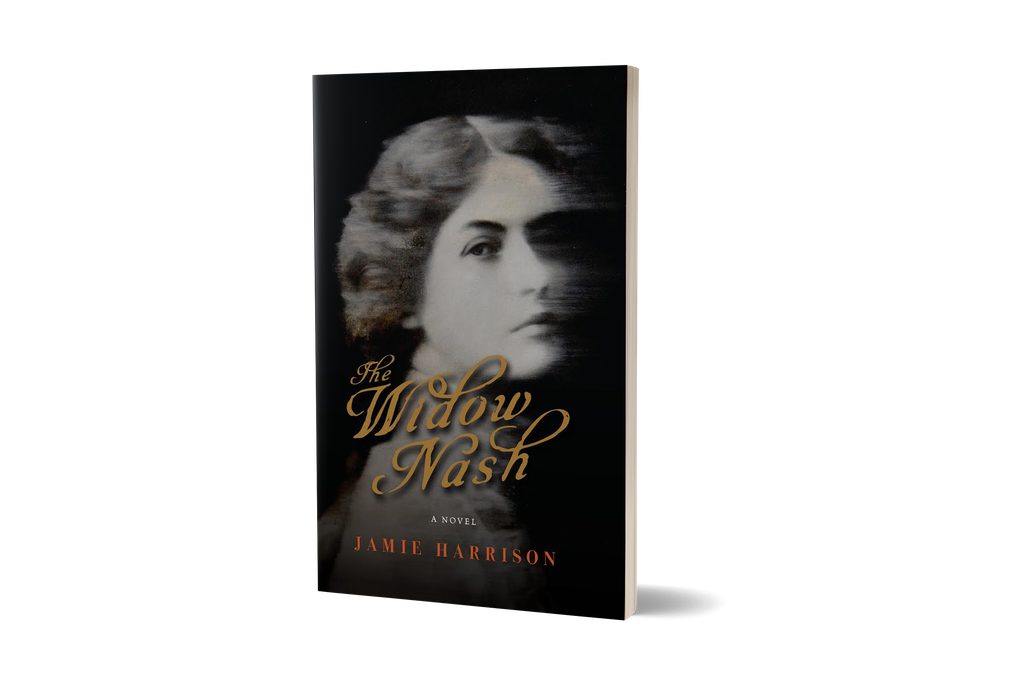 "Jamie Harrison's compelling debut is a gothic mystery plunked down in the western frontier. When Dulcy Remley's father "misplaces" the profits of a mine sale, she is held captive by her ex-fiancée and father's business partner until the missing fortune can be recovered. She escapes, crisscrosses the country by train and arrives in a small Montana town as the widowed Mrs. Nash. Dulcy tries to immerse herself in her new identity, but the hovering specter of being discovered haunts around every corner. Harrison uses her sparse writing effectively, creating a mood well in line with the novel's time and place." —Molly Gillespie (Joseph-Beth Booksellers)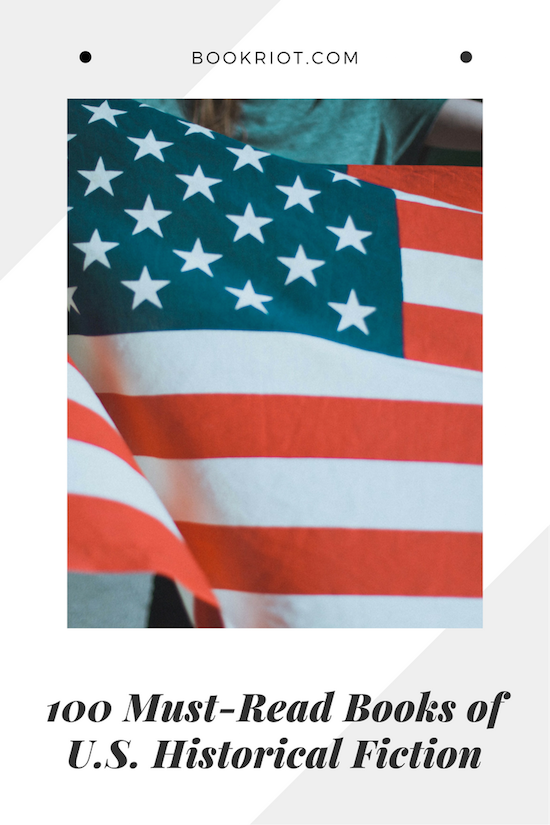 ---
This Independence Day holiday week is a great time to read about America's history. But 1,000-page tomes of dense history are not exactly conducive to beach or picnic reading. How about instead one (or a dozen) of these must read works of historical fiction set in the US? Spanning from pre-America through the 1960s, these books (mostly novels, but at least one play) cover the width swath of both American history and geography. You're bound to find something that rings your patriotic bells.
(What exactly is historical fiction? For the purposes of this list, I included books that were set at least 35-40 years before the publication date of the book. Usually where there was a question, I consulted a few other sources to determine the consensus as to whether a book is considered historical fiction. I also included historical fiction books that include a significant portion of historical setting even if it also takes place partly in present day or contemporary society. And because there is such a wealth of authors writing American historical fiction, I limited each author to one entry.)
What would you add to this list?
It is 1875, and Ann Eliza Young has recently separated from her powerful husband, Brigham Young, prophet and leader of the Mormon Church. Expelled and an outcast, Ann Eliza embarks on a crusade to end polygamy in the United States. Soon after Ann Eliza's story begins, a tale of murder involving a polygamist family in present-day Utah begins to unfold.
Set during the uncertain early days of World War II, this suspenseful story follows photojournalist Claire Shipley as she captures America's race to develop life-saving antibiotics—an assignment that will involve blackmail, espionage, and murder.
The story of the Meisenheimer family is told by James, a third-generation American living in Beatrice, Missouri where his German grandparents—Frederick and Jette—found themselves after journeying across the turbulent Atlantic, fording the flood-swollen Mississippi, and being brought to a sudden halt by the broken water of the pregnant Jette.
Rural Wisconsin, 1909. In the bitter cold, Ralph Truitt, a successful businessman, stands alone on a train platform waiting for the woman who answered his newspaper advertisement for "a reliable wife." But when Catherine Land steps off the train from Chicago, she's not the "simple, honest woman" that Ralph is expecting. She is both complex and devious, haunted by a terrible past and motivated by greed.
From a hospital bed a dying man unfolds the tale of an arduous life on the fringes of a Hawai'i sugar plantation in the 1920s. There Kim Sung Wha―laborer, patriot, revolutionary, aviator―envisioned building an airplane from ricepaper, bamboo, and the scrap parts of a broken-down bicycle, an airplane that would carry him back to his Korean homeland and to his wife and children.
At the close of the Civil War, weary veteran Malcolm Hopeton returns to his home in western New York State to find his wife and hired man missing and his farm in disrepair. A double murder ensues, the repercussions of which ripple through a community with spiritual roots in the Second Great Awakening.
The beloved American classic novel about a young girl's coming-of-age at the turn of the century is a poignant and moving tale filled with compassion and cruelty, laughter and heartache, crowded with life and people and incident. The story of young, sensitive, and idealistic Francie Nolan and her bittersweet formative years in the slums of Williamsburg has enchanted and inspired millions of readers for more than sixty years.
On a cold March night in 1896 New York Times reporter John Schuyler Moore is summoned to the East River by friend and former Harvard classmate Dr. Laszlo Kreizler, a psychologist, or "alienist." On the unfinished Williamsburg Bridge, they view the horribly mutilated body of an adolescent boy, a prostitute from one of Manhattan's infamous brothels. The unlikely team embarks on what is a revolutionary effort in criminology– amassing a psychological profile of the man they're looking for based on the details of his crimes.
Joe Kavalier, a young Jewish artist who has also been trained in the art of Houdini-esque escape, has just smuggled himself out of Nazi-invaded Prague and landed in New York City. His Brooklyn cousin Sammy Clay is looking for a partner to create heroes, stories, and art for the latest novelty to hit America – the comic book. Drawing on their own fears and dreams, Kavalier and Clay create the Escapist, the Monitor, and Luna Moth, inspired by the beautiful Rosa Saks, who will become linked by powerful ties to both men.
Confined to a wheelchair, retired historian Lyman Ward sets out to write his grandparents' remarkable story, chronicling their days spent carving civilization into the surface of America's western frontier. But his research reveals even more about his own life than he's willing to admit. What emerges is an enthralling portrait of four generations in the life of an American family.
Jesse James, in 1881 at the age of 34, is at the height of his fame and powers as a singularly successful outlaw. Robert Ford is the skittish younger brother of one of the James gang: he has made himself an expert on the gang, but his obsession is Jesse James himself. Both drawn to him and frightened of him, the nineteen-year-old is uncertain whether he wants to serve James or destroy him or, somehow, become him.
12. Balm by Dolen Perkins-Valdez
In the bitter aftermath of the terrible, bloody Civil War, as a divided nation tries to come together once again, Madge, Sadie, and Hemp, who have all come to Chicago seeking a new life, will be caught up in a desperate, unexpected battle for survival in a community desperate to lay the pain of the past to rest.
Memphis, 1939. Twelve-year-old Rill Foss and her four younger siblings live a magical life aboard their family's Mississippi River shantyboat. But when their father must rush their mother to the hospital one stormy night, Rill is left in charge—until strangers arrive in force. Two families, generations apart, are forever changed by a heartbreaking injustice in this poignant historical fiction novel, inspired by a true story.
14. Beloved by Toni Morrison
This spellbinding book transforms history into a story as powerful as Exodus and as intimate as a lullaby. Sethe was born a slave and escaped to Ohio, but eighteen years later she is still not free. She has too many memories of Sweet Home, the beautiful farm where so many hideous things happened. Her new home is haunted by the ghost of her baby, who died nameless and whose tombstone is engraved with a single word: Beloved.
On January 15, 1947, the tortured body of a beautiful young woman was found in a vacant lot in Hollywood. Elizabeth Short, the Black Dahlia, a young Hollywood hopeful, had been brutally murdered. Sparking one of the greatest manhunts in California history, this fictionalized account of a real case follows LA cops Bucky Bleichert and Lee Blanchard as they journey through the seamy underside of Hollywood to the core of the dead girl's twisted life.
Based on historical events that took place on the Texas-Mexico border in the 1850s, this historical fiction novel traces the fortunes of the Kid, a fourteen-year-old Tennesseean who stumbles into the nightmarish world where Indians are being murdered and the market for their scalps is thriving.
17. Brooklyn by Colm Tóibín
Eilis Lacey has come of age in small-town Ireland in the hard years following WWII. When an Irish priest from Brooklyn offers to sponsor Eilis in America — to live and work in a Brooklyn neighborhood "just like Ireland" — she decides she must go, leaving her fragile mother and her charismatic sister behind. Eilis finds work in a department store on Fulton Street, and when she least expects it, finds love.
Bethia Mayfield is a restless and curious young woman growing up in Martha's vineyard in the 1660s amid a small band of pioneering English Puritans. At age twelve, she meets Caleb, the young son of a chieftain, and the two forge a secret bond that draws each into the alien world of the other.
19. Cane River by Lalita Tademy
In a blend of fact and fiction, Tademy tells the story of four generations of her slave-born female ancestors — Elisabeth, Suzette, Philomene, and Emily — following their trajectories from the 1830s to the 1930s.
Raised from birth in the orphanage at St. Cloud's, Maine, Homer Wells has become the protégé of Dr. Wilbur Larch, its physician and director, who cares for the troubled mothers who seek his help, either by delivering and taking in their unwanted babies or by performing illegal abortions. Homer assists in the former, but draws the line at the latter. Then a young man brings his beautiful fiancée to Dr. Larch for an abortion, and everything about the couple beckons Homer to the wide world outside the orphanage.
In 1661, Lucas Turner, a barber surgeon, and his sister, Sally, an apothecary, stagger off a small wooden ship after eleven weeks at sea. Bound to each other by blood and necessity, they aim to make a fresh start in the rough and rowdy Dutch settlement of Nieuw Amsterdam; soon lust, betrayal, and murder will make them mortal enemies.
Wounded Confederate soldier, Inman, walks away from the ravages of the war & back home to his prewar sweetheart, Ada. His odyssey thru the devastated landscape of the soon-to-be-defeated South interweaves with Ada's struggle to revive her father's farm. As their long-separated lives begin to converge at the close of the war, Inman & Ada confront the vastly transformed world they've been delivered.
On July 5, 1906, scandal breaks in the small town of Cold Sassy, Georgia, when the proprietor of the general store, E. Rucker Blakeslee, elopes with Miss Love Simpson. He is barely three weeks a widower, and she is only half his age and a Yankee to boot. As their marriage inspires a whirlwind of local gossip, fourteen-year-old Will Tweedy suddenly finds himself eyewitness to a family scandal.
This book is the story of two sisters – one a missionary in Africa and the other a child wife living in the South – who sustain their loyalty to and trust in each other across time, distance, and silence.
William Styron's complex and richly drawn imagining of Nat Turner, the leader of the 1831 slave rebellion in Virginia that led to the deaths of almost sixty men, women, and children, draws upon the historical Nat Turner's confession to his attorney, made as he awaited execution in a Virginia jail.
The place is Salem, Massachusetts, in 1692, an enclave of rigid piety huddled on the edge of a wilderness. Its inhabitants believe unquestioningly in their own sanctity. But in Arthur Miller's edgy masterpiece of historic fiction, that very belief will have poisonous consequences when a vengeful teenager accuses a rival of witchcraft—and then when those accusations multiply to consume the entire village.
Set in 1863, the novel follows Lieutenant John Dunbar on a magical journey from the ravages of the Civil War to the far reaches of the imperiled American frontier, a frontier he naively wants to see "before it is gone". His posting to a desolate and deserted outpost is the springboard for contact with the lords of the southern plains… the Comanche.
An orphan raised in Valparaiso, Chile, vivacious young Eliza Sommers follows her lover to California during the rough-and-tumble Gold Rush of 1849. Eliza moves in a society of single men and prostitutes with the help of her good friend and savior, the Chinese doctor Tao Chi'en, her search for her elusive lover gradually turning into another kind of journey.
Set in the late 1940s, in the African-American community of Watts, Los Angeles, Devil in a Blue Dress follows Easy Rawlins, a black war veteran just fired from his job at a defense plant. Easy is drinking in a friend's bar, wondering how he'll meet his mortgage, when a white man in a linen suit walks in, offering good money if Easy will simply locate Miss Daphne Monet, a blonde beauty known to frequent black jazz clubs.
At the turn of the nineteenth century, Frank Leong, a fabulously wealthy shipping industrialist, moves his family from China to the island of Oahu. But something ancient follows the Leongs to Hawaii, haunting them. Told through the eyes of the Leong's secret-keeping daughters and wives this stunning debut spans from The Boxer Rebellion to Pearl Harbor to 1960s Hawaii.
31. Doc by Mary Doria Russell
Dr. John Henry Holliday arrives on the Texas frontier hoping that the dry air and sunshine of the West will restore him to health. Soon, Doc Holliday is gambling professionally with his partner, Mária Katarina Harony, in the saloons of Dodge City. And that is where the unlikely friendship of Doc Holliday and a fearless lawman named Wyatt Earp begins— before the gunfight at the O.K. Corral links their names forever in American frontier mythology.
32. Dreamland by Kevin Baker
The author, Kevin Baker brings to mesmerizing life a vibrant, colorful, thrilling, and dangerous New York City in the earliest years of the twentieth century in an the epic saga of newcomers drawn to the promise of America whose stories of love, revenge, and tragedy shine in the artificial electric dazzle of a wondrous place called Dreamland.
Set in Montana shortly after the Civil War, this novel tells of White Man's Dog, a young Blackfeet Indian on the verge of manhood, and his band, known as the Lone Eaters. The invasion of white society threatens to change their traditional way of life, and they must choose to fight or assimilate. The book is a powerful portrait of a fading way of life and culminates with the historic Marias Massacre of 1870.
34. Forever by Pete Hamill
In this magical, epic tale, Cormac O'Connor – who arrives in New York in 1740 and is granted immortality as long as he never leaves the island of Manhattan – watches New York grow from a tiny settlement on the tip of an untamed wilderness to the thriving metropolis of today.
Inhabiting four lives—a railroad baron's valet who unwittingly ignites an explosion in Chinese labor, Hollywood's first Chinese movie star, a hate-crime victim whose death mobilizes Asian Americans, and a biracial writer visiting China for an adoption—this historical novel captures and capsizes over a century of American history, showing that even as family bonds are denied and broken, a community can survive—as much through love as blood.
This now-classic novel follows two women: Evelyn, who's in the sad slump of middle age, and gray-headed Mrs. Threadgoode, who's telling her life story, which includes two more women—the irrepressibly daredevilish tomboy Idgie and her friend Ruth—who back in the thirties ran a little place in Whistle Stop, Alabama, offering good coffee, southern barbecue, and all kinds of love and laughter—even an occasional murder.
37. Glow by Jessica Maria Tuccelli
In the autumn of 1941, Amelia J. McGee, a young woman of Cherokee and Scotch-Irish descent, and an outspoken pamphleteer for the NAACP, hastily sends her daughter, Ella, alone on a bus home to Georgia in the middle of the night—a desperate measure that proves calamitous when the child encounters two drifters and is left for dead on the side of the road.
In 1845, newly minted NYPD officer Timothy Wilde collides with a girl no more than ten years old… covered in blood. She claims that dozens of bodies are buried in the forest north of 23rd St. The image of a brutal killer is slowly revealed and anti-Irish rage infects the city, pulling the reluctant cop into a battle that may cost him everything.
Chava is a golem, a creature made of clay, brought to life to by a disgraced rabbi who dabbles in dark Kabbalistic magic and dies at sea on the 1899 voyage from Poland to New York harbor. Ahmad is a jinni, a being of fire born in the ancient Syrian desert, trapped in an old copper flask, and released in New York City, though still not entirely free. Ahmad and Chava become unlikely friends and soul mates with a mystical connection.
Vividly depicting the drama of the Civil War and Reconstruction, Mitchell's classic book features Scarlett O'Hara, the spoiled, manipulative daughter of a wealthy plantation owner, who arrives at young womanhood just in time to see the Civil War forever change her way of life.
Henry Shackleford is a young slave living in the slavery battleground of the Kansas Territory in 1857. When John Brown, the legendary abolitionist, arrives in the area, an argument between Brown and Henry's master quickly turns violent. Henry is forced to leave town with Brown, who believes he's a girl. Over the ensuing months, Henry—nicknamed Little Onion—conceals his true identity as he struggles to stay alive and finds himself at the historic raid on Harpers Ferry in 1859.
42. Grace by Natashia Deón
Fifteen-year-old Naomi escapes a brutal Alabama plantation, taking refuge in a Georgia brothel and falls into a love affair with a white man who frequents the brothel's dice tables all too often. The product of their union is white-skinned, blonde Josey, who has never known her mother, who was murdered at her birth. Grace deftly weaves together the stories of Josey and Naomi in a sweeping, intergenerational saga.
43. Hawaii by James A. Michener
Author James A. Michener brings Hawaii's epic history vividly to life in a classic saga that follows the sprouting of the volcanic islands from the ocean to Polynesian seafarers making the perilous journey across the Pacific to the early 19th century, when American missionaries arrive, bringing with them a new way of life.
Two half sisters, Effia and Esi, are born into different villages in 18th-century Ghana. Effia is married off to an Englishman and lives in comfort in the palatial rooms of Cape Coast Castle while Esi is imprisoned in the castle's dungeons, sold into the Gold Coast's booming slave trade, and shipped to America, where her children and grandchildren will be raised in slavery. Homegoing follows the threads of these two sisters' descendants, from the plantations of the South to the Civil War and the Great Migration, from the coal mines of Pratt City, Alabama, to the jazz clubs and dope houses of twentieth-century Harlem, right up through the present day.
A spellbinding historical fiction novel about a woman who befriends Ethel and Julius Rosenberg and is drawn into their world of intrigue.
Virginia, 1852. Seventeen-year-old Josephine Bell decides to run from the failing tobacco farm where she is a slave and nurse to her ailing mistress, the aspiring artist Lu Anne Bell. Moving between antebellum Virginia and modern-day New York, this searing, suspenseful and heartbreaking tale of art and history, love and secrets, explores what it means to repair a wrong and asks whether truth is sometimes more important than justice.
It is 1943, and the renowned inventor Nikola Tesla occupies a forbidden room on the 33rd floor of the Hotel New Yorker, stealing electricity. Louisa, a young maid at the hotel determined to befriend him, wins his attention through a shared love of pigeons; with her we hear his tragic and tremendous life story unfold.
48. Isadora by Amelia Gray
In 1913, the restless world sat on the brink of unimaginable suffering. But for one woman, the darkness of a new era had already made itself at home. Isadora Duncan would come to be known as the mother of modern dance, but in the spring of 1913 she was a grieving mother, after a freak accident in Paris resulted in the drowning death of her two young children.
Johnny Tremain, a young apprentice silversmith, is caught up in the danger and excitement of 1775 Boston, just before the Revolutionary War.
In 1949, four Chinese women, recent immigrants to San Francisco, begin meeting to eat dim sum, play mahjong, and talk. They call themselves the Joy Luck Club. Author Amy Tan examines the sometimes painful, often tender, and always deep connection between these four women and their American-born daughters.
In the four most bloody and courageous days of our nation's history, two armies fought for two dreams. One dreamed of freedom, the other of a way of life. The Killer Angels is unique, sweeping, unforgettable—a dramatic re-creation of the battleground for America's destiny.
52. Kindred by Octavia Butler
Having just celebrated her 26th birthday in 1976 California, Dana, an African-American woman, is suddenly and inexplicably wrenched through time into antebellum Maryland. After saving a drowning white boy there, she finds herself staring into the barrel of a shotgun and is transported back to the present just in time to save her life. During numerous such time-defying episodes with the same young man, she realizes the challenge she's been given: to protect this young slaveholder until he can father her own great-grandmother.
When a white servant girl violates the order of plantation society, she unleashes a tragedy that exposes the worst and best in the people she has come to call her family.
The Known World tells the story of Henry Townsend, a black farmer and former slave who falls under the tutelage of William Robbins, the most powerful man in Manchester County, VA. Making certain he never circumvents the law, Townsend runs his affairs with unusual discipline. But when death takes him unexpectedly, his widow, Caldonia, can't uphold the estate's order, and chaos ensues.
55. The Lacuna by Barbara Kingsolver
Barbara Kingsolver takes us on an epic journey from the Mexico City of artists Diego Rivera and Frida Kahlo to the America of Pearl Harbor, FDR, and J. Edgar Hoover. The Lacuna is a poignant story of a man pulled between two nations as they invent their modern identities.
New York, 1888. Gas lamps still flicker in the city streets, but the miracle of electric light is in its infancy. A young untested lawyer named Paul Cravath takes a case that seems impossible to win. Paul's client, George Westinghouse, has been sued by Thomas Edison over a billion-dollar question: Who invented the light bulb and holds the right to power the country?
Tracy Chevalier introduces Honor Bright, a modest English Quaker who moves to Ohio in 1850, only to find herself alienated and alone in a strange land. Sick from the moment she leaves England, and fleeing personal disappointment, she is forced by family tragedy to rely on strangers in a harsh, unfamiliar landscape.
58. Lazaretto by Diane McKinney-Whetstone
Author Diane McKinney-Whetstone seamlessly transports us to Philadelphia's legendary Lazaretto—America's first quarantine hospital – in the aftermath of the Civil War and Lincoln's assassination, beautifully evoking powerful stories of love, friendship and humanity amid the vibrant black community that flourished amid the troubled times.
On March 2, 1908, nineteen-year-old Lazarus Averbuch, an Eastern European Jewish immigrant, was shot to death on the doorstep of the Chicago chief of police and cast as a would-be anarchist assassin. A century later, a young Eastern European writer in Chicago named Brik becomes obsessed with Lazarus's story.
60. Lincoln by Gore Vidal
In Gore Vidal's historical book, we meet Lincoln the man and Lincoln the political animal, the president who entered a besieged capital where most of the population supported the South and where even those favoring the Union had serious doubts that the man from Illinois could save it.
On February 22, 1862, Willie Lincoln was laid to rest in a marble crypt in a Georgetown cemetery. That very night, shattered by grief, Abraham Lincoln arrives at the cemetery under cover of darkness and visits the crypt, alone, to spend time with his son's body. Set over the course of that one night and populated by ghosts of the recently passed and the long dead, Lincoln in the Bardo is a thrilling exploration of death, grief, the powers of good and evil, a novel – in its form and voice – completely unlike anything you have read before.
62. The Living by Annie Dillard
Ninety miles north of Seattle on the Washington coast lies Bellingham Bay, where a rough settlement founded in the 1850s would become the town of Whatcom. Here is the intimate, murderous tale of three men. Clare Fishburn believes that greatness lies in store for him. John Ireland Sharp, an educated orphan, abandons hope when he sees socialists expel the Chinese workers from the region. Beal Obenchain, who lives in a cedar stump, threatens Clare Fishburn's life.
Journey to the dusty little Texas town of Lonesome Dove and meet an unforgettable assortment of heroes and outlaws, whores and ladies, Indians and settlers. Richly authentic, beautifully written, always dramatic, Lonesome Dove is a book to make us laugh, weep, dream, and remember.
64. Long Man by Amy Greene
A gripping, wondrously evocative novel drawn from real-life historical events: the story of three days in the summer of 1936, as a government-built dam is about to flood an Appalachian town – and a little girl goes missing.
In 1903, Mamah and her husband, Edwin, commissioned the renowned architect Frank Lloyd Wright to design a new home for them. During the construction of the house, a powerful attraction developed between Mamah and Frank, and in time the lovers, each married with children, embarked on a course that would shock Chicago society and forever change their lives.
Alma DeGeer Dunahew works as the maid for a prominent citizen and his family in West Table, Missouri. Her husband is mostly absent, and, in 1929, her scandalous, beloved younger sister is one of the 42 killed in an explosion at the local dance hall. Who is to blame? Alma thinks she knows the answer—and that its roots lie in a dangerous love affair.
Having survived World War I, Fidelis Waldvogel returns to his quiet German village and marries the pregnant widow of his best friend, killed in action. With a suitcase full of sausages and a master butcher's precious knife set, Fidelis sets out for America. In Argus, ND, he builds a business, a home for his family—which includes Eva and four sons—and a singing club consisting of the best voices in town.
In this stunning work of historical fiction, Laila Lalami brings us the imagined memoirs of the first black explorer of America—a Moroccan slave whose testimony was left out of the official record.
In the second book in the Kitty Weeks Mystery series, Kitty is tasked with writing a story about Westfield Hall, a prestigious girls' boarding school. Tragedy strikes when a student named Elspeth is found frozen to death in Central Park. The doctors proclaim that the girl's sleepwalking was the cause, but Kitty – determined to uncover the truth – must investigate a more chilling scenario—a murder that may involve Elspeth's scientist father and a new invention by Thomas Edison.
Coralie Sardie is the daughter of the sinister impresario behind a Coney Island freak show that thrills the masses where she appears as the Mermaid, alongside performers like the Wolfman and the Butterfly Girl. One night Coralie stumbles upon a striking young man taking pictures of moonlit trees in the woods off the Hudson River. The dashing photographer is Eddie Cohen, a Russian immigrant who has run away from his community and his job as a tailor's apprentice. When Eddie photographs the infamous Triangle Shirtwaist Factory fire, he becomes embroiled in the mystery behind a young woman's disappearance. And he ignites the heart of Coralie.
Written in 1918, My Antonia is the story of Ántonia Shimerda, who arrives on the Nebraska frontier as part of a family of Bohemian emigrants. Her story is told through the eyes of Jim Burden, a neighbor who will befriend Ántonia, teach her English, and follow the remarkable story of her life.
An enthralling historical book about a young woman's struggle to become a doctor during the Civil War.
The year is 1729, and Resolute Talbot and her siblings are captured by pirates, taken from their family in Jamaica, and brought to the New World. They are sold into slavery in colonial New England and taught the trade of spinning and weaving. Resolute's talent at the loom places her at the center of an incredible web of secrecy that helped drive the American Revolution.
She calls herself Ash, but that's not her real name. She is a farmer's faithful wife, but she has left her husband to don the uniform of a Union soldier in the Civil War. Through bloodshed and hysteria and heartbreak, she becomes a hero, a folk legend, a madwoman and a traitor to the American cause.
75. New York by Edward Rutherfurd
Edward Rutherfurd celebrates America's greatest city in a rich, engrossing saga, weaving together tales of families rich and poor, native-born and immigrant—a cast of fictional and true characters whose fates rise and fall and rise again with the city's fortunes.
In the years leading up to the Civil War, one enduring friendship embodies the tensions of a nation. Orry Main from South Carolina and George Hazard from Pennsylvania forge a lasting bond at the United States Military Academy at West Point. Together they fight in the Mexican-American War, but their closeness is tested as their regional politics diverge.
77. Orphan Train by Christina Baker Kline
The captivating book of a 91-year-old woman with a hidden past as an orphan-train rider and the teenage girl whose own troubled adolescence leads her to seek answers to long-buried questions.
78. Ragtime by E.L. Doctorow
An extraordinary tapestry, Ragtime captures the spirit of America in the era between the turn of the century and the First World War, weaving imagined characters with real historical people.
Maeve Fanning is a first generation Irish immigrant, born and raised among the poor, industrious Italian families of Boston's North End by her widowed mother. Clever, capable, and as headstrong as her red hair suggests, she's determined to better herself despite the overwhelming hardships of the Great Depression.
Considered to have played a significant role in shaping the formula of the popular Western genre, Riders of the Purple Sage has been called "the most popular western novel of all time" and tells the story of Jane Withersteen and her battle to overcome persecution by members of her polygamous Mormon fundamentalist church.
81. Roots by Alex Hayley
On September 29, 1967, Alex Hayley stood on the dock in Annapolis where his great-great-great-great-grandfather Kunta Kinte was taken ashore on September 29, 1767. Now he has written the monumental two-century drama of Kunta Kinte and the six generations who came after him—slaves and freedmen, farmers and blacksmiths, lumber mill workers and Pullman porters, lawyers and architects—and one author.
82. Ruby by Cynthia Bond
The epic, unforgettable story of a man determined to protect the woman he loves from the town desperate to destroy her. This wondrous page-turner rushes through the red dust and gossip of Main Street, to the pit fire where men swill bootleg outside Bloom's Juke, to Celia Jennings's kitchen, where a cake is being made, yolk by yolk, that Ephram will use to try to begin again with Ruby.
On the last night of 1937, twenty-five-year-old Katey Kontent is in a second-rate Greenwich Village jazz bar when Tinker Grey, a handsome banker, happens to sit down at the neighboring table. This chance encounter and its startling consequences propel Katey on a year-long journey into the upper echelons of New York society—where she will have little to rely upon other than a bracing wit and her own brand of cool nerve.
Meet Mazie Phillips: big-hearted and bawdy, she's the truth-telling proprietress of The Venice, the famed New York City movie theater. When the Great Depression hits, Mazie's life is on the brink of transformation. Addicts and bums roam the Bowery; homelessness is rampant. If Mazie won't help them, then who?
Set in the harsh Puritan community of seventeenth-century Boston, this tale of an adulterous entanglement that results in an illegitimate birth reveals Nathaniel Hawthorne's concerns with the tension between the public and the private selves.
Paying homage to the classic Western, Patrick deWitt's novel is filled with a remarkable cast of characters – losers, cheaters, and ne'er-do-wells from all stripes of life. Told by a complex and compelling narrator, it is a violent, lustful odyssey through the underworld of the 1850s frontier that beautifully captures the humor, melancholy, and grit of the Old West and two brothers bound by blood, violence, and love.
In 1954 a local fisherman is found suspiciously drowned off San Piedro Island, north of Puget Sound, and a Japanese American named Kabuo Miyamoto is charged with his murder. In the course of the ensuing trial, it becomes clear that what is at stake is more than a man's guilt. San Piedro is haunted by the memory of what happened to its Japanese residents during World War II, when an entire community was sent into exile while its neighbors watched.
88. The Son by Philipp Meyer
Part epic of Texas, part classic coming-of-age story, part unflinching portrait of the bloody price of power, The Son is an utterly transporting novel that maps the legacy of violence in the American West through the lives of the McCulloughs, an ambitious family as resilient and dangerous as the land they claim.
Bill Cheng's Southern Cross the Dog is an epic literary debut in which the bonds between three childhood friends are upended by the Great Mississippi Flood of 1927. In its aftermath, one young man must choose between the lure of the future and the claims of the past.
90. Stoner by John Williams
William Stoner is born at the end of the nineteenth century into a dirt-poor Missouri farming family. Sent to the state university to study agronomy, he instead falls in love with English literature and embraces a scholar's life, so different from the hardscrabble existence he has known. And yet as the years pass, Stoner encounters a succession of disappointments and rediscovers the stoic silence of his forebears and confronts an essential solitude.
Lalu Nathoy's father calls his thirteen-year-old daughter his treasure, his "thousand pieces of gold," yet when famine strikes northern China in 1871, he is forced to sell her. She is sold first to a brothel, then to a slave merchant bound for America. In a new country, she is given the name Polly and eventually auctioned to a saloonkeeper. When admirer Charlie Bemis wins her in a poker game, he frees her from her enslavement and eventually proposes marriage.
92. Triangle by Katherine Weber
Esther Gottesfeld is the last living survivor of the notorious 1911 Triangle Shirtwaist fire and has told her story countless times in the span of her lifetime. Even so, her death at the age of 106 leaves unanswered many questions about what happened that fateful day. How did she manage to survive the fire when at least 146 workers, most of them women, her sister and fiancé among them, burned or jumped to their deaths from the sweatshop inferno?
Author Ayana Mathis tells the story of the children of the Great Migration through the trials of one unforgettable family.
Cora is a slave on a cotton plantation in Georgia. Life is hellish for all the slaves but especially bad for Cora. When Caesar, a recent arrival from Virginia, tells her about the Underground Railroad, they decide to take a terrifying risk and escape. In Whitehead's ingenious conception, the Underground Railroad is no mere metaphor – engineers and conductors operate a secret network of tracks and tunnels beneath the Southern soil.
Orphaned, penniless, Jacob Jankowski jumps a freight train in the dark, and in that instant, transforms his future. By morning, he's landed a job with the Flying Squadron of the Benzini Brothers Most Spectacular Show on Earth. By nightfall, he's in love.
A heartbreaking first novel, the story of a Japanese-American family all but destroyed by American prejudice and policies during World War II. The book unfolds in the third person as four family members move through the different phases of their internment.
A sweeping, panoramic tale of twentieth-century America, chronicling the decades-long love affair between a Jewish immigrant and the granddaughter of a slave.
From their service as political thugs in a brutal Chicago election to their work as bounty hunters in the deserts of Arizona, there's a hypnotic logic to the Winter Family's grim borderland morality that plays out, time and again, in ruthless carnage.
One night in winter, Peter Lake, orphan and master-mechanic, attempts to rob a fortress-like mansion on the Upper West Side. Though he thinks the house is empty, the daughter of the house is home. Thus begins the love between Peter Lake, a middle-aged Irish burglar, and Beverly Penn, a young girl, who is dying.
Sixteen-year-old Kit Tyler is marked by suspicion and disapproval from the moment she arrives on the unfamiliar shores of colonial Connecticut in 1687. Alone and desperate, she has been forced to leave her beloved home on the island of Barbados and join a family she has never met. But Kit's friendship with Hannah Tupper, believed by the colonists to be a witch, proves more taboo than she could have imagined and ultimately forces Kit to choose between her heart and her duty.
---
What are your favorite historical fiction books? Are there any that didn't make this list?
Want even more historical fiction? Check out our other 100 must-read posts on: