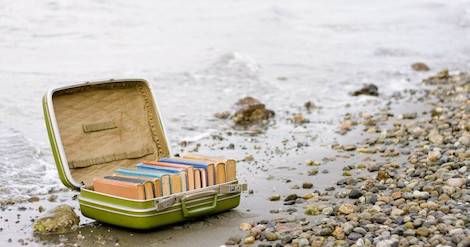 Lists
100 Must-Read Books About Starting Over
This content contains affiliate links. When you buy through these links, we may earn an affiliate commission.
This post is sponsored by The Quarter-Life Breakthrough by Adam Smiley Poswolsky
After realizing that his prestigious job with the Peace Corps was actually making him miserable, Adam "Smiley" Poswolsky was forced to tackle a crucial question: How do you find work that provides a sense of purpose, creates impact and pays the rent? Brimming with practical exercises and stories of people discovering how to work with purpose, The Quarter-Life Breakthrough offers fresh, counterintuitive and inspiring career advice for anyone stuck in a quarter (or third)-life crisis
---
My mom was 53 when she enrolled in college. Though she'd always wanted to be a teacher, she instead got married, had kids (thanks for that, by the way!), and worked for decades in title insurance. She was well respected and made a good living. She seemed to be a pretty settled person and I don't think anyone saw the dramatic changes coming.
The first catalyst was an article in the Tampa Tribune detailing the career of a woman in her late 70s who was retiring from a lifetime of teaching. It dawned on my mom that she not only still had time to get her degree, but she had time to go on and teach for 25 years. "I could really do this," she thought. And then she did. She started over.
I love my mom and I love this story. I knew I wanted to highlight books that tell similar tales, of people starting over, but as I started researching books to add to the list, I had to ask myself: What exactly does it mean to "start over?"
In my mom's case, it meant turning her back on one career to get the education she needed for another. In many of the books on this list, starting over meant moving to another country, whether by choice, because they'd been displaced, or fleeing atrocities so awful I have trouble really wrapping my brain around them. Some stories deal with divorce or breakup, others with teenagers terrified of starting a new school, some are about tackling a new hobby that ends up changing the way they define themselves or doing something they've always been afraid of. Some of the books on this list are memoirs and some are fiction. Some are uplifting, some are humorous, and some are soul-crushing. Some are all of the above.
Sometimes a person gets to make the choice to start over. They get to step off the paved road they've been traveling on comfortably and they get to make a decision to create a new path all their own. And others are forced to start over, often in a place they don't want to be with people they don't want to claim.
Everyone in these stories came out the other side. Sometimes much better off, sometimes much worse for wear. Some gained life-long relationships and some lost everyone they'd ever loved. These are stories of people starting over in ways both big and small.