Lists
100 Must-Read Inclusive YA SFF Books
This content contains affiliate links. When you buy through these links, we may earn an affiliate commission.
This list of inclusive YA SFF books is sponsored by Genius: The Con by Leopoldo Gout.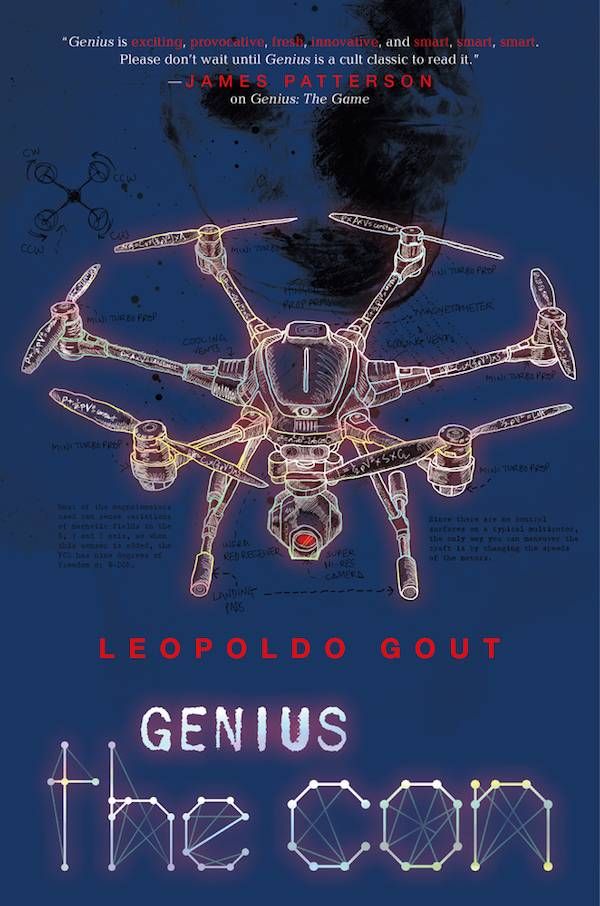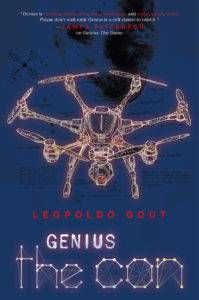 Three brilliant teens from around the world must work together to stop a vicious warlord, protect their families, and save the world in this fast-paced sequel to Genius: The Game.
---
There are two things I love to read more than anything else: inclusive adult sci-fi and fantasy and inclusive YA sci-fi and fantasy. Inclusive YA SFF books means that characters from marginalized backgrounds in our world are a normal part of the worldbuilding of that world. Books are always better than they reflect the real world and the experiences of people like me and people like my friends. So why not read, say, 100 of them?
Here are 100 inclusive YA SFF books from 100 different authors to add to your to-read list today.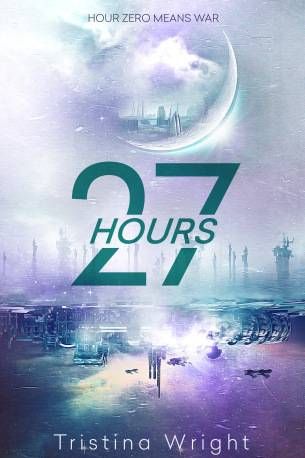 27 Hours by Tristina Wright
These teens only have 27 hours to save their world or die trying in this new sci-fi epic. Coming October 3, 2017.
A Darkly Beating Heart by Lindsay Smith
While visiting Kuramagi, Reiko's mind slips back in time into the life of Miyu, a young woman bent on revenge.
A Fierce and Subtle Poison by Samantha Mabry
Everyone knows the legends about the cursed girl Isabel, the one the señoras whisper about – but Lucas doesn't expect her to be real.
A Thousand Nights by E.K. Johnston
Lo-Melkhiin killed three hundred girls before he came to her village, looking for a wife – but she's going to trick him into wedding her in order to save her sister.
About A Girl by Sarah McCarry
Tally sets out to find the key to her past and instead finds Maddy, an enigmatic and beautiful girl, in this retelling of Ovid's Metamorphoses.
Afterworlds by Scott Westerfeld
Told in dual narratives, this YA novel follows an aspiring teen writer moving to New York and the paranormal story she's writing.
Akata Witch by Nnedi Okarafor
When Sunny befriends Orlu and Chichi, Sunny is plunged into the world of the Leopard People, where your worst defect becomes your greatest asset.
Archivist Wasp by Nicole Korhner-Stace
Wasp's fight to remain the Archivist forces her to strike a bargain with the ghost of a supersoldier, venturing into his pre-apocalyptic world.
An Ember in the Ashes by Sabaa Tahir
Laia is a Scholar posing as a slave in the Martial Empire; Elias is the academy's finest soldier. Their lives are about to intertwine and reshape the future of the empire itself.
As I Descended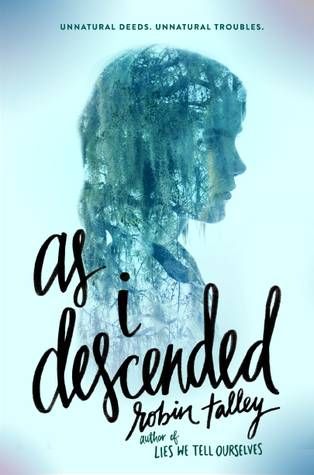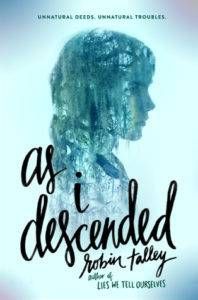 by Robin Talley
It's Macbeth, except set in a modern high school with a lesbian couple as the leads.
Ash by Malinda Lo
Left at the mercy of her cruel stepmother, Ash meets Kaisa, the King's Huntress, and finds her heart beginning to warm again.
The Backstagers by James Tynion IV
This graphic novel follows a crew of adorable stagehands and their adventures in the winding halls and paranormal doors of the backstage.
Beasts Made of Night by Tochi Onyebuchi
Mages can call forth sin from sinner, forcing Taj into the middle of a conspiracy to destroy the walled city of Kos in this Nigerian-influenced fantasy. Coming October 31, 2017.
Before She Ignites by Jodi Meadows
Mira Minkoba is the Hopebearer, known across the Fallen Isles for the Mira Treaty named after her – until she discovers a secret that challenges everything she and the Treaty stand for. Coming September 26, 2017.
Beyond the Red by Ava Jae
Kora is the first female ruler of her territory in generations, but her people are rioting and call for her violent younger twin brother to take the throne.
Bleeding Earth by Kaitlyn Ward
Lea was in a cemetery when the earth started bleeding. All over the world, blood appeared out of the ground, even through concrete, even in water.
Bleeding Violet by Dia Reeves
Most people would call Hanna crazy, but she just wants to be loved, so she drops everything to head to dark, dangerous, and strange Portero.
Carry On by Rainbow Rowell
Simon Snow just wants to relax and savor his last year at the Watford School of Magicks, but when you're the most powerful magician in the world, you never get to relax and savor anything.
Children of Blood and Bone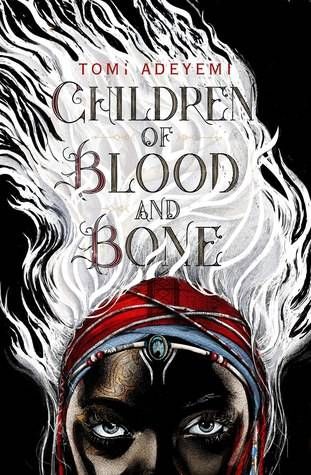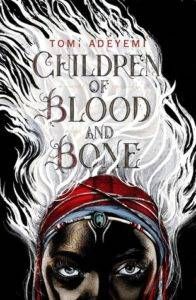 by Tomi Adyemi
Zélie Adebola remembers when the soil of Orïsha hummed with magic, but then it disappeared, leaving her only one chance to bring it back. Coming March 6, 2018.
Cinder by Marissa Meyer
Cyborg Cinder is invited to a ball but falls into a political war in the first of the Lunar Chronicles series, which retells fairy tales in a futuristic sci-fi setting.
Court of Fives by Kate Elliott
Jessamy is caught between being a Patron and the freedom of the Commoners, but at night, she can be whomever she wants when she sneaks out to train for The Fives.
Dark Metropolis by Jaclyn Dolamore
This magical thriller set in a 1930s-inspired world follows a family cursed by magic.
Dare Mighty Things by Heather Kaczynski
Cassandra Gupta's entire life has been leading up to the opportunity to travel to space. But to secure a spot on this classified mission, she must first compete against the best and brightest people on the planet.
Daughter of the Burning City by Amanda Foody
Sorina runs the town's freak show and must figure out who is murdering her illusionists.
Delilah Dirk and the Turkish Lieutenant by Tony Cliff
Delilah Dirk travels the world, robbing the rich and falling into her next adventure in the first of this graphic novel series.
Dreadnought: Nemesis by April Daniels
Danny Tozer has a problem: she just inherited the powers of Dreadnought, the world's greatest superhero.
Dread Nation by Justina Ireland
Jane McKeene was born two days before the dead began to walk the battlefields of Gettysburg and Chancellorsville, derailing the War Between the States and changing America forever. Coming April 3, 2018.
Echo After Echo by Amy Rose Capetta
Zara is unprepared for her debut on the New York Stage thanks to Eli, the world who makes the world glow, and the deaths that keep coming in threes. Coming October 10, 2017.
Empress of a Thousand Skies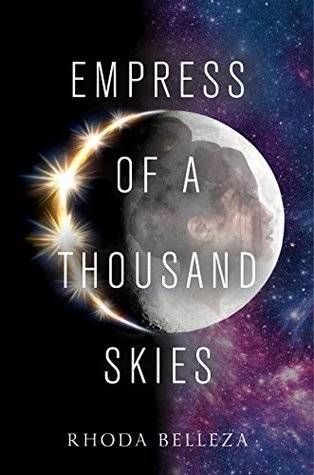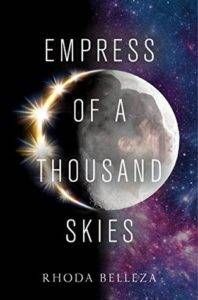 by Rhoda Belleza
Rhee is the sole surviving heir to a powerful dynasty, and will stop at nothing to avenge her family and claim her throne.
Every Heart a Doorway by Seanan McGuire
Nancy returns from the Halls of the Dead and is sucked into a murder mystery at her new school in this novella tribute to portal fantasies.
Fates of Flames by Sarah Raughley
When massive beasts made from nightmares and darkness suddenly appear and began terrorizing the world, four girls each gain a unique power
Flame in the Mist by Renee Ahdieh
Mariko is promised in a political marriage that will elevate her family's standing, until she narrowly escapes a bloody ambush.
Forest of A Thousand Lanterns by Julie C. Dao
Xiefeng unleash a jealous god on the world and set free the viciousness of her soul to become Empress of Feng Lu in this Asian-inspired Snow White retelling. Coming October 10, 2017.
Girls Made of Snow and Glass by Melissa Bashardoust
This look at Snow White flips between two tales being told: that of sixteen-year-old Snow White in the present and that of her "evil" stepmother at sixteen.
Heart of Iron by Ashley Poston
Ana will stop at nothing to stave D09, one of the last remaining illegal Metals, in this new novel from the author of Geekerella pitched as "Anastasia in space." Coming October 10, 2017.
Hero by Perry Moore
The last thing in the world Thom Creed wants is to add to his father's pain, so he keeps secrets, like his special powers, and joining the League, and that he's gay.
Ida by Alison Evans
Ida can shift between parallel universes, allowing her to take different paths through her life, until a see-through doppelganger starts to trail her.
Inherit the Stars by Tessa Elwood
The daughter of one the three royal Houses ruling three interplanetary systems – all on the brink of collapse – Asa decides to try to save her family's livelihood with a marriage to the heir to the House of Westlet.
Iron Cast by Destiny Soria
Corinne and Ada have been friends ever since gangster Johnny Dervish recruited them into his circle, until a job goes wrong and they're forced to hunt for answers.
Island of Exiles by Erica Cameron
When her brother's life is endangered, Khya realizes her society on the harsh island of Shiara isn't what it seems.
Jane Unlimited by Kristin Cashore
When Jane ventures out to the Thrash estate, her story takes a turn, or rather, five turns, that can alter her life forever.
Jughead by Chip Zdarsky
Set in the Archie universe, this graphic novel flips between Jughead's belief of a real-life conspiracy in Riverdale and his speculative fiction fantasies.
Killer of Enemies by Joseph Bruchac
Apache hunter Lozen and her family lived in a world of haves and have-nots. There were the Ones, people so augmented that they were barely human, and there was everyone else who served them until the Cloud came and everything changed.
Labyrinth Lost by Zoraida Cordova
Alex refuses to accept her magic on her sixteenth birthday and accidentally banishes her family to another realm.
Lumberjanes by Shannon Watters
A group of teens try to survive a summer full of earning badges and escaping the strange and magical monsters that inhabit the forests around their camp.
Luminous by Dawn Metcalf
When time stands still, Consuela stumbles into the world of the Flow, discovering a power to step out of her earthly skin and cloak herself in new ones.
Mask of Shadows by Linsey Miller
Sallot Leon wants nothing more than to escape the drudgery of life as a highway robber and get closer to the upper-class and the nobles who destroyed their home. Coming September 5, 2017.
Miles Morales by Jason Reynolds
Miles Morales is just your average teenager, crushing on a beautiful poet, landing a scholarship, being Spider-Man. The usual.
Mirage by Somaiya Daud
A poor girl from an isolated moon must become the body double to a cruel imperial princess. Coming September 4, 2018.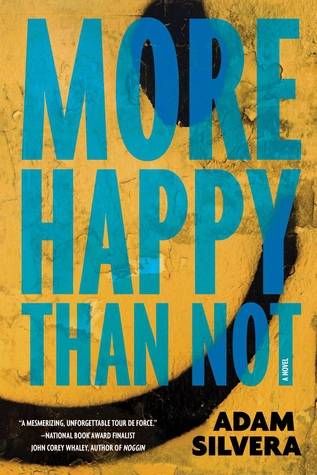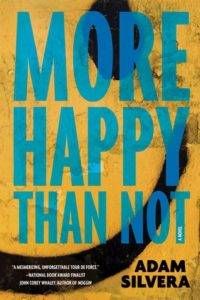 More Happy Than Not by Adam Silvera
Since Aaron can't stay away from Thomas, he considers turning to the Leteo Institute's revolutionary memory-alteration procedure to straighten himself out.
Ms. Marvel by G. Willow Wilson
Kamala Khan accidentally acquires superpowers and sets out to help her small Jersey town.
Not Your Sidekick by C.B. Lee
Jess is resigned to a life without superpowers when she stumbles upon the perfect (paid!) internship to the town's most heinous supervillain.
Nimona by Noelle Stevenson
Modern technology meets medieval magic in this National Book Award-nominated graphic novel, about shapeshifter Nimona teaming up with the "villainous" Lord Blackheart to take down Goldenloin and the Corporation.
Of Fire and Stars by Audrey Coulthurst
Betrothed since childhood to the prince of Mynaria, Princess Dennaleia has always known what her future holds, until she finds herself falling for the prince's sister instead.
Orleans by Sherri L. Smith
Fen de la Guerre lives in the O-positive tribe in the Delta River. When they're ambushed, she's determined to get to freedom, away from the wasteland that was once New Orleans.
Otherbound by Corinne Duyvis
Nolan sees through the eyes of a girl named Amara, who lives in a fantasy world completely unlike his own, every time he closes his eyes.
Pantomime by Laura Lam
Reinvented as 'Micah Grey', Gene joins the circus. As an aerialist, she discovers the joy of flight, but the circus has a dark side.
Princess Princess Ever After by Katie O'Neill
Two very different princesses join forces and realize they bring out the best in each other in this beautiful graphic novel.
Prophecy by Ellen Oh
Kira, who happens to be the only woman in the king's army and the prince's personal bodyguard, flees from Hansong with the prince after the king is murdered.
Proxy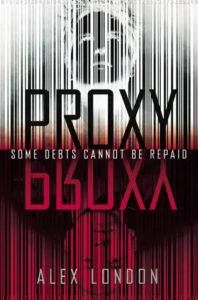 by Alex London
Syd was born to be the Proxy to Knox, who belongs to one of the City's wealthiest families. When Knox crashes a car, Syd is condemned to death.
Razorhurst by Justine Larbalestier
Kelpie knows the dangers of the mob-ridden Sydney streets. Ghosts have kept her alive, but they are also her torment.
Raven: The Pirate Princess by Jeremy Whitley
Raven plans on reclaiming her pirate kingdom from the brothers that stole it from her with the help of an all-lady crew.
Rebel Seoul by Axie Oh
In brutal Neo Seoul in 2199, ex-gang member Lee Jaewon is a talented pilot rising in the academy's ranks.In brutal Neo Seoul, ex-gang member Lee Jaewon is a talented pilot rising in the academy's ranks.
Refraction by Hayden Scott
Max Jackson needs to deal with the bomb in his basement that he and the other members of the "Injustice League" use to plan to stop their city's unethical government, until superhero Crush Goodman puts a stop to their plans.
Reign of the Fallen by Sarah Glenn Marsh
A talented necromancer who must decide whether to save or destroy the change-averse society around her. Coming January 23, 2018.
Runaways by Brian K. Vaughan
A group of six teenagers discover their parents are part of an evil organization in this soon-to-be-adapted Marvel series.
Shadow Run by AdriAnne Strickland and Michael Miller
Take "Firefly" and add a big of magic for an epic YA sci-fi opera about a girl who can harness shadows and a prince who wants to take advantage of that power.
Shadowshaper by Daniel José Older
Sierra uncovers the world of shadowshaping: magic that connects ancestral spirits through stories, music, and paintings. Someone is killing Shadowshapers and Sierra might be the one harboring their greatest secret.
Six of Crows by Leigh Bardugo
Six teenagers come together to pull off the biggest heist in their country's history, even if it puts their lives at risk, in this addition to Bardugo's Grisha universe.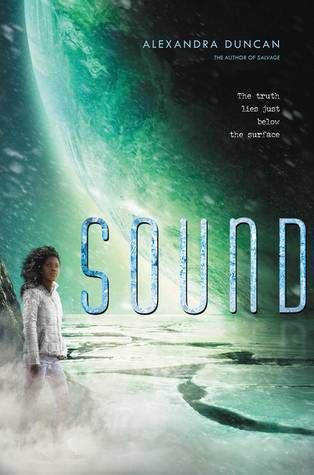 Sound by Alexandra Duncan
Miyole is finally living her dream as a research assistant on her very first space voyage. But when her ship saves a rover that has been attacked by looters, Miyole embarks on a rescue mission.
Starglass by Phoebe North
Terra has never known anything but life aboard the Asherah, a giant paradise – until Terra witness a member of the Captain's Guard murdering an innocent civilian.
The Abyss Surrounds Us by Emily Skrutskie
Cassandra is a Reckoner trainer-in-training, raising genetically-engineered beasts, until the pirate queen Santa Elena snatches her away.
The Belles by Dhonielle Clayton
In the opulent world of Orléans, Belles are revered, for they control Beauty, and Beauty is a commodity coveted above all else. Coming February 20, 2018.
The Blazing Star by Imani Josey
When Portia holds an Egyptian scarab beetle during history class, she faints and wakes up in ancient Egypt.
The Bone Witch by Rin Chupeco
Tea's gift for necromancy makes her a bone witch, who are feared and ostracized in the kingdom.
The Chaos by Nalo Hopkinson
Scotch needs to get to the bottom of her brother's supernatural kidnapping before the Chaos consumes everything she's ever known.
The Diviners by Libba Bray
Evie helps her uncle solve cryptic supernatural murders in this 1920s-inspired fantasy.
The Epic Crush of Genie Lo by F.C. Yee
When Genie Lo's sleepy Bay Area town comes under siege from hell-spawn straight out of Chinese folklore, her priorities are suddenly and forcefully rearranged. Coming August 8, 2017.
The Forbidden Wish by Jessica Khoury
Zahra's very existence is illegal in a world where Jinni are forbidden, but that doesn't stop Aladdin from discovering her lamp.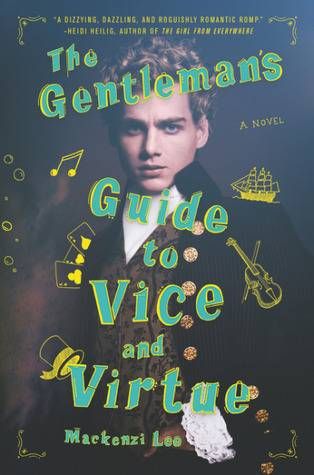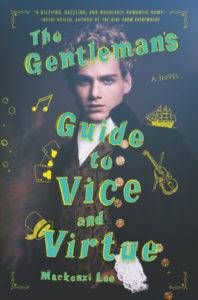 The Gentleman's Guide to Vice and Virtue by Mackenzi Lee
Monty, his best friend Percy, and his sister Felicity head off on their Grand Tour and stumble into an adventure. It's the big gay European road trip you never know you needed.
The Girl from Everywhere by Heidi Heilig
Nix lives on a ship that can travel through time, but when her father decides to go back to save her mother, she has to decide whether or not to help – even if it risks erasing her existence.
The Girl with the Red Balloon by Katherine Locke
Ellie Baum feels the weight of history on her when she arrives on a school trip to Berlin, Germany – and then she's yanked back in time to 1988 East Berlin. Coming September 1, 2017.
The House of the Scorpion by Nancy Farmer
Matteo Alacran was not born; he was harvested with the DNA from El Patron, lord of a country called Opium.
The Immortal Rules by Julie Kagawa
Allison Sekemoto survives in the Fringe, the outermost circle of a walled-in city, until the night Allie herself dies and becomes one of the monsters.
The Impostor Queen by Sarah Fine
Elli was only a child when the Elders of Kupari chose her to succeed the queen. But when the queen dies defending the kingdom from invading warriors, the magic doesn't enter Elli.
The Library of Fates by Aditi Khorana
Stripped of all that she loves, Amrita sets out on a quest to find the fabled Library of All Things, where it is possible to reverse fate.
The Lost Girl by Sangu Mandanna
Eva's life is not her own. She is a creation, an abomination—an echo. She was made by the Weavers as a copy of someone else.
The Love Interest by Cale Dietrich
Caden is a Nice: The boy next door. Dylan is a Bad: the brooding guy. While pursuing the same girl for the organisation, they fall for each other.
The Reader by Traci Chee
After her father is brutally murdered, Sefia flees with her aunt Nin, who teaches her to hunt, track, and steal.
The Scorpion Rules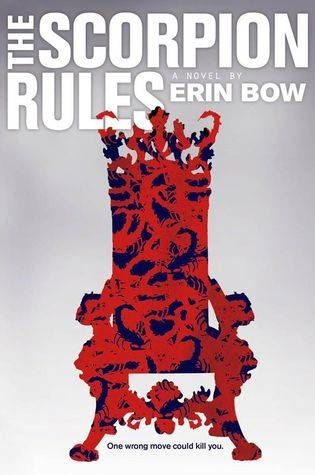 by Erin Bow
In this futuristic world, an AI rules the globe, kidnapping the children of rulers to keep countries in line and executing them if countries misbehave.
The Star-Touched Queen by Roshani Chokshi
The stars foretold Maya's future: death and destruction. When she marries Amar and becomes queen of Akaran, she thinks destiny could change.
The Summer Prince by Alaya Dawn Johnson
In futuristic Brazil, June Costa creates art in Palmares Tres, but when the new Summer King Enki wanders into town, June doesn't see an enchanting man – she sees a fellow artist.
The Young Elites by Marie Lu
Though Adelina is a survivor, she wasn't unscathed. The fever changed her appearance and left her with dark powers, marking her as a Young Elite.
Timekeeper by Tara Sim
When clock mechanic Danny is assigned to Enfield, he meets the the tower's clock spirit, a mythical being that oversees Enfield's time.
Unicorn Tracks by Julia Ember
Mnemba is employed to guide Mr. Harving and his daughter, Kara, as they study unicorns.
Want by Cindy Pon
In order to take down his city's corruption, Zhou and his friends decide to target Jin Corporation, the company that manufactures expensive suits that only protect some citizens from pollution.
When The Moon Was Ours by Anna-Marie McLemore
As odd as everyone considers Miel and Sam, even they stay away from the Bonner girls, four beautiful sisters rumored to be witches.
Willful Machines by Tim Floreen
In the near future, scientists create what may be a new form of life: an artificial human named Charlotte – and Lee he may be Charlotte's next target.
Wonders of the Invisible World by Christopher Barzak
When Aidan's former best friend, Jarrod, suddenly moves back to town, the veil that has clouded Aidan's mind begins to lift.
Zeroboxer by Fonda Lee
Carr dreams of winning the championship title in the weightless combat sport of zeroboxing. But when Carr discovers a criminal scheme, he becomes the keeper of a devastating secret.
What are your favorite YA SFF books? Want to read even more YA? Check out our full young adult books section.
Save
Save
Save