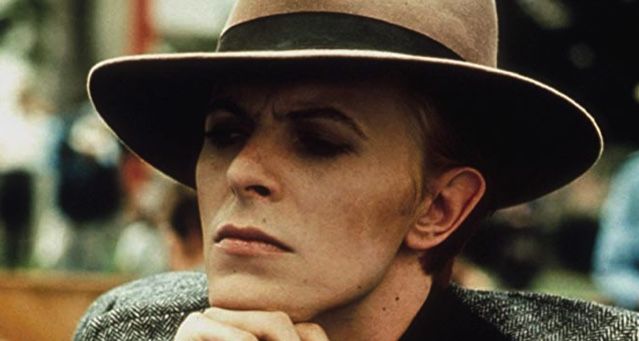 Critical Linking
100 Books That Changed David Bowie's Life: Critical Linking, November 6, 2019
Critical Linking is a daily roundup of the most interesting bookish links from around the web sponsored by Book Riot's $50 gift card to the indie bookstore of your choice giveaway! Enter here.

---
"Like some rock stars of his generation, David Bowie had a literary cast of mind; unlike most of those colleagues, he also made his association with books explicit. (Not for nothing did he appear on that READ poster.) Whenever this subject arises, it's tempting to bring up the story of how The Man Who Fell to Earth director Nicolas Roeg poked fun at the extreme number of books with which Bowie surrounded himself during the time he was acting in that film, as we did when we posted about the David Bowie book club. Launched by Bowie's son, the filmmaker Duncan Jones, that project was meant to read through Bowie's own list of top 100 books, previously featured here on Open Culture. Now, thanks to the work of music journalist John O'Connell, Bowie's love of books has a book of its own."
Perfect book for fans of David Bowie and books.
---
"In all of the best romantic comedies, there is an undeniable thread of heartache. Sure, rom-coms are filled with adorable meet-cutes and dramatic declarations of love, but in some of the most genre-defining books and films — To All the Boys I've Loved Before by Jenny Han, Crazy Rich Asians by Kevin Kwan, Dumplin' by Julie Murphy — the stories blend romance and lighthearted banter with depictions of profound grief, tragic loss, and deep trauma.
'I think that a lot of the best romantic comedies have an element of sadness to them,' Linda Holmes, author of Evvie Drake Starts Over, tells Bustle. 'One of the things about the real love of other people is that it helps balance things that are painful. Not solve them, just balance them.'"
A look at romcom novels taking on abuse and trauma.
---
"The lack of widespread acknowledgement or recognition for Harriet E. Wilson, the first African American novelist and author of Our Nig (1859), comes as a surprise. A New Englander, Wilson reclaimed in her work the domestic, maternal, and liberating space of 19th century women's fiction. She constructed a fiction which in turn dismantles Frenchman of Letters Phillipe Vilain's 'autofiction' definition with its requisite of the first-person."
A must-read look at why the first Black woman novelist hasn't been given her due.