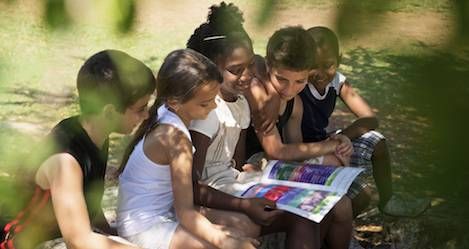 Children's
100 Best Children's Books for African American History Month
This content contains affiliate links. When you buy through these links, we may earn an affiliate commission.
February is African American History Month. What began as National Negro History Week in 1926 by Carter G. Woodson in hopes of raising awareness of African American's contributions to civilization, this was later expanded to a full month, African American History Month, in 1976. President Gerald R. Ford urged Americans to "seize the opportunity to honor the too-often neglected accomplishments of black Americans in every area of endeavor throughout our history." Here at Book Riot, we honor this month in the best way we know how: through books.
Picture Books
This is the Rope: A Story from the Great Migration by Jacqueline Woodson, illustrated by James Ransome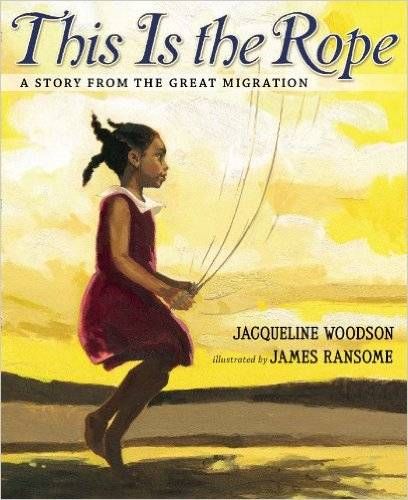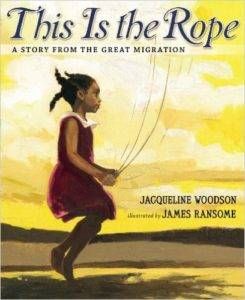 The story of one family's journey north during the Great Migration starts with a little girl in South Carolina who finds a rope under a tree one summer. She has no idea the rope will become part of her family's history. But for three generations, that rope is passed down, used for everything from jump rope games to tying suitcases onto a car for the big move north to New York City, and even for a family reunion where that first little girl is now a grandmother.
Preaching to the Chickens: The Story of Young John Lewis by Jabari Asim, illustrated by E.B. Lewis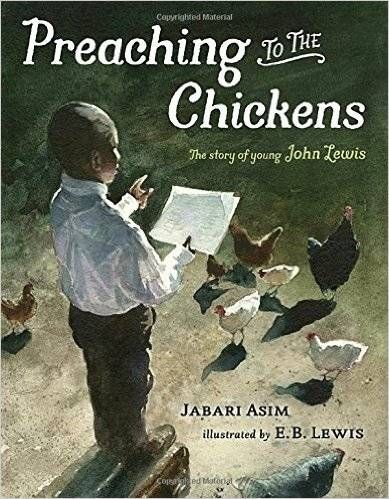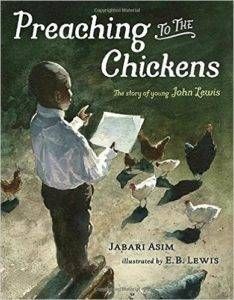 John wants to be a preacher when he grows up—a leader whose words stir hearts to change, minds to think, and bodies to take action. But why wait? When John is put in charge of the family farm's flock of chickens, he discovers that they make a wonderful congregation! So he preaches to his flock, and they listen, content under his watchful care, riveted by the rhythm of his voice.
Martin's Big Words: The Life of Dr. Martin Luther King by Doreen Rappaport, illustrated by Bryan Collier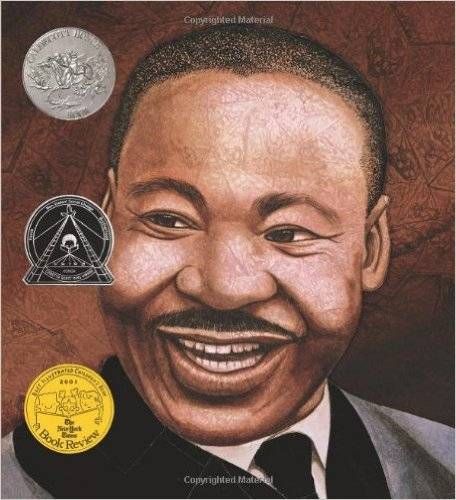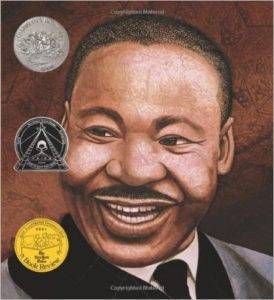 This picture-book biography is an excellent and accessible introduction for young readers to learn about one of the world's most influential leaders, Dr. Martin Luther King, Jr. Doreen Rappaport weaves the immortal words of Dr. King into a captivating narrative to tell the story of his life. With stunning art by acclaimed illustrator Bryan Collier, Martin's Big Words is an unforgettable portrait of a man whose dream changed America-and the world-forever.
Everett Anderson's Goodbye by Lucille Clifton, illustrated by Ann Grifalconi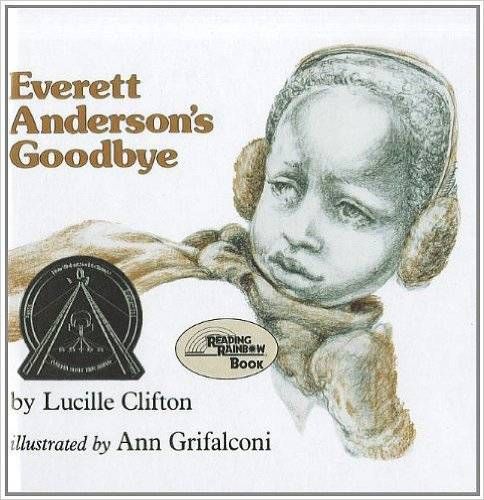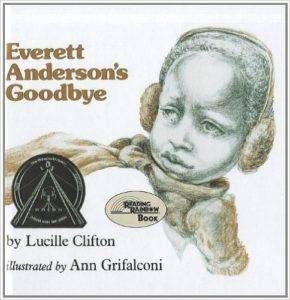 Today's authors and illustrators of color all look to Lucille Clifton's Everett Anderson series as one of their first memories of seeing kids that looked like them in between the pages of a picture book. This series is written in beautiful verse and paired with gorgeous illustrations, and young Everett's thoughts and trials are as relevant as ever to today's young generation.
Henry's Freedom Box: A True Story from the Underground Railroad by Levine Ellen, illustrated by Kadir Nelson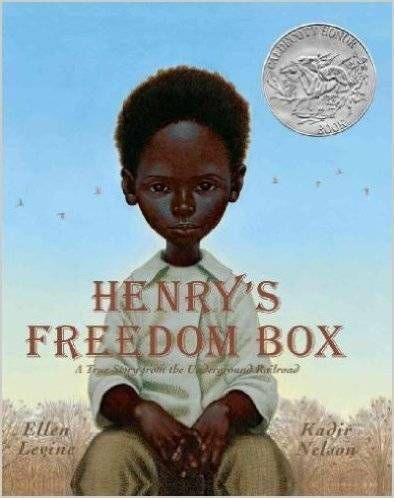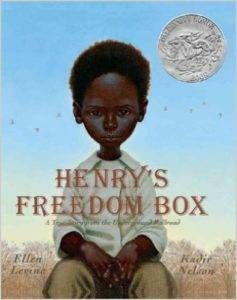 Henry Brown doesn't know how old he is. Nobody keeps records of slaves' birthdays. All the time he dreams about freedom, but that dream seems farther away than ever when he is torn from his family and put to work in a warehouse. Henry grows up and marries, but he is again devastated when his family is sold at the slave market. Then one day, as he lifts a crate at the warehouse, he knows exactly what he must do: He will mail himself to the North. After an arduous journey in the crate, Henry finally has a birthday — his first day of freedom.
Trombone Shorty by Troy Andrews, illustrated by Bryan Collier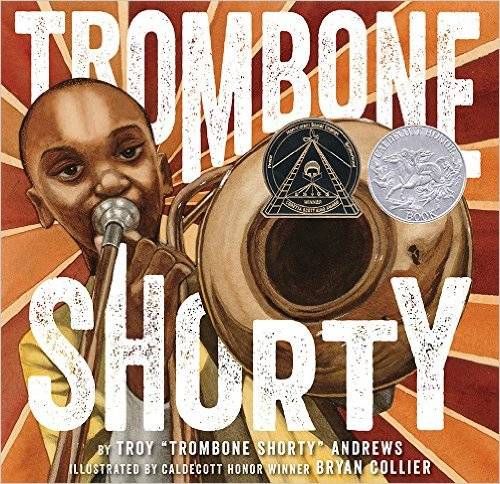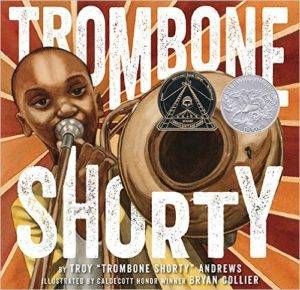 Hailing from the Tremé neighborhood in New Orleans, Troy "Trombone Shorty" Andrews got his nickname by wielding a trombone twice as long as he was high. A prodigy, he was leading his own band by age six, and today this Grammy-nominated artist headlines the legendary New Orleans Jazz Fest. Along with esteemed illustrator Bryan Collier, Andrews has created a lively picture book autobiography about how he followed his dream of becoming a musician, despite the odds, until he reached international stardom. Trombone Shorty is a celebration of the rich cultural history of New Orleans and the power of music.
Minty: The Story of a Young Harriet Tubman by Alan Schroeder, illustrated by Jerry Pinkney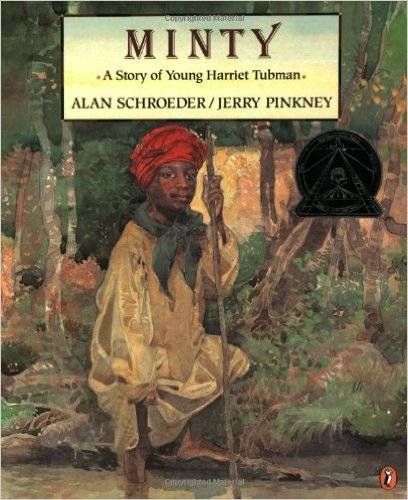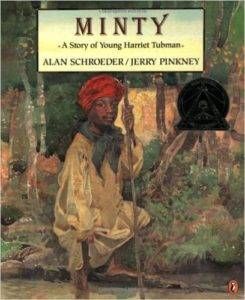 When she grew up, she became Harriet Tubman, the courageous and heroic woman who helped hundreds of slaves escape to freedom through the Underground Railroad. But she was just a little girl for a while—and this is her story. Minty, short for Araminta, was a feisty and headstrong young slave, whose rebellious spirit often got her into trouble. She told stories to her doll, released animals from traps, and, above all, dreamed of running away. And when her father began to teach her the skills necessary for escape, she listened carefully, and learned. . . .
The Patchwork Path: A Quilt Map to Freedom by Bettye Stroud, illustrated by Erin Susanne Bennett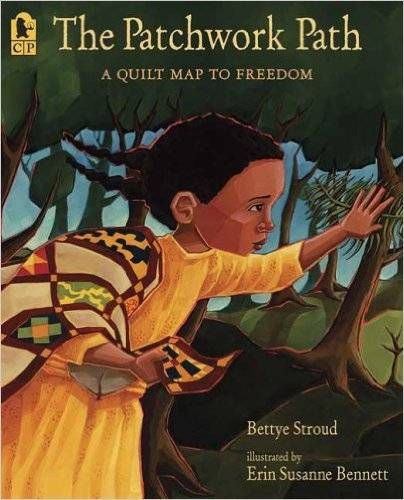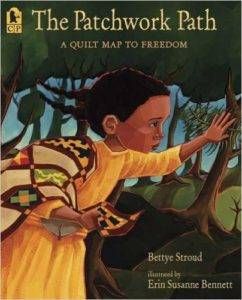 Now that Hannah's papa has decided to make the run for freedom, her patchwork quilt is not just a precious memento of Mama — it's a series of hidden clues that will guide them along the Underground Railroad to Canada. A fictionalized account of a fascinating oral history, THE PATCHWORK PATH tells the story of a two of the thousands who escaped a life of slavery and made the dangerous journey to freedom — a story of courage, determination, and hope.
John Henry by Julius Lester, illustrated by Jerry Pinkney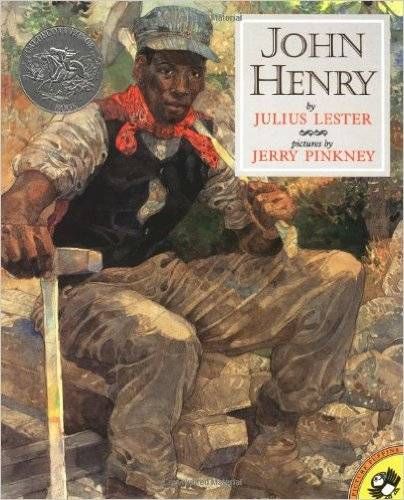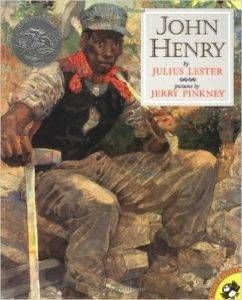 John Henry is stronger than ten men, and can dig through a mountain faster than a steam drill. Julius Lester's folksy retelling of a popular African-American folk ballad has warmth, tall tale humor, and boundless energy. Jerry Pinkney illustrates the story with "rich colors borrowed from the rocks and the earth, so beautiful that they summon their own share of smiles and tears."
Lift Your Light a Little Higher: The Story of Stephen Bishop: Slave-Explorer by Heather Henson, illustrated by Bryan Collier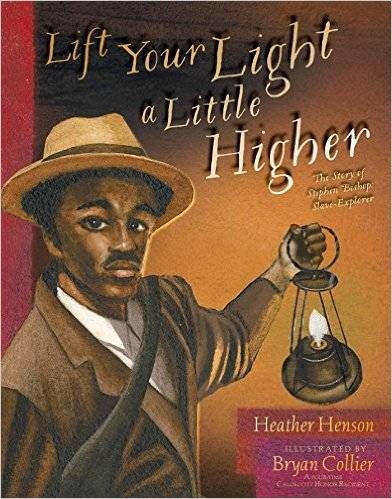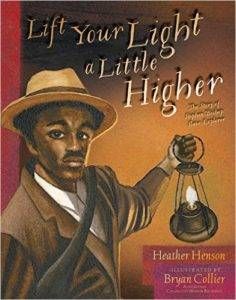 Welcome to Mammoth Cave. It's 1840 and my name's Stephen Bishop. I'll be your guide, so come with me, by the light of my lantern, into the deepest biggest cave in all of the United States. Down here, beneath the earth, I'm not just a slave. I'm a pioneer. I know the cave's twists and turns. It taught me to not be afraid of the dark. And watching all these people write their names on the ceiling? Well, it taught me how to read too. Imagine that. A slave, reading. But like I said, down here I'm not just a slave. I'm a guide. I'm a man. And this is my story.
Duke Ellington: The Piano Prince and His Orchestra by Andrea Davis Pinkney, illustrated by Brian Pinkney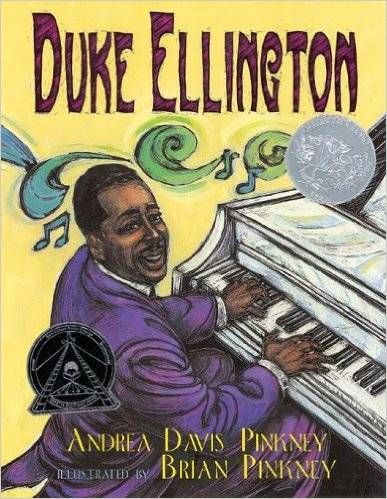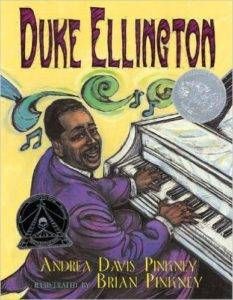 A picture book biography of the legendary Duke Ellington, paired with vibrant illustrations and swinging verse. Learn about his childhood and rise to popularity.
Martin & Mahalia by Andrea Davis Pinkney, illustrated by Brian Pinkney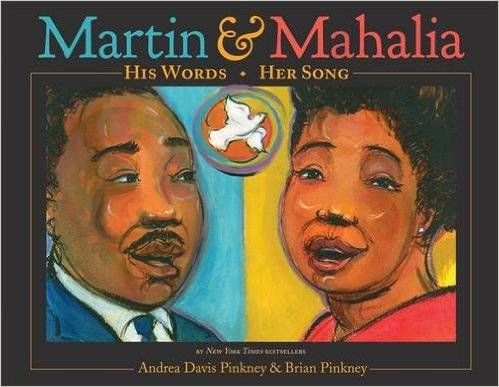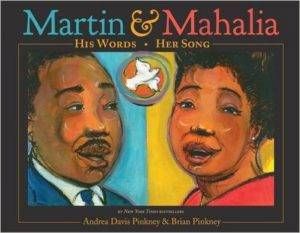 On August 28, 1963, Martin Luther King, Jr. gave his famous "I Have a Dream" speech from the steps of the Lincoln Memorial, and his strong voice and powerful message were joined and lifted in song by world-renowned gospel singer Mahalia Jackson. It was a moment that changed the course of history and is imprinted in minds forever. Told through Andrea Davis Pinkney's poetic prose and Brian Pinkney's evocative illustration, the stories of these two powerful voices and lives are told side-by-side — as they would one day walk — following the journey from their youth to a culmination at this historical event when they united as one and inspiring kids to find their own voices and speak up for what is right.
The Story of Ruby Bridges by Robert Coles, illustrated by George Ford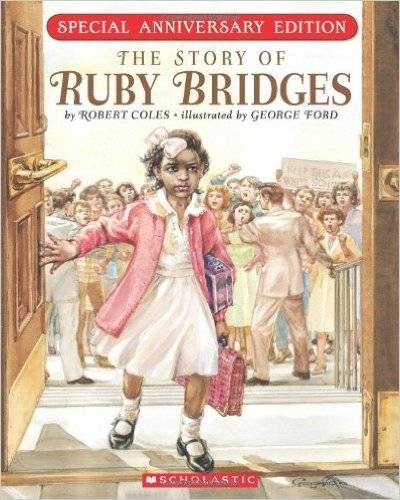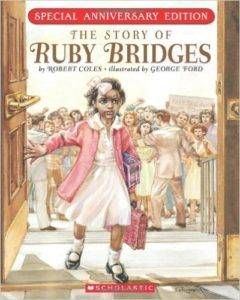 The year is 1960, and six-year-old Ruby Bridges and her family have recently moved from Mississippi to New Orleans in search of a better life. When a judge orders Ruby to attend first grade at William Frantz Elementary, an all-white school, Ruby must face angry mobs of parents who refuse to send their children to school with her.
If a Bus Could Talk by Faith Ringgold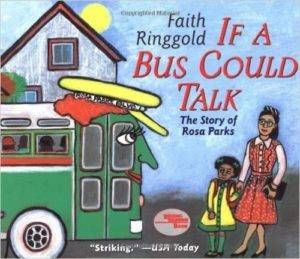 If a bus could talk, it would tell the story of a young African-American girl named Rosa who had to walk miles to her one-room schoolhouse in Alabama while white children rode to their school in a bus. It would tell how the adult Rosa rode to and from work on a segregated city bus and couldn't sit in the same row as a white person. It would tell of the fateful day when Rosa refused to give up her seat to a white man and how that act of courage inspired others around the world to stand up for freedom. In this book a bus does talk, and on her way to school a girl named Marcie learns why Rosa Parks is the mother of the Civil Rights movement.
Salt in His Shoes: Michael Jordan in Pursuit of a Dream by Deloris Jordan and Roslyn M. Jordan, illustrated by Kadir Nelson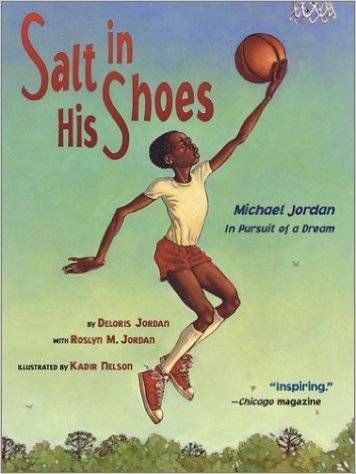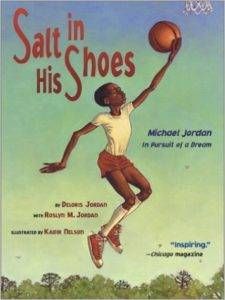 The mere mention of the name conjures up visions of basketball played at its absolute best. But as a child, Michael almost gave up on his hoop dreams, all because he feared he'd never grow tall enough to play the game that would one day make him famous. That's when his mother and father stepped in and shared the invaluable lesson of what really goes into the making of a champion — patience, determination, and hard work.
I am Rosa Parks by Brad Meltzer, illustrated by Christopher Eliopoulos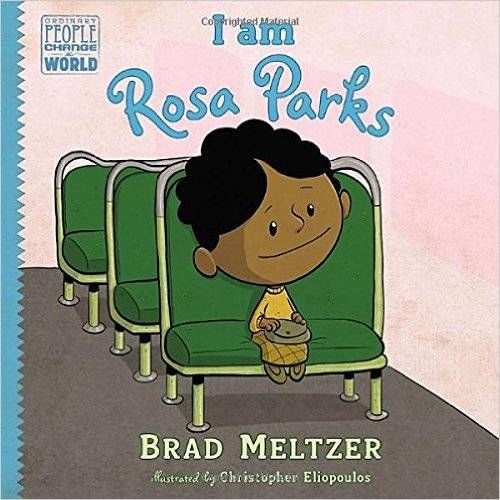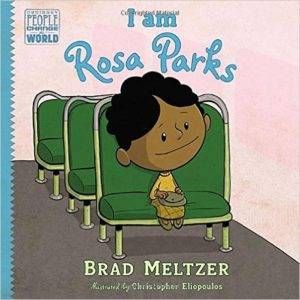 Rosa Parks dared to stand up for herself and other African Americans by staying seated, and as a result, she helped end public bus segregation and launch the country's Civil Rights Movement.
I, Too, Am America
, illustrated by Bryan Collier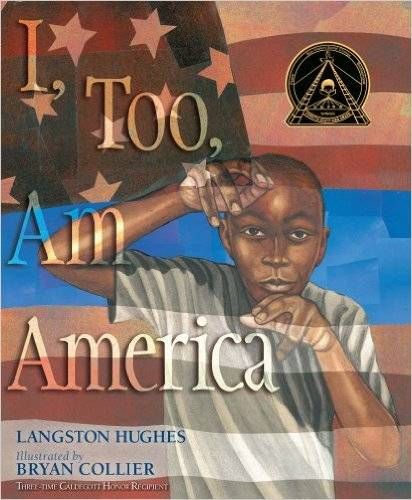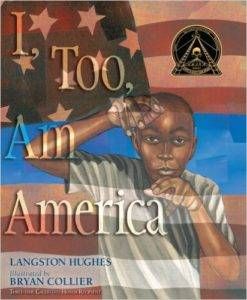 I, too, sing America.
I am the darker brother.
They send me to eat in the kitchen
When company comes,
But I laugh,
And eat well,
And grow strong.
Langston Hughes was a courageous voice of his time, and his authentic call for equality still rings true today. Beautiful paintings from Barack Obama illustrator Bryan Collier accompany and reinvent the celebrated lines of the poem "I, Too," creating a breathtaking reminder to all Americans that we are united despite our differences.
Alvin Ailey by Andrea Davis Pinkney, illustrated by Brian Pinkney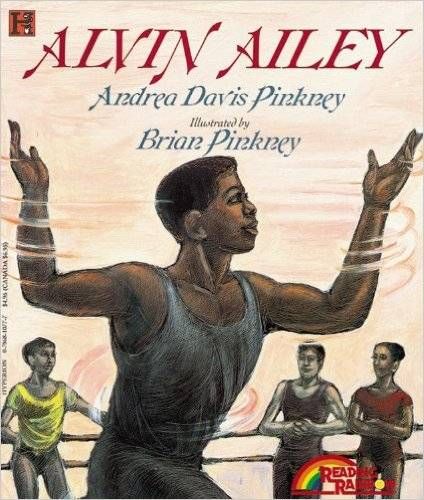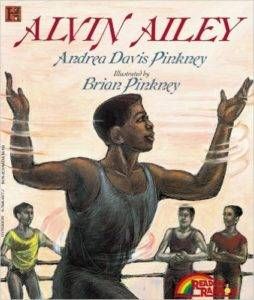 This stunning book chronicles the life, dancing, and choreography of Alvin Ailey, who created his own modern dance company to explore the black experience.
Dave the Potter: Artist, Potter, Slave by Laban Carrick Hill, illustrated by Bryan Collier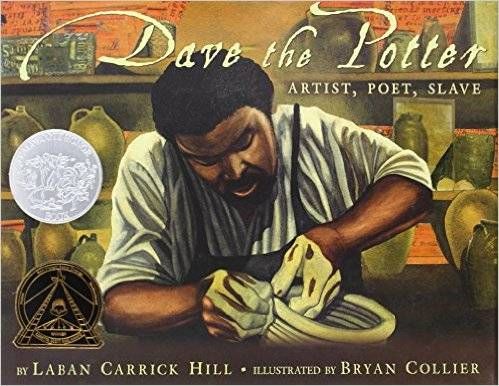 Dave was an extraordinary artist, poet, and potter living in South Carolina in the 1800s. He combined his superb artistry with deeply observant poetry, carved onto his pots, transcending the limitations he faced as a slave. In this inspiring and lyrical portrayal, National Book Award nominee Laban Carrick Hill's elegantly simple text and award-winning artist Bryan Collier's resplendent, earth-toned illustrations tell Dave's story, a story rich in history, hope, and long-lasting beauty.
The Other Side by Jacqueline Woodson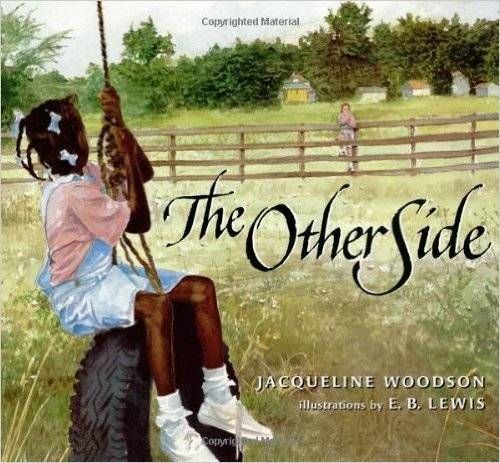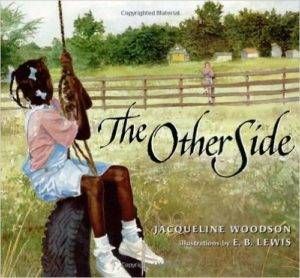 Clover's mom says it isn't safe to cross the fence that segregates their African-American side of town from the white side where Anna lives. But the two girls strike up a friendship, and get around the grown-ups' rules by sitting on top of the fence together.
Visiting Langston by Willie Perdomo, illustrated by Bryan Collier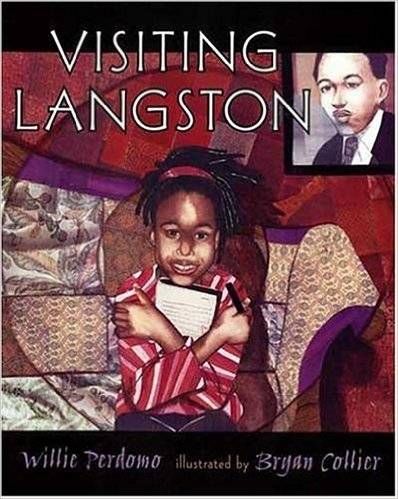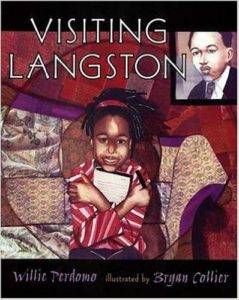 It's a special day when a little girl and her father go to visit the house where the great poet Langston Hughes lived―especially when the little girl is a poet herself! This rhythmic tale is a wonderful introduction to the work and world of Langston Hughes, who was a central figure of the Harlem Renaissance and an American cultural hero.
Firebird by Misty Copeland, illustrated by Christopher Myers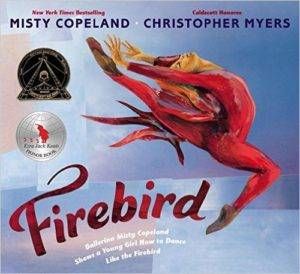 In her debut picture book, Misty Copeland tells the story of a young girl–an every girl–whose confidence is fragile and who is questioning her own ability to reach the heights that Misty has reached. Misty encourages this young girl's faith in herself and shows her exactly how, through hard work and dedication, she too can become Firebird.
Josephine: The Dazzling Life of Josephine Baker by Patricia Hruby Powell, illustrated by Christian Robinson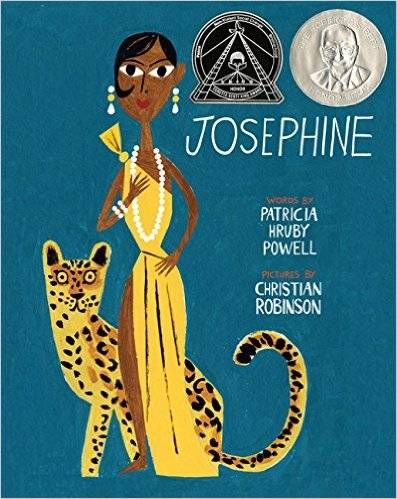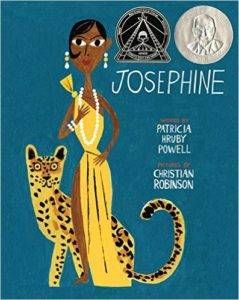 In exuberant verse and stirring pictures, Patricia Hruby Powell and Christian Robinson create an extraordinary portrait for young people of the passionate performer and civil rights advocate Josephine Baker, the woman who worked her way from the slums of St. Louis to the grandest stages in the world. Meticulously researched by both author and artist, Josephine's powerful story of struggle and triumph is an inspiration and a spectacle, just like the legend herself.
Gordon Parks: How the Photographer Captured Black and White America by Carole Boston Weatherford, illustrated by Jamey Christoph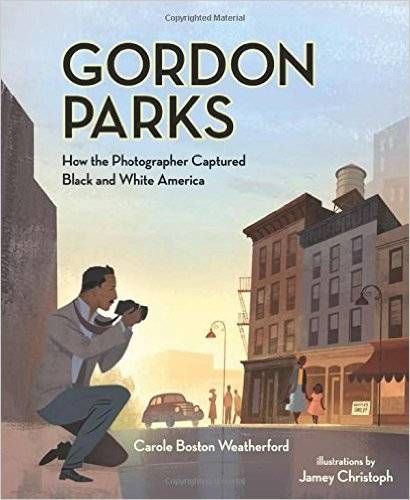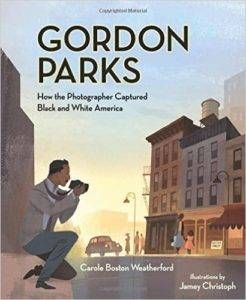 His white teacher tells her all-black class, You'll all wind up porters and waiters. What did she know? Gordon Parks is most famous for being the first black director in Hollywood. But before he made movies and wrote books, he was a poor African American looking for work. When he bought a camera, his life changed forever. He taught himself how to take pictures and before long, people noticed. His success as a fashion photographer landed him a job working for the government. In Washington DC, Gordon went looking for a subject, but what he found was segregation. He and others were treated differently because of the color of their skin. Gordon wanted to take a stand against the racism he observed. With his camera in hand, he found a way. Told through lyrical verse and atmospheric art, this is the story of how, with a single photograph, a self-taught artist got America to take notice.
Harlem's Little Blackbird by Renee Watson, illustrated by Christian Robinson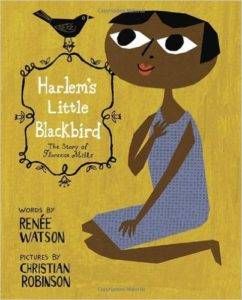 Born to parents who were both former slaves, Florence Mills knew at an early age that she loved to sing, and that her sweet, bird-like voice, resonated with those who heard her. Performing catapulted her all the way to the stages of 1920s Broadway where she inspired everyone from songwriters to playwrights. Yet with all her success, she knew firsthand how prejudice shaped her world and the world of those around her. As a result, Florence chose to support and promote works by her fellow black performers while heralding a call for their civil rights. Featuring a moving text and colorful illustrations, Harlem's Little Blackbird is a timeless story about justice, equality, and the importance of following one's heart and dreams.
Lillian's Right to Vote by Johah Winter, illustrated by Shane W. Evans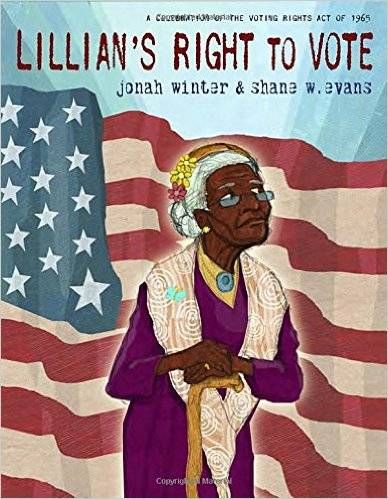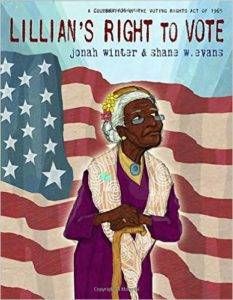 An elderly African American woman, en route to vote, remembers her family's tumultuous voting history in this picture book publishing in time for the fiftieth anniversary of the Voting Rights Act of 1965. As Lillian, a one-hundred-year-old African American woman, makes a "long haul up a steep hill" to her polling place, she sees more than trees and sky—she sees her family's history. She sees the passage of the Fifteenth Amendment and her great-grandfather voting for the first time. She sees her parents trying to register to vote. And she sees herself marching in a protest from Selma to Montgomery. Veteran bestselling picture-book author Jonah Winter and Coretta Scott King Illustrator Award winner Shane W. Evans vividly recall America's battle for civil rights in this lyrical, poignant account of one woman's fierce determination to make it up the hill and make her voice heard.
Fifty Cents and a Dream: Young Booker T. Washington by Jabari Asim, illustrated by Bryan Collier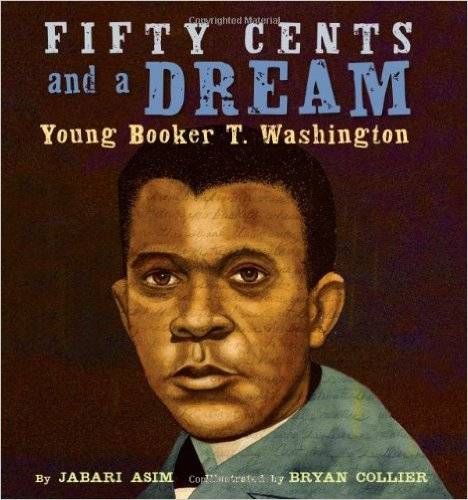 Born into slavery, young Booker T. Washington could only dream of learning to read and write. After emancipation, Booker began a five-hundred-mile journey, mostly on foot, to Hampton Institute, taking his first of many steps towards a college degree. When he arrived, he had just fifty cents in his pocket and a dream about to come true. The young slave who once waited outside of the schoolhouse would one day become a legendary educator of freedmen.
The Youngest Marcher: The Story of Audrey Faye Hendricks, a Young Civil Rights Activist by Cynthia Levinson, illustrated by Vanessa Brantley Newton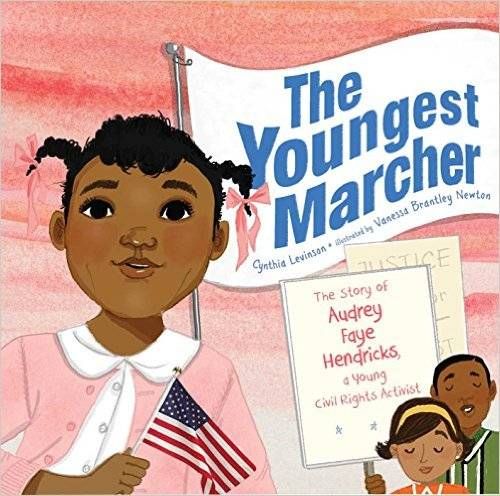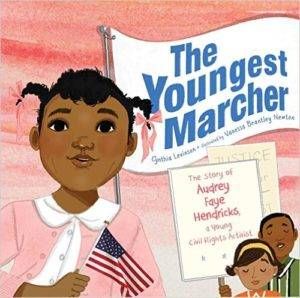 Nine-year-old Audrey Faye Hendricks intended to go places and do things like anybody else. So when she heard grown-ups talk about wiping out Birmingham's segregation laws, she spoke up. As she listened to the preacher's words, smooth as glass, she sat up tall. And when she heard the plan—picket those white stores! March to protest those unfair laws! Fill the jails!—she stepped right up and said, I'll do it! She was going to j-a-a-il! Audrey Faye Hendricks was confident and bold and brave as can be, and hers is the remarkable and inspiring story of one child's role in the Civil Rights Movement.
Moses: When Harriet Tubman Led Her People to Freedom by Carole Boston Weatherford, illustrated by Kadir Nelson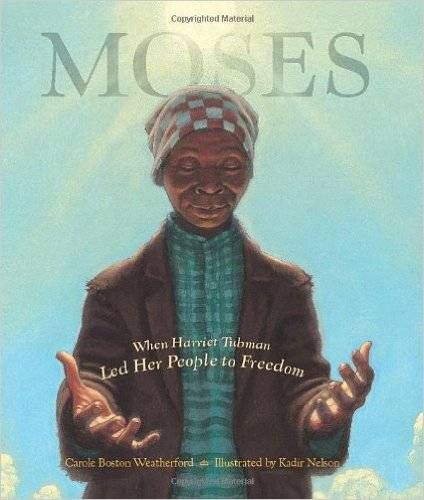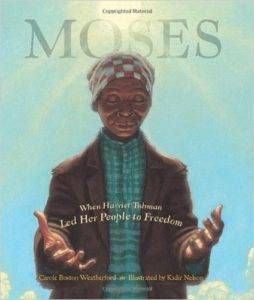 This poetic book is a resounding tribute to Tubman's strength, humility, and devotion. With proper reverence, Weatherford and Nelson do justice to the woman who, long ago, earned over and over the name Moses.
Sweet Clara and the Freedom Quilt by Deborah Hopkinson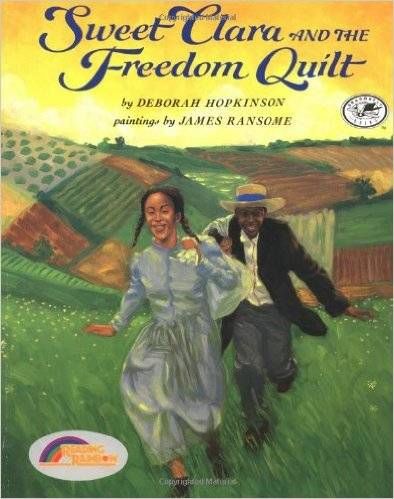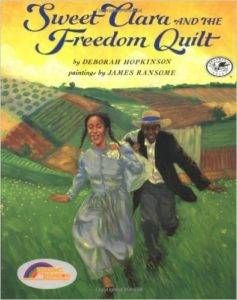 As a seamstress in the Big House, Clara dreams of a reunion with her Momma, who lives on another plantation–and even of running away to freedom. Then she overhears two slaves talking about the Underground Railroad. In a flash of inspiration, Clara sees how she can use the cloth in her scrap bag to make a map of the land–a freedom quilt–that no master will ever suspect.
Freedom Summer by Deborah Wiles, illustrated by Jerome Lagarrigue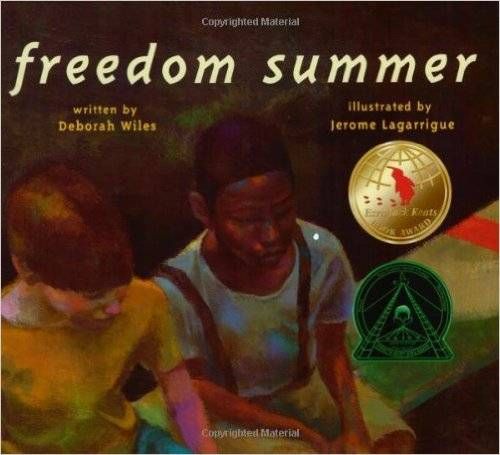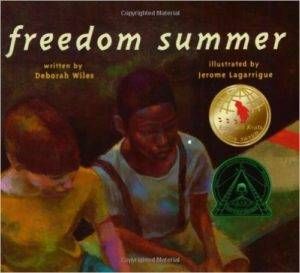 Joe and John Henry are a lot alike. They both like shooting marbles, they both want to be firemen, and they both love to swim. But there's one important way they're different: Joe is white and John Henry is black, and in the South in 1964, that means John Henry isn't allowed to do everything his best friend is. Then a law is passed that forbids segregation and opens the town pool to everyone. Joe and John Henry are so excited they race each other there…only to discover that it takes more than a new law to change people's hearts.
Of Thee I Sing by Barack Obama, illustrated by Loren Long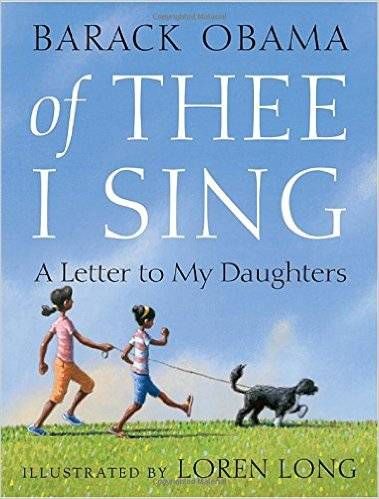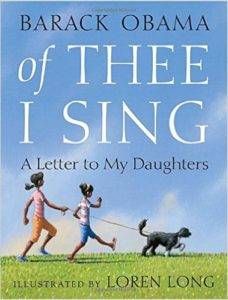 In this tender, beautiful letter to his daughters, President Barack Obama has written a moving tribute to thirteen groundbreaking Americans and the ideals that have shaped our nation. From the artistry of Georgia O'Keeffe, to the courage of Jackie Robinson, to the patriotism of George Washington, President Obama sees the traits of these heroes within his own children, and within all of America's children.
Child of the Civil Rights Movement by Paula Young Shelton, illustrated by Raul Colon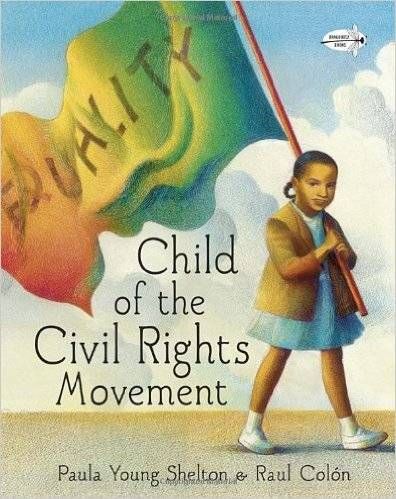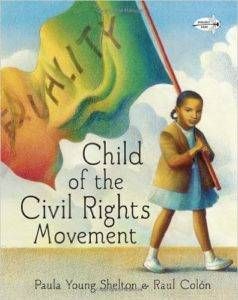 Paula Young Shelton, daughter of Civil Rights activist Andrew Young, brings a child's unique perspective to an important chapter in America's history. Paula grew up in the deep south, in a world where whites had and blacks did not. With an activist father and a community of leaders surrounding her, including Uncle Martin (Martin Luther King), Paula watched and listened to the struggles, eventually joining with her family—and thousands of others—in the historic march from Selma to Montgomery.
Freedom on the Menu by Carole Boston Weatherford, illustrated by Jerome Lagarrigue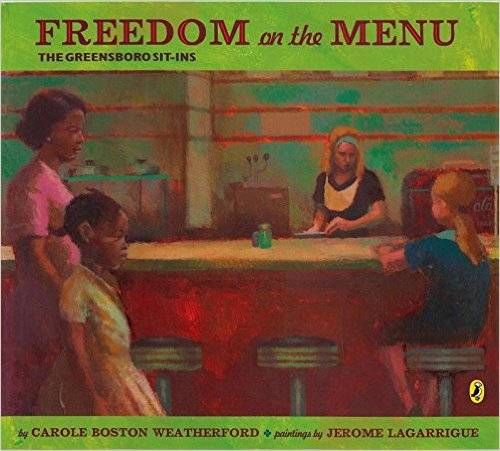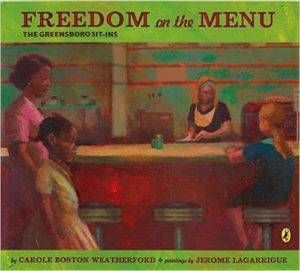 There were signs all throughout town telling eight-year-old Connie where she could and could not go. But when Connie sees four young men take a stand for equal rights at a Woolworth's lunch counter in Greensboro, North Carolina, she realizes that things may soon change. This event sparks a movement throughout her town and region. And while Connie is too young to march or give a speech, she helps her brother and sister make signs for the cause. Changes are coming to Connie's town, but Connie just wants to sit at the lunch counter and eat a banana split like everyone else.
White Socks Only by Evelyn Coleman, illustrated by Tyrone Geter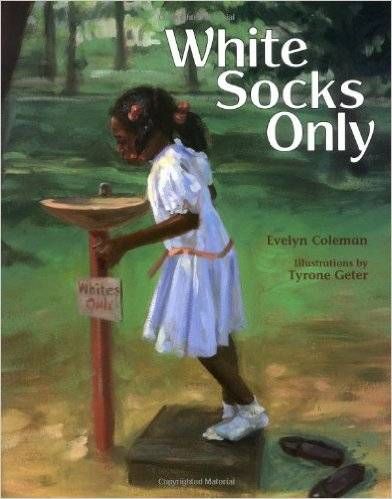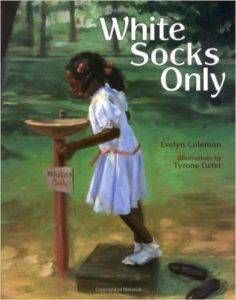 In the segregated south, a young girl thinks that she can drink from a fountain marked "Whites Only" because she is wearing her white socks.
A Sweet Smell of Roses by Angela Johnson, illustrated by Eric Velazquez
There's a sweet, sweet smell in the air as two young girls sneak out of their house, down the street, and across town to where men and women are gathered, ready to march for freedom and justice. Inspired by countless children and young adults who took a stand, two Coretta Scott King honorees offer a heart-lifting glimpse of children's roles in the civil rights movement.
The Book Itch: Freedom, Truth, and Harlem's Greatest Bookstore by Vaunda Micheux Nelson, illustrated by R. Gregory Christie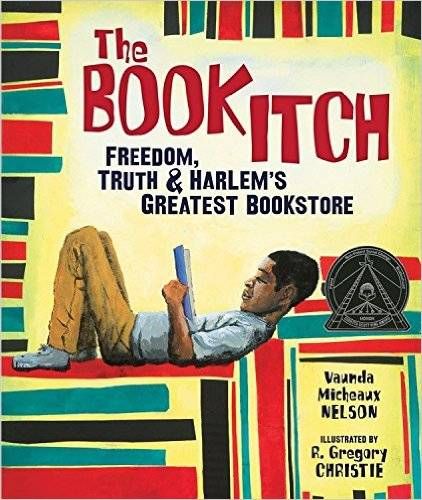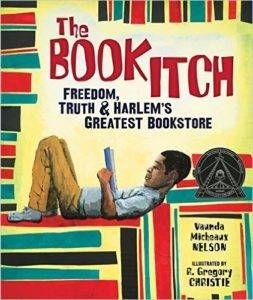 And as far as Lewis Michaux Jr. could tell, his father's bookstore was one of a kind. People from all over came to visit the store, even famous people Muhammad Ali and Malcolm X, to name a few. In his father's bookstore people bought and read books, and they also learned from each other. People swapped and traded ideas and talked about how things could change. They came together here all because of his father's book itch. Read the story of how Lewis Michaux Sr. and his bookstore fostered new ideas and helped people stand up for what they believed in.
Ellen's Broom by Kelly Starling Lyons, illustrated by Daniel Minter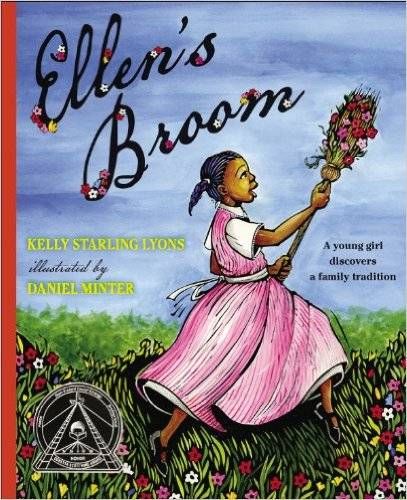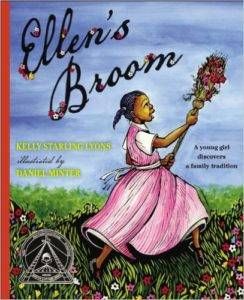 Ellen always knew the broom resting above the hearth was special. Before it was legal for her mother and father to officially be married, the broom was what made them a family anyway. But now all former slaves who had already been married in their hearts could register as lawful husband and wife. When Ellen and her family make the long trip to the courthouse dressed in their best, she brings the broom her parents had jumped so many years before. Even though freedom has come, Ellen knows the old traditions are important too. After Mama and Papa's names are recorded in the register, Ellen nearly bursts with pride as her parents jump the broom once again.
I Have a Dream by Dr. Martin Luther King, Jr., and Kadir Nelson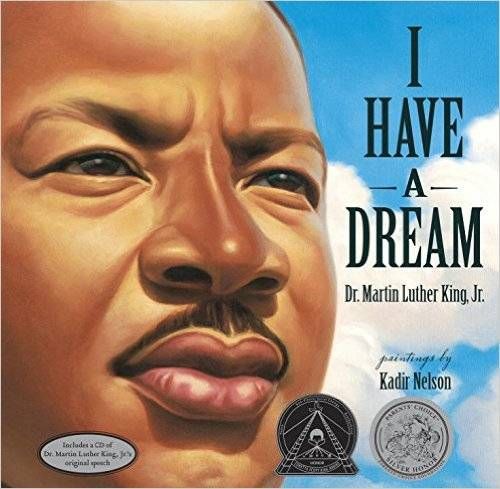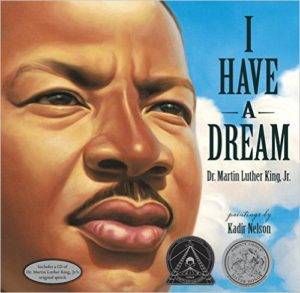 On August 28, 1963, on the steps of the Lincoln Memorial during the March on Washington, Martin Luther King gave one of the most powerful and memorable speeches in our nation's history. His words, paired with Caldecott Honor winner Kadir Nelson's magnificent paintings, make for a picture book certain to be treasured by children and adults alike. The themes of equality and freedom for all are not only relevant today, 50 years later, but also provide young readers with an important introduction to our nation's past.
Working Cotton by Sherley Anne Williams, illustrated by Carole Byard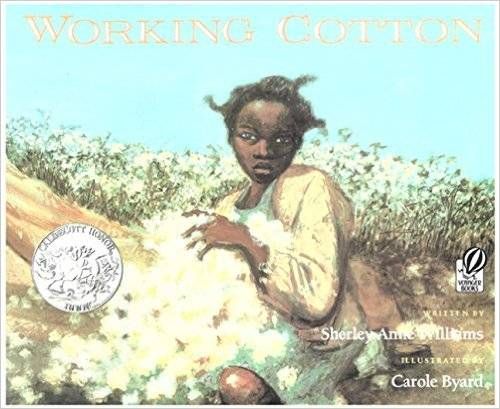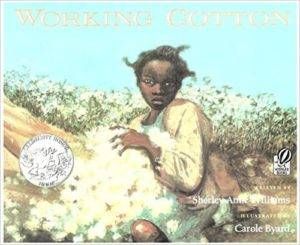 This child's view of the long day's work in the cotton fields, simply expressed in a poet's resonant language, is a fresh and stirring look at migrant family life. "With its restrained poetic text and impressionist paintings, this is a picture book for older readers, too."–Booklist
The Bat Boy and His Violin by Gavin Curtis, illustrated by E.B Lewis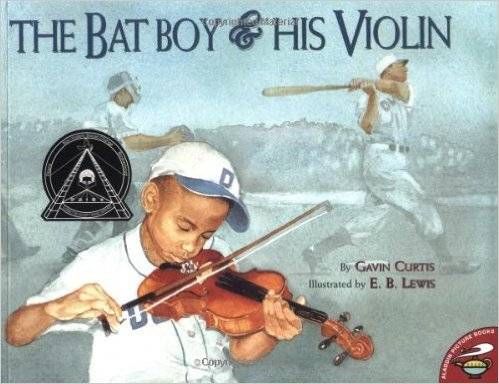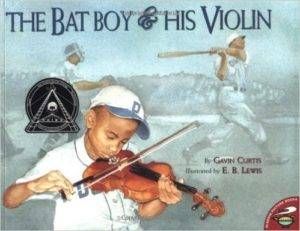 Reginald loves to create beautiful music on his violin. But Papa, manager of the Dukes, the worst team in the Negro National League, needs a bat boy, not a "fiddler," and traveling with the Dukes doesn't leave Reginald much time for practicing. Soon the Dukes' dugout is filled with Beethoven, Mozart, and Bach — and the bleachers are filled with the sound of the Dukes' bats. Has Reginald's violin changed the Dukes' luck — and can his music pull off a miracle victory against the powerful Monarchs?
We Shall Overcome: The Story of a Song by Debbie Levy, illustrated by Vanessa Brantley-Newton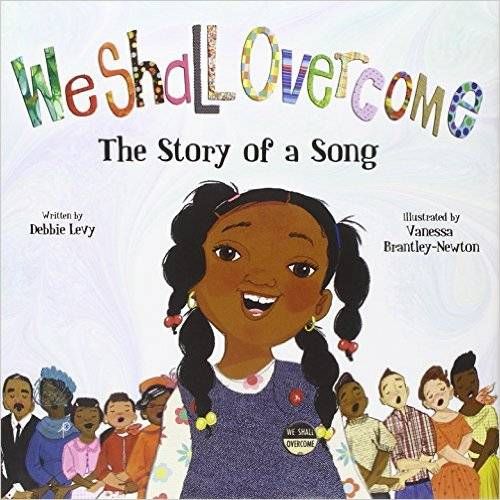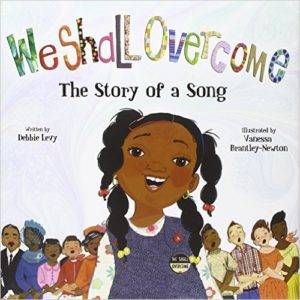 It only takes a few words to create change. It only takes a few people to believe that change is possible. And when those people sing out, they can change the world. "We Shall Overcome" is one of their songs. From the song's roots in America's era of slavery through to the civil rights movement of the 1960s and today, "We Shall Overcome" has come to represent the fight for equality and freedom around the world. This important book, lyrically written by Debbie Levy and paired with elegant, collage-style art by Vanessa Brantley-Newton, pays tribute to the heroic spirit of the famous song that encompasses American history.
Rosa by Nikki Giovanni, illustrated by Bryan Collier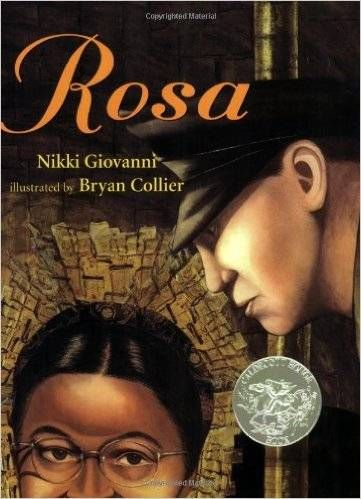 Fifty years after her refusal to give up her seat on a Montgomery, Alabama, city bus, Mrs. Rosa Parks is still one of the most important figures in the American civil rights movement. This tribute to Mrs. Parks is a celebration of her courageous action and the events that followed.
Remember: The Story to School Integration by Toni Morrison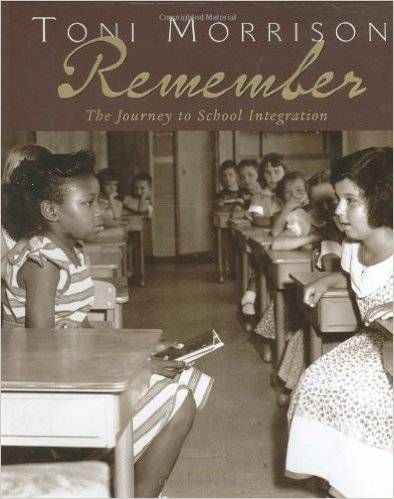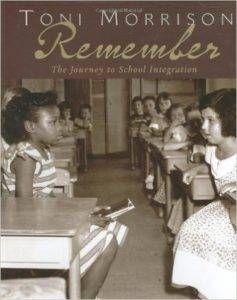 Toni Morrison has collected a treasure chest of archival photographs that depict the historical events surrounding school desegregation. These unforgettable images serve as the inspiration for Ms. Morrison's text—a fictional account of the dialogue and emotions of the children who lived during the era of "separate but equal" schooling. Remember is a unique pictorial and narrative journey that introduces children to a watershed period in American history and its relevance to us today.
My Name is James Madison Hemings by Jonah Winter, illustrated by Terry Widener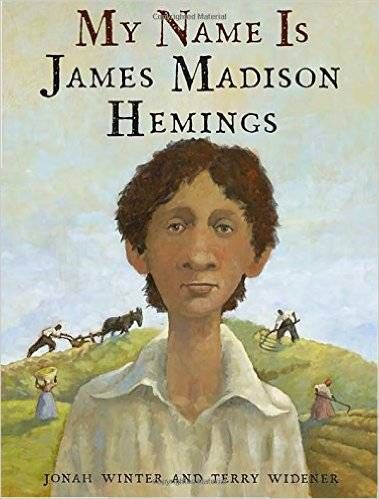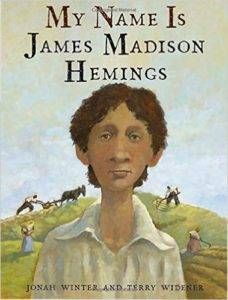 In an evocative first-person account accompanied by exquisite artwork, Winter and Widener tell the story of James Madison Hemings's childhood at Monticello, and, in doing so, illuminate the many contradictions in Jefferson's life and legacy. Though Jefferson lived in a mansion, Hemings and his siblings lived in a single room. While Jefferson doted on his white grandchildren, he never showed affection to his enslaved children. Though he kept the Hemings boys from hard field labor—instead sending them to work in the carpentry shop—Jefferson nevertheless listed the children in his "Farm Book" along with the sheep, hogs, and other property. Here is a profound and moving account of one family's history, which is also America's history.
Freedom in Congo Square by Carole Boston Weatherford, illustrated by R. Gregory Christie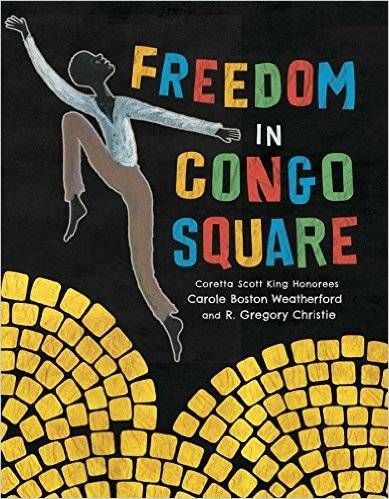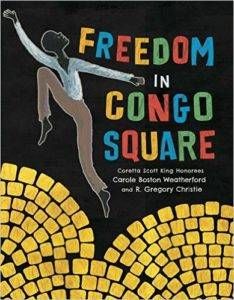 As slaves relentlessly toiled in an unjust system in 19th century Louisiana, they all counted down the days until Sunday, when at least for half a day they were briefly able to congregate in Congo Square in New Orleans. Here they were free to set up an open market, sing, dance, and play music. They were free to forget their cares, their struggles, and their oppression. This story chronicles slaves' duties each day, from chopping logs on Mondays to baking bread on Wednesdays to plucking hens on Saturday, and builds to the freedom of Sundays and the special experience of an afternoon spent in Congo Square.
Ashley Bryan's ABC of African American Poetry by Ashley Bryan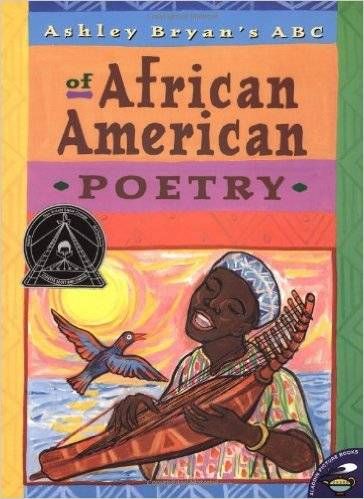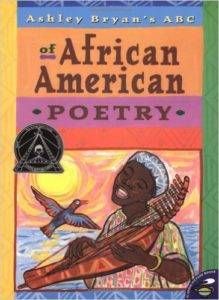 Thus begins Coretta Scott King Award-winner Ashley Bryan's collection of inspiring excerpts of poems by celebrated African American poets. Beautifully illustrated with his own tempera and gouache paintings, Ashley Bryan's unique alphabet book will delight readers of any age.
Rhythm Ride: A Road Trip Through the Motown Sound by Andrea Davis Pinkney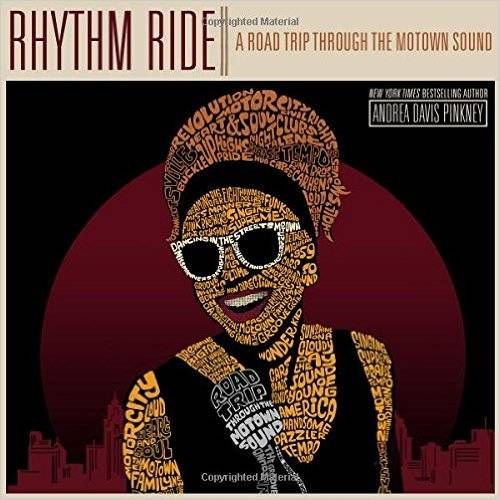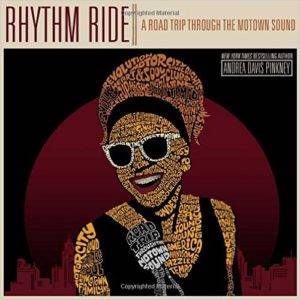 Berry Gordy began Motown in 1959 with an $800 loan from his family. He converted the garage of a residential house into a studio and recruited teenagers from the neighborhood-like Smokey Robinson, Mary Wells, Marvin Gaye, Stevie Wonder, and Diana Ross-to sing for his new label. Meanwhile, the country was on the brink of a cultural revolution, and one of the most powerful agents of change in the following decade would be this group of young black performers from urban Detroit. From Berry Gordy and his remarkable vision to the Civil Rights movement, from the behind-the-scenes musicians, choreographers, and song writers to the most famous recording artists of the century, Andrea Davis Pinkney takes readers on a Rhythm Ride through the story of Motown.
Lower Middle Grade (ages 7-10)
Freedom Over Me by Ashley Bryant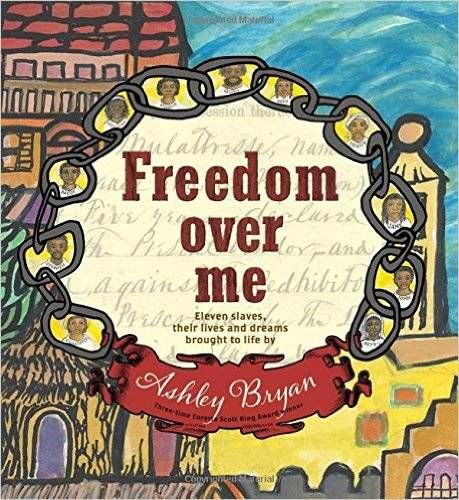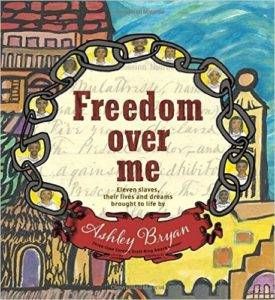 In his gentle yet deeply powerful way, Ashley Bryan goes to the heart of how a slave is given a monetary value by the slave owner, tempering this with the one thing that CAN'T be bought or sold—dreams. Inspired by the actual will of a plantation owner that lists the worth of each and every one of his "workers", Bryan has created collages around that document, and others like it. Through fierce paintings and expansive poetry he imagines and interprets each person's life on the plantation, as well as the life their owner knew nothing about—their dreams and pride in knowing that they were worth far more than an Overseer or Madam ever would guess. Visually epic, and never before done, this stunning picture book is unlike anything you've seen.
When the Beat Was Born: DJ Kool Herc and the Creation of Hip Hop by Laban Carrick Hill, illustrated by Theodore Taylor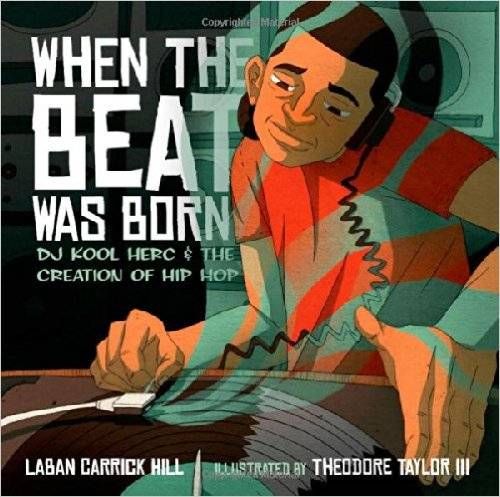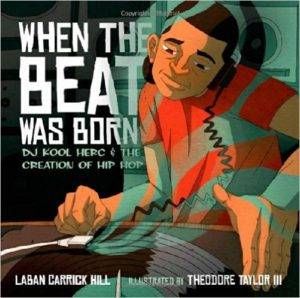 On a hot day at the end of summer in 1973 Cindy Campbell threw a back-to-school party at a park in the South Bronx. Her brother, Clive Campbell, spun the records. He had a new way of playing the music to make the breaks―the musical interludes between verses―longer for dancing. He called himself DJ Kool Herc and this is When the Beat Was Born. From his childhood in Jamaica to his youth in the Bronx, Laban Carrick Hill's book tells how Kool Herc came to be a DJ, how kids in gangs stopped fighting in order to breakdance, and how the music he invented went on to define a culture and transform the world.
Stealing Home: The Story of Jackie Robinson by Barry Denenberg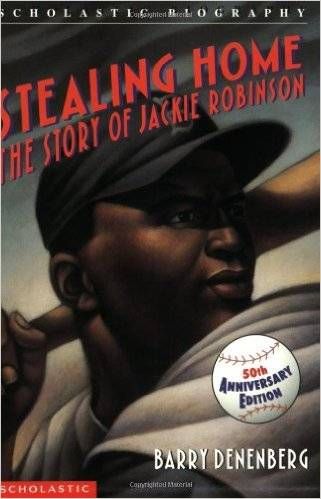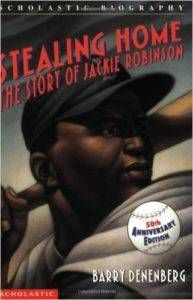 Jackie Robinson was a great athlete, but his destiny went far beyond the baseball diamond. As the first black man to play in the all-white baseball leagues, he was a symbol of courage, hope, and unity for all black and white Americans, and for people throughout the world. A fresh new biography of an American hero.
Spy on History: Mary Bowser and the Civil War Spy Ring by Enigma Alberti, illustrated by Tony Cliff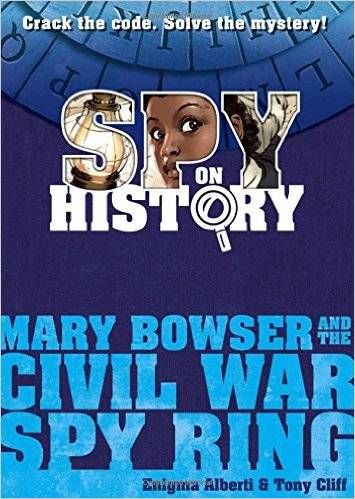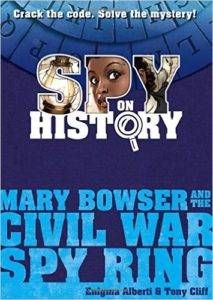 Meet Mary Bowser, an African American spy who was able to infiltrate the Confederate leadership at the highest level. Enigma Alberti dramatizes Mary Bowser's suspenseful story—how she pretended to be illiterate, how she masterfully evaded detection, how she used her photographic memory to "copy" critical documents. Using spycraft materials included in a sealed envelope inside the book, a canny reader will be able to discover and unravel clues embedded in the text and illustrations, and solve the book's ultimate mystery: Where did Mary hide her secret diary?
Let It Shine: Stories of Black Women Freedom Fighters by Andrea Davis Pinkney, illustrated by Stephen Alcorn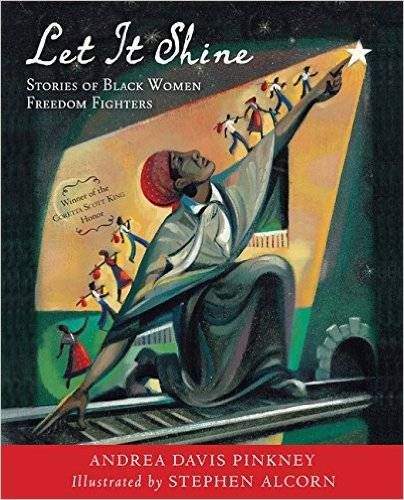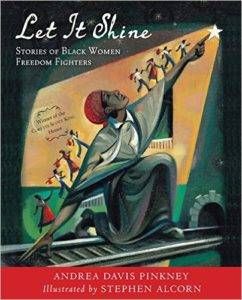 Rosa Parks refused to give up her seat on a bus and sparked a boycott that changed America. Harriet Tubman helped more than three hundred slaves escape the South on the Underground Railroad. Shirley Chisholm became the first black woman elected to the U.S. House of Representatives. The lives these women led are part of an incredible story about courage in the face of oppression; about the challenges and triumphs of the battle for civil rights; and about speaking out for what you believe in–even when it feels like no one is listening. Andrea Davis Pinkney's moving text and Stephen Alcorn's glorious portraits celebrate the lives of ten bold women who lit the path to freedom for generations. Includes biographies of Sojournor Truth, Biddy Mason, Harriet Tubman, Ida B.Wells-Barnett, Mary McLeod Bethune, Ella Josephine Baker, Dorothy Irene Height, Rosa Parks, Fannie Lou Hamer, and Shirley Chisholm.
Sit In: How Four Friends Stood Up By Sitting Down by Andrea Davis Pinkney and Brian Pinkney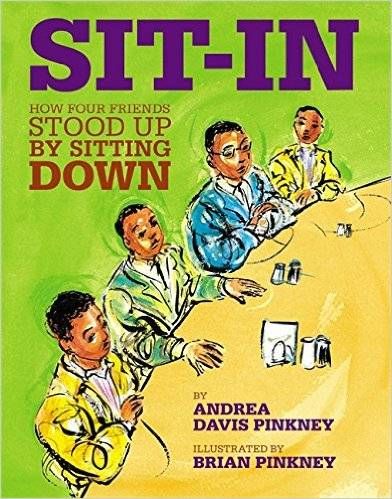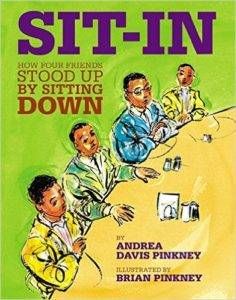 Andrea Davis Pinkney uses poetic, powerful prose to tell the story of these four young men, who followed Dr. Martin Luther King Jr.'s words of peaceful protest and dared to sit at the "whites only" Woolworth's lunch counter. Brian Pinkney embraces a new artistic style, creating expressive paintings filled with emotion that mirror the hope, strength, and determination that fueled the dreams of not only these four young men, but also countless others.
Heart and Soul: The Story of America and African Americans by Kadir Nelson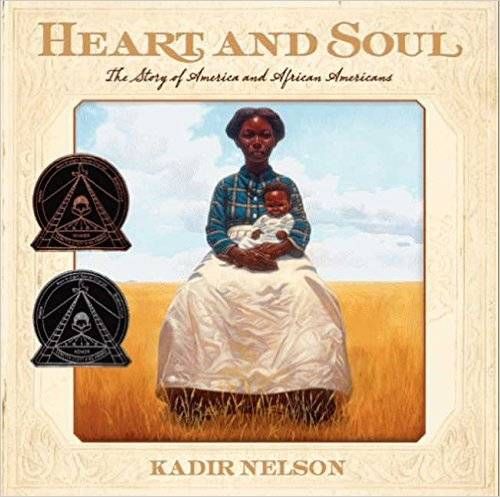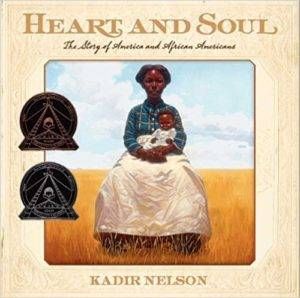 The story of America and African Americans is a story of hope and inspiration and unwavering courage. This is the story of the men, women, and children who toiled in the hot sun picking cotton for their masters; it's about the America ripped in two by Jim Crow laws; it's about the brothers and sisters of all colors who rallied against those who would dare bar a child from an education. It's a story of discrimination and broken promises, determination, and triumphs. Told through the unique point of view and intimate voice of a one-hundred-year-old African-American female narrator, this inspiring book demonstrates that in gaining their freedom and equal rights, African Americans helped our country achieve its promise of liberty and justice—the true heart and soul of our nation.
Sojourner Truth's Step-Stomp Slide by Andrea Davis-Pinkney, illustrated by Brian Pinkney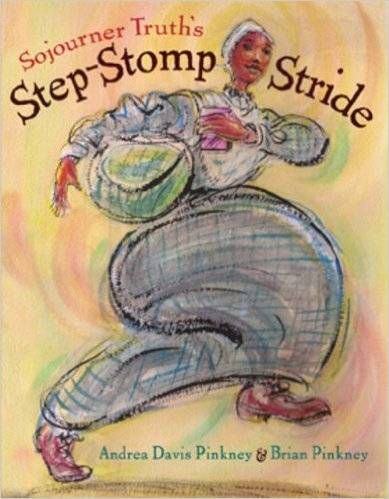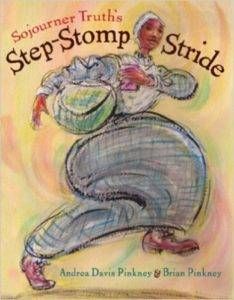 Born into slavery, Belle had to endure the cruelty of several masters before she escaped to freedom. But she knew she wouldn't really be free unless she was helping to end injustice. That's when she changed her name to Sojourner and began traveling across the country, demanding equal rights for black people and for women. Many people weren't ready for her message, but Sojourner was brave, and her truth was powerful. And slowly, but surely as Sojourner's step-stomp stride, America began to change.
A Poem for Peter by Andrea Davis Pinkney, illustrated by Steve Johnson and Lou Fancher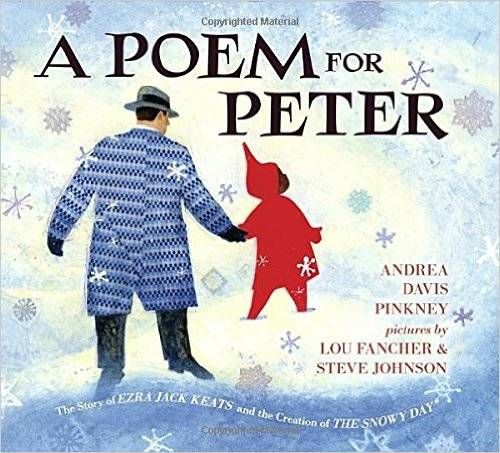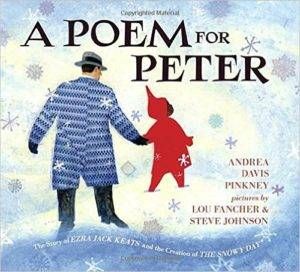 The story of The Snowy Day begins more than one hundred years ago, when Ezra Jack Keats was born in Brooklyn, N.Y. The family were struggling Polish immigrants, and despite Keats's obvious talent, his father worried that Ezra's dream of being an artist was an unrealistic one. But Ezra was determined. By high school he was winning prizes and scholarships. Later, jobs followed with the WPA and Marvel comics. But it was many years before Keats's greatest dream was realized and he had the opportunity to write and illustrate his own book.
Malcolm Little: The Boy Who Grew Up To Be Malcolm X by Ilyasah Shabazz, illustrated by AG Ford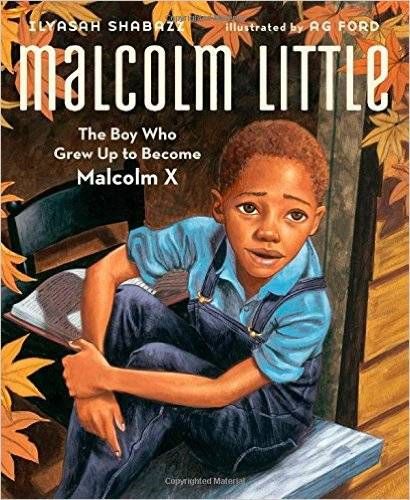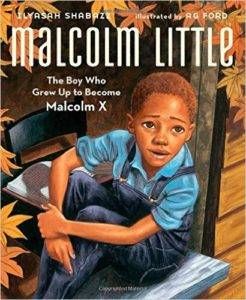 Malcolm X grew to be one of America's most influential figures. But first, he was a boy named Malcolm Little. Written by his daughter, this inspiring picture book biography celebrates a vision of freedom and justice. Bolstered by the love and wisdom of his large, warm family, young Malcolm Little was a natural born leader. But when confronted with intolerance and a series of tragedies, Malcolm's optimism and faith were threatened. He had to learn how to be strong and how to hold on to his individuality. He had to learn self-reliance. Together with acclaimed illustrator AG Ford, Ilyasah Shabazz gives us a unique glimpse into the childhood of her father, Malcolm X, with a lyrical story that carries a message that resonates still today—that we must all strive to live to our highest potential.
Ray Charles by Sharon Bell Mathis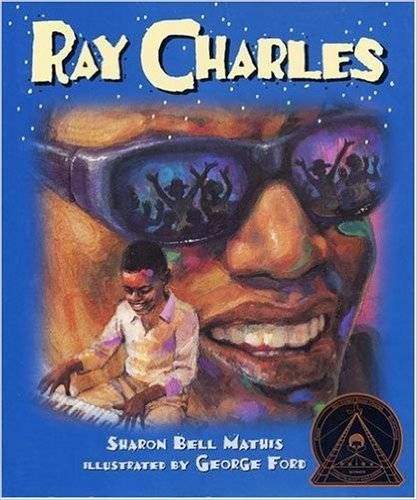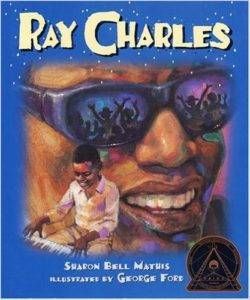 As a young boy he fell in love with music, and as a man, the world fell in love with his music. Ray Charles and his soulful, passionate rhythm and melodies have been embraced around the globe for decades. Now, in this beautiful new edition of the award-winning biography, readers can follow Charles from his boyhood, when he lost his sight completely and learned to read and write music in Braille, until the age of 40, when he had become a world-renowned jazz and blues musician. In a new introduction, the author updates Charles' life to the present day.
The People Could Fly: American Black Folktales by Virginia Hamilton, illustrated by Leo Dillon and Diane Dillon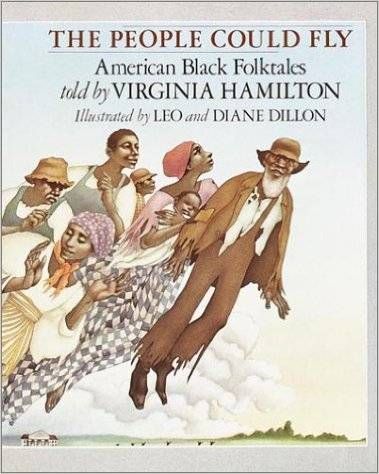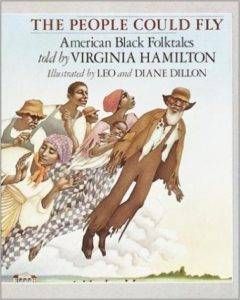 "The well-known author retells 24 black American folk tales in sure storytelling voice: animal tales, supernatural tales, fanciful and cautionary tales, and slave tales of freedom. All are beautifully readable. With the added attraction of 40 wonderfully expressive paintings by the Dillons, this collection should be snapped up."–(starred) School Library Journal.
Upper Middle Grade (ages 9-12) (24 titles)
Hidden Figures Young Reader's Edition by Margot Lee Shetterly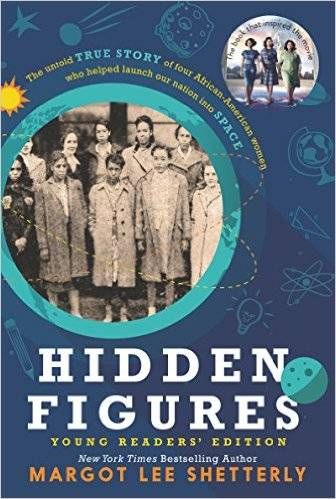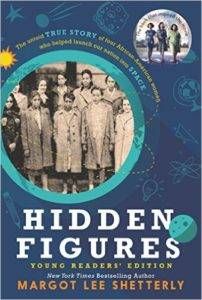 Before John Glenn orbited the earth, or Neil Armstrong walked on the moon, a group of dedicated female mathematicians known as "human computers" used pencils, slide rules, and adding machines to calculate the numbers that would launch rockets, and astronauts, into space. This book brings to life the stories of Dorothy Vaughan, Mary Jackson, Katherine Johnson, and Christine Darden, four African-American women who lived through the civil rights era, the Space Race, the Cold War, and the movement for gender equality, and whose work forever changed the face of NASA and the country.
Let the Circle Be Unbroken by Mildred D. Taylor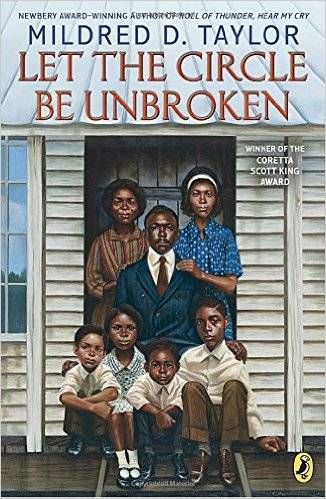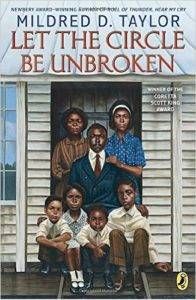 It is a frightening and turbulent time for the Logan family. First, their friend T.J. must go on trial for murder–and confront an all-white jury. Then, Cousin Suzella tries to pass for white, with humiliating consequences. And when Cassie's neighbor, Mrs. Lee Annie, stands up for her right to vote, she and her family are driven from their home. Other neighbors are destroyed and shattered by the greed of landowners. But through it all, Cassie and the Logans stand together and stand proud–proving that courage, love, and understanding can defy even the deepest prejudice.
Brown Girl Dreaming by Jacqueline Woodson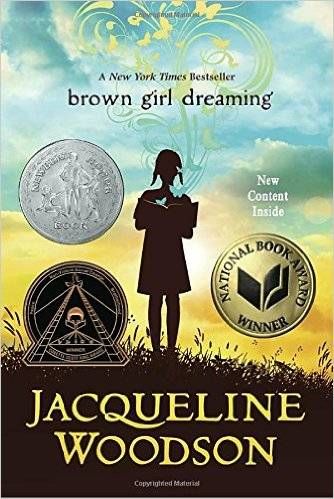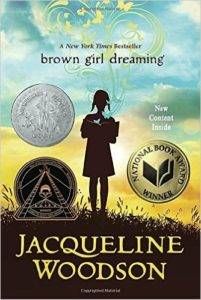 Raised in South Carolina and New York, Woodson always felt halfway home in each place. In vivid poems, she shares what it was like to grow up as an African American in the 1960s and 1970s, living with the remnants of Jim Crow and her growing awareness of the Civil Rights movement. Touching and powerful, each poem is both accessible and emotionally charged, each line a glimpse into a child's soul as she searches for her place in the world. Woodson's eloquent poetry also reflects the joy of finding her voice through writing stories, despite the fact that she struggled with reading as a child. Her love of stories inspired her and stayed with her, creating the first sparks of the gifted writer she was to become.
Voice of Freedom: Fannie Lou Hamer: The Spirit of the Civil Rights Movement by Carole Boston Weatherford, illustrated by Ekua Holmes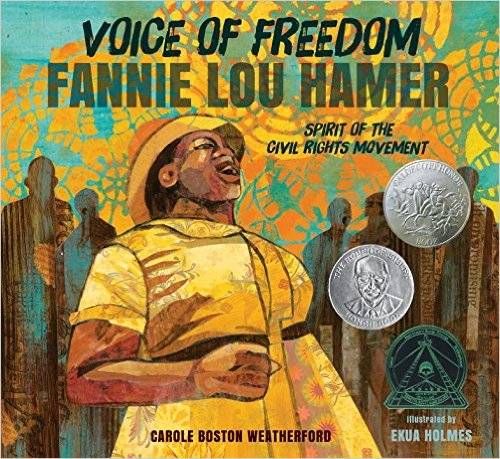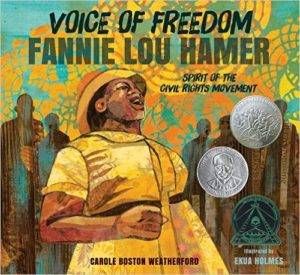 Despite fierce prejudice and abuse, even being beaten to within an inch of her life, Fannie Lou Hamer was a champion of civil rights from the 1950s until her death in 1977. Integral to the Freedom Summer of 1964, Ms. Hamer gave a speech at the Democratic National Convention that, despite President Johnson's interference, aired on national TV news and spurred the nation to support the Freedom Democrats. Featuring vibrant mixed-media art full of intricate detail, Voice of Freedom celebrates Fannie Lou Hamer's life and legacy with a message of hope, determination, and strength.
Jefferson's Sons: A Founding Father's Secret Children by Kimberly Brubaker Bradley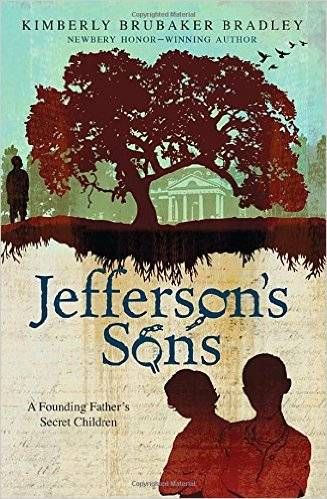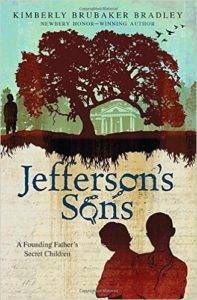 This story of Thomas Jefferson's children by one of his slaves, Sally Hemings, tells a darker piece of America's history from an often unseen perspective-that of three of Jefferson's slaves-including two of his own children. As each child grows up and tells his story, the contradiction between slavery and freedom becomes starker, calliing into question the real meaning of "life, liberty, and the pursuit of happiness." This poignant story sheds light on what life was like as one of Jefferson's invisible offspring.
The Seeds of America Trilogy: Chains, Forge, Ashes by Laurie Halse Anderson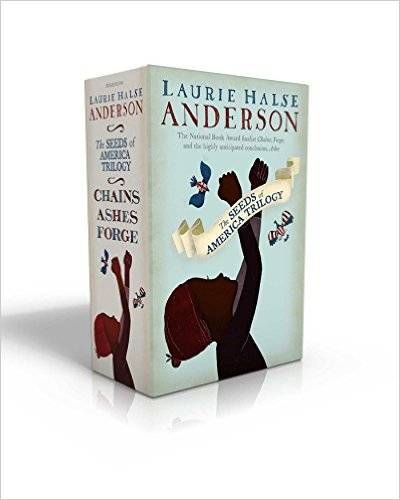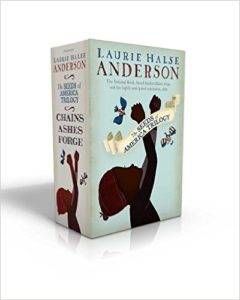 It's 1776 and Isabel, Curzon, and Ruth have only ever known life as slaves. But now the young country of America is in turmoil—there are whisperings, then cries, of freedom from England spreading like fire, and with it is a whole new type of danger. For freedom being fought for one isn't necessarily freedom being fought for all…especially if you are a slave. But if an entire nation can seek its freedom, why can't they? As war breaks out, sides must be chosen, death is at every turn, and one question forever rings in their ears: Would you risk everything to be free? As battles rage up and down the Eastern seaboard, Isabel, Curzon, and Ruth flee, separate, fight, face unparalleled heartbreak and, just like war, they must depend on their allies—and each other—if they are to survive. Which leads to a second, harrowing question: Amidst so much pain and destruction, can they even recognize who their allies are?
Stella by Starlight by Sharon Draper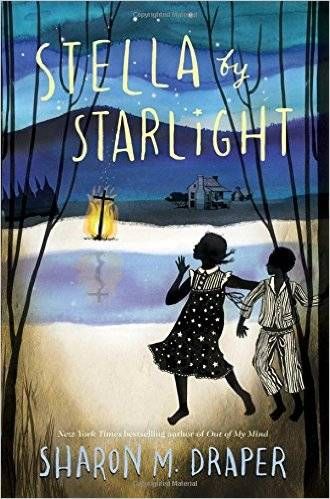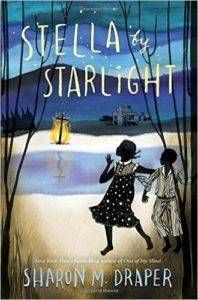 Stella lives in the segregated South—in Bumblebee, North Carolina, to be exact about it. Some stores she can go into. Some stores she can't. Some folks are right pleasant. Others are a lot less so. To Stella, it sort of evens out, and heck, the Klan hasn't bothered them for years. But one late night, later than she should ever be up, much less wandering around outside, Stella and her little brother see something they're never supposed to see, something that is the first flicker of change to come, unwelcome change by any stretch of the imagination. As Stella's community—her world—is upended, she decides to fight fire with fire. And she learns that ashes don't necessarily signify an end.
Fly High!: The Story of Bessie Coleman by Louise Borden, illustrated by Mary Kay Kroeger and Teresa Flavin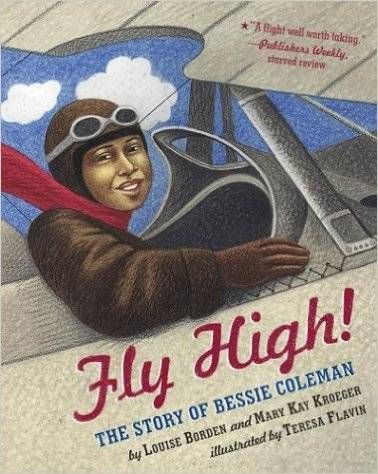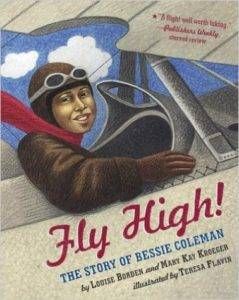 When Bessie Coleman was a child, she wanted to be in school — not in the cotton fields of Texas, helping her family earn money. She wanted to be somebody significant in the world. So Bessie did everything she could to learn under the most challenging of circumstances. At the end of every day in the fields she checked the foreman's numbers — made sure his math was correct. And this was just the beginning of a life of hard work and dedication that really paid off: Bessie became the first African-American to earn a pilot's license. She was somebody.
Midnight Without a Moon by Linda Williams Jackson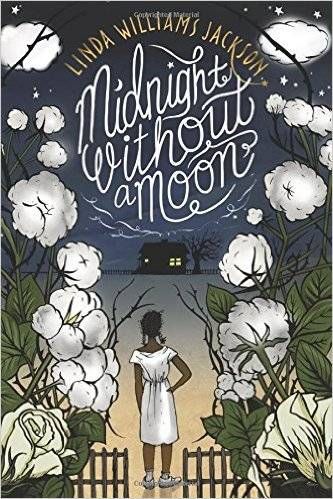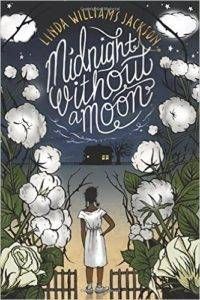 It's Mississippi in the summer of 1955, and Rose Lee Carter can't wait to move north. But for now, she's living with her sharecropper grandparents on a white man's cotton plantation. Then, one town over, an African American boy, Emmett Till, is killed for allegedly whistling at a white woman. When Till's murderers are unjustly acquitted, Rose realizes that the South needs a change . . . and that she should be part of the movement. Linda Jackson's moving debut seamlessly blends a fictional portrait of an African American family and factual events from a famous trial that provoked change in race relations in the United States.
100 African-Americans Who Shaped American History by Chrisanne Beckner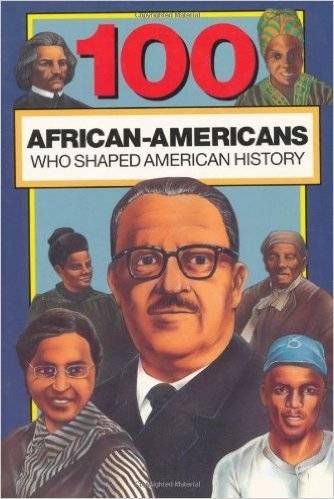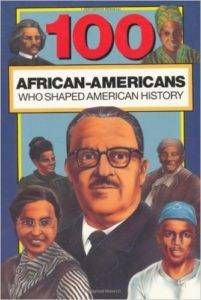 Offers brief biographies of African American educators, entertainers, inventors, authors, athletes, and others who have made important contributions to American life.
Black Pioneers of Science and Invention by Louis Haber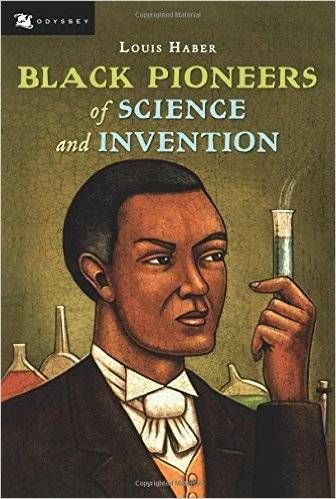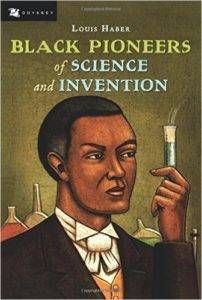 A readable, perceptive account of the lives of fourteen gifted innovators who have played important roles in scientific and industrial progress. The achievements of Benjamin Banneker, Granville T. Woods, George Washington Carver, and others have made jobs easier, saved countless lives, and in many cases, altered the course of history.
What Color is My World?: The Lost History of African-American Inventors by Kareem Abdul-Jabbar and Raymond Obstfeld, illustrated by Ben Boos and A.G. Ford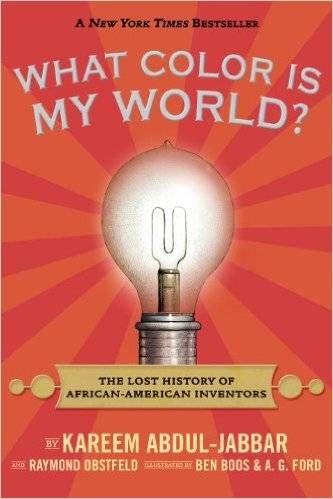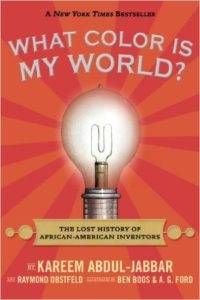 Did you know that James West invented the microphone in your cell phone? That Fred Jones invented the refrigerated truck that makes supermarkets possible? Or that Dr. Percy Julian synthesized cortisone from soy, easing untold people's pain? These are just some of the black inventors and innovators scoring big points in this dynamic look at several unsung heroes who shared a desire to improve people's lives. Offering profiles with fast facts on flaps and framed by a funny contemporary story featuring two feisty twins, here is a nod to the minds behind the gamma electric cell and the ice-cream scoop, improvements to traffic lights, open-heart surgery, and more – inventors whose ingenuity and perseverance against great odds made our world safer, better, and brighter.
One Crazy Summer by Rita Williams-Garcia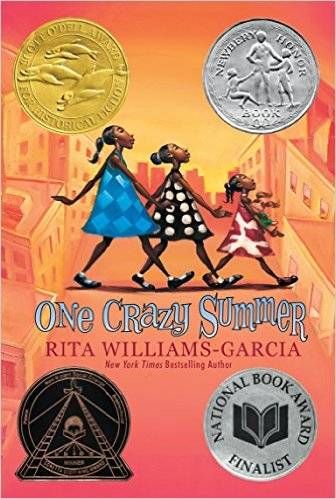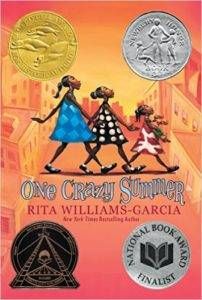 Eleven-year-old Delphine is like a mother to her two younger sisters, Vonetta and Fern. She's had to be, ever since their mother, Cecile, left them seven years ago for a radical new life in California. When they arrive from Brooklyn to spend the summer with her, Cecile is nothing like they imagined. While the girls hope to go to Disneyland and meet Tinker Bell, their mother sends them to a day camp run by the Black Panthers. Unexpectedly, Delphine, Vonetta, and Fern learn much about their family, their country, and themselves during one truly crazy summer.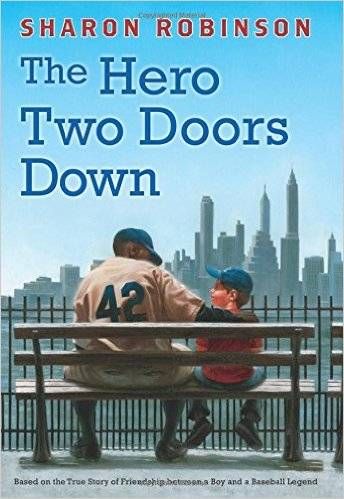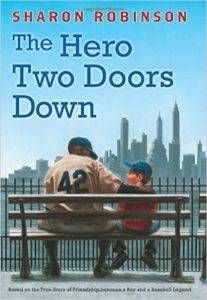 Based on the true story of a boy in Brooklyn who became neighbors and friends with his hero, Jackie Robinson. Steven Satlow is an eight-year-old boy living in Brooklyn, New York, which means he only cares about one thing-the Dodgers. Steve and his father spend hours reading the sports pages and listening to games on the radio. Aside from an occasional run-in with his teacher, life is pretty simple for Steve. But then Steve hears a rumor that an African American family is moving to his all-Jewish neighborhood. It's 1948 and some of his neighbors are against it. His hero, Jackie Robinson, broke the color barrier in baseball the year before.Then it happens–Steve's new neighbor is none other than Jackie Robinson! Steve is beyond excited about living two doors down from the Robinson family. He can't wait to meet Jackie. This is going to be the best baseball season yet! How many kids ever get to become friends with their hero?
One Last Word: Wisdom from the Harlem Renaissance by Nikki Grimes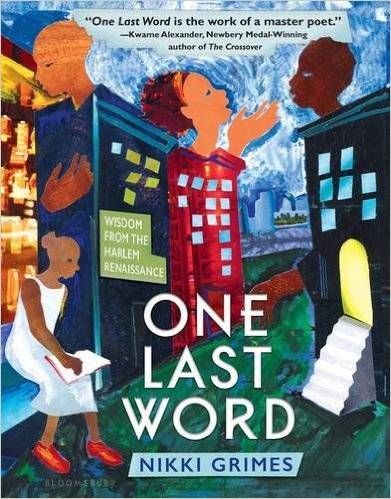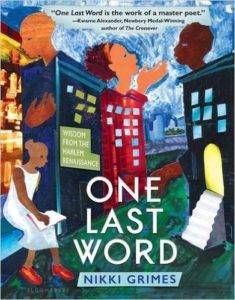 In this collection of poetry, Nikki Grimes looks afresh at the poets of the Harlem Renaissance — including voices like Langston Hughes, Georgia Douglas Johnson, and many more writers of importance and resonance from this era — by combining their work with her own original poetry. Using "The Golden Shovel" poetic method, Grimes has written a collection of poetry that is as gorgeous as it is thought-provoking.
Black Diamond: The Story of the Negro Baseball League by Patricia C. McKissack, Frederick McKissack, and Pat McKissack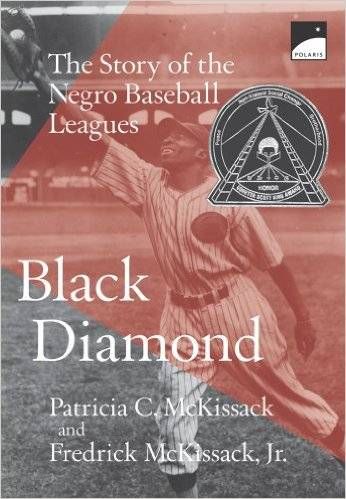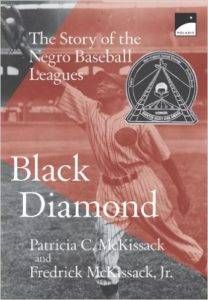 A stirring tribute to the human drama, legendary heroes, infamous owners, low pay, and long bus rides that were the Negro Leagues.
My Country, 'Tis of Thee: How One Song Reveals the History of Civil Rights by Claire Rudolf Murphy, illustrated by Bryan Collier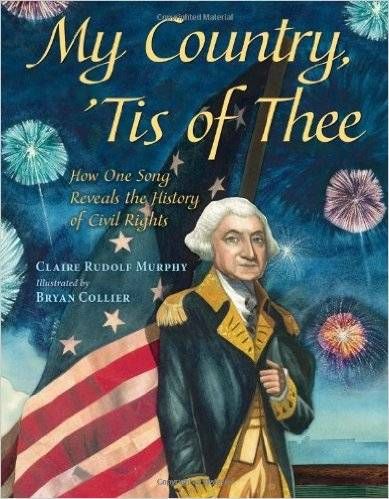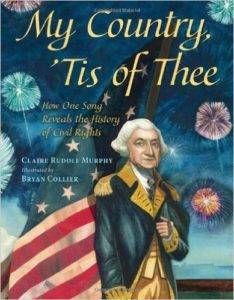 Everyone knows the words to "My Country, 'Tis of Thee." What most don't realize is that this iconic song has been a beacon of change for hundreds of years. Generations of protesters and civil rights pioneers have created new lyrics, beginning in royalist Britain and continuing through conflicts in colonial times, the American Revolution, the suffragist and labor movements, and the struggles for black and Native American civil rights. With spectacular illustrations by Caldecott Honor–winning artist Bryan Collier, My Country, 'Tis of Thee offers a fascinating insight into the American fight for freedom.
Book of Black Heroes from A to Z by Wade Hudson, illustrated by Valerie Wilson Wesley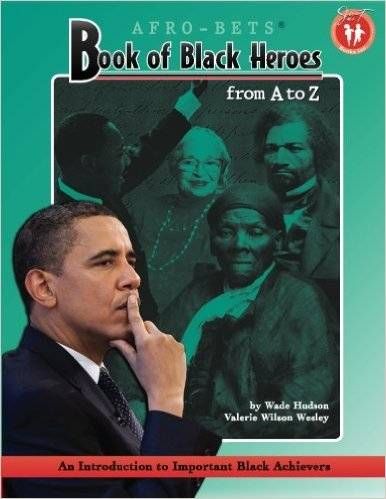 From science to politics, civil rights to entertainment, historic times to present day, men and women across the African diaspora have made important contributions to our world. Book of Black Heroes from A to Z shares with young readers the stories 54 pioneers whose courage, strength and lasting accomplishments have earned them the title hero. Read about: Arctic explorer Matthew Henson South African human rights advocate Nelson Mandela Liberian President Ellen Sirleaf Johnson Pioneering Black historian Benjamin Quarles Discover how: Jackie Robinson integrated Major League Baseball Richard Allen went from enslavement to co-founder and Bishop of the African Methodist Episcopal Church Jean Baptiste DuSable, a Haiti-born fur trader, founded the city of Chicago Constance Baker Motley helped James Meredith become the first black person to go to the University of Mississippi First published in 1988 and with more than 400,000 copies in print, Book of Black Heroes from A to Z has become a go to black history staple in classrooms, homes and libraries. This updated edition includes expanded biographies, quotes and factoids, a two-page narrative honoring the 150th anniversary of the enactment of the Emancipation Proclamation and several new entries including a profile of President Barack Obama, the first African American elected President of the United States. Whether their names are familiar or new, the journeys and many achievements of Book of Black Heroes honorees are truly inspiring and can help all children realize that even in the face of obstacles, they too can make important contributions to our world.
Hand in Hand: Ten Black Men Who Changed America by Andrea Davis Pinkney, illustrated by Brian Pinkney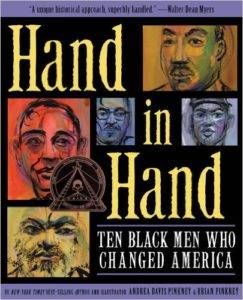 Hand in Hand presents the stories of ten men from different eras in American history, organized chronologically to provide a scope from slavery to the modern day. The stories are accessible, fully-drawn narratives offering the subjects' childhood influences, the time and place in which they lived, their accomplishments and motivations, and the legacies they left for future generations as links in the "freedom chain." This book will be the definitive family volume on the subject, punctuated with dynamic full color portraits and spot illustrations by two-time Caldecott Honor winner and multiple Coretta Scott King Book Award recipient Brian Pinkney. Backmatter includes a civil rights timeline, sources, and further reading.
Which Way Freedom? by Joyce Hansen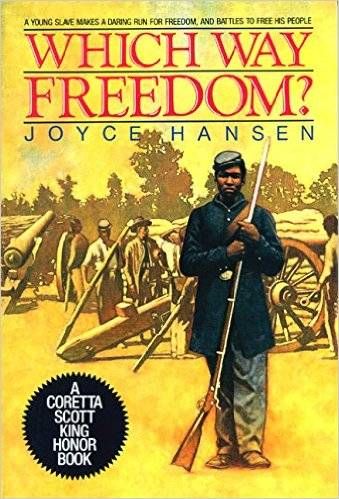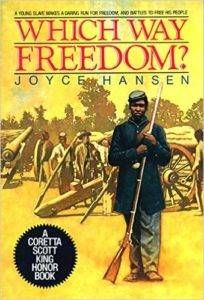 Obi had never forgotten the sounds of his mother's screams on the day he was sold away from her. Making plans to run away to find her was a secret game he played with friend Buka, an old African who lived at the edge of the farm. When the Civil War began, Obi knew it was time to run — or be sold again. If he was caught, he'd be killed…or worse. But if he stayed, he might never know freedom.
Sojourner Truth: Ain't I A Woman? by Houghton Mifflin Harcourt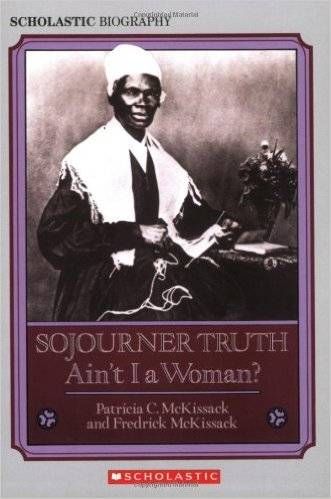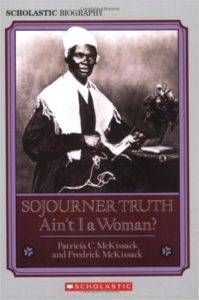 "…stirring, award-winning biography of Sojourner Truth–preacher, abolitionist, and activist for the rights of African-Americans and women. A rich profile.–School Library Journal.
I Thought My Soul Would Rise and Fly by Joyce Hansen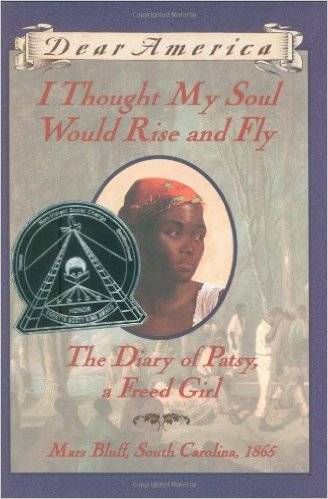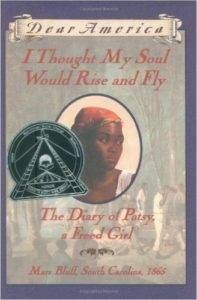 In this latest addition to the Dear America series, Coretta Scott King Honor-winning author Joyce Hansen presents the inspiring story of Patsy, a freed girl who becomes a great teacher.
Maritcha: A Nineteenth-Century Girl by Tonya Bolden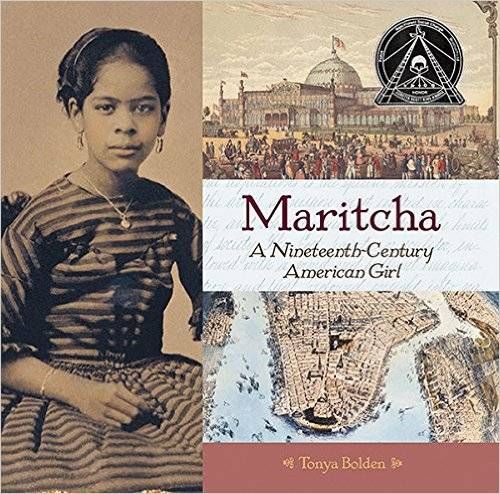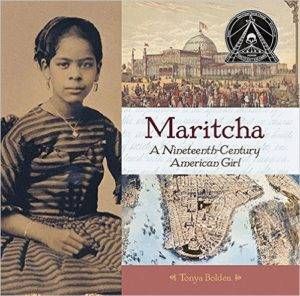 Based on an actual memoir written by Maritcha Rimond Lyons, who was born and raised in New York City, this poignant story tells what it was like to be a black child born free during the days of slavery. Everyday experiences are interspersed with high-point moments, such as visiting the U.S.'s first world's fair. Also included are the Draft Riots of 1863, when Maritcha and her siblings fled to Brooklyn while her parents stayed behind to protect their home. The book concludes with her fight to attend a whites-only high school in Providence, Rhode Island, and her triumphant victory, making her the first black person in its graduating class.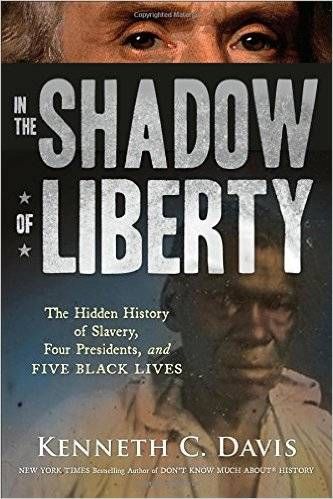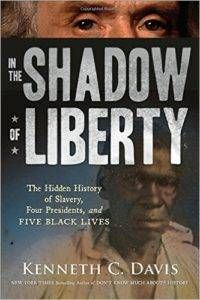 Did you know that many of America's Founding Fathers―who fought for liberty and justice for all―were slave owners? Through the powerful stories of five enslaved people who were "owned" by four of our greatest presidents, this book helps set the record straight about the role slavery played in the founding of America. From Billy Lee, valet to George Washington, to Alfred Jackson, faithful servant of Andrew Jackson, these dramatic narratives explore our country's great tragedy―that a nation "conceived in liberty" was also born in shackles. These stories help us know the real people who were essential to the birth of this nation but traditionally have been left out of the history books. Their stories are true―and they should be heard.
Young Adult
March Trilogy by John Lewis, Andrew Aydin, & Nate Powell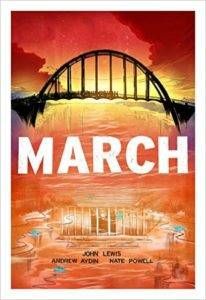 March is a vivid first-hand account of John Lewis' lifelong struggle for civil and human rights, meditating in the modern age on the distance traveled since the days of Jim Crow and segregation. Rooted in Lewis' personal story, it also reflects on the highs and lows of the broader civil rights movement.
Courage to Soar: A Body in Motion, A Life in Balance by Simone Biles, Mary Lou Retton, and Michelle Burford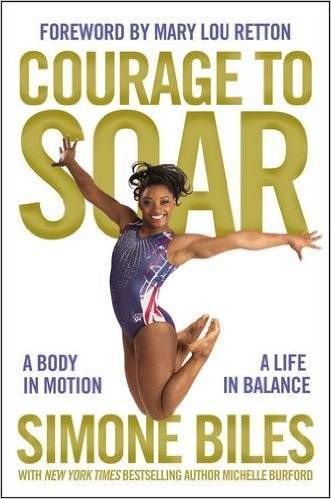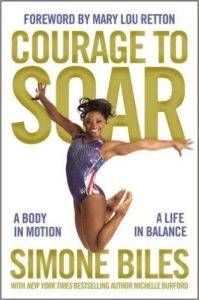 Simone Biles' entrance into the world of gymnastics may have started on a daycare field trip in her hometown of Spring, Texas, but her God-given talent, passion, and perseverance have made her one of the top gymnasts in the world, as well as a four-time winner of Olympic gold in Rio de Janeiro But there is more to Simone than the nineteen medals—fourteen of them gold—and the Olympic successes. Through years of hard work and determination, she has relied on her faith and family to stay focused and positive, while having fun competing at the highest level and doing what she loves. Here, in her own words, Simone takes you through the events, challenges, and trials that carried her from an early childhood in foster care to a coveted spot on the 2016 Olympic team.
Life in Motion: An Unlikely Ballerina by Misty Copeland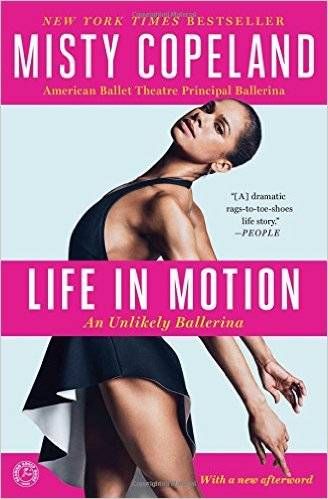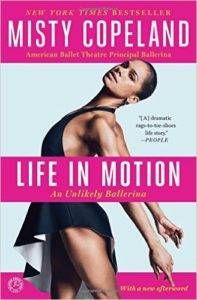 In this instant New York Times bestseller, Misty Copeland makes history, telling the story of her journey to become the first African-American principal ballerina at the prestigious American Ballet Theatre. But when she first placed her hands on the barre at an after-school community center, no one expected the undersized, underprivileged, and anxious thirteen-year-old to become one of America's most groundbreaking dancers . A true prodigy, she was attempting in months roles that take most dancers years to master. But when Misty became caught between the control and comfort she found in the world of ballet and the harsh realities of her own life, she had to choose to embrace both her identity and her dreams, and find the courage to be one of a kind.
Loving vs. Virginia by Patricia Hruby Powell, illustrated by Shadra Strickland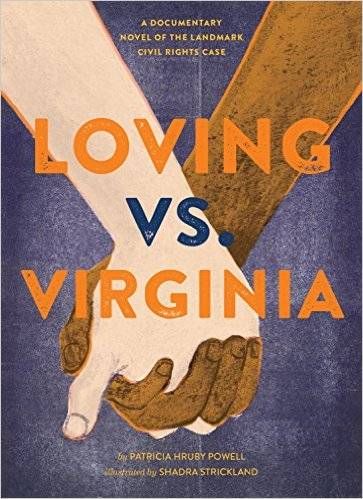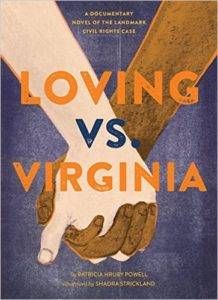 From acclaimed author Patricia Hruby Powell comes the story of a landmark civil rights case, told in spare and gorgeous verse. In 1955, in Caroline County, Virginia, amidst segregation and prejudice, injustice and cruelty, two teenagers fell in love. Their life together broke the law, but their determination would change it. Richard and Mildred Loving were at the heart of a Supreme Court case that legalized marriage between races, and a story of the devoted couple who faced discrimination, fought it, and won.
All American Boys by Jason Reynolds and Brendan Kiely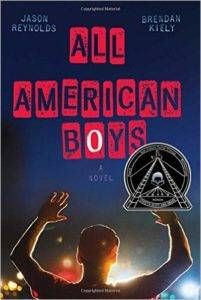 A bag of chips. That's all sixteen-year-old Rashad is looking for at the corner bodega. What he finds instead is a fist-happy cop, Paul Galluzzo, who mistakes Rashad for a shoplifter, mistakes Rashad's pleadings that he's stolen nothing for belligerence, mistakes Rashad's resistance to leave the bodega as resisting arrest, mistakes Rashad's every flinch at every punch the cop throws as further resistance and refusal to STAY STILL as ordered. But how can you stay still when someone is pounding your face into the concrete pavement?
A Long Hard Journey: The Story of the Pullman Porter by Patricia C. McKissack and Frederick L. McKissack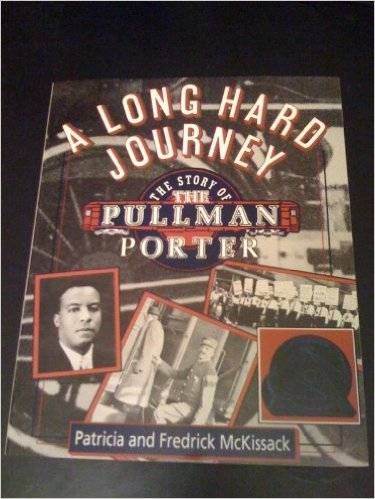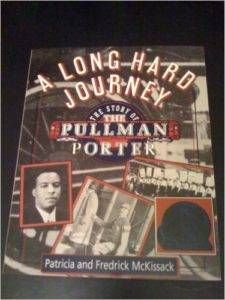 The moving story of the courage and solidarity that helped shape the history of African Americans explains how the actions of the train workers fraternity helped change the way of labor and the civil rights movement in this country. Winner of the Coretta Scott King Award.
Monster by Walter Dean Myers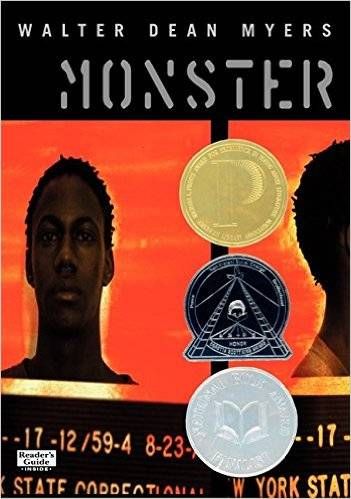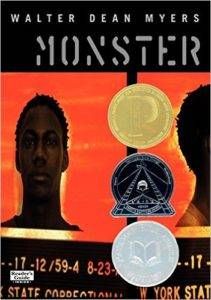 Acclaimed author Walter Dean Myers tells the story of Steve Harmon, a teenage boy in juvenile detention and on trial. Presented as a screenplay of Steve's own imagination, and peppered with journal entries, the book shows how one single decision can change our whole lives.
Fade In: Interior: Early Morning In Cell Block D, Manhattan Detention Center.
Steve (Voice-Over)
Sometimes I feel like I have walked into the middle of a movie. Maybe I can make my own movie. The film will be the story of my life. No, not my life, but of this experience. I'll call it what the lady prosecutor called me … Monster.
How I Discovered Poetry by Marilyn Nelson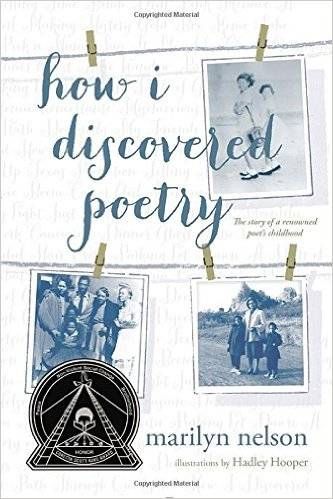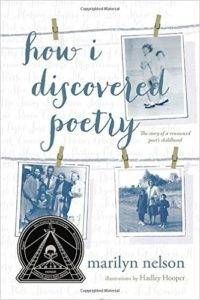 Looking back on her childhood in the 1950s, Newbery Honor winner and National Book Award finalist Marilyn Nelson tells the story of her development as an artist and young woman through fifty eye-opening poems. Readers are given an intimate portrait of her growing self-awareness and artistic inspiration along with a larger view of the world around her: racial tensions, the Cold War era, and the first stirrings of the feminist movement.
The Hate U Give by Angie Thomas (Balzer & Bray, February 28, 2017)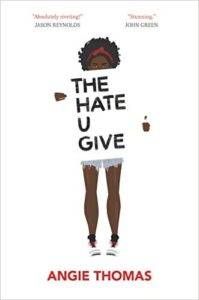 Sixteen-year-old Starr Carter moves between two worlds: the poor neighborhood where she lives and the fancy suburban prep school she attends. The uneasy balance between these worlds is shattered when Starr witnesses the fatal shooting of her childhood best friend Khalil at the hands of a police officer. Khalil was unarmed. Soon afterward, his death is a national headline. Some are calling him a thug, maybe even a drug dealer and a gangbanger. Protesters are taking to the streets in Khalil's name. Some cops and the local drug lord try to intimidate Starr and her family. What everyone wants to know is: what really went down that night? And the only person alive who can answer that is Starr. But what Starr does—or does not—say could upend her community. It could also endanger her life.
How It Went Down by Kekla Magoon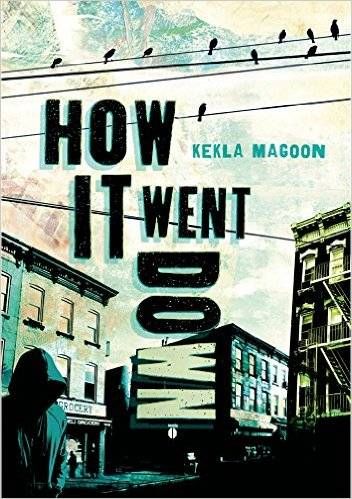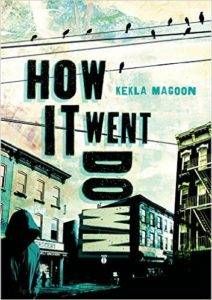 When sixteen-year-old Tariq Johnson dies from two gunshot wounds, his community is thrown into an uproar. Tariq was black. The shooter, Jack Franklin, is white. In the aftermath of Tariq's death, everyone has something to say, but no two accounts of the events line up. Day by day, new twists further obscure the truth. Tariq's friends, family, and community struggle to make sense of the tragedy, and to cope with the hole left behind when a life is cut short. In their own words, they grapple for a way to say with certainty: This is how it went down.
I Never Had It Made by Jackie Robinson, illustrated by Alfred Duckett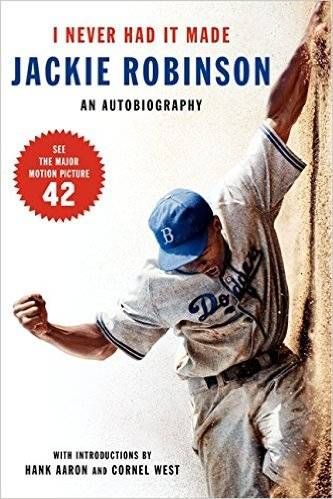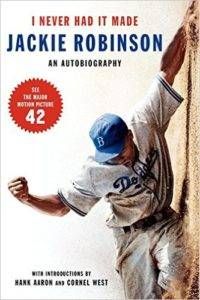 Before Barry Bonds, before Reggie Jackson, before Hank Aaron, baseball's stars had one undeniable trait in common: they were all white. In 1947, Jackie Robinson broke that barrier, striking a crucial blow for racial equality and changing the world of sports forever. I Never Had It Made is Robinson's own candid, hard-hitting account of what it took to become the first black man in history to play in the major leagues. I Never Had It Made recalls Robinson's early years and influences: his time at UCLA, where he became the school's first four-letter athlete; his army stint during World War II, when he challenged Jim Crow laws and narrowly escaped court martial; his years of frustration, on and off the field, with the Negro Leagues; and finally that fateful day when Branch Rickey of the Brooklyn Dodgers proposed what became known as the "Noble Experiment"—Robinson would step up to bat to integrate and revolutionize baseball.
Breaking Ground, Breaking Silence by Joyce Hansen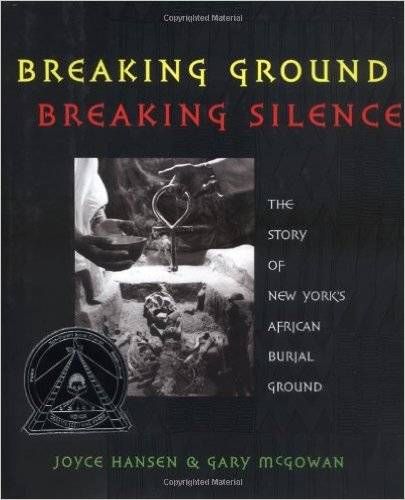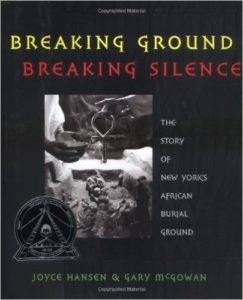 How can we learn about the lives of African slaves in Colonial America? Often forbidden to read or write, they left few written records. But in 1991 scientists rediscovered New York's long-ignored African Burial Ground, which opened an exciting new window into the past. A woman with filed teeth buried with a girdle of beads; a black soldier buried with his British Navy uniform, his face pointing east; a mother and child, laid to rest side by side: to scientists, each of these burials has much to tell us about African slaves in America. Breaking Ground, Breaking Silence shows how archaeologists and anthropologists have learned to read life stories in shattered bones, tiny beads, and the faint traces left by coffin lids in ancient soil. At the same time, by blending together the insights found buried in the soil and the results of historians' careful studies, it gives us a moving, inspiring portrait of the lives Africans created in Colonial New York.
Unbought and Unbossed by Shirley Chisholm, edited by Scott Simpson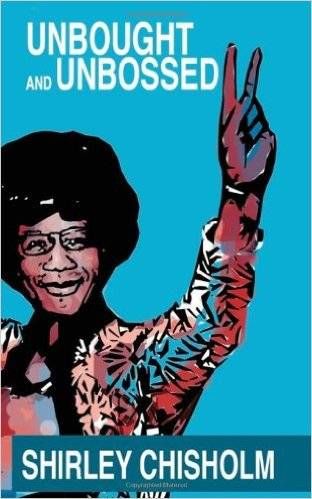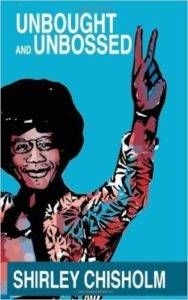 Unbought and Unbossed is Shirley Chisholm's account of her remarkable rise from young girl in Brooklyn to America's first African-American Congresswoman. She shares how she took on an entrenched system, gave a public voice to millions, and sets the stage for her trailblazing bid to be the first woman and first African-American President of the United States. By daring to be herself, Shirley Chisholm shows us how she forever changed the status quo.
Now Is Your Time! The African American Struggle for Freedom by Walter Dean Myers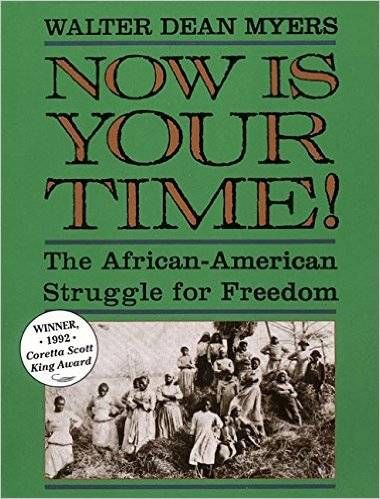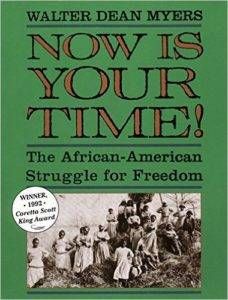 Since they were first brought as captives to Virginia, the people who would become African Americans have struggled for freedom. Thousands fought for the rights of all Americans during the Revolutionary War, and for their own rights during the Civil War. On the battlefield, through education, and through their creative genius, they have worked toward one goal: that the rights of life, liberty, and the pursuit of happiness be denied no one. Fired by the legacy of men and women like Abd al Rahman Ibrahima, Ida B. Wells, and George Latimer, the struggle continues today. Here is African-American history, told through the stories of the people whose experiences have shaped and continue to shape the America in which we live.
The Middle Passage by Tom Feelings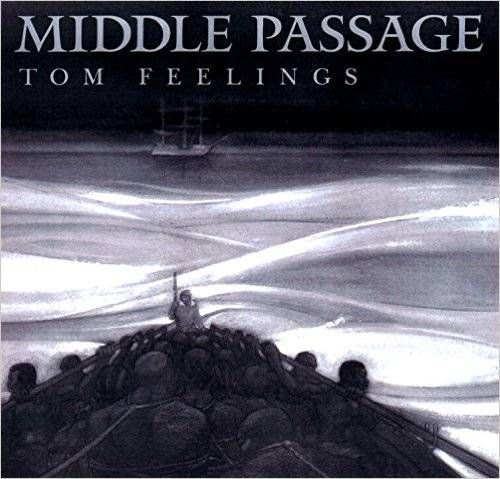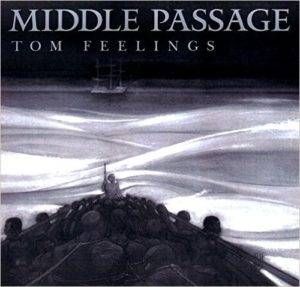 Alex Haley's Roots awakened many Americans to the cruelty of slavery. The Middle Passage focuses attention on the torturous journey which brought slaves from Africa to the Americas, allowing readers to bear witness to the sufferings of an entire people.
Turning Fifteen on the Road to Freedom by Elspeth Leacock, Susan Buckley, and Lynda Blackmon Lowery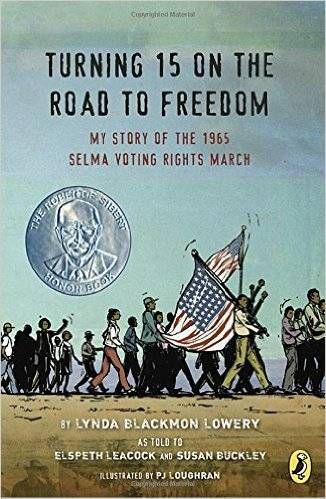 As the youngest marcher in the 1965 voting rights march from Selma to Montgomery, Albama, Lynda Blackmon Lowery proved that young adults can be heroes. Jailed eleven times before her fifteenth birthday, Lowery fought alongside Martin Luther King, Jr. for the rights of African-Americans. In this memoir, she shows today's young readers what it means to fight nonviolently (even when the police are using violence, as in the Bloody Sunday protest) and how it felt to be part of changing American history.