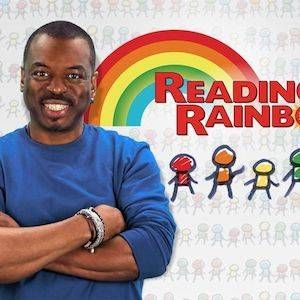 Lists
10 Super-Cool Books from Reading Rainbow
This content contains affiliate links. When you buy through these links, we may earn an affiliate commission.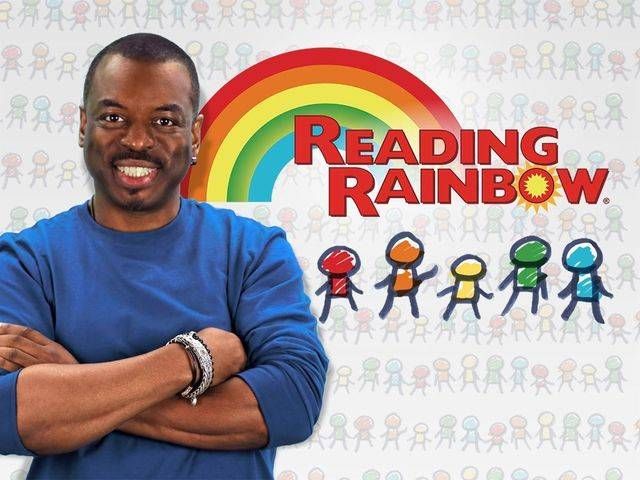 Oh, Reading Rainbow, I've missed you. If the beloved television show's host, LeVar Burton, and his Kickstarter campaign have anything to say about it, though, we'll be seeing new episodes soon. Their one-million-dollar goal was raised in less than twenty-four hours. Now a new "stretch goal" of five million dollars has been set—presumably so they can fly twice as high.
The classic PBS show ran from 1983 until 2009 and featured a satisfying formula: In each episode, a theme was explored and a picture book was read—often by a celebrity. These well-known narrators ranged from Susan Sarandon and Al Roker to Matthew Broderick and Julia Child (who, fittingly, read Florence and Eric Take the Cake). Kids also gave mini book reviews, recommending what their fellow young readers might want to pick up at the library.
LeVar Burton showed us how special effects work and how things get recycled. He showed us behind the scenes at aquariums, factories, and fossil digs. He also tipped us off on what to do when life gets hard—like when you have to wear glasses or your dad loses his job. Burton knew that the kids watching were real people, despite being in (or just out of) the single digits.
One of the things I loved about Reading Rainbow (beyond Burton himself—I mean, he just got it) was that the books were a mix of familiar and challenging. When the show featured Kate Shelley and the Midnight Express—a true story that took place minutes from my hometown—I felt like the material was plucked from my backyard. When it featured something like Liang and the Magic Paintbrush, I was transported somewhere new and unknown. With Burton, you could go anywhere if you took a look in a book, just like the theme song said.
Burton's Kickstarter campaign was certainly designed to appeal to our collective nostalgia. And while Caitlin Dewey at the Washington Post correctly points out that the campaign isn't exactly a selfless endeavor (the money will help the for-profit company RRKidz modify an existing app to reboot Reading Rainbow online; it won't be a nonprofit PBS joint), I'll wager that most of us are thrilled, nonetheless, at the thought of Burton sharing good books with kids everywhere once again.
To celebrate the (possible) return of Reading Rainbow, here are ten of the greatest books featured on the show during its first run:
1. All the Colors of the Race by Arnold Adoff, read by Maya Angelou: This book of poems is written from the perspective of a child whose mother is black and father is white. Illustrated with striking portraits done in shades of brown, the powerful material was a natural for narrator Maya Angelou.
2. Sunken Treasure by Gail Gibbons, read by Robert Morse: Before Robert Morse was doing soft-shoe routines for Don Draper on Mad Men, he was reading about treasure hunting on Reading Rainbow.
3. On the Day You Were Born by Debra Frasier, read by Patrick Stewart: This one is a tear-jerker, for sure. Just read it.
4. Amazing Grace by Mary Hoffman, read by Tyne Daly: A strong, creative girl; her unstoppable imagination; and lovely, detailed watercolor illustrations. What could be better?
5. Animal Café by John Stadler, read by Martin Short: In this silly story, a store owner finds his cash register full every morning. Little does he know, his cat and dog turn the place into a hopping bistro for animal patrons every night.
6. The Magic School Bus Inside the Earth, read by Keshia Knight Pulliam: Who doesn't love Magic School Bus books? The fabulously weird teacher. The transforming bus. And on Reading Rainbow, we got to hear one read by Rudy Huxtable!
7. Paul Bunyan by Steven Kellogg, read by Buddy Ebsen: This tall tale is made even more fanciful by Steven Kellogg's illustrations. The gumberoos—those creepy troll-like creatures—were just scary enough.
8. Arthur's Eyes by Marc Brown, read by Bill Cosby: Featuring everyone's favorite aardvark (he is an aardvark, right?), Arthur gets glasses and also considers getting a nose job. These are real issues, people.
9. Bringing the Rain to Kapiti Plain by Verna Aardema, read by James Earl Jones: As if the book isn't beautiful enough, James Earl Jones lends his rich voice to this reading.
10. Abiyoyo by Pete Seeger and Michael Hays, read by Pete Seeger: Watch the video below to see the late folksinger read and perform his story about a ukulele-playing boy and a terrible giant named Abiyoyo. (And don't miss Burton's teal blazer, circa 1986.) Fantastic.
[youtube]https://www.youtube.com/watch?v=cPZtuPyXRfw[/youtube]
What's your favorite book or memory from Reading Rainbow?