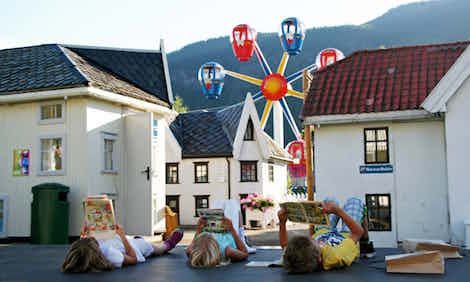 10 Of The World's Best Book Towns: Critical Linking, April 27, 2018
We're giving away 15 of the best mysteries and thrillers of the year so far. Click here to enter, or click the image below:

---
Book towns started with Hay-on-Wye; now there are communities around the world that celebrate the written word. In this extract from a new book, the author picks 10 to leaf through – and visit.
Book towns are one of those things I can never read enough about or marvel at enough images from.
____________________
May brings flowers but also bring #Harlequin romance to #Netflix! Watch MY PERFECT ROMANCE on Netflix on May 1st! See the trailer here>>> https://t.co/6LUHhIHZHK

— Harlequin Books (@HarlequinBooks) April 26, 2018
____________________
See inside Library of Congress, where historic archives are now being digitized
Reporting for Sunday TODAY, NBC's Harry Smith takes a tour of the largest library in the world: the Library of Congress in Washington, D.C. He gets a first-hand look at some of the 164 million items in the archives, including historic documents that shaped this country.
What a great video about the Library of Congress.
____________________
As a teacher in a low income community, I know my students are constantly confronted with problems whether that be at home or in the classroom. Although this is the case, my students never stop striving to be the best they can be.
I teach at a Title I school in Florida where 90% of my students receive free or reduced breakfast and lunch.
Despite the difficulties my students face when they leave home, they always come to school with a smile on their face that reflects how excited they are to learn. They know education is the path to success and they are consistently working towards their goal of attaining academic excellence.
My Project
Gun violence is a very controversial topic today. With gun violence occurring not only in schools but also within my students' neighborhoods, it is very important that my students weigh in on conversations happening around them. After being given some options, my students decided that they want to learn more about gun violence.
With these books, my students and I will be able to have meaningful conversations about one of the issues plaguing our communities.
After my students take the FSA we will be reading a novel about gun violence in a community similar to theirs. As their final project they will go into the community to interview people about their feelings on gun violence in order to start a conversation about what is needed for effective change.
As of this writing, the project needs under $150 to be funded. Here's your way to give back and do good this Friday.