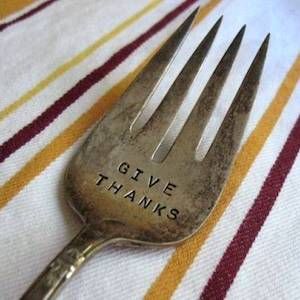 Lists
10 Literary Quotes for Thanksgiving
For those of us who, susceptible to holiday schmoopiness and the warm glow of a good meal, find ourselves at a loss for words when the time comes to go around the Thanksgiving table and share what we're thankful for, there's the good news that someone has said it before, and said it better. Here are some thoughts about gratitude for this day, and all days.
_________________________
We can only be said to be alive in those moments when our hearts are conscious of our treasures.
–Thornton Wilder
Gratitude is a fruit of great cultivation; you do not find it among gross people.
–Samuel Johnson
Cultivate the habit of being grateful for every good thing that comes to you, and to give thanks continuously. And because all things have contributed to your advancement, you should include all things in your gratitude.
–Ralph Waldo Emerson
I would maintain that thanks are the highest form of thought; and that gratitude is happiness doubled by wonder.
–G.K. Chesterton
In the end, though, maybe we must all give up trying to pay back the people in this world who sustain our lives. In the end, maybe it's wiser to surrender before the miraculous scope of human generosity and to just keep saying thank you, forever and sincerely, for as long as we have voices.
–Elizabeth Gilbert
If the only prayer you said was thank you, that would be enough.
–Meister Eckhart
…for love casts out fear, and gratitude can conquer pride.
–Louisa May Alcott
At times our own light goes out and is rekindled by a spark from another person. Each of us has cause to think with deep gratitude of those who have lighted the flame within us.
–Albert Schweitzer
Piglet noticed that even though he had a Very Small Heart, it could hold a rather large amount of Gratitude.
–A.A. Milne
…for some of us, books are as important as anything else on earth. What a miracle it is that out of these small, flat, rigid pieces of paper unfolds world after world, worlds that sing to you, comfort and quiet you or excite you. Books help us understand who we are and how we are to behave. They show us what community and friendship mean; they show us how to live and die. They are full of the things that you don't get in life…wonderful, lyrical language, for instance. And quality of attention: we may notice amazing details duringthe course of a day but we rarely let ourselves stop and really pay attention. An author makes you notice, makes you pay attention and this is a great gift. My gratitude for good writing is unbounded; I'm grateful for it the way I'm grateful for the ocean.
–Anne Lamott
Bonus round, because: truth.
After a good dinner one can forgive anybody, even one's own relatives.
–Oscar Wilde