10 Impressive Authors Statues (The Best of Book Riot)
Much of the good ship Book Riot is off at Book Expo America this week, so we're running some of our best stuff from the first half of 2013. We'll be back with reports from BEA next week and our usual array of new book-nerdery.
____________________________
During some Super Bowl preview show, I caught a flash of an Edgar Allan Poe statue. A quick google turned up some interesting stuff about it (more in a minute), but it got me wondering about how many other author statues there are out there. I knew of a few from the Poet's Walk in Central Park, but it turns out we like to cast our literary idols in bronze.
Here are a handful of my favorite discoveries:
Edgar Allan Poe at The University of Baltimore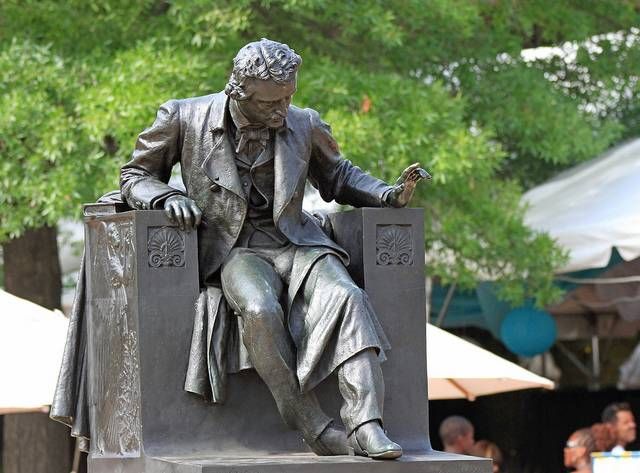 This was commissioned by the Women's Literary Society of Baltimore in 1907 and completed in 1921. It was moved from a city park to the campus of the University of Baltimore Law School in 1983.
Gertrude Stein in Bryant Park, New York City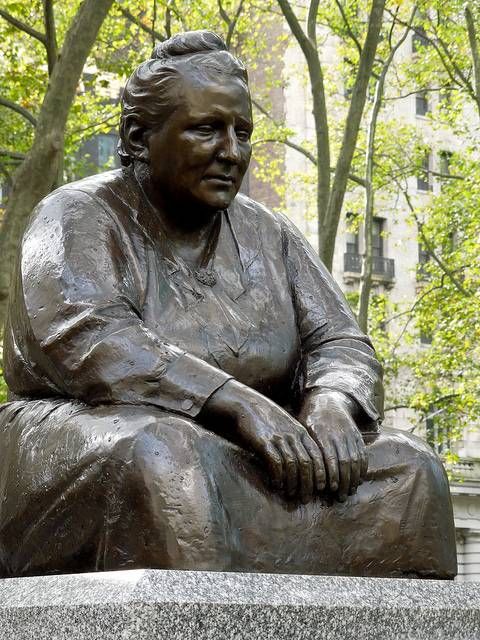 Modeled after a version by Jo Davidson in 1923, this larger scale statue was installed in 1992 in the park behind the main branch of the New York Public Library.
Charles Dickens in Centennial Park, Sydney
This statue is one of only two sculptures of Dickens (the other is in Philadelphia). Dickens stipulated in his will that no life-like representations should be made of him. While Merry Old England has complied, its unrulier cousins haven't. This particular statue was erected in 1891, but then lost for several decades before being rediscovered (headless) after an extended search. A local artist made a replacement for it, and the statue was re-erected just a few years ago.
Mark Twain in Hannibal, Missouri

Hard to imagine that Samuel Clemens wouldn't be thrilled to see this statue of himself as a steamboat pilot. Most Twain images are of him as an old man, so it's refreshing to see him in his adventuring days. This statue was given to the city of Hannibal by an Illinois family in 2008.
Emily Dickinson and Robert Frost in Amherst, Massachusetts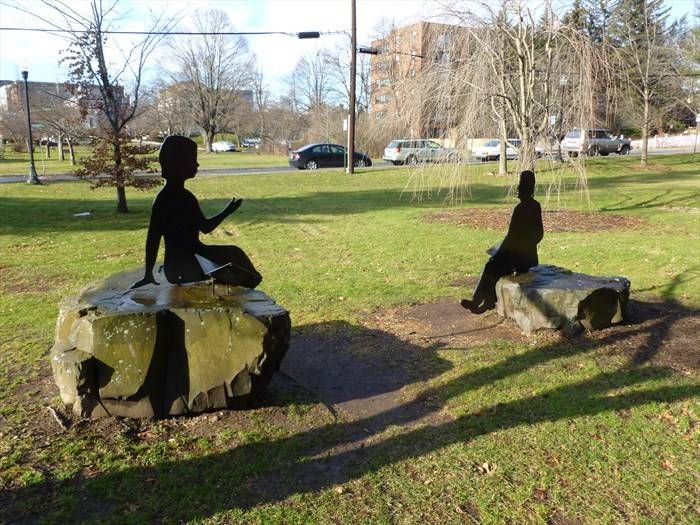 A local arts council commissioned this imagined "dialogue" between Amherst's great poets in 1995. (I like that Dickinson is seated just a little higher than Frost.)
Voltaire in The Hermitage Museum, St. Petersburg, Russia.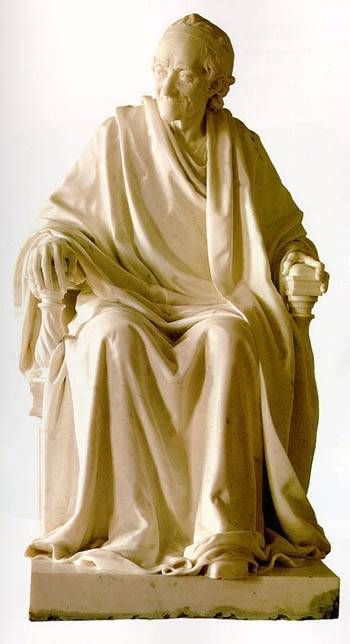 Jean-Antoine Houdon did several sculptures of Voltaire, but this one (1781) is the most charming. It was commissioned by Catherine II and shows Voltaire in classical garb and with a glint in his eye, though he was in his final days.
Gustave Flaubert, Rouen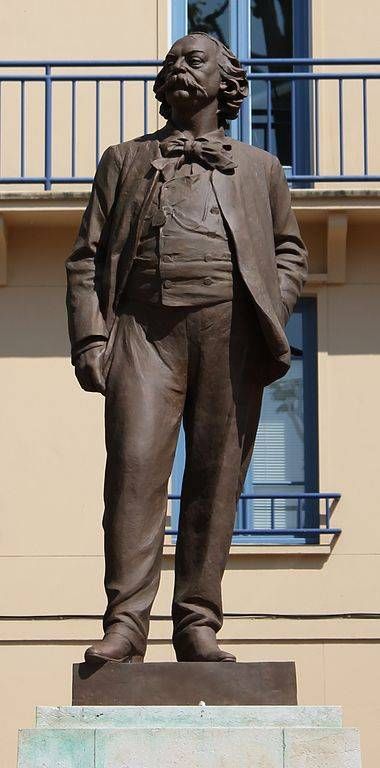 This statue by Leopold Berstammi was erected in 1907, but then destroyed in 1941 (by you know who). A second statue was recast from the original study and replaced in 1965.
William Shakespeare, Central Park, New York City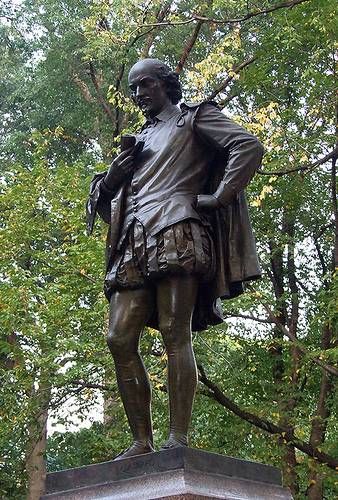 There are probably more Shakespeare statues than all other writers combined, so picking one is a bit of a fool's errand. Still, the one in Central Park is not only beautifully sited but was also designed with Edwin Booth (America's most famous Shakespearean actor and whose brother was John Wilkes) as a consultant for the clothing and pose.
Virginia Woolf, Private Collection, Rome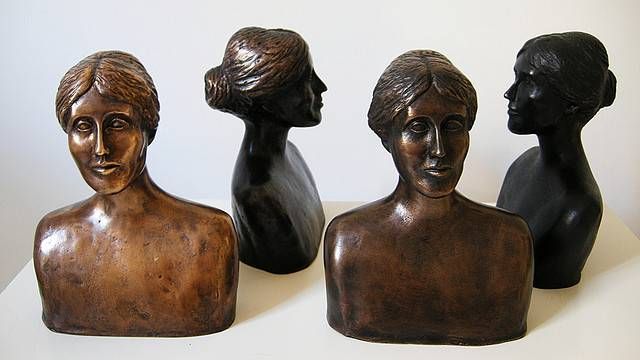 Rather than choose one age to represent Woolf's life, Valentina Massi created busts of her at four different ages, from adolescent to adult. Eventually, Massi would like to see the originals placed in a garden dedicated to women writers in Rome. For now, official artist replications are actually for sale.
Ralph Ellison, Harlem

This isn't a statue of Ellison himself, but an Ellison memorial just outside his longtime residence at 730 Riverside Drive that evokes his most famous work. Four granite slabs surround the 15-foot central cutout, each with quotes from Ellison.
____________________________
Sign up for our newsletter to have the best of Book Riot delivered straight to your inbox every two weeks. No spam. We promise.
To keep up with Book Riot on a daily basis, follow us on Twitter, like us on Facebook, , and subscribe to the Book Riot podcast in iTunes or via RSS. So much bookish goodness–all day, every day.