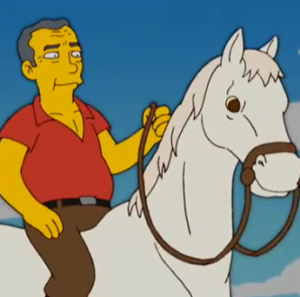 The Live Ones
Colin Dexter | Inspector Morse
Collin Dexter appeared in most of the thirty-three Inspector Morse episodes and later in several Inspector Lewis episodes.
Neil Gaiman | The Simpsons
In one of the most brilliant Simpsons episodes ever, Bart enlists a handful of Springfield residents to help him write a bestselling YA novel and Gaiman offers to help out. In this AU, Cartoon Gaiman is really illiterate, and tricks Bart & Co. by replacing the flash drive containing the manuscript with one crediting himself as sole author of the book. You can watch the video here.
Charlaine Harris | True Blood
Harris appeared briefly in a bar scene during the season two finale of True Blood.
Stephen King | Sons of Anarchy
Stephen King has done a lot of cameos over the years, and in the third episode of season three, he rode into Charming as Bachman, a cleaner looking to do a little body disposal work for the Sons.
Jay McInerney | Gossip Girl
McInerney appeared in three Gossip Girl episodes as Jeremiah Harris, an author not unlike McInerney himself. This clip is from season four, episode thirteen.
[youtube]https://www.youtube.com/watch?v=r0NcyagV6GU[/youtube]
James Patterson | The Simpsons
In the season eighteen episode Yokel Chords, Marge has a saucy dream about James Patterson on a horse. Nope, I'm not kidding.
The Dead Ones
Frederick Douglass | Copper
In season two, episode two, as the bodies pile up, Sara attends a dinner with Douglass (played by Eamonn Walker) at the Morehouse estate.
Sir Arthur Conan Doyle | Mr. Selfridge
In episode seven, Selfridge hosts a book signing for the great mystery writer (played by John Sessions). When Doyle requests that a séance be held in the store, Selfridge agrees, but some are upset by the results.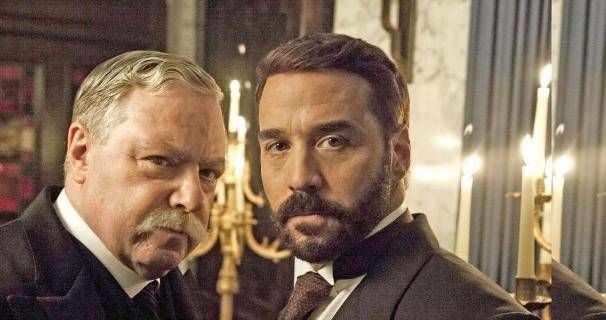 Norman Mailer | Gilmore Girls
Norman Mailer initially didn't want to appear on Gilmore Girls, but lucky for us, the producers won him over. In season five, episode six, Mailer visits the Dragonfly Inn and drives the cook crazy by sitting in the dining room for hours on end and ordering nothing but ice tea.
William Shakespeare | The Black Adder
The Bard appeared in a few Blackadder sketches. He was played by Hugh Laurie and Colin Firth on different occasions.
[youtube]https://www.youtube.com/watch?v=NM-Y1ch4b5c[/youtube]
_________________________
Sign up for our newsletter to have the best of Book Riot delivered straight to your inbox every week. No spam. We promise.
To keep up with Book Riot on a daily basis, follow us on Twitter, like us on Facebook, , and subscribe to the Book Riot podcast in iTunes or via RSS. So much bookish goodness–all day, every day.