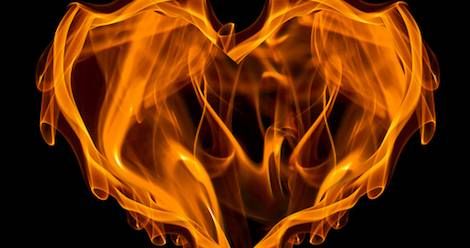 Newsletter 1
10 Excellent Paranormal and Science Fiction Romances
This post is sponsored by Allegiance of Honor by Nalini Singh.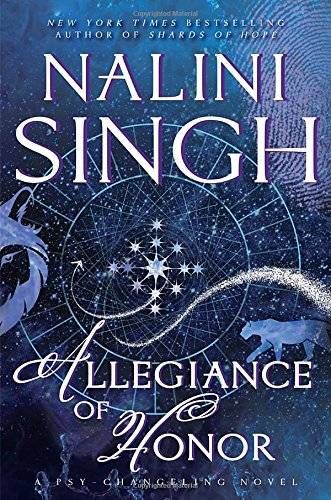 The Psy-Changelings are at a dangerous crossroads. Can an accord of old enemies, new allies, wary loners, and desperate lovers come together to bring a new era of cooperation between disparate races and groups? Find out in New York Times bestselling author Nalini Singh's latest must read novel.
---
Do you like chocolate with your peanut butter? How about shapeshifters, aliens, and/or spaceships with your romance? If you're like me and love your love stories with a hefty dose of the unusual, here are 10 paranormal and science fiction romances that should be on your shelves.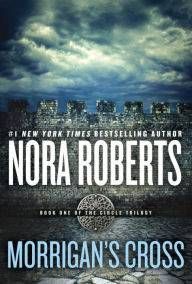 1. Morrigan's Cross by Nora Roberts: This was the first romance novel I read as an adult, basically because a friend pressed her Circle Trilogy boxed set into my hands and wouldn't let me give it back until I'd read them all. I am now become that person; consider this recommendation me pressing it into your hands. The start of a series that follows the fates and loves of five characters, Morrigan's Cross introduces us to the cast and gives us our first pairing. Hoyt, an ancient and powerful sorcerer, has traveled forward in time (our modern-day) to recruit a team that will fight in the battle for his world, and all the others. NBD! His team includes Gwenna Ward, who comes from a long line of witches; Cian, Hoyt's brother who also happens to be a vampire; and Moira and Larkin, time-traveling warriors from Ireland. Sparks immediately (literally) fly between Hoyt and Gwenna, and as the group prepares for the ultimate battle the two of them must find a way to deal with their attraction and all its sundry complications.
2. Tiger Eye by Marjorie Liu: Metal-crafting artist with psychic powers, meet tiger-shifter genie who's been imprisoned for 2,000 years! What is not to love? Dela Reese is on a work trip to Beijing when she unwittingly unleashes Hari from the box that's been holding him captive. But far from using any wishes, all Dela wants is to set him free. But their quest to take out the evil mage responsible is complicated by the fact that someone is trying to kill Dela, and she doesn't understand why. Liu crafted a killer first installment in her Dirk & Steele series. The tensions in the plot and the romance are perfectly balanced, the main characters and the supporting ones are well-developed, and her dialogue is on point. Fair warning: contains sex with a shapeshifter in animal form.
3. Ascension by Jacqueline Koyanagi: Romance! In! Spaaaaace! Alana Quick is a sky surgeon (in layman's terms, a starship mechanic) struggling to make ends meet and to keep doing the work she loves in the face of a chronic illness. When a ship with a desperate crew comes by looking for her sister, she decides this is her one shot and stows away on board. She wants to a job on the ship, the crew wants to find her sister — surely they can come to some agreement? Things are complicated by the fact that no one on board is who they seem to be, and the captain is both infuriating and just her type… I loved the blend of family drama, conspiracy, action, and romance in this, and for those of you looking for queer and/or polyamorous relationships, this one is particularly for you!
4. Blood of the Wicked by Karina Cooper: Welcome to the future and New Seattle, where humanity is still recovering from the realization that magic is real, and trying to stamp it out every chance they get. Silas is part of the Holy Order, a soldier determined to protect the world by hunting down witches and bringing them to justice — except make that "justice," because nothing here is quite as it seems. Jessie is a witch who's successfully hidden her magic for years, along with a few other secrets, but Silas is about to upset her track record. And it doesn't help that the two are wildly attracted to each other. Of course they are, this is romance! This is a super steamy, action-packed, and (fair warning) bloody novel that I am constantly asking people if they've read yet.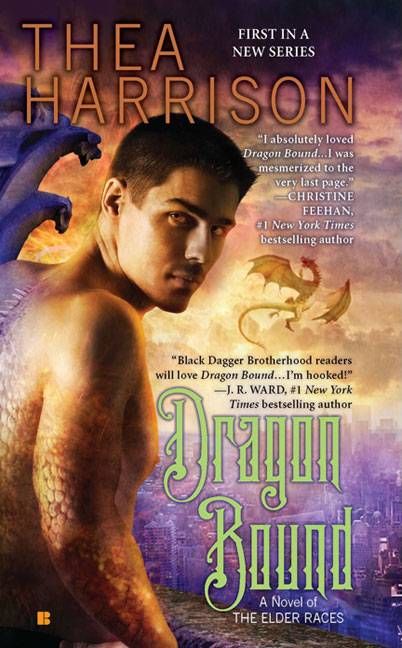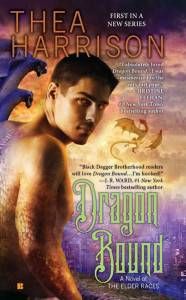 5. Dragon Bound by Thea Harrison: Pia is a thief and an expert one at that, but her last job was no ordinary one. First she was blackmailed into taking it, and then the dragon-slash-business tycoon she stole from tracked her down. Now she's fighting for her freedom — and against the undeniable attraction between her and her captor. Harrison takes the stuff of fairytales and updates it in a delightful way; here are elves and harpies and unicorns and dragons and more, with modern-day politics and economics to complicate it all.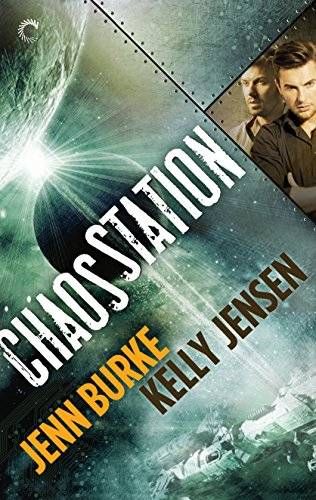 6. Chaos Station by Jenn Burke and Kelly Jensen: Let's have some more space romance, shall we? Chaos Station introduces us to Felix, a war veteran and POW who is putting his life back together, just trying to live that normal "captain of a spaceship" lifestyle. He's worked hard to put his past behind him — but it all comes rushing back when Zander, his former lover and current super-soldier, walks onto his ship with a mission. Zander is just as shocked, since he thought Felix died years ago. These two scarred men are both heart-breaking and a joy to read, as they warily attempt to reconnect without hurting themselves all over again. Add to this that they're trying to save a fellow comrade from the conditioning that's driving her insane, and you've got one hell of an adventure.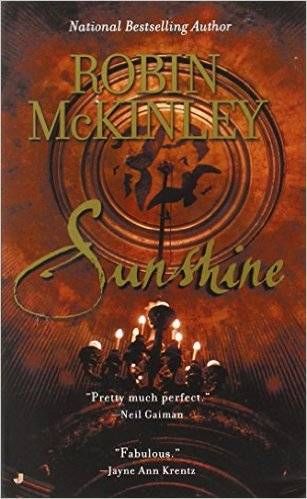 7. Sunshine by Robin McKinley: This book is not generally categorized as romance, but it is my all-time favorite vampire love story and therefore I have decided it qualifies. Sunshine (that's her nickname, for reasons that quickly become clear) is a baker with aspirations that are primarily focused on cinnamon rolls. She's got a nice boyfriend (no matter how many tattoos he has or how troubled his past is), a steady job, a mostly-fine relationship with her mom, and her life is generally fine — until she runs afoul of a gang of vampires. They want to feed her to another vampire, one who's being held hostage, and things just get crazier from there. This vision of the world, in which tattoos can also be spells, the sun's healing powers are more than just a metaphor, and vampires are squicky as all get out (except for one…), is compelling and absorbing, and Con and Sunshine's relationship gives me all the feels.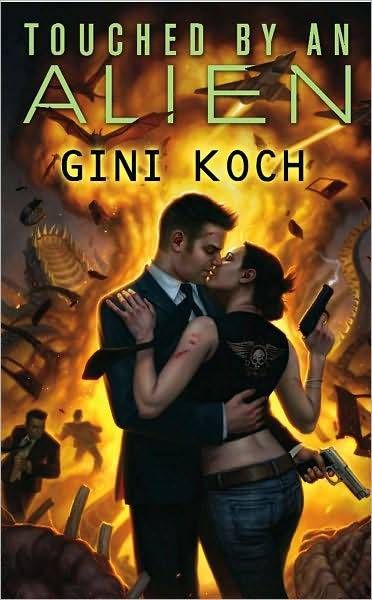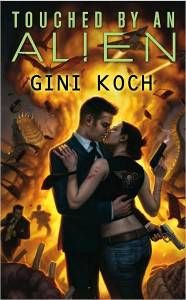 8. Touched By an Alien by Gini Koch: I didn't know I wanted a Men in Black-inspired romance, and then I read this. Our heroine Katherine is just trying to do the right thing when she accidentally kills a terrifying parasite from outer space and then gets sucked into a secret organization in which all the (very helpful and friendly) aliens look like models, have two hearts, and really want to recruit her to help save the world from rogue superbeings. Once you get over the fact that the hero's name is Jeff Martini (why), this is a delightful read. The West Wing-level banter, lots of opportunities for our heroine to shine, and some very steamy, double-heart-enhanced scenes await you.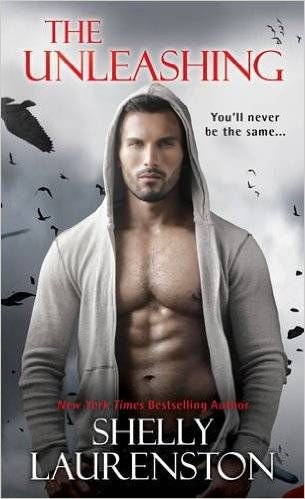 9. The Unleashing by Shelly Laurenston: Kera was a former Marine, a current coffee-shop manager — and then she was dead. Given a second chance at life thanks to a modern-day Viking with a crush, she's resurrected by the Norse goddess Skuld to be part of her elite warrior corps, the Crows. But it turns out that resurrection is the easy part — nothing Kera experienced has prepared her for this second life. Luckily, the smitten Viking is still around and wants nothing more than to help her, ahem, adjust. The Crows were my favorite part of this novel: a group of women from all backgrounds, races, and religions, gifted with rage and charged with ass-kicking missions? Yes, please. If you prefer beta males and action-romances that lean heavy on the action, this one's for you.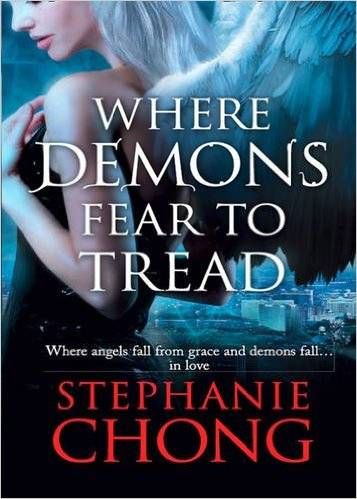 10. Where Demons Fear to Tread by Stephanie Chong: Chong has paired the ultimate goody-two-shoes, an angel/yoga teacher named Serena, with the ultimate bad-boy, an Archdemon/nightclub owner named Julian. Julian has had thousands of years to perfect his wickedness, and is the ultimate demonic power in Los Angeles, while Serena has only recently joined the angelic ranks and is still developing her powers. She's been assigned to try to save the soul of Nick Ramirez, an actor turning playboy and drug addict — and Julian is after the same soul. In their battle for Nick's soul, they'll both find more than they bargained for. Can a good heart defeat pure evil? Are we all capable of redemption? Can love save the day? These questions are literal in the world and cosmology Chong explores, with villains and heroes (and romance) aplenty.