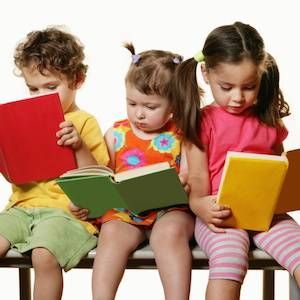 Children's
10 Classic Children's and YA Books That Will Never Be Dated
This content contains affiliate links. When you buy through these links, we may earn an affiliate commission.
While we at the Riot are taking this lovely summer week off to rest (translation: read by the pool/ocean/on our couches), we're re-running some of our favorite posts of 2014. Enjoy this Best Of, and we'll be back to your regularly scheduled programming on Monday, July 7th!
This post originally ran February 23rd.
____________________
I was working in a fairly well-known children's bookstore in New York last summer, one that is especially known for its employee recommendations and vast knowledge of books. One afternoon, a well-heeled Upper West Side mom asked me for book suggestions for her 10-year old daughter. I immediately thought of Judy Blume, and at my suggestion of one of her titles, the mother looked at me with disdain, saying, "Don't you think that's a bit…dated?" I almost fainted on the spot. Blasphemy! Here are some classic children's/YA books that will never carry that dreaded description.
Deenie, by Judy Blume
This was the book in question above. Sure, wearing a body brace for scoliosis isn't as common as it was in the past, and some readers might find it hard to believe, but anyone can relate to feeling awkward in one's own body. Beautiful Deenie suddenly feels like a freak when she has to wear a back brace, and isn't feeling like a freak a prerequisite for puberty?
From the Mixed-Up Files of Mrs. Basil E. Frankweiler, by E.L. Konigsburg
Who didn't want to run away to a museum after reading this? Claudia and Jamie Kincaid hide out in the Metropolitan Museum of Art and live there for a week, getting themselves caught up in a mystery that they never saw coming. Come on. You still think about living in a museum sometimes, don't you?
The Outsiders, by S.E. Hinton
Okay, yeah, so the slang and the "gangs" will have you snickering, and definitely places the book in a certain time frame. But underneath it all, it's the classic conflict between the haves and have-nots, and navigating the social storm of adolescence. Stay gold.
A Wrinkle in Time, by Madeleine L'Engle
Another one accused of being "dated" by more than one customer – but also beloved by more than a few. Meg was unabashedly geeky and strong, and a female lead character, and L'Engle was way ahead of her time, even if she did have religious undertones in her narratives. It took me more than 20 years to read the other books in the series, but I cherished this one as a kid. What's not to love about tesseracts?
Charlie and the Chocolate Factory, by Roald Dahl
Put aside the fact that the author was a raging bigot, and it's easy to enjoy this whimsical story full of candy, Golden Tickets, and orange-colored midgets. Veruca Salt is still entertaining (and highly appropriate in today's society), and my mouth still waters at the descriptions of sugary snacks the factory makes. Pro tip: the movie with Gene Wilder is much better than the one with Johnny Depp. But the book is the best, obvs.
Blubber, by Judy Blume
Basically, all of Judy's (yeah, first name basis, what?) books could be on here, but I had to limit myself. Written nearly 30 years ago (1986), this book is more relevant now than anything. A story about a typical middle school girl who gets caught up in the crowd mentality of teasing an overweight girl in her class whom they've nicknamed "Blubber." No afterschool special here – the bully never gets brought to justice and the victim isn't particularly sympathetic – but it's real.
Bridge to Terabithia, by Katherine Paterson
See? Girls and boys can be just friends. Jess and Leslie's story of the kingdom of Terabithia is timeless – it's what summer is all about, or should be about, or what we want it to be about, anyway. Which is what makes this book so great. It's hard being a kid, and this book gets it without being A Book With A Message.
Lord of the Flies, by William Golding
The original Hunger Games. After a plane crash on a deserted island, what starts as a community dissolves into a something like a social psychology experiment gone horribly awry. Human nature is timeless, and this book reminds us how terrifying that can be.
Tuck Everlasting, by Natalie Babbit
What kid hasn't thought about living forever, especially being young forever? With themes of life and death that don't hit you over the head, but instead, gently remind you what it means to live, this book is full of suspense, memorable characters, and a wonderful storyline. Read the book before seeing the movie.
The Westing Game, by Ellen Raskin
A murder mystery. Millions of dollars at stake. A book that reads like a literary game of Clue. How could you say no?
____________________
Stay snuggly with these cozy Book Riot hoodies!