Ten Books About Intrepid Girls is sponsored by The Radical Element edited by Jessica Spotswood.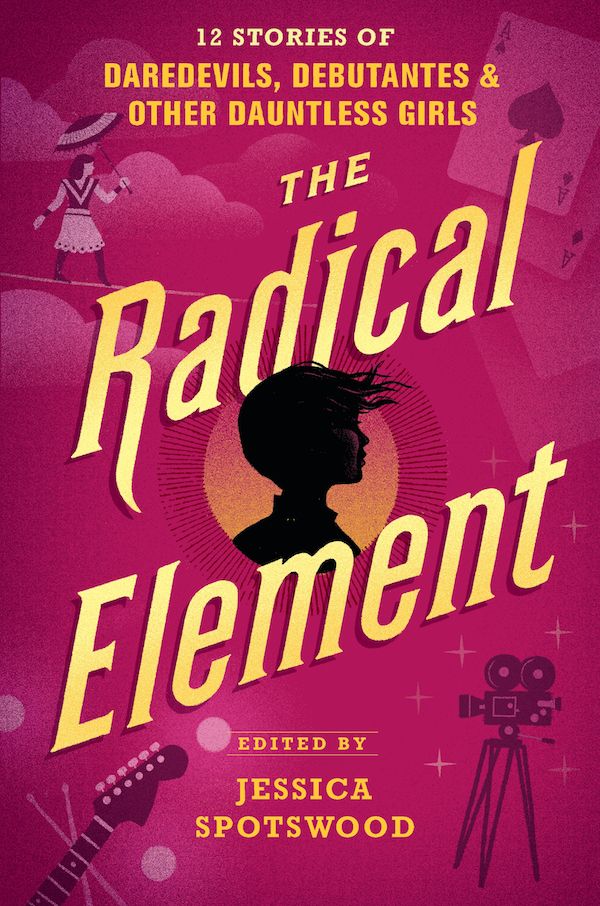 To respect yourself, to love yourself, should not have to be a radical decision. And yet it remains as challenging for an American girl to make today as it was in 1927 on the steps of the Supreme Court. It's a decision that must be faced when you're balancing on the tightrope of neurodivergence, finding your way as a second-generation immigrant, or facing down American racism even while loving America. And it's the only decision when you've weighed society's expectations and found them wanting. In The Radical Element, twelve of the most talented writers working in young adult literature today tell the stories of girls of all colors and creeds standing up for themselves and their beliefs—whether that means secretly learning Hebrew in early Savannah, using the family magic to pass as white in 1920s Hollywood, or singing in a feminist punk band in 1980s Boston. And they're asking you to join them.
---
When it comes to books, there are few things I love more than stories driven by fearless, determined girls. The conflicts might be different from story to story, but all of these characters are bold, and stubborn, and indomitable, even when things are at their worst. Here are some books led by intrepid girls across worlds and universes, blazing trails and changing their futures.
The Girl from Everywhere by Heidi Heilig
Nix lives adventures every day of her life aboard the Temptation, but there is one adventure she wants desperately to avoid as long as she can: her father's return to Hawaii, 1868, to find her mother. With her very existence at stake, Nix must decide if she's willing to sail forward into a life (and love) of her own or lose everything she has ever known for the possibility of a different time and universe, and the possibility of her mother.
Love, Hate, and Other Filters by Samira Ahmed
How do you figure out where you really belong? For Maya, the answer lies somewhere between her parents' insistence on college and an engagement, and the dreams of film school that Maya keeps in her heart. A terrible crime, while far away, reveals the fraught truths of her community and the beliefs of her neighbours, and Maya's life and sense of belonging shift in more ways than she could possibly imagine.
Shatter Me by Tahereh Mafi
Juliette can break anyone with a single touch, but she refuses to be broken, even after 264 days of isolation. When the Reestablishment decides she might be a worthy weapon to use against the people, Juliette faces a decision that will change her life forever, and a war that will reshape the world around her.
The Poet X by Elizabeth Acevedo
Xiomara Batista would never be mistaken for a shy flower of a girl—her words are as lethal as her fists, and she refuses to back down from any fights. Poetry is Xiomara's only escape, and her most honest thoughts reside in the pages of her journal. When an opening pops up in the school slam poetry club, Xiomara finds that she wants to be there, to share her words, though the choice threatens to turn her entire life upside down.
Court of Fives by Kate Elliott
Jessamy has always known her skill at the Fives, the intricate and sometimes deadly competition around which the kingdom revolves. Having been born to a Patron father and a Commoner, Jessamy is determined to forge her own path, though it does not come without challenges. Namely: will Jessamy be able to compete in the Fives without placing her family in unspeakable danger?
Truthwitch by Susan Dennard
Best friends and witches Safiya and Iseult are hiding a valuable secret: Safiya is a Truthwitch. Capable of perceiving truth within lies, Safiya's powers would lead to certain captivity if anyone were to find out about them. As a Bloodwitch chases Safiya and Iseult throughout the Witchlands, the girls fight to keep their hard-earned freedom, even with death at the door.
Adaptation by Malinda Lo
The world is falling apart but Reese is just trying to get home, until a bird flies into the headlights of a car and everything changes. Reese wakes up to find herself perfectly healed, and her home, San Francisco, almost unrecognizable behind the heavy police presence. Underneath the projected calm, however, Reese begins to realize that the world she's woken up to is a lot more complicated, with secrets bursting to be revealed, and a government that would do anything to keep that from happening.
Iron Cast by Destiny Soria
1919 isn't exactly going well for best friends Ada Navarra and Corinne Wells. Corinne might have been able to break Ada out of Haversham Asylum, Ada's powers having been exposed to the police, but the girls' escape isn't the end of their troubles. Their work weaving magical illusions to song at the Cast Iron nightclub might entertain the club's patrons, but it also leaves them scrambling to hide during the day, even as they use their powers to keep the club solvent. Ada and Corinne must find a way to stay together, and stay safe, as danger lurks in the alleyways.
The Epic Crush of Genie Lo by F.C. Yee
Genie Lo knows what her future holds: an Ivy-League education (at Harvard, specifically), success, and everything she could ever dream of working towards. But when a boy named Quentin Sun arrives, barely seconds after figures out of Chinese folklore begin appearing in Genie's life, Genie faces a very different future, one where there might just be mystical powers buried deep inside her soul, and where Quentin's own secret might change everything Genie has ever known.
You Bring the Distant Near by Mitali Perkins
Leaving the home you've always known is incredibly scary, but for Ranee and her two daughters, Tara and Sonia, the United States brings both joy and pain, comfort and hatred. As their small family grows and branches out, Tara and Sonia find their strength and make their own stories in a world that doesn't always see them as worthy of a story in the first place.