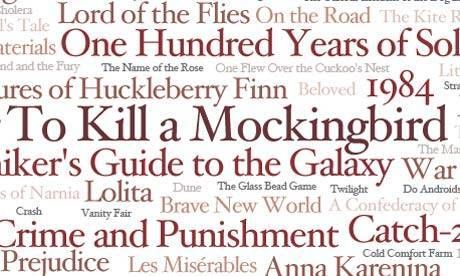 Classics
The 10 Best Top 100 Books Lists
While we at the Riot take some time off to rest and catch up on our reading, we're re-running some of our favorite posts from the last several months. Enjoy our highlight reel, and we'll be back with new stuff on Monday, January 6th.
This post originally ran July 10, 2013.
_________________________
A few weeks ago, Rioter-in-Chief Jeff O'Neal's From Zero To Well-Read in 100 Books post nearly brought the internet crashing down. People were very, very angry, and other people (me included) were very, very bemused by those people who were very, very angry. And that wasn't even, technically, a Top 100 list!
But it did inspire Kit's post on why "best of" lists get us all so revved up. My own take on that question is this: "I love books, and I'm used to being an authority. And if I don't know you very well, and therefore don't deem you credible, your opinion is much wrong-er than mine. And that makes me Hulk-smash angry!"
But, when reasonable minds prevail, these lists are a TON of fun to think about. What makes a great Top 100 list, in my view, is one that includes four criteria: 1) Plenty to agree with. 2) A few wild card picks that make you think, "Ah, yeah, good call, I wouldn't have thought of that, but yeah!" 3) A few that are sketchy at best, or that you're reasonably sure you can make an argument against, and 4) A few that make you mad.
So, after hours combing the Web, here are the 10 of the best top 100 book lists:
10. TIME's List of of the 100 Best Novels —Though it's very American-centric, and only includes books published after 1923 (so no Ulysses) this is one of my favorite lists — and one I refer to it much more frequently than the Modern Library list (No. 3, below). It includes a smattering of much more popular novels, like Neuromancer, by William Gibson and Snow Crash, by Neal Stephenson, and more recent novels (the list was published in 2005) like Zadie Smith's White Teeth, Margaret Atwood's The Blind Assassin, and Philip Roth's American Pastoral.
9. Book Riot's 100 Greatest Novels 1893-1993 — Rioter-in-Chief Jeff O'Neal published this list just last week, and he specifically lays out the criteria for why novels are included, and why he picked that particular 100-year range. What's most interesting about Jeff's list is that he allows only one title per novelist — so, for instance, Hemingway's The Sun Also Rises makes the cut, but nary a A Farewell To Arms.
8. The Guardian's Top 100 Bestselling Books of All Time (in the UK) — This list is based on Nielsen Bookscan data, which most people who know about such things, agree isn't a perfectly accurate representation of total books sold. But I bet if we could magically count all the book sold, the same titles would appear in the Top 10, wouldn't you think? It would be interesting to know how this list compares to a U.S. list, also. But, again, I'd imagine the Top 10 would be pretty similar. (And then insert joke about Fifty Shades being surrounded by Harry Potter books.)
7. The Entertainment Weekly 100 Greatest Novels Ever — This list appeared in the July 5/12, 2013 print issue of the magazine. I love it because it includes things like Billy Lynn's Long Halftime Walk (at No. 54) directly adjacent to Gone With The Wind (at No. 53). Also, it includes Atlas Shrugged at No. 36. You can do with that information whatever you want. Its No. 1 is Anna Karenina, which wouldn't be most readers' pick, I'd guess, but it's in the conversation.
6. The 100 Most Influential Books of All Time — This fascinating list is actually a book itself, published in 1998, by British poet and critic Martin Seymour-Smith. It's heavy (in a lot of ways) with theology and philosophy, natch, and includes nothing more recent than 1971, so I'm not sure this list will inspire quite the arguments as other lists. But it would be fun to say things at parties like "The Enneads? More like the SNOREneads, amirite?"
5. The 100 Favorite Novels of Librarians — Who has more credibility about good novels than librarians? Pride and Prejudice, by Jane Austen, lands at No. 1, here — a worthy choice, yes? And I could not be happier that A Prayer For Owen Meany, by John Irving cracks the top 10 here. And King's The Stand at No. 9? YES!
4. 100 Major Works of Modern Creative Nonfiction — Eschewing nonfiction lists from Modern Library, TIME Magazine, and The Guardian, I like this nonfiction list best. It includes Bill Bryson and David Sedaris — and that's never a bad thing.
3. The Modern Library Best 100 Novels of the 20th Century — Ah, the venerable one. Since it first appeared in 1998, this list has inspired more attempts to systematically conquer it than just about any other list of things that can be systematically conquered in all of history. I mean, why else have so many people not working on a doctorate in Irish Lit attempted to read Ulysses? While this list does seem a tad stuffy and dated these days, it's a paragon compared to the abomination that is the companion Reader's List. You have to giggle at any list that includes Battlefield Earth at No. 3 — presumably the Scientologists voted early and often, as there are two other L. Ron titles in the Top 10! (Side note: The companion Radcliffe's Rival 100 Best Novels List is quite interesting as well — it was developed as a response to the Modern Library list.)
2. Goodreads Top 100 Literary Novels Of All Time — Voted on by readers (as opposed to developed by critics), this list is similar to the Modern Library list in a lot of ways — with the notable exception that it's of "all time" instead of 20th century. And it's more current — I love it because it includes Infinite Jest at No. 41.
1. Top 100 Works In World Literature — If you've thought the Top 100 lists to this point were too English-centric, you're absolutely right. So, to top off this list of lists, here is a list developed in 2002 that includes the best 100 novels from all over the world. Writers from China, Spain, Japan, Canada, Egypt, Germany, Brazil, and many other countries are represented on this list. It's really great! Though the editors didn't rank the novels, they did reveal that Don Quixote received the most votes. (Here's one more Top 100 world literature list — this one developed by teachers. And here's a great list of the Top 25 foreign language novels.)
_________________________
Sign up for our newsletter to have the best of Book Riot delivered straight to your inbox every two weeks. No spam. We promise.
To keep up with Book Riot on a daily basis, follow us on Twitter, like us on Facebook, , and subscribe to the Book Riot podcast in iTunes or via RSS. So much bookish goodness–all day, every day.