This post is sponsored by Jazz Maynard from Europe Comics.
Jazz Maynard was born in the legendary El Raval district, one of the more down-and-out neighbourhoods of Barcelona. Surrounded by bad company and easy money, he seemed to be destined to end up either in prison or a morgue. One day, he decided to leave it all behind and set off for the United States, without looking back. Ten years have passed and Jazz is forced to go back where he grew up. Jazz will soon realise that as much as you might try to escape your fate, sooner or later you'll find it waiting just around the corner.
---
When you experience criminals and criminality in comics, there are two ways you're going to go: you're either going to love the criminals for their characters and their characteristics, or they're going to freak the crap out of you. My favorite criminals in comics go a little of both ways. Sure, there are your adorable types, but there are also the ones you just have to respect for their villainy criminalness. There are the ones that you kind of read as secondary heroes, and the ones that run the line of villain just right, while maintaining their roles of Criminal Mastermind instead of cooky, evil villain.
There is a fair share of regular straight-up criminality in comics, from Southern Bastards to She-Hulk. The Punisher and Agent Dick Grayson both go after crime rings and crime lords all the time, but we tend to know they're always going to win. The best criminals are those who might actually manage to outwit our heroes…if indeed they weren't the heroes to start out with.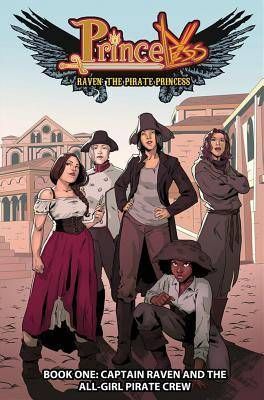 Raven, The Pirate Princess, first seen in Princeless and then the star of her own comic, is one of those girls who was raised by her father and brothers—all pirates in their own right. She was raised to be competitive, and skillful at both combat and thievery. She knows how to be a pirate, the rockstar of historic criminal types. Wounded by her brothers' betrayal, Raven plans to use her skills to enact vengeance upon them…but unfortunately for us she and her crew would rather detour on adventures.
Felicia Castillo, similarly adorable, is a petty-criminal-turned-assassin who can also teleport. I Love Trouble is weird art with a weird story but Felicia will make you want to stick to it through the end, just to figure out what the hell is going on.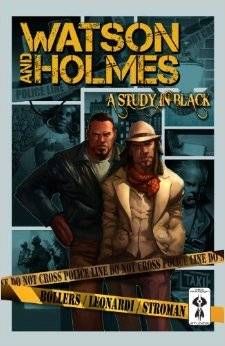 Archibald Gyptian isn't really a criminal; he's a reporter. But even only one volume of Watson and Holmes will make you wonder how deep his influence goes…and whether A. Gyptian is really his name.
The Sex Criminals from Sex Criminals have to go together as one. Their best work (heh) is done together, and they do some pretty great work together. Sure, their Big Job is interrupted by a Bigger Baddie, but where else can you find two people who discover they can stop time with sex and think…let's rob banks! Suzie and Jon all the way, just for taking a…very particular skill…and using it to their advantage when they see one!
When you think of your favorite character from Saga, do you go with The Will? Cause sometimes, when I'm in a particular mood, I do. The Will is your typical sci-fi/space opera bounty hunter and assassin, with a few quirks that you learn to love. He has some serious anger problems but also can't help but love people and things that have found their way into his subconscious. Will he kill you without a second thought? OF COURSE HE WILL. He's The Will.
Kingpin is one of those notorious crime bosses who makes you wonder: if he's so famous, how is he still in charge? The best crime bosses in all kinds of fiction, but particularly gritty, more realistic comics, is the kind who can just sit on his throne ordering people to be roughed up, killed, or otherwise made less-than, and wait for some hero to Try And Stop Him. Or really, really, not expect one to.
At the opposite end of the spectrum is the darling Remy Lebeau, the cat burglar we can't help but love. To his teammates he's Gambit, the Ragin Cajun. In James Asmus' Gambit series, he is the thief who can't help himself; sure, he's got this greater ambition to be something better, but he's also got a chip on his shoulder about remaining the best.
And let's face it, as much as we hate to admit it, Joker is a brilliant criminal. He expertly plots schemes to drive the world to anarchy and burn down the world Batman knows and loves. He's a thief at heart, but his greatest skills come down to planning: getting every little piece in order so that they fall exactly as he'd like. Sometimes, it's so he can poke holes into Batman's armour; sometimes it's just 'cause it's fun.
Where Joker goes, Harley Quinn must follow…but we can argue that in her much shorter history in the DC comics universe, she has actually become a better criminal, maybe even the best. She spreads her expertise across all walks of criminal life, and hops into vice with everyone from her favorite Mister J to her bestie Ivy. Harley also isn't a one-dimensional criminal: she has skills that many of her fellow DC baddies don't have, including a (Pre 52) medical degree, and ranges between psychotic killer and fixated klepto. Her best characterization was her first face in Batman: The Animated Series, but creators have been playing with her for two decades. Who knows how she'll be characterized next.
Finally, there's Nat Turner, particularly as imagined by Kyle Baker. Considered a criminal by the laws of the Antebellum South due to his actions in leading a slave rebellion, Nat Turner was brought out in brilliant color in the sequential artscape that tells the story of his crime, capture, and final time.
---
Obviously, we're not all going to have the same favorites or consider the same characters the best—or even have the same definition of best when it comes to characters, comics, or criminals. Who are the best criminals in comics to you, and what do you consider to make someone the best?