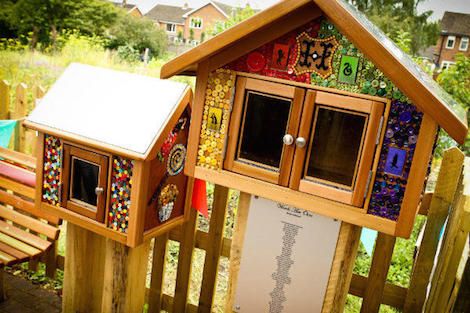 10 Amazing Harry Potter-Themed Little Free Libraries: Critical Linking, February 11, 2018
Live your best bookish life with our New Release Index. It's a fantastically functional way to keep track of your most anticipated new releases. It's available exclusively to Book Riot Insiders. Subscribe to Book Riot Insiders!
---
Attention all Harry Potter fans: In celebration of Harry Potter Book Night and the 20th anniversary of Harry Potter in the U.S., we're sharing some of the most awesome Little Free Libraries featuring a Harry Potter theme. (We think Hermione, especially, would love these book-sharing boxes.)
Whoa.
____________________
During February's Black History Month, we recognize the many contributions that African-American people have made throughout history. Telling these often unsung stories provides a chance to help right the scales of history by bringing attention to people whose contributions have too often been ignored. It's especially important to focus on the history of African-American women, who historically faced both racial and gender discrimination, and whose stories are therefore even more hidden from many mainstream histories.
In this blog post, we've showcased our favorite books about African-American women and their diverse contributions to history. Among them are artists and adventurers, activists and entrepreneurs, and more — and each of them refused to be defined by others' conceptions of what a black woman was supposed to be and reached out to seek her own dream. Their stories are heroic, heartbreaking, and hopeful, and perfect for sharing during Black History Month and all year round!
____________________
Dartmouth North Public Library is now home to what the head of Halifax's library system calls the first outdoor library space in Canada, and one of only a handful of similar examples in the world.
"Dartmouth North is blazing a trail," said Asa Kachan, the chief librarian of Halifax Public Libraries. "I have colleagues across the entire country watching this project very closely."
The exterior wall of the building has been replaced with glass sliding doors that look out onto a deck and a new playground.
____________________
I love a good book club, and I love a book club helmed by a powerful woman even more. If you're looking for new reads this month, look no further than these picks from famous females. Read along all month, discuss with fellow bookworms, and feel semi-famous yourself knowing that you and Oprah have something in common.
There are some damn good books being read.