Rebecca Joines Schinsky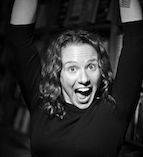 Rebecca Joines Schinsky is the director of content and community for Riot New Media Group. A gluttonous consumer of culture in its many forms, she is an unapologetic foodie who reads like a wild woman, knows all the lyrics to your favorite 90s hip-hop songs, and watched The Jersey Shore without a shred of irony because, you know, it's important to be well-rounded. When she's not at Book Riot, Rebecca works on the Bookrageous podcast with two of her favorite people, wrangles the world's cutest basset hounds, and sits on the board of directors of James River Writers in her adopted hometown of Richmond, VA.
Find her on Twitter @RebeccaSchinsky and Tumblr.