Liberty Hardy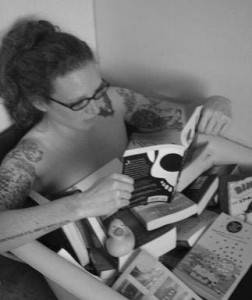 Liberty Hardy is an unrepentant velocireader, book slinger, bitey mad lady, and tattoo canvas. Turn-ons include books, books and books. Her favorite exclamation is "Holy cats!" Liberty reads more than should be legal, sleeps very little, frequently writes on her belly with Sharpie markers, and when she dies, she's leaving her body to library science. Until then, she lives with her two cats, Millay and Steinbeck, in Kittery, M.E. She's also the Demon Bookseller of Fleet Street at RiverRun Bookstore in Portsmouth, N. H, and she is right behind you. Just kidding! She's too busy reading.
Blog: Franzen Comes Alive
Twitter: @MissLiberty
Learn more about The Demon Bookseller of Fleet Street here.