Staff & Contributors
Jeff O'Neal, Executive Editor & Co-founder, reads books and writes about them. When he's not doing that, he's teaching writing and literature at a large East Coast university. He has the great good fortune of living with his favorite person in the world and their two bright, beautiful children in Brooklyn, NY.
His tweets can be found @thejeffoneal.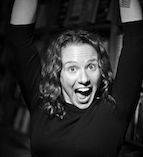 Rebecca Joines Schinsky, Director of Content and Product Strategy, loves books, bourbon, and the kinds of pop culture you're supposed to call guilty pleasures. When she's not at Book Riot, Rebecca works on the Bookrageous podcast, wrangles the world's most adorable basset hound, and sits on the advisory board of James River Writers in her adopted hometown of Richmond, VA.
Her tweets can be found @RebeccaSchinsky.
Amanda Nelson, Managing Editor, digests books and food with equal enthusiasm. When she's not inhaling a book (or writing about it), she's off having a Narnia-sized adventure somewhere in Richmond, Virginia, with her husband and twin boys. Her dream is to be Jean-Luc Picard and/or Doctor-Donna when she grows up, but Ron Swanson'll do in a pinch.
Her tweets can be found @ImAmandaNelson.
Kelly Jensen, Associate Editor, blogs at STACKED. She's a feminist killjoy, pernicious influence, and former librarian who loves black licorice, debating genre, and reading dark YA fiction.  It Happens, her book about contemporary realistic YA fiction, is available from VOYA Press.
Her tweets can be found @veronikellymars.
See all Riot New Media staff.