Staff & Contributors
Alex Baker, Director of Technology, enjoys making our sites come to life, drawing inspiration from all corners of the earth. In addition to providing clean mark up and optimized load speeds, he also enjoys learning the art of BBQ smoking, gardening, drumming & performing with various bands around NYC, and setting out for outdoor adventures of all types.
Alex isn't much one for Twitter, but thinks it'd be cool for you to follow his band @skullpractitioners
Kelly Jensen, Associate Editor, blogs at STACKED. She's a feminist killjoy, pernicious influence, and former librarian who loves black licorice, debating genre, and reading dark YA fiction.  It Happens, her book about contemporary realistic YA fiction, is available from VOYA Press.
Her tweets can be found @catagator.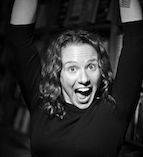 Rebecca Joines Schinsky, Director of Content and Community is a gluttonous consumer of culture in its many forms and loves to write about them. She is an unapologetic foodie who reads like a wild woman, knows all the lyrics to your favorite 90s hip-hop songs, and saw every episode of The Jersey Shore because, you know, it's important to be well-rounded. When she's not at Book Riot, Rebecca works on the Bookrageous podcast with two of her favorite people, wrangles the world's most adorable basset hound, and sits on the advisory board of James River Writers in her adopted hometown of Richmond, VA.
Her tweets can be found @RebeccaSchinsky.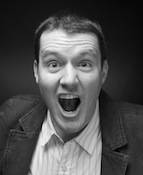 Clinton Kabler, COO & Co-founder, is a reader and a magnificently average writer. Book Riot readers needn't worry about being subjected to his writing because he manages Book Riot's business operations. Should you be curious to know how magnificently average writing reads, he suggests reading MTA notices.
He holds an MBA from an East Coast university. Upon completing his MBA, he jumped into the West Coast startup world and quickly learned that he had wasted a lot of money on said MBA. When not being a husband and father, he runs marathons and cycles mountains. He splits his time between Vancouver (the one in Canada) and Brooklyn.
His tweets can be found @clintonk. Connect with him on LinkedIn.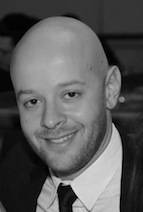 Yan Klats, Director of Sales, enjoys life to the fullest. He is currently residing in the happening capital of Virginia. As a true New Yorker, his passion for everything sport is only surpassed by his love for the Jets and his community. When he's not watching the Jets or running Toughmudders, he enjoys clay sculpting, rock climbing, skiing, and dancing salsa. He only dedicates his personal or professional time to areas that can make a long lasting impact on people.
His tweets can be found @yanklats. Connect with him on LinkedIn
Swapna Krishna, Managing Editor, Panels, is a superhero who answers to the name Ms. Marvel. When she's not embiggening (or more likely, reading and writing about comics and books), she's having a craft beer, possibly while embarking on some sort of travel adventure. She calls Washington, DC, home, where she loves to wear elastic waist pants while jamming to 90s alternative music while her husband gives her sideways looks.
Her tweets can be found @skrishna.
Amanda Nelson, Managing Editor, digests books and food with equal enthusiasm. When she's not inhaling a book (or writing about it), she's off having a Narnia-sized adventure somewhere in Richmond, Virginia, with her husband and twin boys. Her dream is to be Jean-Luc Picard and/or Doctor-Donna when she grows up, but Ron Swanson'll do in a pinch.
Her tweets can be found @ImAmandaNelson.
Jeff O'Neal, Executive Editor & Co-founder, reads books and writes about them. When he's not doing that, he's teaching writing and literature at a large East Coast university. He has the great good fortune of living with his favorite person in the world and their two bright, beautiful children in Brooklyn, NY.
His tweets can be found @thejeffoneal.
Jenn Northington, Director of Events and Programming, has been a bookslave all her life and has worked in books since 2004. She has lived all over the US, but hails from the East Coast. When she's not plotting events and shenanigans for Riot New Media, she dishes on her favorite books with the Bookrageous podcast, closet cosplays her favorite comics characters, participates in half a billion book groups, creates geekery-inspired cross-stitches, and aspires to be a big damn hero.
Her tweets can be found @jennIRL.

Rachel Smalter Hall, Customer Success Manager, is a public librarian turned Book Riot operations staff and champion of black sequined hot pants. She grew up in Cedar Rapids, Iowa, in a family of seven that donned bathrobes and towels for their yearly theatrical Christmas Pageant. Since then, she's lived in Minnesota, Vermont, Rome, and now Lawrence, Kansas, where she can be found drinking PBR with her co-ed book club, waxing poetic about audiobooks, and lip-syncing classic hip hop tracks.
Her tweets can be found @bananasuit.
Contributing Editors
Greg Zimmerman
Josh Corman
Karina Glaser
Liberty Hardy
Maddie Rodriguez
Preeti Chhibber
Rincey Abraham
Rita Meade
Wallace Yovetich
Contributors
A.J. O'Connell
Ali Colluccio
Alice Burton
Alison Peters
Amanda Diehl
Andi Miller
Angel Cruz
Aram Mrjoian
Becky Cole
Beulah Maud Devaney
Brandi Bailey
Brenna Clarke Gray
Cassandra Neace
Chris Arnone
Christy Childers
Constance Augusta Zaber
Cristin Stickles
Danika Ellis
Derek Attig
Edd McCracken
E.H. Kern
Elizabeth Bastos
Ellison Langford
Emily Gatlin
Emma Nichols
Eric Smith
Hannah Oliver Depp
Jaime Herndon
James Crossley
Jamie Canaves
Jamie Moore
Jeanette Solomon
Jeremy Anderberg
Jesse Doogan
Jessi Lewis
Jessica Pryde
Jessica Tripler
Jessica Woodbury
Jill Guccini
Johann Thorsson
Josh Hanagarne
Judy Heflin
Julia Pistell
Justina Ireland
Kat Howard
Kate Scott
Kim Ukura
Kristel Autencio
Kristina Pino
Leila Roy
Loyal Miles
Lynn Crothers
Margret Aldrich
Martin Cahill
Mateeka Quinn
Maya Smart
Michelle Anne Schingler
Minh Le
Morgan Jerkins
Natalia Sylvester
Nicole Froio
Nikki DeMarco
Nikki Steele
Peter Damien
Rachel Cordasco
Rachel Manwill
Rachel Weber
Rah Carter
Raych Krueger
S. Zainab Williams
Samanta Gualito
Sarah McCarry
Sean-Patrick Burke
Sharanya Sharma
Susie Rodarme
Syreeta Barlow
Tasha Brandstatter
Troy L. Wiggins
Valerie Michael
Yash Kesanakurthy