40+ Tales of the Jazz Age
This week's Riot Recommendation is sponsored by An American Duchess by Sharon Page.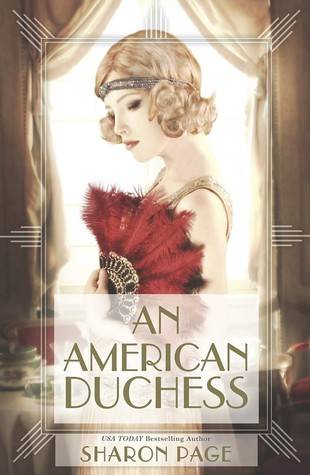 At the height of the Roaring Twenties, New York heiress Zoe Gifford longs for the freedoms promised by the Jazz Age. Headstrong and brazen, but bound by her father's will to marry before she can access his fortune, Zoe arranges for a brief marriage to Sebastian Hazelton, whose aristocratic British family sorely needs a benefactor.
Once in England, her foolproof plan to wed, inherit and divorce proves more complicated than Zoe had anticipated. Nigel Hazelton, Duke of Langford and Sebastian's austere older brother, is disgraced by the arrangement and looks down upon the raucous young American who has taken up residence at crumbling Brideswell Abbey. Still reeling from the Great War, Nigel is now staging a one-man battle against a rapidly changing world—and the outspoken Zoe represents everything he's fighting against. When circumstances compel Zoe to marry Nigel rather than Sebastian, she does so for love, he for honor. But with Nigel unwilling to change with the times, Zoe may be forced to choose between her husband and her dreams.
____________________
In this Riot Recommendation, we asked for your favorite gin-soaked, jazz-filled books about the Roaring 20s. Here's what you came up with:
1929 by Frederick W. Turner
The Jazz Flower by Vee Williams Garcia
Jazz by Toni Morrison
Oh, Play That Thing by Roddy Doyle
"The Girl the Prince Liked" by Zelda Fitzgerald
Phryne Fisher mysteries by Kerry Greenwood
Grand Days by Frank Moorhouse
Bones of Paris by Laurie R. King
Miss Anne in Harlem by Carla Kaplan
Gentlemen Prefer Blondes by Anita Loos
Tales of the Jazz Age by F. Scott Fitzgerald
Vile Bodies by Evelyn Waugh
Passing by Nella Larsen
Mrs. Dalloway by Virginia Woolf
To the Ligthouse by Virginia Woolf
The Diviners by Libba Bray
Sirens by Janet Fox
The Girls at the Kingfisher Club by Genevieve Valentine
Save Me the Waltz by Zelda Fitzgerald
Nightwood by Djuna Barnes
The Great Gatsby by F. Scott Fitzgerald
The Sun Also Rises by Ernest Hemingway
The Beautiful and Damned by F. Scott FItzegerald
The Paris Wife by Paula McLain
Havoc by Tom Kristensen
The Rules of Civility by Amor Towles
The Poisoner's Handbook by Deborah Blum
Island of Vice by Richard Zacks
Coming Through Slaughter by Michael Ondaatje
Everybody Was So Young by Amanda Vaill
Z: A Novel of Zelda Fitzgerald by Therese Anne Fowler
The Razor's Edge by W. Somerset Maugham
Tender is the Night by F. Scott Fitzgerald
Ragtime By E. L. Doctorow
The Disenchanted by Budd Schulberg
Love in a Cold Climate Nancy Mitford
The Mercy of Thin Air by Ronlyn Domingue
Dream Street by Damon Runyan
Cold Comfort Farm by Stella Gibbons
Shadows of the Sun by Harry Crosby
Live by Night by Dennis Lehane
There's only one way to respond to "two free audiobooks." It's "
sign me up!
"